Indulge in the ultimate comfort food with this 6 ingredient Crock Pot Buffalo Wild Wings Garlic Parmesan Chicken Pasta recipe! Creamy and flavorful, this crockpot dish combines tender chicken, al dente rotini noodles, and Buffalo Wild Wings Garlic Parmesan Wing Sauce. Perfect for weeknight dinners or entertaining guests, experience a burst of bold flavors in every bite!
This world famous recipe was created first on Crock Pots and Flip Flops so you have come to the right spot for the best recipe! Dive into a flavor frenzy with our lip-smacking Buffalo Wild Wings Garlic Parmesan Chicken Pasta! Tender chicken, twirly rotini noodles, and the saucy goodness of Buffalo Wild Wings' magic unite for a taste explosion that'll make your taste buds do the happy dance!
This Crock Pot Buffalo Wild Wings Garlic Parmesan Chicken Pasta recipe marries the zesty garlic parmesan sauce with cream cheese and a little more parmesan to make a winning combination. This recipe is so amazing it even became a viral Tik Tok recipe!!
Crock Pot Buffalo Wild Wings Garlic Parmesan Chicken Pasta
There are two things I love cheese and garlic. I can't get enough of either and anytime there is an option to put them together I'm sold. Luckily this Parmesan Garlic Chicken Pasta has entered my life to take care of both cravings! If you have ever been to Buffalo Wild Wings and had their garlic parmesan wings you know how great the sauce is. Once I saw they were selling the Buffalo Wild Wings Garlic Parmesan sauce in the store I knew it was going to be a hit with making so many different meals.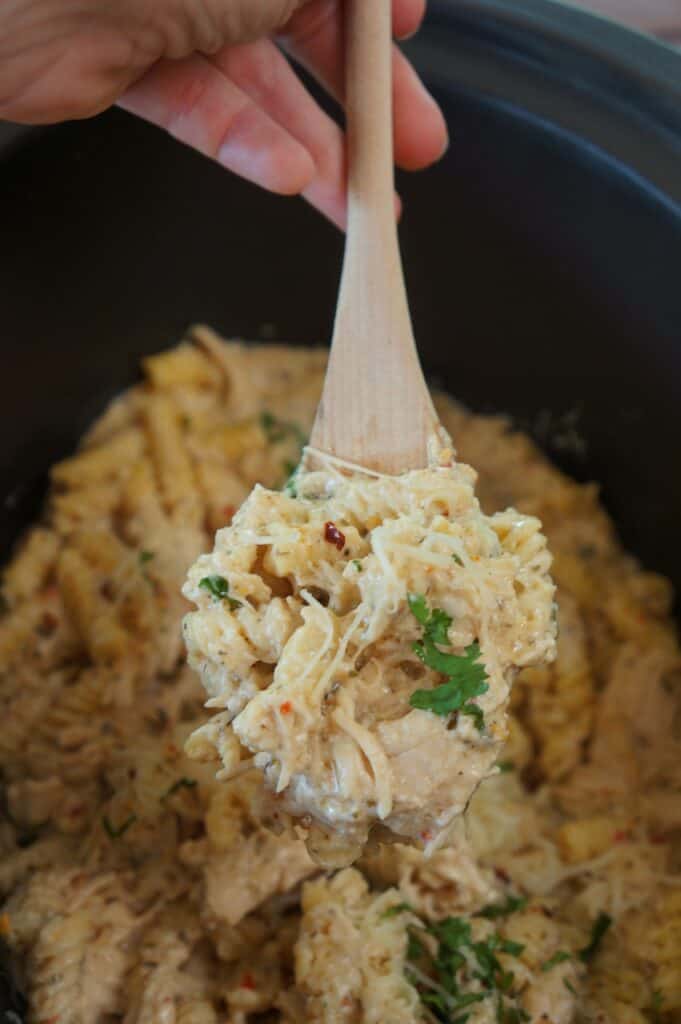 Crock Pot Buffalo Wild Wings Garlic Parmesan Chicken Pasta
I'm always on the lookout for a simple recipe that is tasty and quick to prepare. Sometimes when you make recipes that are quick, they lack flavor and depth. This chicken is delicious, tender, and has tons of flavor thanks to the Buffalo Wild Wings Garlic Parmesan Sauce. Another delicious garlic chicken recipe is my one-pot Garlic Butter Chicken with Veggies. Like I said I love garlic!
I love easy pasta dinners that are filling and can be made in the crockpot! This Crockpot Buffalo Wild Wings Garlic Parmesan Chicken Pasta is my most popular recipe. Another fan favorite is my Crockpot Baked Ziti pasta dish. I think that these are a hit because they are cheesy comfort foods that are simple to make in the Crockpot.
What is Buffalo Wild Wings Garlic Parmesan Sauce?
Buffalo Wild Wings is an American restaurant that serves a ton of different wings with yummy sauces. One of the most popular sauces is their Garlic Parmesan Sauce. It is a creamy and rich sauce with Italian herbs, parmesan, and red chili flakes. It is a very intense sauce which is why I pair it with milk and cream cheese to balance the sauce for a pasta dish.
Their wing sauce is so popular that Buffalo Wild Wings started selling it in grocery stores and online. You can also buy it right at any of their restaurant locations too. If you can't find it or prefer to make the garlic parmesan sauce yourself check out this recipe to make it at home. This sauce is great on chicken, pork, potatoes, pizza, and even as a dipping sauce.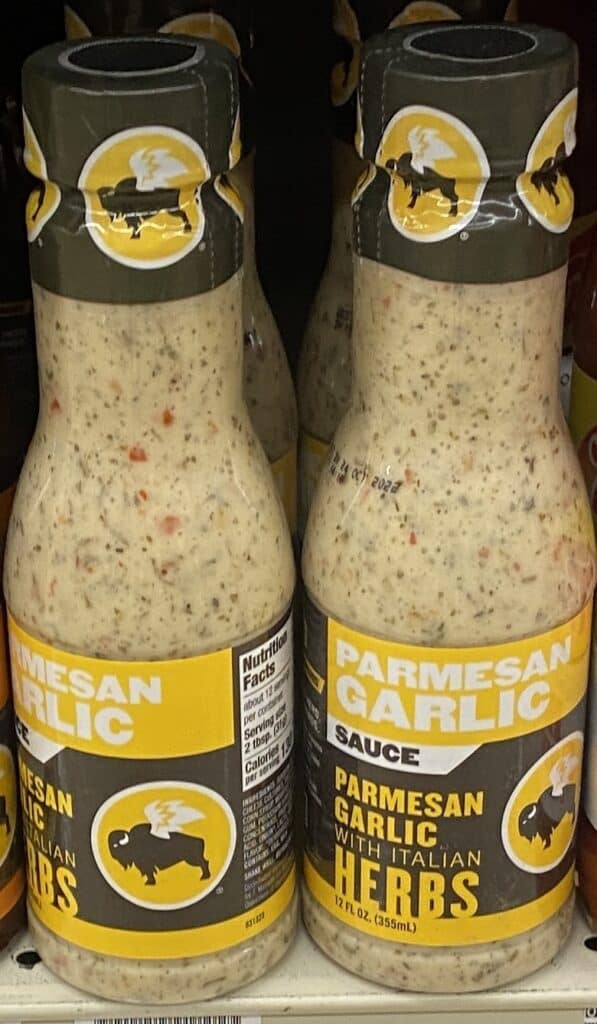 Many readers told me they were surprised by the spiciness of the sauce I wanted to make a note of it at the very beginning of the recipe letting you know this sauce does have a little spice from the red chili flakes and kick to it! I didn't think it was spicy but if you are sensitive to heat cut the sauce in half or add sour cream at the end to tone it down.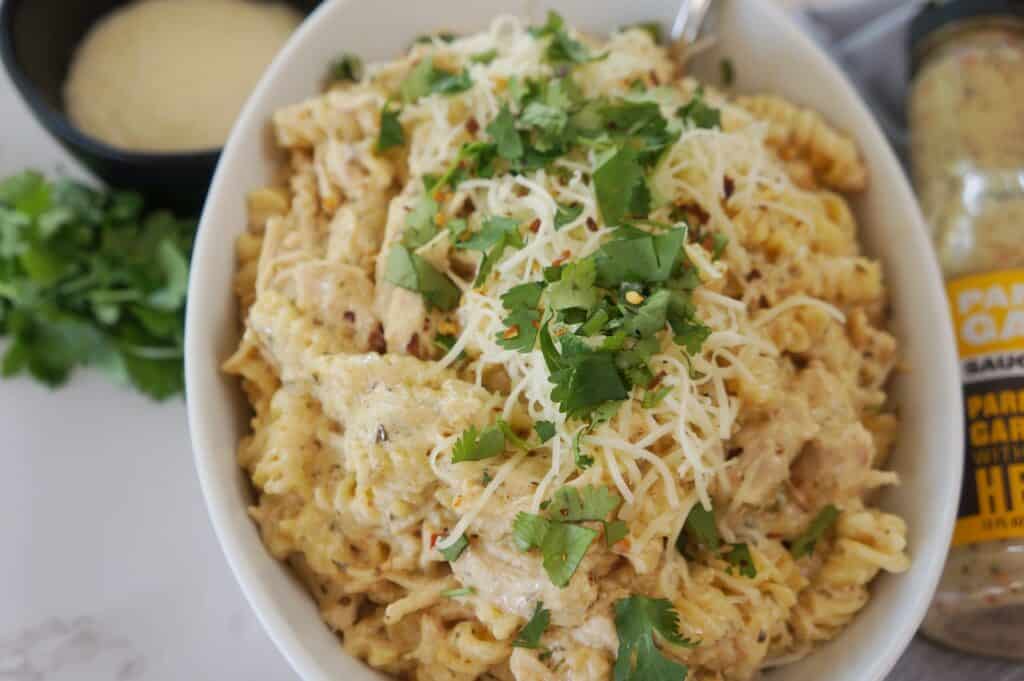 Crockpot Chicken Recipes
This crockpot chicken recipe is always a weekday favorite for me because it only needs a few ingredients that require no prep. I always keep my pantry stocked with the Buffalo Wild Wings Garlic Parmesan Sauce and pasta so I can just dump it all into the crockpot and dinner is done. But I will say I have served it for guests, and everyone always asks for the recipe because the flavor is so unique and to die for. I know many readers have told me they have this Crockpot Garlic Parmesan Chicken pasta several times a month because people can't get enough of it!
Ingredients for Crock Pot Buffalo Wild Wings Garlic Parmesan Chicken Pasta
Make this dinner in a snap with just 6 ingredients! All the flavors combine to make this dish the perfect balance of creamy cheesy deliciousness.
Chicken breasts: The chicken breasts serve as the main protein source for the dish. They provide a tender and flavorful base for the pasta.
Buffalo Wild Wings Garlic Parmesan Wing Sauce: The Buffalo Wild Wings Garlic Parmesan Wing Sauce is the star ingredient that brings the signature flavor to the dish. It adds a tangy, zesty, and slightly spicy note that enhances the overall taste profile.
Cream Cheese: Cream cheese adds a rich and creamy element to the dish. It helps create a luscious and velvety sauce that coats the chicken and pasta.
Milk: Milk is used to thin out the sauce and create a smoother consistency. It helps balance the richness of the cream cheese and provides a mild sweetness.
Grated Parmesan cheese: Parmesan cheese adds a nutty and salty flavor to the dish. It enhances the creaminess and complements the garlic Parmesan sauce, making it even more delectable.
Rotini noodles: The rotini noodles are the pasta component of the dish. They add a satisfying texture and help to hold the sauce, creating a well-rounded pasta meal.
Salt and pepper to taste: Salt and pepper are essential for seasoning chicken breasts, ensuring they are well-seasoned and flavorful. They also help enhance the overall taste of the dish.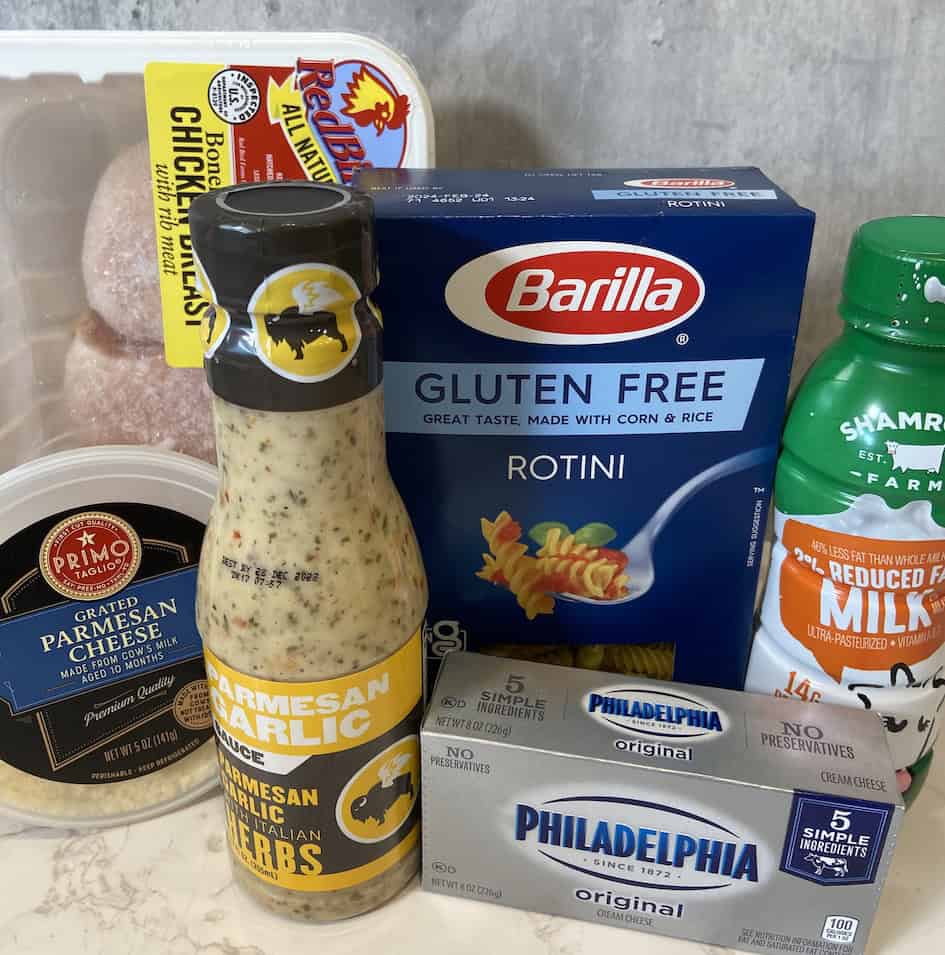 How to Make Crock Pot Buffalo Wild Wings Garlic Parmesan Chicken Pasta
Toss all of the ingredients in for a set-it-and-forget-it dinner! This one-pot dinner is my go-to for busy nights.
Step 1. Spray the inside of the crockpot with non-stick cooking spray.
Step 2. Add chicken breasts to the bottom of the crockpot.
Step 3. Pour the entire bottle of the parmesan garlic sauce over the chicken.
Step 4. Pour milk into the garlic parmesan garlic sauce bottle and shake it up. Pour the milk over the chicken.
Step 5. Add the cream cheese and parmesan cheese on top of the chicken and sauce.
Step 6. Cover and cook on low for 3-4 hours and high for 2-3 hours.
Step 7. Once finished cooking shred chicken.
Step 7. Cook pasta according to instructions and drain.
Step 8. Pour pasta into the crockpot. Stir to combine all the ingredients and serve.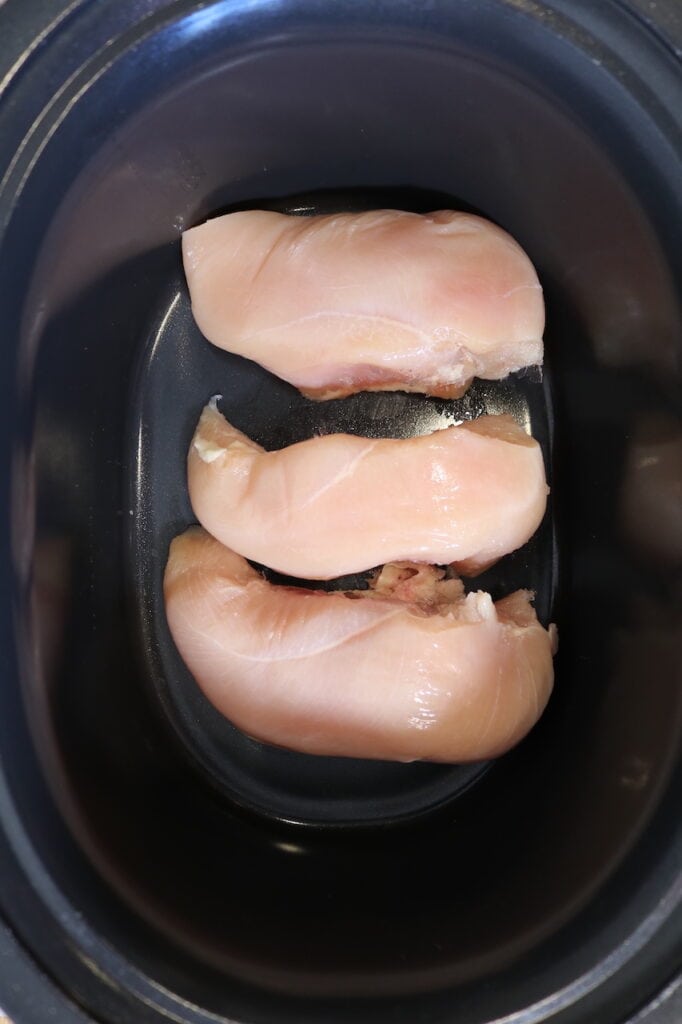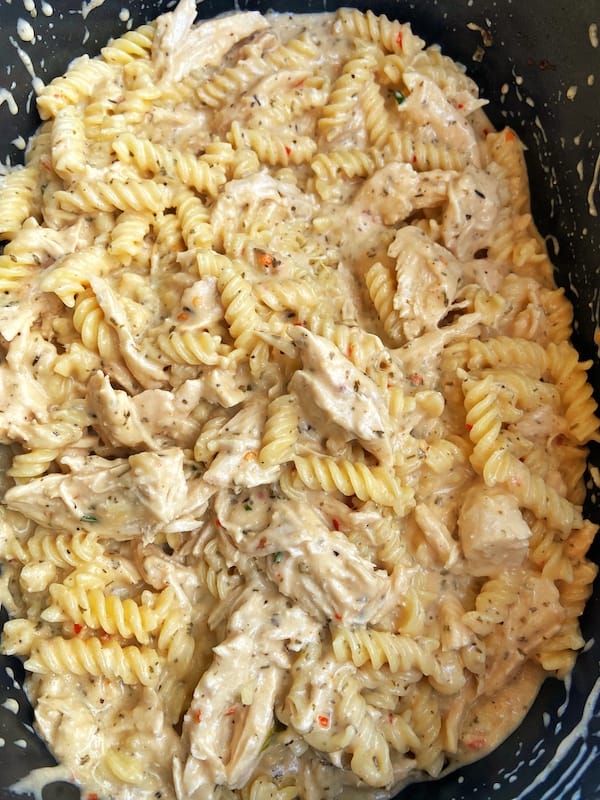 tips &
Adjust the Heat Level: If you prefer a milder flavor, you can reduce the amount of Buffalo Wild Wings Garlic Parmesan Wing Sauce or opt for a mild version. Try Sweet Baby Ray's Garlic Parmesan Sauce since it has a mild flavor. Conversely, if you love spice, you can add a pinch of cayenne pepper or hot sauce to amp up the heat.
Season the Chicken: Make sure to season the chicken breasts with salt and pepper before placing them in the slow cooker. This step will enhance the flavor of the chicken and ensure it's well seasoned throughout the dish.
Use a Slow Cooker Liner: To make cleanup easier, consider using a slow cooker liner before adding the ingredients. It will prevent the sauce from sticking to the sides, making cleanup a breeze.
Shred the Chicken: Once the chicken is cooked and tender, remove it from the slow cooker and shred it using two forks. Shredding the chicken will distribute the flavors evenly and make it easier to mix with the sauce and pasta.
Cook Pasta Al Dente: When boiling the rotini noodles, cook them until they are al dente, which means they still have a slight firmness to them. This ensures they hold their shape when mixed with the sauce and chicken, preventing them from becoming mushy.
Garnish and Serve: Before serving, consider garnishing the dish with fresh chopped parsley or additional grated Parmesan cheese. These finishing touches add a pop of color and an extra layer of flavor to the final presentation.
Double the Recipe: This recipe can easily be doubled to serve a larger crowd or for meal prepping. Simply adjust the ingredient quantities accordingly and ensure your slow cooker can accommodate the increased volume.
Different Ways to Serve Garlic Parmesan Chicken
There are several variations you can try to customize this Garlic Parmesan Chicken Pasta recipe to keep this delicious recipe in the meal rotation. Here are a few ideas: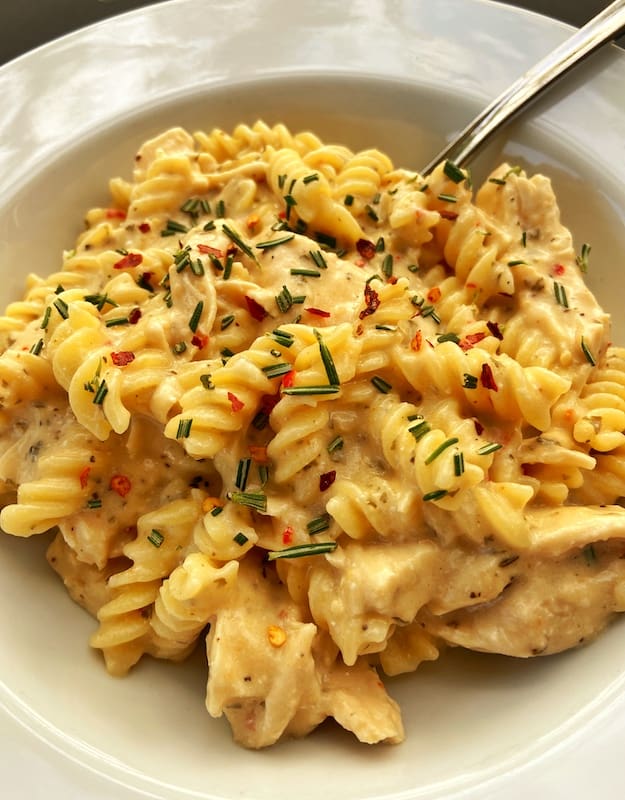 Veggie Delight: Incorporate colorful vegetables into the dish for added nutrition and flavor. I love to add broccoli, spinach, and sliced red bell peppers in the last hour to add veggies to this dinner.. Simply add them to the crockpot along with the chicken and sauce.
Bacon Lovers: Crumble cooked bacon and mix it into the pasta before serving. The smoky and savory bacon bits will add an extra layer of deliciousness to the dish.
Fresh Herbs: Add a burst of freshness by sprinkling chopped fresh herbs like parsley, basil, or chives over the pasta before serving. This will enhance the flavors and provide a pop of color.
Lemon Zest: For a bright and tangy twist, add the zest of a lemon to the sauce mixture. The lemon zest will add a refreshing note that complements the garlic Parmesan flavors.
Creamy Tomato: If you enjoy a fusion of flavors, mix in a few tablespoons of tomato paste or marinara sauce to the creamy garlic Parmesan sauce. This will create a unique and delicious combination of creamy and tangy elements.
Spicy Kick: If you love some extra heat, add diced jalapeños or crushed red pepper flakes to the sauce mixture. This will give the dish a spicy twist and elevate the flavor profile.
Remember, these variations are meant to inspire your creativity and experimentation. Feel free to mix and match different ideas or even create your own unique twist on the Buffalo Wild Wings Garlic Parmesan Chicken Pasta recipe. It's always fun to try new crockpot creations! Make sure and comment on the recipe if you do a variation that you love.
What to serve with Crock Pot Garlic Parmesan Chicken Pasta?
Garlic Bread or Breadsticks: Serve some warm garlic bread or breadsticks on the side. The crusty exterior and soft, buttery interior will be perfect for sopping up the creamy sauce.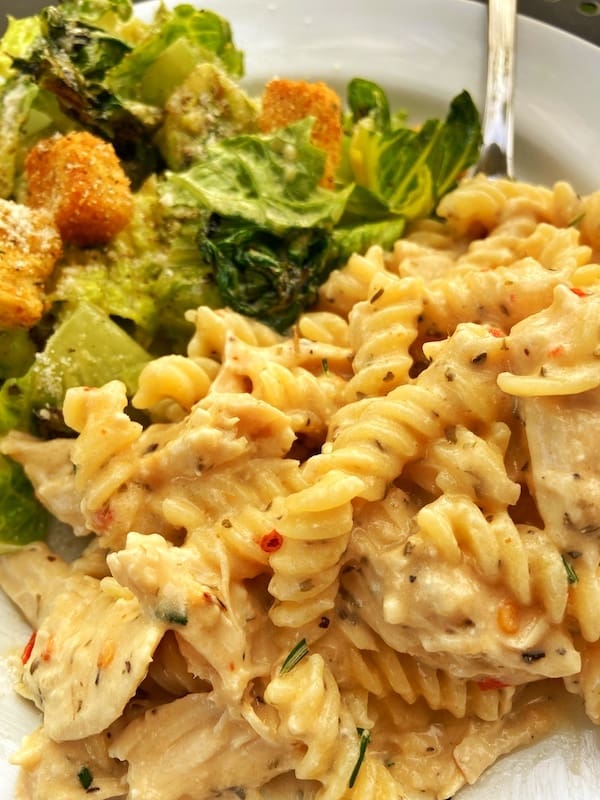 Side Salad: Prepare a fresh salad with mixed greens, cherry tomatoes, cucumbers, and a tangy vinaigrette dressing. The crispness of the salad will provide a refreshing contrast to the rich flavors of the pasta.
Steamed Broccoli: Steam some vibrant green broccoli florets until tender-crisp. It's a simple and nutritious side dish that pairs well with creamy pasta.
Caesar Salad: Prepare a classic Caesar salad with fresh romaine lettuce, Parmesan cheese, homemade croutons, and a creamy Caesar dressing. The flavors will complement the pasta, and the crunchy (gluten-free) croutons will add texture.
Crock Pot Garlic Parmesan Chicken Pasta- Low Carb and Keto
This recipe is a great low-carb and keto choice. The sauce is filled with flavors of cheesy goodness and only has one gram of added sugar. I was so happy to find this low-carb sauce because I feel like it's very hard to find packaged sauces that are low-carb. They are usually packed with sugar. I served this over zoodles, which are zucchini noodles for my low-carb hubby and he loved it. We have this zoodle maker which we use all the time. Or you can even buy zoodles at most grocery stores now in the produce department.
Where Can I Buy Buffalo Wild Wings Garlic Parmesan Sauce?
You can purchase this sauce on Amazon, here's the link. Plus it is available at most local grocery stores, Walmart, Target, and Buffalo Wild Wings Restaurants.
Food Allergies
My husband has celiac disease which means you are allergic to gluten. Make sure to use gluten free pasta to keep this dish gluten free. Our favorite pasta is the Gluten-Free Barillla Pasta line. I find that it is the best one at staying together while cooking and the taste is just like real pasta. I used the Barilla Gluten-Free Rotini for this recipe.
Need a new Crock-Pot?
My favorite is this Crock Pot 7 quart Programmable Slow Cooker. First and foremost, I love being able to set the timer in case I'm not home when the food is finished cooking. The Crock-Pot just switches to warm until you are ready to eat. Plus you can lock the lid and just carry it to a party. Not only is it easy to carry but also you will never lose another Tupperware or serving dish again at a potluck party!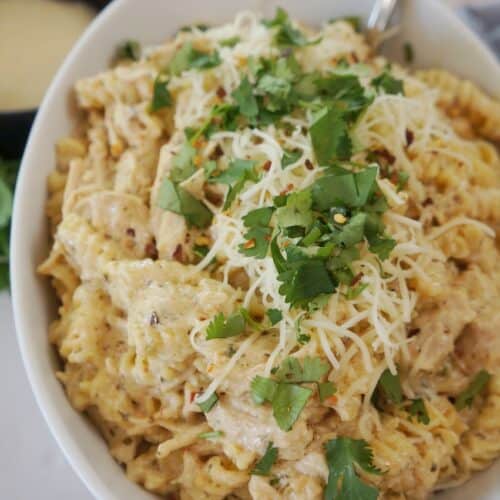 Crock Pot Buffalo Wild Wings Garlic Parmesan Chicken Pasta
Enjoy this simple and delightful Crockpot Buffalo Wild Wings Garlic Parmesan Chicken Pasta. Tender chicken, creamy Garlic Parmesan sauce, and twisted noodles come together for a deliciously comforting and easy-to-make pasta dish that everyone will love.
Ingredients
1

bottle

Buffalo Wild Wings Garlic Parmesan Sauce

12 oz

2

pounds

boneless skinless chicken breasts

1

cup

milk

8

oz

cream cheese

cut into blocks

4

oz

parmesan cheese

grated

12

oz

pasta

gluten free
Instructions
Place chicken in bottom of slow cooker.

Pour the entire bottle of sauce over chicken.

Fill Garlic Sauce bottle with milk and shake. Add milk and sauce to slow cooker.

Add Parmesan cheese and stir everything together to combine.

Cook on low for 3-4 hours or high for 2-3 hours.

Once finished cooking shred chicken with two forks and mix to combine with sauce.

Cook pasta according to package and pour cooked pasta into the slow cooker. Stir to combine.
Video
Notes
Garlic Parmesan Sauce can be spicy. See notes for options for less heat.
Nutrition
Calories:
796
kcal
|
Carbohydrates:
12
g
|
Protein:
44
g
|
Fat:
64
g
|
Saturated Fat:
18
g
|
Polyunsaturated Fat:
24
g
|
Monounsaturated Fat:
15
g
|
Trans Fat:
1
g
|
Cholesterol:
181
mg
|
Sodium:
1777
mg
|
Potassium:
919
mg
|
Fiber:
1
g
|
Sugar:
8
g
|
Vitamin A:
1042
IU
|
Vitamin C:
8
mg
|
Calcium:
346
mg
|
Iron:
2
mg