Get your littlest chefs excited about reading and cooking with books and cooks fo kids! This idea came from cooking class that my son had at school where they put a book together with a fun cooking activity. Since we are at home during school break I thought it would be a perfect activity to add to our day. Cooking can help your child work on their math skills by counting marshmallows or pouring ingredients. Here's a quick example of how I set up the cooking class.
Pick a Theme for Your Books and Cooks with Kids
Easter is coming up so we decided the theme of Books and Cooks class was going to be Easter. We read an Easter book, "The Story of the Easter Bunny" and make Rice Krispies candy-filled Easter Baskets. Feel free to switch the book to any Easter book you want or have. And you can even skip Easter and you can use any theme to go with these Rice Krispies bowls, it could be a bird theme and these could be nests with eggs. The possibilities are endless!
Prepare
Cooking with kids can be fun but preparation is key. If you have little kids like me it's best to have everything measured out ahead of time. Put each ingredient in separate bowls they can easily pour. I have them double check the measurements when they cook with me so we work on math with numbers. Also, they learn how to read a recipe with step 1, step 2, step 3 and following directions. As long as you prep before they come to help it keeps it fun instead of stressful.
Get Reading-
We start by sitting down and reading the book before we start cooking. This is nice to start with because they calm down before we head into the kitchen. Once we finish reading we head over to the kitchen and talk about how the book relates to what we are cooking. For example in our book "The Story of the Easter Bunny" he makes baskets for all the kids and fills them with candy eggs. We talk about how we are doing the same thing as him. This helps the kids work through critical thinking and correlating. Who know cooking could be so educational!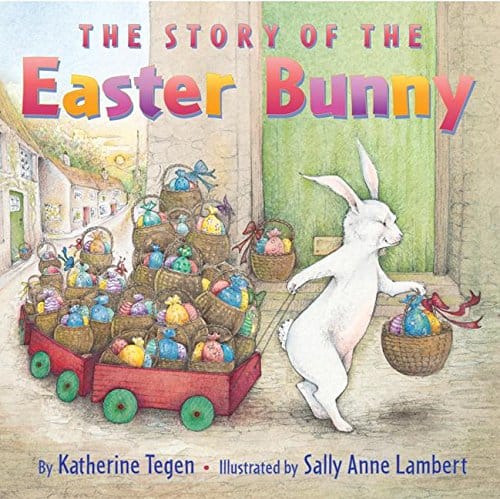 Get Cooking- Books and Cooks with Kids Style
This recipe can be done on the stove or in the microwave. We do it in the microwave since the stove might be a little too dangerous for kids. My daughter (3) pours the ingredients in and my son (5) does the stirring. Teamwork! Once everything is stirred together you can make your baskets. The kids grab a handful of the mixture and push them into the muffin cups and top with M&M eggs. They work on their identifying colors and adding 2 eggs per basket. Once all the hard work is done you get to enjoy your sweet treat! Click here to get the recipe.
More Fun Cooking with Kids Recipes