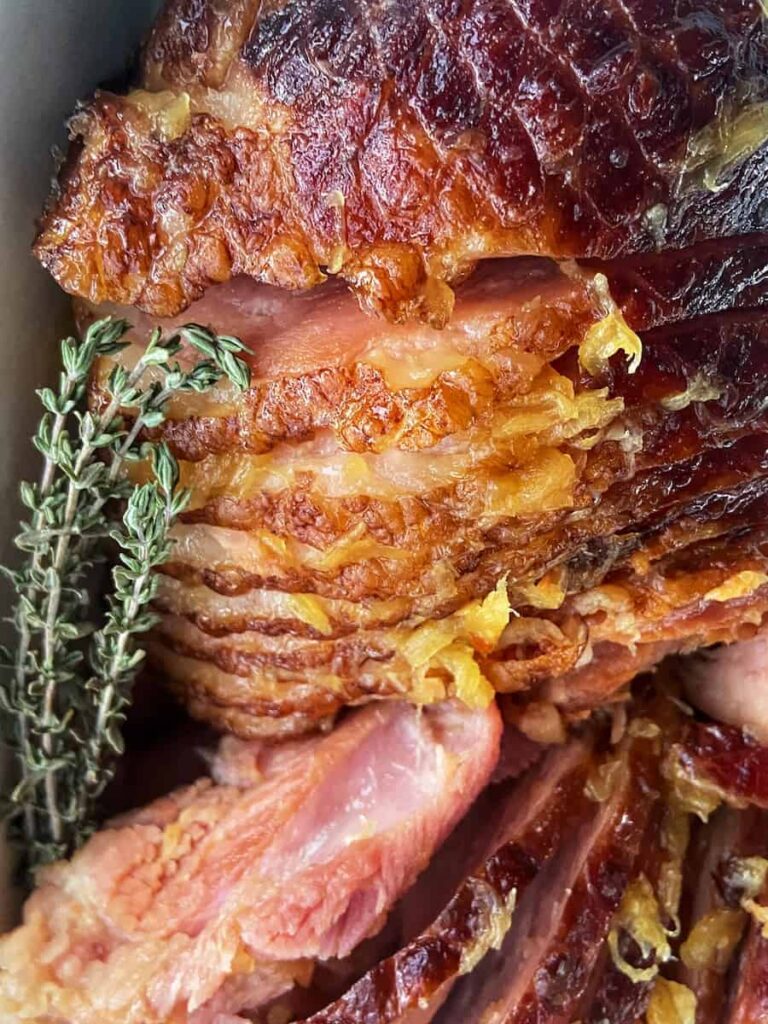 The Perfect Holiday Ham
This easy 5 ingredient ham will make any holiday a breeze. Brown Sugar and Pineapple Ham has the perfect balance of sweet and savory. The delicious brown sugar crust paired with the tangy pineapple makes a melt in your mouth ham.
This classic ham always takes the spotlight on Easter and Christmas but it can be made anytime. The best part is all the recipes you make with any leftover, if there are any!
Disclaimer- Some links below are Amazon affiliate links, meaning at no extra cost to you, I will earn a commission if you click through and make a purchase.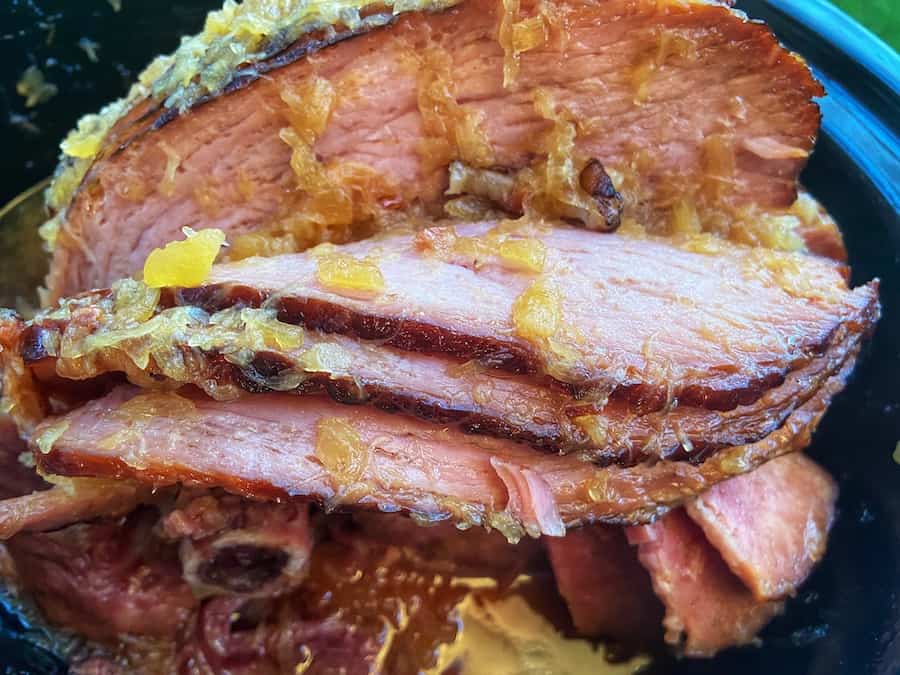 Tips for making Brown Sugar and Pineapple Ham
Mustard– I use the mustard because I think it adds a depth to the sweet side of this dish and helps to keep the brown sugar on the ham. Since this recipe calls for two sweet ingredients the balance the mustard adds is needed. You can skip that step if you don't like mustard or use a teaspoon of apple vinegar.
Pineapple– There are so many pineapple options out there. The traditional ham uses the pineapple rings which looks so fun. But as far as getting bites of pineapple with my ham I prefer to use pineapple tidbits or crushed since they can get in all the nooks and crannies. But any pineapple will work, just don't forget the juice.
Ham– The best part about this recipe is it can be used with any ham! I have even done it with a tiny 2 pound ham that was on sale. Typically, I use a spiral ham because it's easy to cut and get lots of juice inside. But you can use boneless, bone-in, spiral or uncut! As long as it can fit in the crock pot you are set.
Holiday Side Dishes
Don't forget the side dish! Make these amazing mashed potatoes or creamed corn that can be made it the crock pot too.
Leftover Brown Sugar and Pineapple Ham?
If you have leftover you can either use them to make this egg casserole or I love to chop it up and freeze it and use it as needed!
How to Make Brown Sugar and Pineapple Ham?
Add 1 1/2 cups brown sugar to the bottom of the crock pot.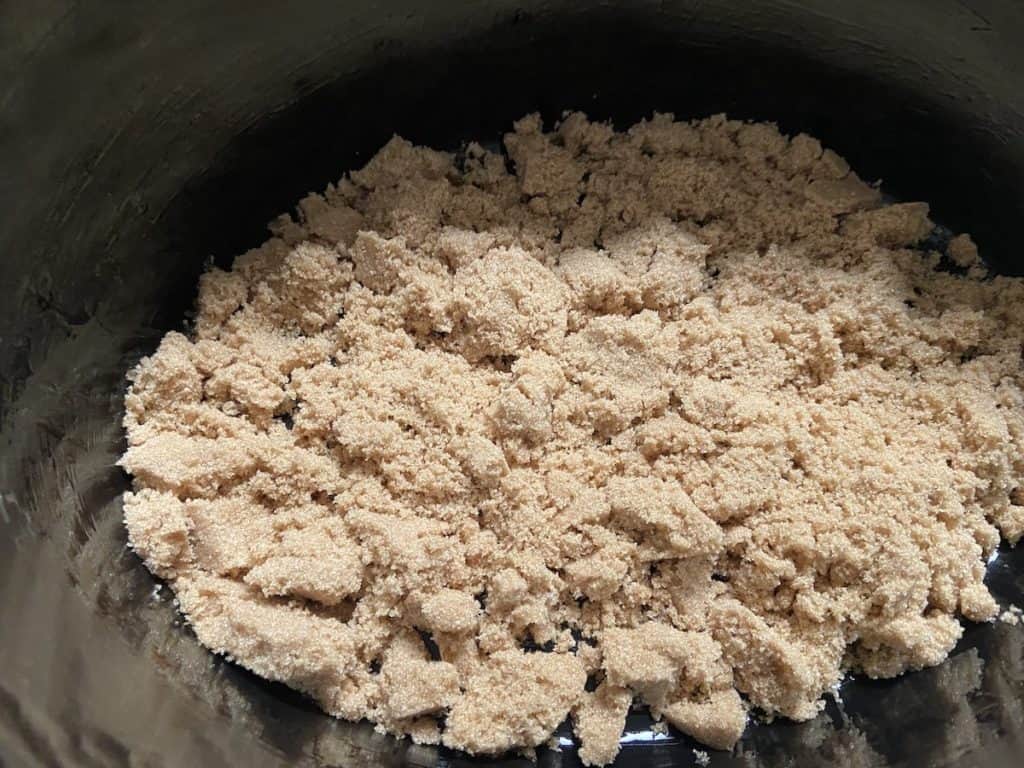 Place ham on top of brown sugar.
Spread mustard over ham. Pour honey over ham and spread. Sprinkle with ginger and red pepper flakes(optional).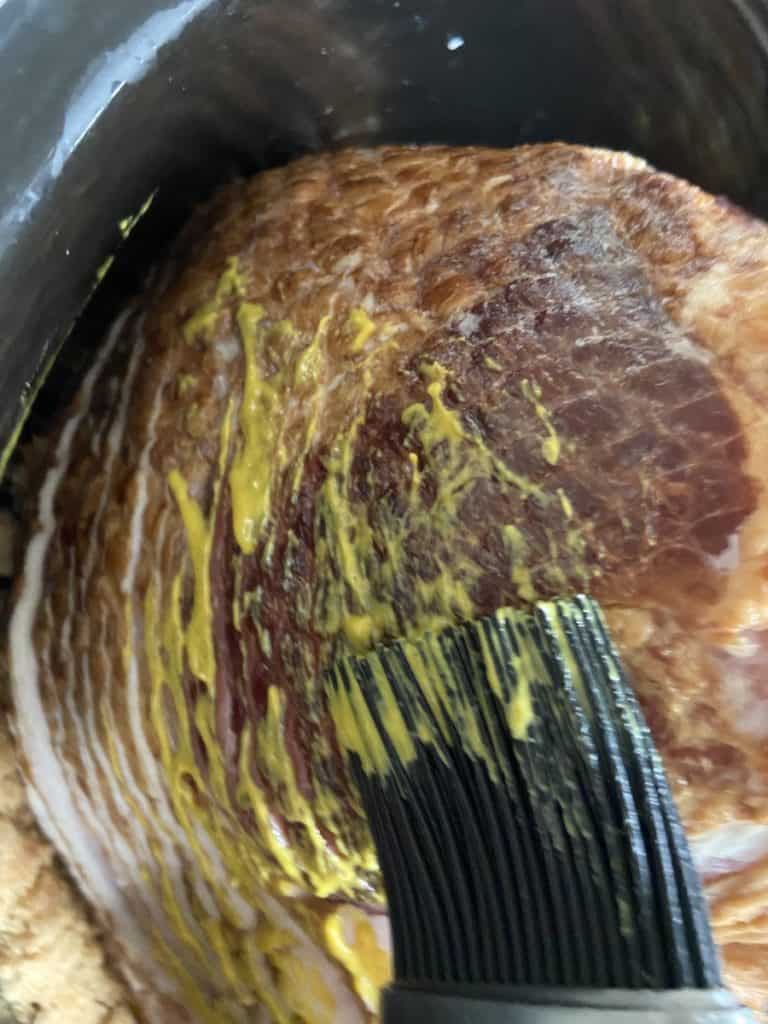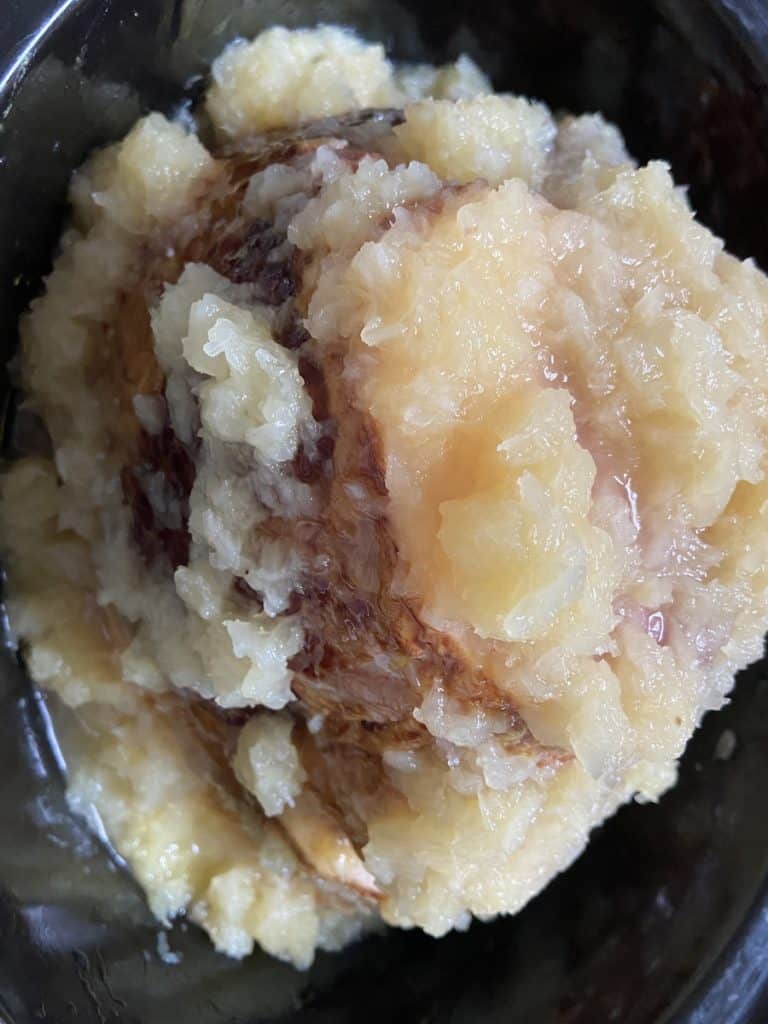 Pour juice from can and pineapple over ham. Add 1/2 cup brown sugar on top of pineapple.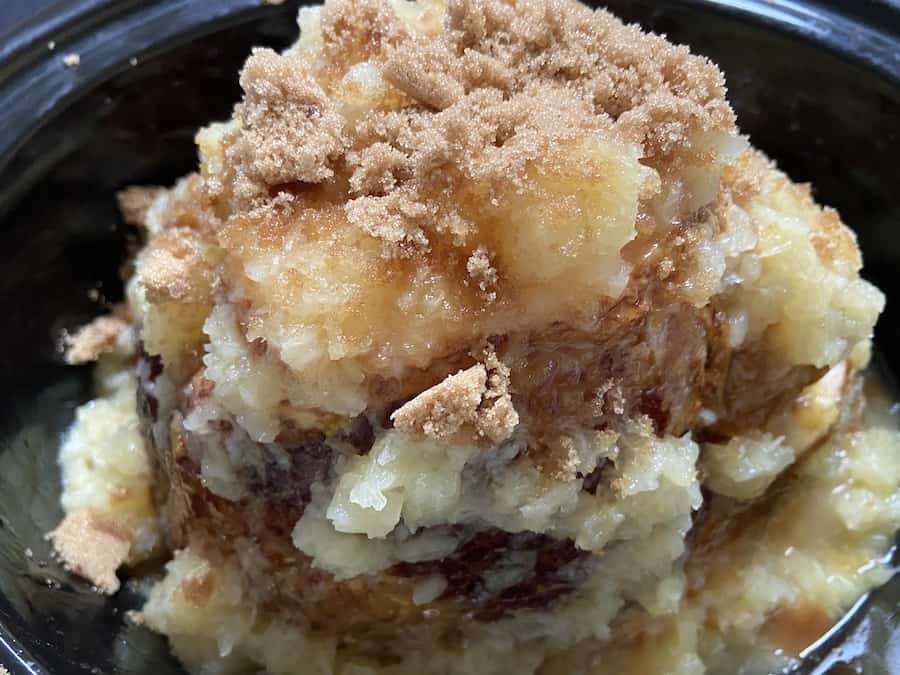 Cover and cook on low for 3-4 hours or until internal temperature reaches 140 degrees. (Timing varies depending on size of ham)
Need More Holiday Dishes?
Slow Cooker Baked Mac and Cheese
Need A New Crock Pot?
My favorite is this Crock Pot 7 quart Programmable Slow Cooker. First and foremost, I love being able to set the timer in case I'm not home when the food is finished cooking and it just switches to warm. Plus you can lock the lid and just carry it to a party. Not only is it easy to carry but also you will never lose another Tupperware or serving dish again at a potluck party!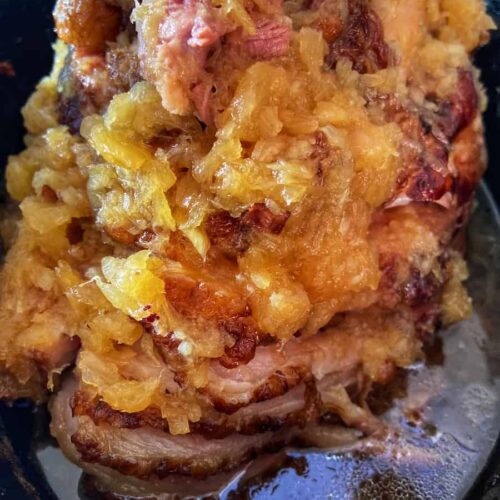 Brown Sugar and Pineapple Ham
This easy 5 ingredient ham will make any holiday a breeze.
Ingredients
6-7

pound

ham

spiral is my choice

1 1/2

tablespoons

Dijion or yellow mustard

2

cups

brown sugar

20

ounce

canned pineapple tidbits, crushed, chunks, or rings with juice

1

tablespoon

ground ginger

3

tablespoons

honey

1

pinch

dried chili flakes
Instructions
Sprinkle bottom of slow cooker with 1 1/2 cups of brown sugar.

Add ham to slow cooker.

Coat ham in mustard. Add 3 Tablespoons of honey on top of mustard.

Mix ground ginger and chili flakes together. Sprinkle over ham.

Pour juice from can and half the pineapple over ham. Add 1/2 cup of brown sugar on top.

Cover and cook on low for 3-4 hours or until internal temperature reaches 140 degrees. (Timing varies depending on size of ham)
Nutrition
Calories:
1106
kcal
|
Carbohydrates:
72
g
|
Protein:
74
g
|
Fat:
57
g
|
Saturated Fat:
20
g
|
Cholesterol:
211
mg
|
Sodium:
4087
mg
|
Potassium:
1150
mg
|
Fiber:
1
g
|
Sugar:
70
g
|
Vitamin A:
41
IU
|
Vitamin C:
7
mg
|
Calcium:
84
mg
|
Iron:
4
mg