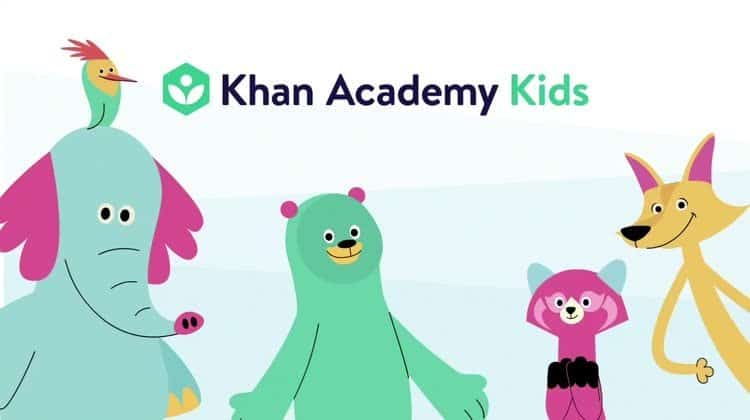 Here's a list of the Best Free Online Kid Apps to download today for your screen time! If you are home all day because school is canceled then get busy downloading. The great part is they are educational, free and fun. Plus, they have NO ads and tons of options to choose from! Independent play allows the kids to make their own choices on what they want to play and you don't have to help them…Win-Win. The best free online kids apps will help you stay sane while we stay home. I use these options in my screen time for my daily schedule. Click Here for my daily schedule if you are looking to add a little structure to your day!
List of Best Free Online Kid Apps
Khan Academy Kids– This app is built with ages 2-7 in mind. There are hundreds of games, books and coloring pages to choose from! They focus on early literacy, math, emotional feelings and reading. If you have an older kid check out Khan Academy.
Duck Duck Moose Apps– More great apps from Khan Academy! Type Duck Duck Moose into your search in the App Store and ALL the options will pop up. They have so many different options depending on what your kids enjoys. Pick a few since they are FREE . My kids love Moose Math, Build A Truck, and Trucks! They have Princess Fairy Tale Maker and Fish School which are fun too. Actually every app they make is a hit. Here's the link but it works best if you just go to your App Store and search.
PBS Kids Games– Educational content from all your favorite characters at PBS. Daniel Tiger is the favorite in our house but there are plenty to choose from. Content you can count on since PBS is making it! Link- https://pbskids.org/apps/
Scholastic Learn at Home– Scholastic is offering a free at home school with new curriculum everyday during the shut down. Pick your grade and go! Link- https://classroommagazines.scholastic.com/support/learnathome.html
Here are some new options we have found!
Splash Learn– Easy for kids to follow along independently with fun games with either math or reading. My son (5) really enjoyed the new games. You pick your grade level and it offers different content for math and letters. They offer a daily lesson in math and reading for free! You can't win the big prize at the end unless you subscribe. But I just made tickets to give him each time the purple screen pops up and told him that he won the lesson. After he gets 5 tickets he gets a prize!
Starfall– There is a free option that has some good learning activities. You can also pay to upgrade but we are using the free version. We do the alphabet lesson everyday!