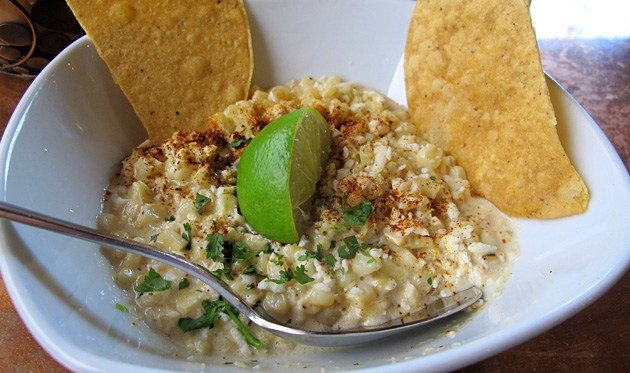 What is Mexican Street Corn or Elote?
If you haven't had the chance to have slow cooker mexican street corn before it is a taste that is hard to describe!
The best way is to picture yourself taking a stroll through the busy streets of Mexico City and you will smell the sizzling corn on the cob being sold in carts all along the road. Can you smell it through the screen?
This is how this special corn got its name, Mexican Street Corn. Mexican Street Corn is served with butter, salt, chili powder, mayonnaise, lime juice and cotija cheese. These flavors are perfect together!
Mexican Street Corn goes by another name as well, Elote. In Central American and Mexico corn, on or off the cob is called, Elote. This name is derived from the Nahuatl elotitutl, meaning tender cob. After tasting this amazing corn you will immediately be hooked and may not be able to go back to eating it with just butter and salt again.
Ok now you know everything these is to know about Mexican Street Corn but how do you to make it?
Disclaimer- Some links below are Amazon affiliate links, meaning at no extra cost to you, I will earn a commission if you click through and make a purchase.
How to Make Slow Cooker Mexican Street Corn at Home
Once I had tried this delicious corn at a restaurant called the Elote Cafe in Sedona I had to make it once I returned home. Nothing can compare to having the ambience of the streets of Mexico City or at Elote Cafe.
However, I wanted to share this recipe out at our next party and try to share the delicious and unique flavors. I know it sounds crazy putting mayonnaise with corn but this tangy and sweet mix is what makes this corn so tasty.
I always try to make things simple for parties so I can enjoy my friends' company. Also, I find that sometimes people don't really enjoy eating an entire corn on the cob at a party so I thought making it in the slow cooker would work best so everyone could eat it as a dip or with their dinner.
There was none left by the time we had dinner but everyone loved the unique flavors and taste. Now you can have this little taste of Mexico City street food at home too. Try out this amazing recipe for a party or just as a side to go with tacos!
What is Cotija Cheese?
One of the key parts of Mexican Street Corn is Cotija Cheese but if you have never had cotijta cheese it might be a little confusing to know the taste. Cotija is a Mexican cow's milk is a white, dry and crumbly cheese.
It is named after the town it comes from, Cotija, Michoacán. The closest cheese to compare it to is feta as far as consistency. The taste is very different though. It has a taste that is sharp, salty and milky. I highly recommend giving this cheese a try!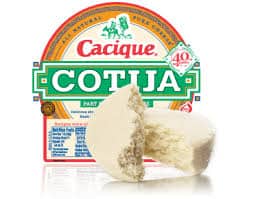 Cheese Substitute– If you have had cotija cheese before and you don't enjoy it then you can swap for parmesan cheese.
Need A New Crock Pot?
My favorite is this Crock Pot 7 quart Programmable Slow Cooker. First and foremost, I love being able to set the timer in case I'm not home when the food is finished cooking and it just switches to warm. Plus you can lock the lid and just carry it to a party. Not only is it easy to carry but also you will never lose another Tupperware or serving dish again at a potluck party!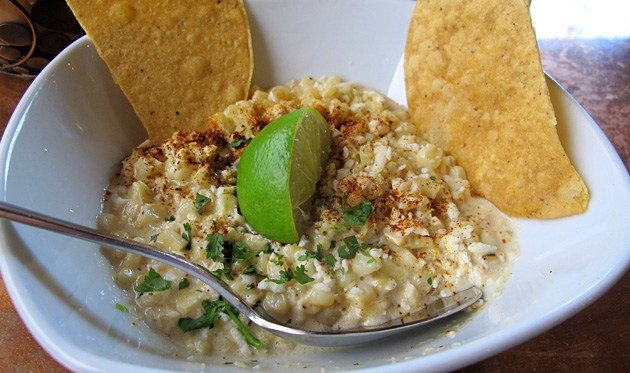 Slow Cooker Mexican Street Corn
Mexican Street Corn or Elote dip is filled with flavors that are bold and delicious. This creamy, cheesy, spicy side dish or dip will win you over at first bite.
Ingredients
1

bag

frozen whole kernel sweet corn

or 4 ears of boiled corn shucked

1/2

cup

poblano pepper

chopped and seeded

2

cups

shredded pepper jack cheese

8

ounces

cream cheese

cubed

1/2

teaspoon

salt

1

teaspoon

chili powder

1/2

cup

mayonaise

1

teaspoon

lime juice

Cotija cheese or parmesan

crumbled for topping

Cilantro

for garnish
Instructions
Cook corn as directed on bag.

Place all ingredients except mayonnaise and lime juice in slow cooker.

Cover, cook on low for 1 to 1 1/2 hours.

Uncover, stir in mayonnaise and lime until well blended.

Cover, cook on high for 10 minutes.

Top with cotija cheese, cilantro and sprinkle with chili powder. Serve with tortilla chips.
Nutrition
Calories:
687
kcal
|
Carbohydrates:
23
g
|
Protein:
21
g
|
Fat:
59
g
|
Saturated Fat:
26
g
|
Polyunsaturated Fat:
14
g
|
Monounsaturated Fat:
15
g
|
Trans Fat:
1
g
|
Cholesterol:
119
mg
|
Sodium:
995
mg
|
Potassium:
355
mg
|
Fiber:
3
g
|
Sugar:
7
g
|
Vitamin A:
1656
IU
|
Vitamin C:
20
mg
|
Calcium:
485
mg
|
Iron:
1
mg
Looking for tacos to go with Slow Cooker Mexican Street Corn?