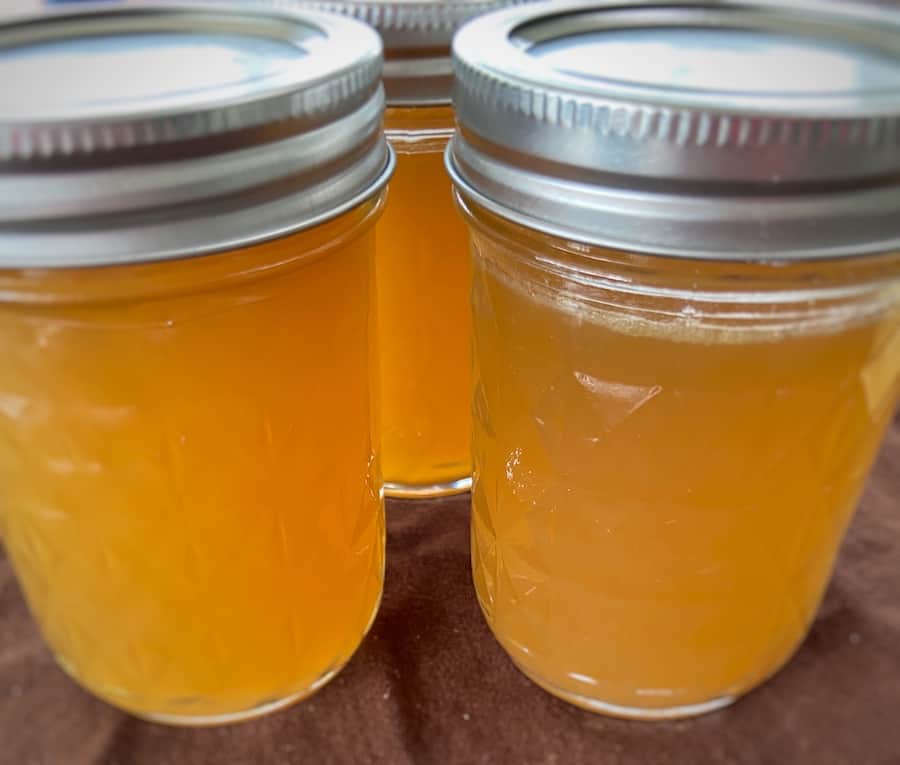 Thanksgiving is over but wait don't throw that Turkey away yet! Take the turkey bones and make a delicious and flavorful Crock Pot Turkey Stock from the turkey carcass. You can make an easy turkey stock you can use for Turkey Noodle Soup. If you don't like Turkey Noodle Soup just freeze it and use for recipes that call for turkey or chicken broth.
Disclaimer- Some links below are Amazon affiliate links, meaning at no extra cost to you, I will earn a commission if you click through and make a purchase.
THANKSGIVING LEFTOVERS
Try to make the stock the night of Thanksgiving or the next day if you can since the flavor will be best the sooner you cook it. I usually make this the night after Thanksgiving. I just throw the bones in the Crock Pot with the veggies and spices and let it cook overnight.
You will likely discover there is lots of meat still on the bones so make sure and get all the bits off because they will be perfect for making the Turkey Noodle Soup. Once the meat is removed you can get started making this homemade Turkey Stock.
This recipe can be modified using whatever you have. I always have leftover onions, carrots and celery after Thanksgiving so that's what I put in there. Also, if you don't have fresh herbs you can swap them for dried herbs or anything that's in your fridge.
Before you start I do like to recommend having a sieve since this will make the process of straining much easier. I love my All Clad Sieve. It makes it so easy because it sits right on the bowl with a handy hook. That way you can be hands free while you pour burning hot liquid into the strainer. But there are other ways if you don't have one of these handy. If you don't have one you can use a cheesecloth or even a coffee filter.
WAYS TO USE TURKEY STOCK
Making turkey stock will be one of the easiest and most economical things you've ever made. Most people just throw the bones away but there are so many great ways to use turkey stock. If I'm not hosting Thanksgiving I always ask for the turkey bones before someone throws it in the garbage! One persons trash is another persons treasure, right??
You can use the turkey stock for any recipe that calls for chicken broth or any broth. The best part is instead of buying the stock from the store you can use your own! I always love saving money!!! The extra bonus is you get to control the salt and there are no additives in homemade turkey broth. This is a great method for any one who is watching their sodium intake.
Use this broth to make a few of my favorite dishes, Crock Pot Garlic Butter Chicken, Creamy Tuscan Garlic Chicken or Crock Pot Greek Chicken Soup.
HOW TO MAKE CROCK POT TURKEY STOCK
Step 1. Add Turkey Bones, Vegetables, Water and herbs.
Step 2. Cook on low for 8-12 hours.
Step 3. Strain the stock through a sieve.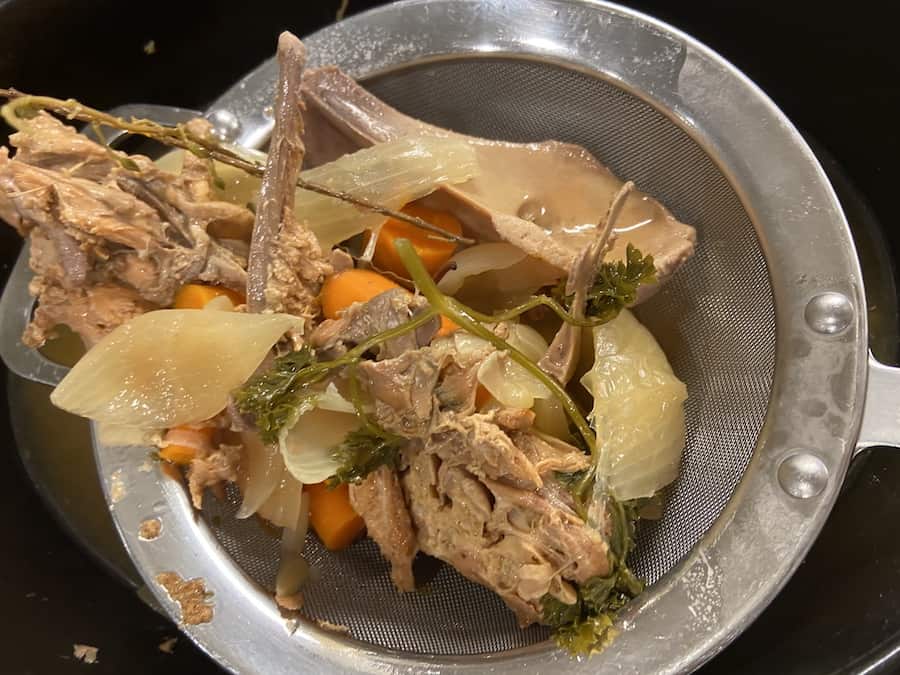 Step 4. Use to make delicious turkey noodle soup or freeze for up to 2 months.
Crock Pot Turkey Stock
Make this gluten free turkey stock from your leftover turkey bones!
Ingredients
Turkey Carcass

broken into 3 or 4 pieces

1

onion

sliced

5

carrots

cut into 3-inch pieces

5

celery stalks

1

bay leaf

3

springs of thyme

1

teaspoon

peppercorns

8-10

cups

filtered water

Salt to taste
Instructions
Add turkey bones, vegetables, water, and herbs.

Cook on low for 8-12 hours.

Strain the stock through a sieve, cheesecloth, or coffee filter in a pinch.

Use to make delicious turkey noodle soup or freeze for up to 2 months.
Nutrition
Calories:
31
kcal
|
Carbohydrates:
7
g
|
Protein:
1
g
|
Fat:
1
g
|
Saturated Fat:
1
g
|
Sodium:
54
mg
|
Potassium:
211
mg
|
Fiber:
2
g
|
Sugar:
3
g
|
Vitamin A:
8536
IU
|
Vitamin C:
5
mg
|
Calcium:
37
mg
|
Iron:
1
mg