The easiest and best way to make Corned Beef and Cabbage is in your slow cooker. Crock Pot Corned Beef and Cabbage is one of my favorite meals! I always eat it all year long but in most houses it only makes an appearance for St. Patrick's Day.
This meal was made for a slow cooker and it shines every time. If you are looking to celebrate the luck of the Irish or just looking for a hearty and easy family dinner this recipe is the perfect fit. Potatoes, carrots and cabbage pair perfect with this seasoned beef.
If this is your first time making corned beef it can be a little confusing so I tried to answer the most common questions I get when it starts getting close to St. Patrick's Day!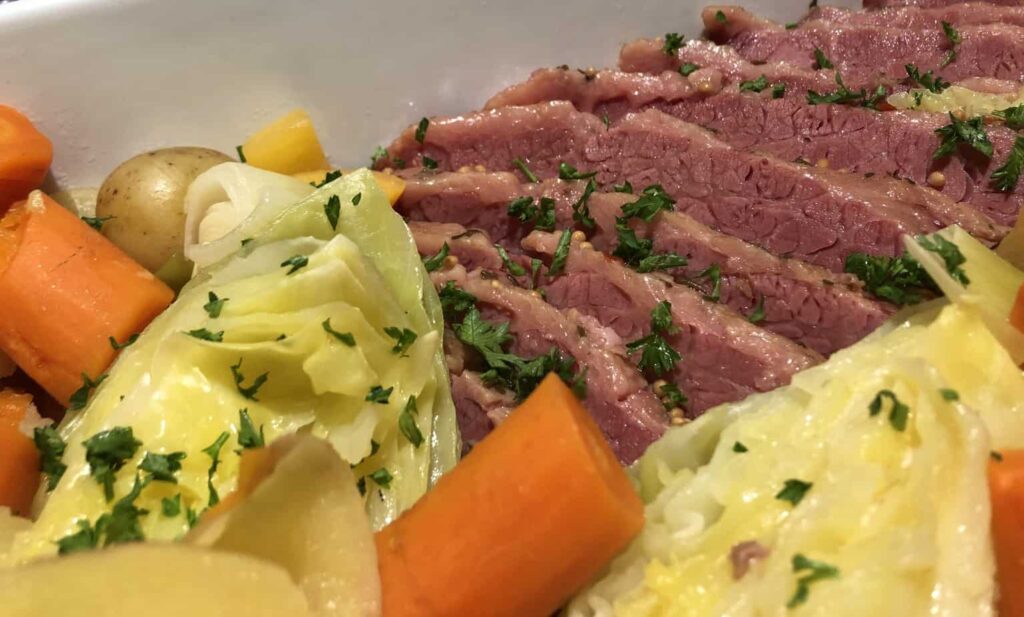 Disclaimer- Some links below are Amazon affiliate links, meaning at no extra cost to you, I will earn a commission if you click through and make a purchase.
What is Corned Beef?
Corned Beef is a description of a cooking technique made by salt-curing beef. It is usually made from brisket. Since brisket is usually a tough meat the salt-curing or brining makes it tender. Then once you get it at the grocery store it comes packaged with a little spice packet that is typically used to flavor the meat while cooking. I always use the spice packet included and find it a perfect mix.
Why Make Crock Pot Corned Beef and Cabbage?
The best part is that corned beef is best cooked low and slow which is when the slow cooker comes in. It can easily become more tender and juicy when it is cooking in a slow cooker. This is also a one-pot wonder. You can start it in the morning and let it cook all day until dinner. All you have to do is put the vegetables in halfway through. Once everything is all done cooking you just serve it and you're done. That's my kind of dinner!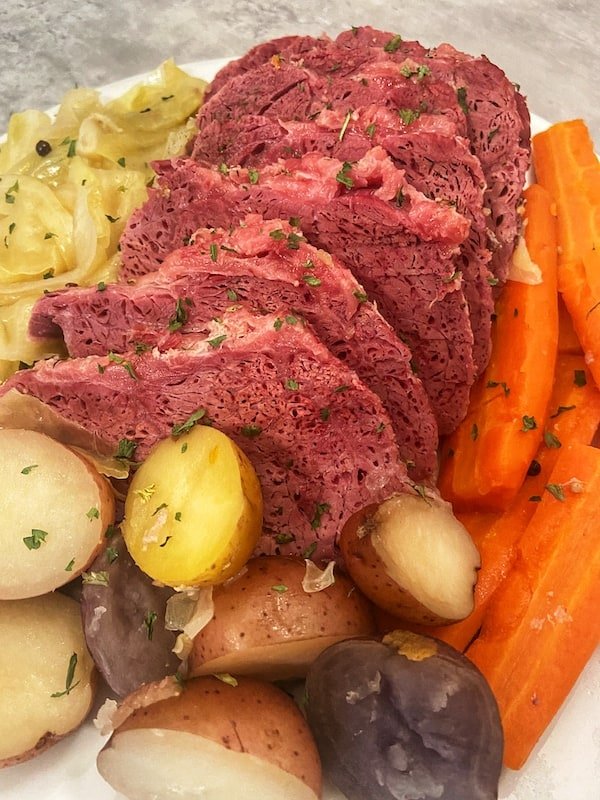 Point Cut or Flat Cut for Corned Beef?
There are two cuts of Corned Beef. Point Cut corned beef are rounder and have more marbling or fat. Just like with steak this gives the meat more flavor. Most people choose the Point Cut for Corned Beef. However, the Flat Cut corned beef, also called the round cut is leaner and easy to cut. I accidentally used the Flat Cut once and it was still good but it was not as juicy. I recommend the Point Cut especially if you are only making this once a year. However, if you are trying to eat healthy you can still make a a very delicious Corned Beef and Cabbage with the Flat Cut.
What You Need to Make Corned Beef and Cabbage
Corned Beef with Spice Packet
Apple Cider Vinegar (This helps tenderize the meat)
Sugar (This adds depth and flavor while tenderizing the meat)
Onion
Carrots
Potatoes
Cabbage
Need A New Crock Pot?
My favorite is this Crock Pot 7 quart Programmable Slow Cooker. First and foremost, I love being able to set the timer in case I'm not home when the food is finished cooking and it just switches to warm. Plus you can lock the lid and just carry it to a party. Not only is it easy to carry but also you will never lose another Tupperware or serving dish again at a potluck party!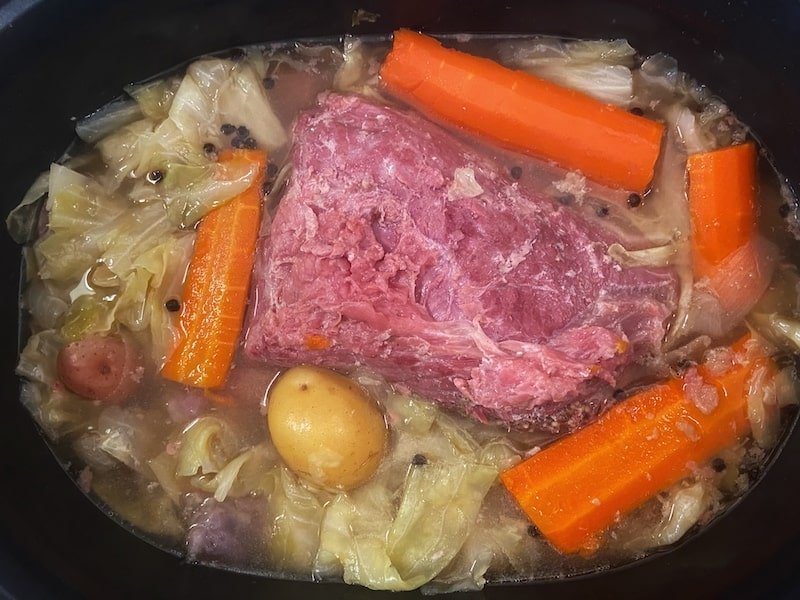 Let the Crock pot do the work for you! It's so easy and you are sure to enjoy every last bite of this classic dish!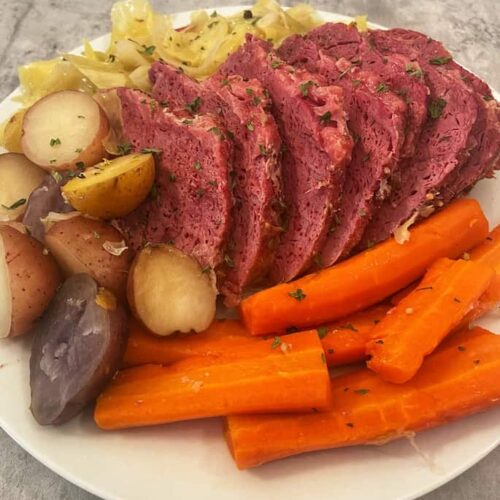 Crock Pot Corned Beef and Cabbage
Make this all in one meal complete with meat, potatoes and veggies for St. Patrick's Day or any night!
Ingredients
4

cups

hot water

2

tablespoons

apple cider vinegar

2

tablespoons

sugar

1/2

teaspoon

fresh ground pepper

1

large

onion

cut into quarters

3

pounds

corned beef

with spices

8

small

white potatoes

cut into quarters

1

head

cabbage

cored and cut into 10 wedges

4-5

carrots

cut into 1 inch pieces
Instructions
Combine water, vinegar, sugar, pepper and onions in slow cooker.

Place corned beef and contents of spice packet in the mixture.

Put the potatoes and carrots over the top and along the sides.

Cover and cook on low for 4 hours.

Remove cover and scatter cabbage wedges on top.

Cover and continue cooking for 4-6 hours, or until beef is tender.

Remove corned beef. Let sit for 15 minutes. Cut beef into slices against the grain and serve with vegetables and spoon liquid over beef from slow cooker to keep beef moist.
Notes
I had a few comments that the high setting was too much for their slow cooker. I have adjusted to low to make sure it doesn't get dried out. All slow cookers vary so make sure to check yours periodically.
Nutrition
Calories:
529
kcal
|
Carbohydrates:
44
g
|
Protein:
30
g
|
Fat:
26
g
|
Saturated Fat:
8
g
|
Polyunsaturated Fat:
1
g
|
Monounsaturated Fat:
12
g
|
Cholesterol:
92
mg
|
Sodium:
2129
mg
|
Potassium:
1543
mg
|
Fiber:
8
g
|
Sugar:
10
g
|
Vitamin A:
5211
IU
|
Vitamin C:
124
mg
|
Calcium:
96
mg
|
Iron:
5
mg
Leftover Slow Cooker Corned Beef and Cabbage?
Make breakfast the next morning with an easy egg and corned beef casserole!