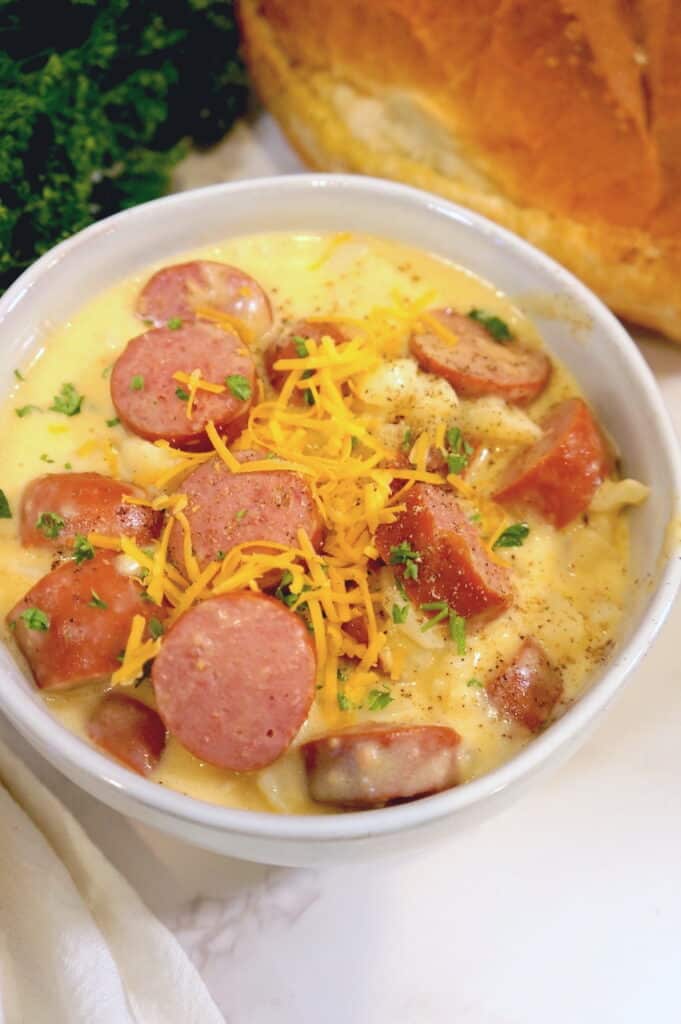 This hearty Kielbasa Soup is the perfect way to warm up and fill up! Loaded with potatoes, kielbasa, and shredded cheese this satisfying crock pot soup makes a quick and easy dinner.
Kielbasa Soup
Enjoy a delightful bowl of Crockpot Kielbasa Soup, with flavorful kielbasa, hearty potatoes, sauteed onions, a rich blend of shredded cheese, and a creamy mixture of melted butter and half-and-half. This easy-to-make and satisfying soup is the perfect warm and comforting meal for your family. Discover the taste of homemade goodness in every spoonful. Try my Crockpot Potato Soup for another easy and cheesy crockpot soup recipe.
Potato Kielbasa Soup
This one-pot soup stew fits the bill since it has meat, potatoes, and veggies in a rich cheesy sauce. I love to eat it for dinner with a big piece of gluten-free bread. These baguettes are my favorite store-bought bread because they are the perfect size. Then I usually have the leftovers for lunch all week with a sandwich. Just like a Panera duo but 1/3 the price!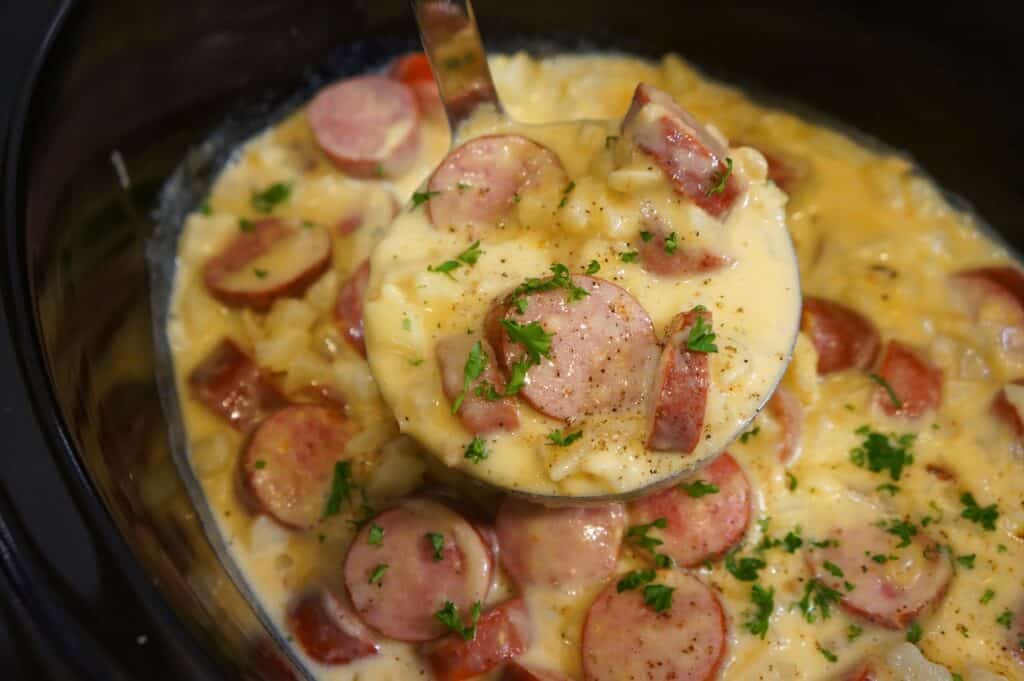 Crockpot Soup
Making this Crockpot Kielbasa Soup is a breeze, and here are the reasons you are going to love making it:
Easy Peasy Prep: You're just chopping up some kielbasa and dicing an onion – nothing too fancy or complicated.
Lazy Cooker Magic: Throw everything into your slow cooker, and that's it! No need to babysit the pot; just let it do its thing.
Hands-Off Cooking: Forget about hovering over the stove; the slow cooker takes care of business while you do your thing.
Shortcut Ingredients: We're using simple ingredients to keep things super simple.
Make It Yours: Feel free to get creative by tossing in extra ingredients like veggies, spices, or herbs if you're feeling fancy.
Perfect for Hectic Days: If you've got a jam-packed schedule, this recipe's your lifesaver. Prep in the morning set it, and come home to a home-cooked meal without all the fuss.
Crockpot Kielbasa Soup is your ticket to a tasty homemade soup without the kitchen drama. It's the laid-back way to a satisfying meal.
Kielbasa Soup
Whenever I make soup I prefer it to be substantial so I can eat it for dinner on its own. I like a very filling soup for dinner so if I'm going to make soup I like it to be more like a stew than a soup. That means lots of yummy goodies like meat, potatoes, and veggies all included. Some other Crockpot Soup ideas to try are my Classic Chili and Slow Cooker Lasagna Soup recipes!
Ingredients for Kielbasa Soup
Kielbasa (Sausage): Kielbasa is the star of this soup. It adds a rich and savory flavor with a slightly smoky and garlicky undertone. The sausage also contributes protein, making the soup hearty and filling.
Potatoes: Potatoes provide substance and texture to the soup. They add a comforting, starchy element that makes the soup satisfying. As they cook, they release starch, helping to thicken the broth slightly.
Onion: Diced and sautéed onions bring a sweet and aromatic flavor to the soup. They add depth and complexity to the overall taste.
Shredded Cheese: Cheese contributes creaminess and richness to the soup. It also enhances the flavor profile with its savory and slightly tangy notes.
Butter: Melted butter adds a luscious and smooth texture to the soup. It helps to create a creamy base while adding a hint of buttery richness.
Half-and-Half: Half-and-half is a blend of equal parts milk and cream. It provides a creamy and indulgent consistency to the soup while also adding a subtle dairy flavor.
Cream of Chicken Soup: This canned soup serves as a flavor-packed base for the recipe. It brings a creamy and slightly savory essence to the soup while also acting as a thickening agent.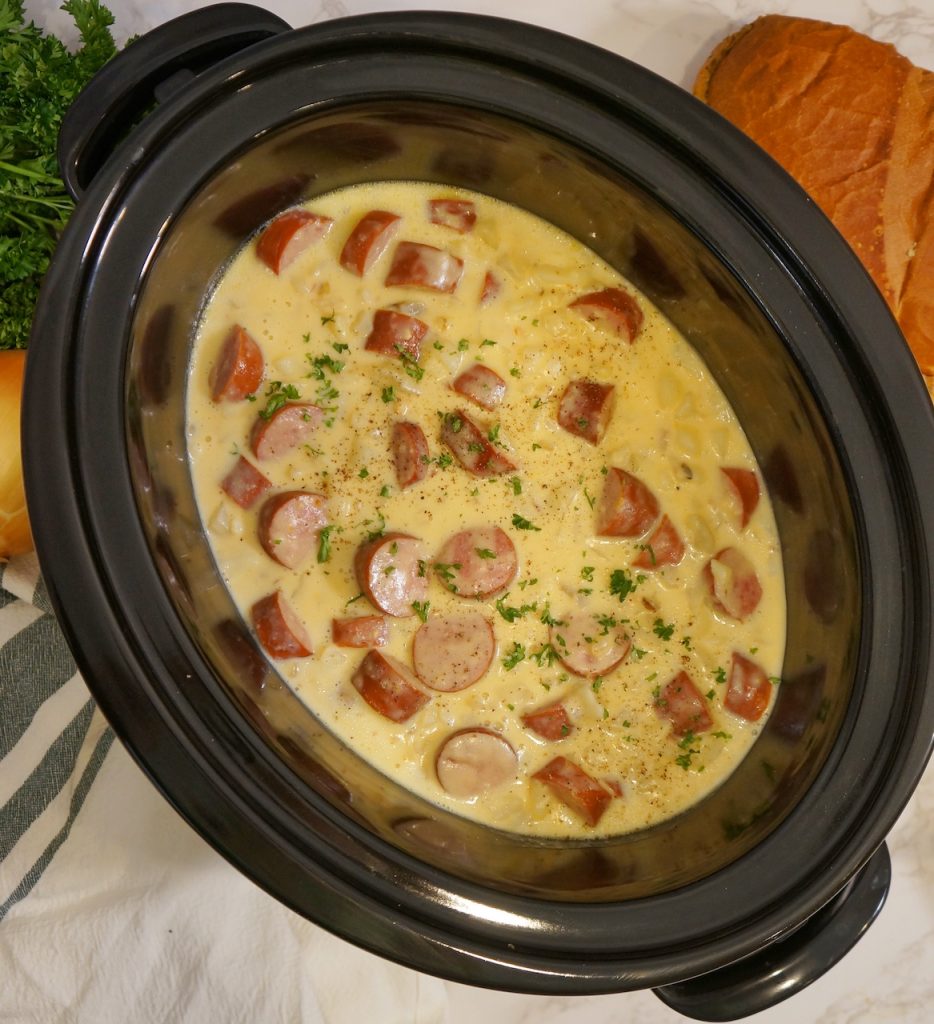 How to Make Kielbasa Soup
Step 1. Combine potatoes, kielbasa, sauteed onion, and 2 cups of cheese in a greased crockpot.
Step 2. Pour melted butter and cream of chicken over ingredients.
Step 3. Stir to combine ingredients.
Step 4. Cover and cook on low for 3-4 hours or until potatoes are soft.
Step 5. Once potatoes are soft add half and half or milk. Stir to combine.
Step 6. Serve with shredded cheese on top.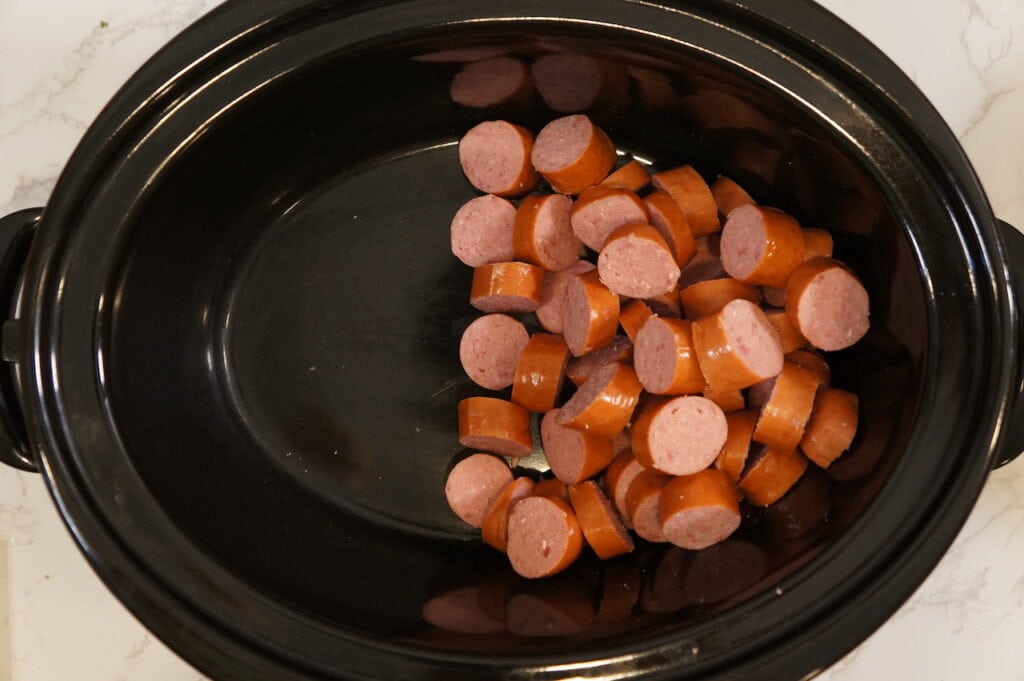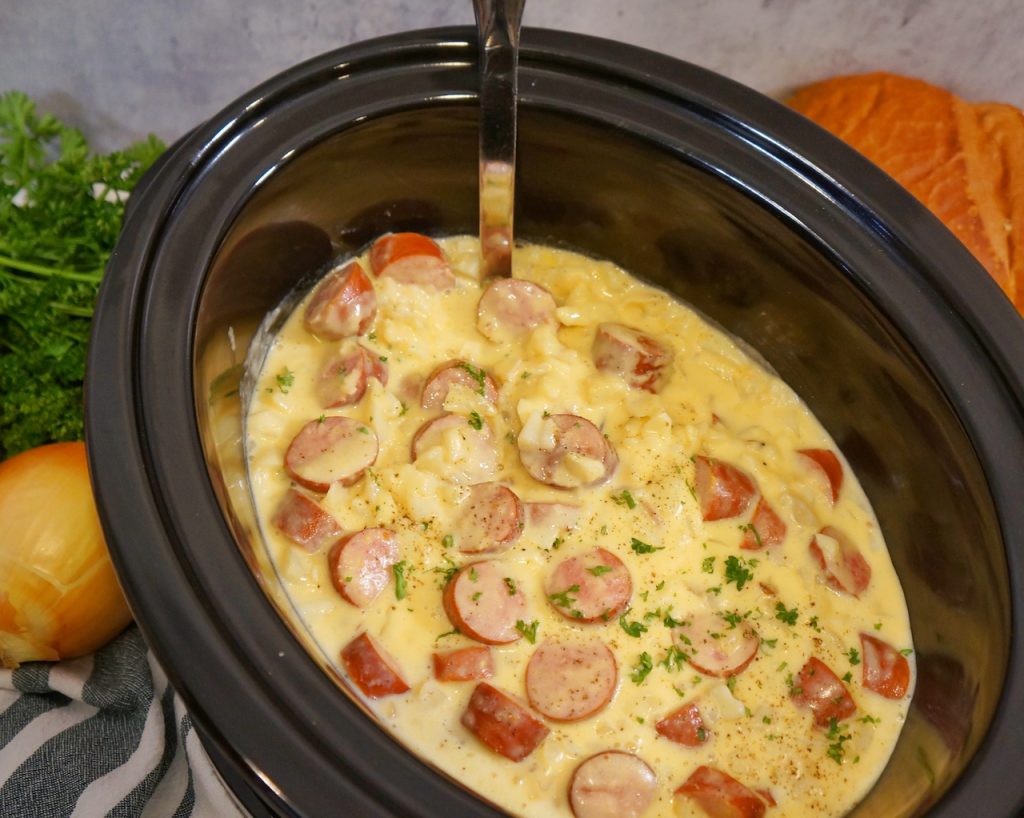 Substitutions for Kielbasa Soup
1. Kielbasa: While kielbasa is the star of this dish, you can experiment with different sausages such as smoked sausage, bratwurst, or even hot dogs for a unique flavor twist.
2. Potatoes: You can use diced frozen potatoes or regular potatoes. If you use regular potatoes just be sure to peel and dice them into bite-sized pieces.
3. Onion: If you're not a fan of onions or have dietary restrictions, you can omit them or substitute them with shallots or leeks for a milder flavor.
4. Cheese: Feel free to get creative with the cheese. Cheddar, mozzarella, or Swiss can be delicious alternatives to shredded cheese. You can also use dairy-free cheese for a vegan or lactose-free version.
5. Butter: Substitute melted butter with olive oil for a slightly lighter option, or use a dairy-free margarine for a vegan twist.
6. Half-and-Half: If you're looking to reduce the fat content, you can use whole milk or lower-fat milk like 2% or even almond milk as a dairy-free option. Keep in mind that this might alter the creaminess slightly.
7. Cream of Chicken Soup: If you prefer a different soup base, try cream of mushroom or cream of celery.
What is Kielbasa?
Kielbasa is a type of sausage that originates from Poland. It is a versatile and flavorful sausage that comes in various forms and can be made from different meats, although pork is the most common. The term "kielbasa" is a Polish word that simply means "sausage," and there are many regional varieties throughout Poland and Eastern Europe.
American kielbasa is often made from pork, but it can also include beef, veal, or a combination of these meats. It is seasoned with a mixture of spices, including garlic, and is characterized by its smoky and savory flavor.
Kielbasa is typically characterized by its bold, smoky, and sometimes garlicky flavor. It can be found in both cooked and uncooked forms. Some popular types of kielbasa include:
Smoked kielbasa: This kielbasa has a smoky flavor and is often fully cooked during the smoking process. It can be eaten cold or heated, making it a popular choice for sausages like the one used in this kielbasa soup.
Fresh Kielbasa: This is uncooked and typically needs to be cooked before eating. It can be grilled, boiled, or pan-fried.
Polish Kielbasa: This is a general term for Polish sausages, which can include a variety of ingredients and spices. It's a staple in Polish cuisine and can be used in a wide range of dishes.
Budget- Friendly Dinner
Kielbasa is often an affordable protein option, making it a cost-effective choice for feeding a crowd without breaking the bank. Kielbasa soup isn't just delicious; it's also wallet-friendly. You see, the star of the show, kielbasa sausage, brings the flavor punch without the hefty price tag of fancier proteins. Plus, we're talking about a recipe that uses with everyday ingredients like potatoes, onions, and cheese—no need for a pricey shopping spree. This kielbasa soup is a budget-friendly superstar!
What to Serve with Kielbasa Soup?
Crusty Bread or Rolls: A warm, crusty baguette, dinner rolls, or slices of artisan bread.
Salad: A fresh green salad with a light vinaigrette or coleslaw.
Grilled Cheese Sandwiches: Classic grilled cheese sandwiches.
Potato Dish: Potato salad or roasted potatoes with herbs.
Pickles and Sauerkraut: Tangy pickles or sauerkraut.
Vegetable Sides: Steamed or roasted vegetables like broccoli, green beans, or asparagus.
Applesauce: A dollop of sweet and tangy applesauce.
Pierogi: Boiled or pan-fried pierogi with sour cream and caramelized onions.
Fruit Salad: A mix of seasonal fruits for a refreshing option.
Coleslaw: Creamy coleslaw for a cool and crunchy side.
You can mix and match these side dishes to create a delicious and well-rounded meal to enjoy with your kielbasa soup.
Storing Leftover Soup
Allow the soup to cool to room temperature before storing it. This helps prevent condensation from forming inside the storage container. Once cooled down use airtight containers or resealable plastic bags for storage. Store the soup in the refrigerator for 3-4 days. Reheat in microwave or stovetop.
Can You Freeze Kielbasa Soup?
Yes, if you want to store the soup for a longer period, freezing is the best option. Place the soup in a freezer-safe container, leaving some space at the top to allow for expansion. Remove as much air as possible before sealing the container. Make sure to label and date it so you know how long it is good for!
Crockpot Party Food
This kielbasa soup is a great party food option if you are hosting or need to bring a dish. It is always a hit for football games, potlucks, and holidays. Crockpot dishes are the best for parties since they are easy and convenient.
tips &
Brown the Kielbasa: Before adding it to the slow cooker, you can quickly brown the kielbasa in a skillet. This step adds extra flavor and enhances the texture of the sausage.
Season Well: Don't forget to season your soup. Add salt, pepper, and any other preferred seasonings to taste. Remember that cheese and canned soup can be salty, so taste before adding extra salt.
Cooking Time: Slow cookers vary in temperature. If you're using a new slow cooker or one you're not familiar with, keep an eye on your soup during the first hour or two to gauge the cooking time accurately. Overcooking can lead to mushy potatoes and a change in texture.
Thinner Soup: If you want a thiner soup, you can add chicken broth to the meal and make it stretch even further.
Add Veggies: Add broccoli or spinach to upgrade this soup to be even more hearty.
Casserole Option: Skip the half and half or milk and make this into a cheesy casserole.
Customize: Don't hesitate to customize the recipe to your preferences. Add extra vegetables, spices, or even a dash of hot sauce if you like things spicy.
Need a Slow Cooker? My favorite is this Crock Pot 6 quart Programmable Slow Cooker. I love being able to set the timer in case I'm not home when the food is finished cooking and it just switches to warm. Plus you can lock the lid and just carry it to a party. You will never lose another Tupperware or serving dish again at a potluck party!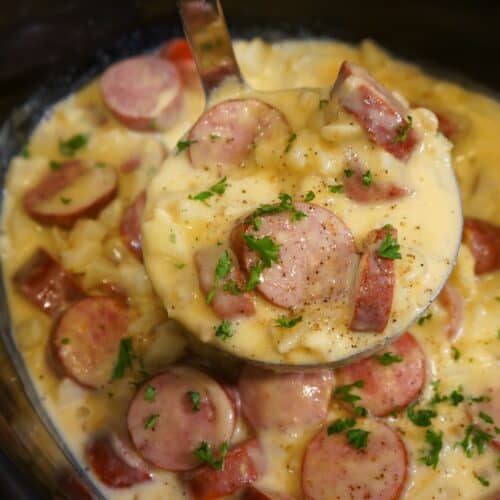 Kielbasa Soup
Kielbasa soup is a rich and comforting blend of smoky kielbasa sausage, creamy potatoes, and savory seasonings, creating a hearty and satisfying meal perfect for any occasion.
Ingredients
14

oz

kielbasa

thawed and cut into small pieces

32

oz

frozen diced potatoes

or mini potatoes, cubed

1

small

onion

diced and sauteed

2 1/2

cups

shredded cheese

1/3

cup

butter

melted

1

cup

half and half or 2 % milk

10.5

oz

can cream of chicken
Instructions
Sautee onions in pan. (Optional)

Combine potatoes, kielbasa, onion, and cheese in a greased crock pot.

Pour melted butter and cream of chicken over the kielbasa mixture.

Stir to combine.

Cook on low for 3-4 hours.

After cooking add 1 cup of half and half and stir to combine. Cook for another 15 minutes until thickened.

Serve warm and top with shredded cheese.
Video
Notes
If using regular diced potatoes cook time will be longer.
Nutrition
Calories:
476
kcal
|
Carbohydrates:
21
g
|
Protein:
18
g
|
Fat:
35
g
|
Saturated Fat:
17
g
|
Polyunsaturated Fat:
3
g
|
Monounsaturated Fat:
13
g
|
Trans Fat:
1
g
|
Cholesterol:
97
mg
|
Sodium:
1001
mg
|
Potassium:
575
mg
|
Fiber:
2
g
|
Sugar:
2
g
|
Vitamin A:
650
IU
|
Vitamin C:
18
mg
|
Calcium:
234
mg
|
Iron:
2
mg