I think I found my favorite dinner ever! 3 ingredient TikTok Lazy Enchiladas or Taquito Enchiladas have been racking up the views on TikTok with #lazyenchiladas and getting amazing reviews. You only need taquitos, enchilada sauce, and shredded cheese to make this crowd-pleasing and quick dinner in the Crock Pot.
If you like enchiladas, Taquito Enchiladas are going to be your go-to dinner for busy nights.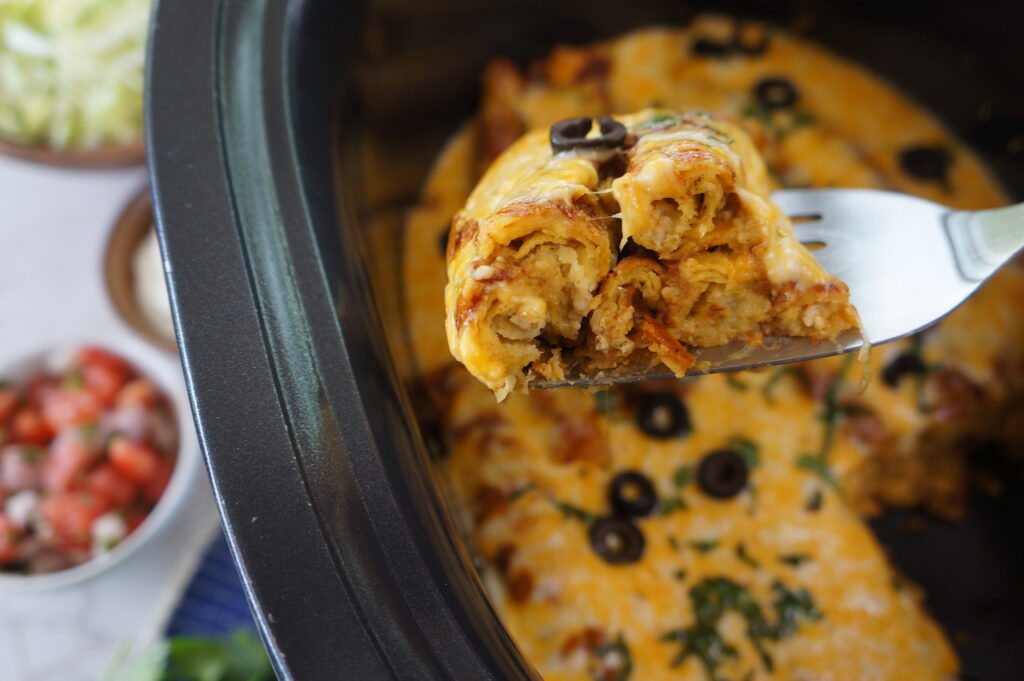 Lazy Enchiladas
What makes these enchiladas lazy? Well, let me tell you, there is literally no prep and you toss everything into the crockpot and turn it on. I can't think of an easier recipe and I have lots of easy recipes!
This lazy enchilada recipe uses frozen taquitos, store-bought enchilada sauce, and shredded cheese to make this filling Mexican favorite. You can even grab pre-shredded cheese to make it truly lazy. Of course, I made it one step easier and used my slow cooker instead of the oven and they were incredible!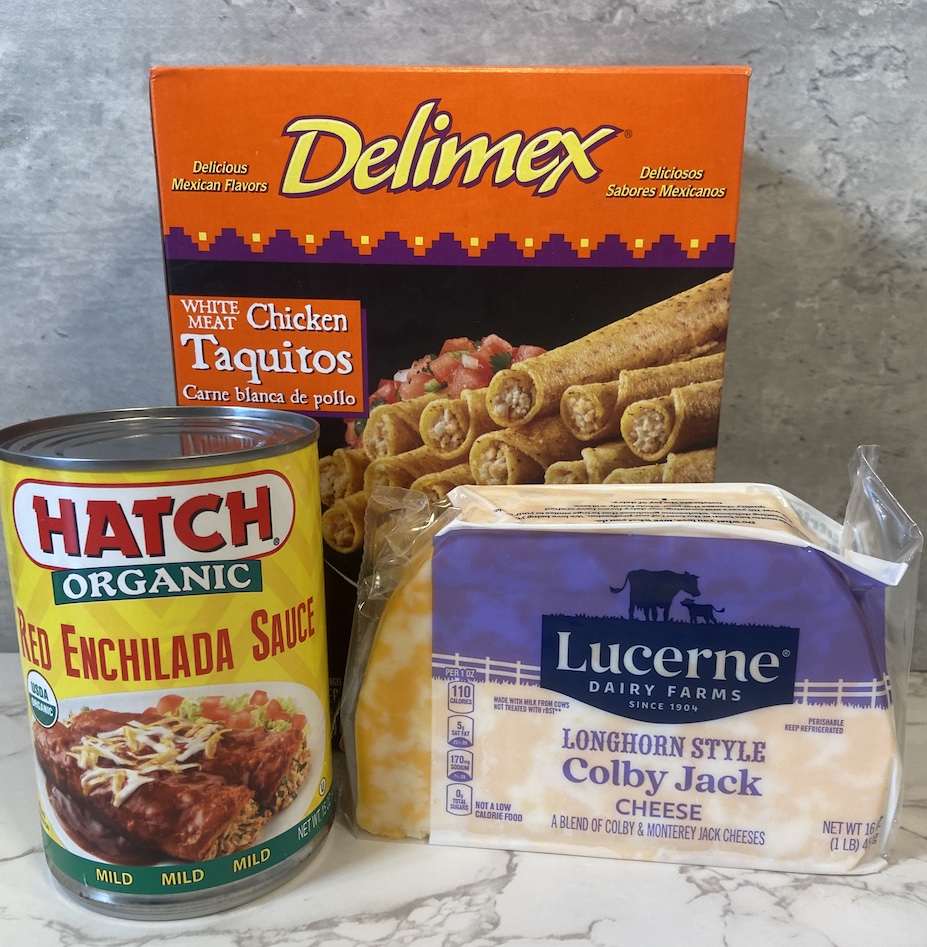 I took the time to shred my cheese because I had a block in my refrigerator. Next time I would grab the pre-shredded since it would make it so easy and dinner would be made in under 5 minutes. Sometimes you just need there to be no mess when making dinner and with all these ready-made ingredients there is no clean-up. Another super simple pour-and-go Mexcian dinner is my Quinoa Enchilada Casserole.
Enchiladas typically are labor-intensive to make so this lazy enchilada version takes all the work out of enchiladas and leaves you with an easy dinner. Enchiladas are usually corn tortillas filled with meat and cheese and then covered in enchilada sauce. You have to hand roll each one which takes some time to assemble. However, with this lazy enchilada casserole, you can pour everything into the Crock Pot and have dinner ready for you.
Taquitos Enchiladas
There are so many variations of these taquitos enchiladas! The options are endless so they can be on repeat but the family won't even notice. I used chicken taquitos and red enchilada sauce for this version but there are so many great ways to customize it. You can swap green enchilada sauce or use beef taquitos. I was even thinking I could even add some refried beans in there to give it a little upgrade too and I would still not have any dishes.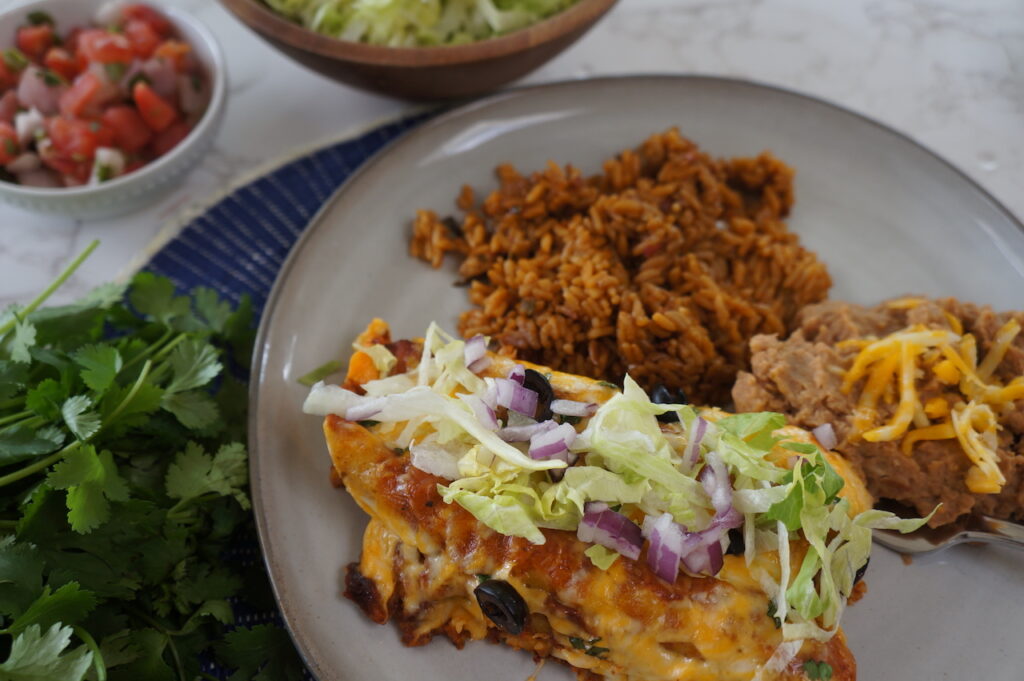 What Taquitos to Use for Lazy Enchiladas?
You can use any taquitos you would like! You can find all the options in the freezer section of the grocery store. There are so many different versions to try. Delimex has several gluten-free options including their chicken and beef taquitos so those are the options I go with since we only use gluten-free products. Some taquitos have wheat in there so always make sure to check the ingredients if you are following a gluten free diet.
What Enchilada Sauce to Use?
This is a personal preference. I always love a good red sauce so I always lean toward red sauce enchiladas and used Hatch red enchilada sauce in this enchilada taquito casserole. Again, Hatch enchilada sauce is certified gluten-free so I always use their products since not all enchilada sauce is gluten-free.
Use green enchilada sauce: Instead of red enchilada sauce, swap it for green enchilada sauce. It's adds a totally different flavor to the enchiladas.
Use a more spice: Enchilda sauce usually comes in different levels of heat. Try medium or hot enchilda sauce for a spicyer option.
Can you reheat the enchiladas?
Yes! I always eat enchiladas as leftover. You can microwave them or even use the air fryer to reheat them. We reheated them with the airfryer at 400 degrees for about 4-5 minutes.
How to Make Lazy Enchiladas with Taquitos
Step 1. Pour taquitos into the slow cooker.
Step 2. Pour enchilada sauce and 1/4 cup shredded cheese on top of taquitos.
Step 3. Cover and cook for 3 hours.
Step 4. Once finished cooking, add the remaining 1 cup of shredded cheese and cover until melted.
Step 5. Add desired toppings and enjoy!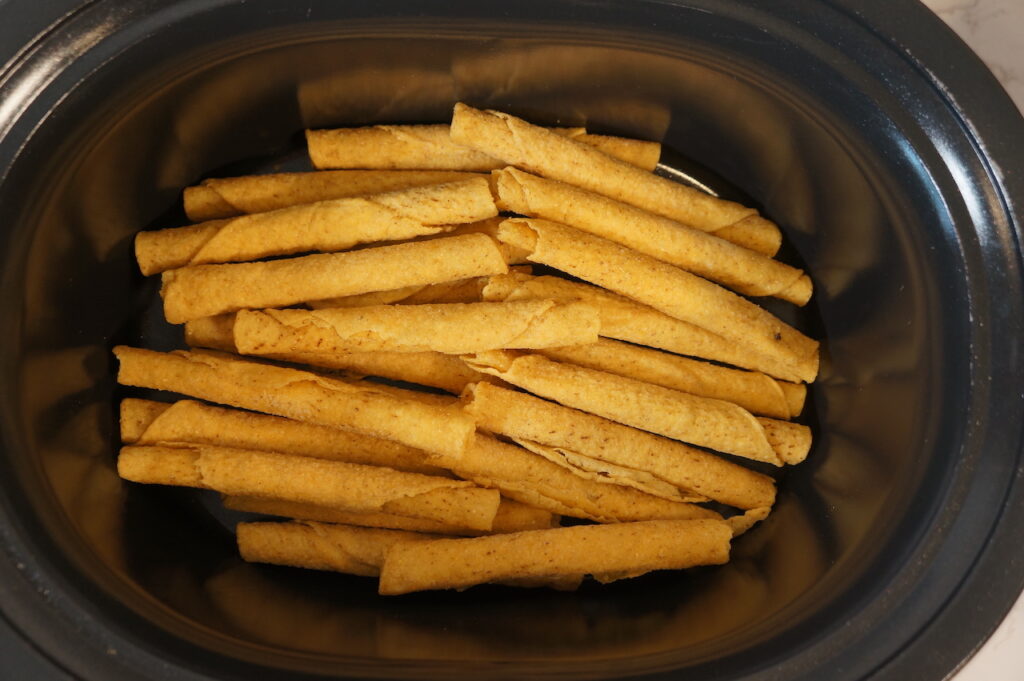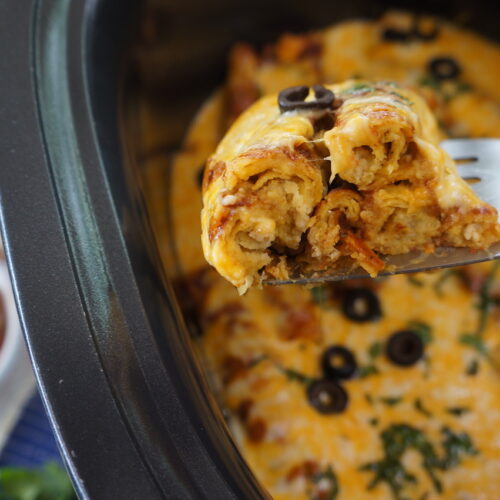 Lazy Enchiladas Tik Tok Version
You only need 3 ingredients to make the Lazy Enchiladas Tik Tok version in the crock pot. Lazy Enchiladas with taquitos make dinner a breeze!
Ingredients
24

taquitos

frozen

15

oz

enchilada sauce

red or green

1 1/4

cup

Colby Jack cheese

shredded
Instructions
Place taquitos into the slow cooker.

Pour enchilada sauce and 1/4 cup shredded cheese on top of taquitos.

Cover and cook on low for 3 hours.

Once finished cooking, sprinkle the remaining 1 cup of shredded cheese and cover until melted.

Add desired toppings and enjoy!
Nutrition
Calories:
313
kcal
|
Carbohydrates:
31
g
|
Protein:
13
g
|
Fat:
15
g
|
Saturated Fat:
6
g
|
Polyunsaturated Fat:
1
g
|
Monounsaturated Fat:
2
g
|
Cholesterol:
34
mg
|
Sodium:
911
mg
|
Potassium:
26
mg
|
Fiber:
4
g
|
Sugar:
4
g
|
Vitamin A:
560
IU
|
Vitamin C:
1
mg
|
Calcium:
141
mg
|
Iron:
1
mg