Say Fore for fun! All you need to make this DIY mini golf course is leftover boxes. Do you have some Amazon boxes or any size boxes laying around? Build Your Own Mini Golf Course! Take those boxes and transform them into your very own putt putt course in the backyard or even indoors! This activity has multiple steps so it a great project for when you have a lot of time at home. You can even count this as an educational activity since it works on motor skills and math too!
Skills Used to Build Your Own Mini Golf Course
Cutting and painting helps with hand eye coordination
Working on math with numbers
Following steps
Have Kids Help- Build Your Own Mini Golf Course
As you can see, I really let my kids decorate and build them so they are not the cutest. As a result of building them, they love playing with them even more. Putt Putt golf is fun to play as a family and we played it as a family after dinner! If you don't have golf clubs you can even just do it with your hands, imagine skee-ball style which is how my daughter (3) likes to do it. Hope this free kids activity helps you up-cycle some boxes and have an interactive activity as a family!
What You Need
Boxes
Scissors
Paint or Markers
Lots of Creativity
Instructions to Make Your DIY Mini Golf Course
Step 1- Collect all the boxes you can. The more boxes the "holes" you will have for the golf course. (We only had 4 so that's what we used).
Step 2- Cut out a hole in the front and the back of the box. You may have to help with this section since cardboard can be hard to cut. Make the holes larger than you think. We had to make our much larger once we played.
Step 3- Paint and decorate boxes. This part can be as simple or elaborate as you want. You can add flags, tape construction paper or even make a windmill! Need Paint? Make sure to use washable paint with your kids. We always use Crayola Washable Paint.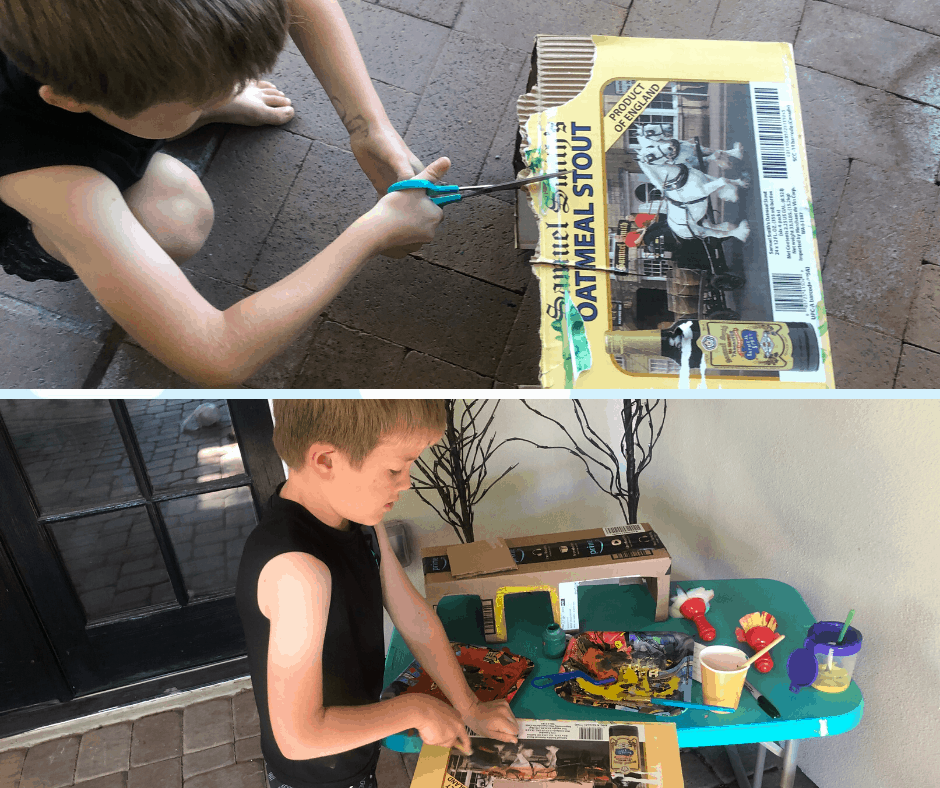 Step 4- Make numbers for each box and tape them on the box. This is another great way you will be incorporating learning into this fun activity. The kids will work on how many numbers there are and putting them in order.
Step 5- Step up each hole in numerical order. Play golf in backyard or in your house. You can make it as easy or difficult as you want. My son wanted to add the slide into our last hole to make it harder.
Repeat Step 5 all day long!
More Fun Kids Activites
Try these 35 At Home Kids Activities
Get Cooking with the kids with these easy No Bake Oatmeal Energy Bars.