Velveeta Sausage Dip is only three ingredients and makes a flavor-packed dip that is made for the Crock Pot! Try this easy dip with crumbled sausage, Velveeta, and Rotel tomatoes that is perfect for parties, game days, or potlucks.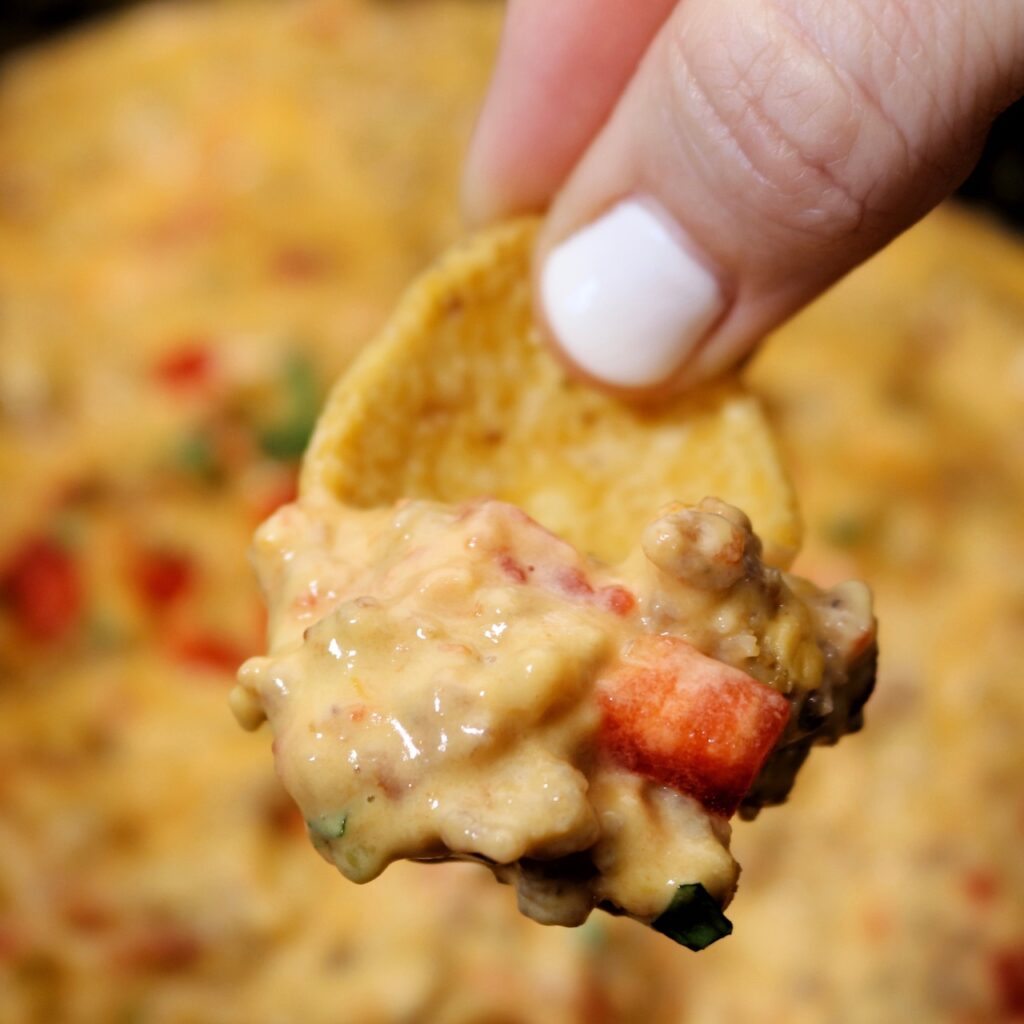 Velveeta Sausage Dip
This dip is always a crowd favorite! I love to make this Velveeta Rotel sausage dip for any event because it is a hearty dip that is so quick to make.
I have been getting crazy making dips this January and this creamy hot dip was incredible. Not only did it taste amazing but it is so easy you will want to make it on repeat. Potluck…Velveeta Sausage Dip, Party….Velveeta Sausage Dip, Superbowl….Velveeta Sausage Dip, Breakfast…you get my drift!
This nacho dip has a fun twist because it uses crumbed pork sausage which adds a savory flavor that pairs with the creamy cheese and tomatoes.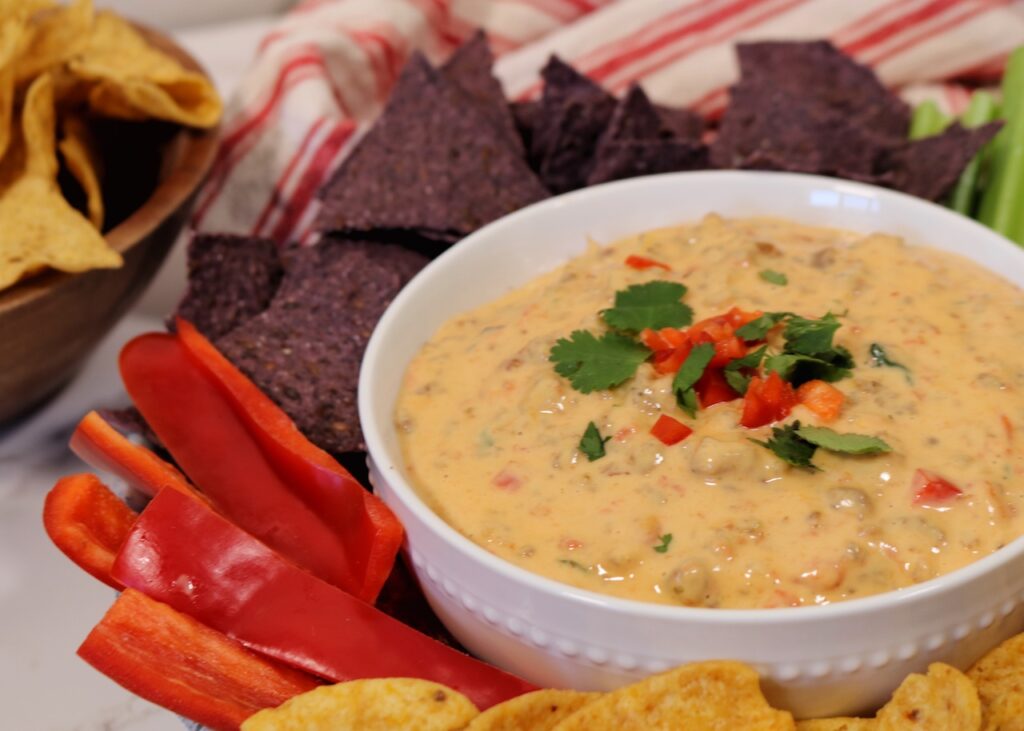 If you are looking for more Crockpot dips to add to the menu try my Cream Cheese Bean Dip, Crockpot Chili Cheese Dip, Slow Cooker Spinach and Artichoke Dip, or On the Border Queso Dip.
What is Velveeta Cheese?
Velveeta cheese has been a staple in American households for over 90 years. You can thank Swiss cheesemaker Emil Frey for making this cheese-tastic cheese in 1918. Velveeta quickly became popular for its melting abilities and versatility in cooking, making it a go-to ingredient for cheese sauces, dips, and casseroles.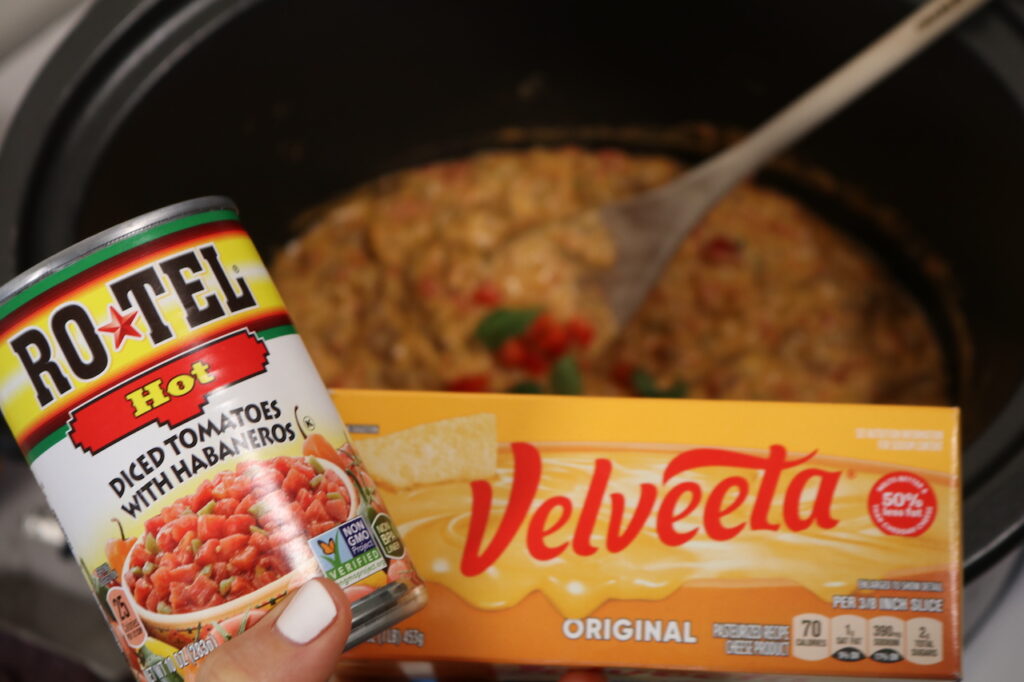 Best Rotel Dip
Velveeta Sausage Dip or Rotel Dip is one of the most popular dishes made with this iconic cheese. This warm, comforting dip is made by combining melted Velveeta cheese with spicy breakfast sausage and tangy Rotel tomatoes. It's the perfect combination of savory and cheesy, making it an ideal party food, game-day snack, or even a comforting meal.
This dip is incredibly easy to make and can be made in the crockpot, which makes it even more convenient. The slow cooking method allows the flavors to meld together and creates a smooth, creamy consistency. Whether you're looking to entertain a large crowd or simply want a quick and easy meal, Velveeta Sausage Dip is the perfect solution.
So, if you're looking for a delicious and easy-to-make dish, look no further than Velveeta Sausage Dip.
Ingredients for Velveeta Sausage Dip
Velveeta– This classic cheese creates a creamy texture that is perfect for dipping.
Breakfast Pork Sausage– I always use Jimmy Dean breakfast sausage when I make this recipe. But any brand will work.
Rotel tomatoes– Rotel Diced Tomatoes with Green Chiles are found in the canned produce section.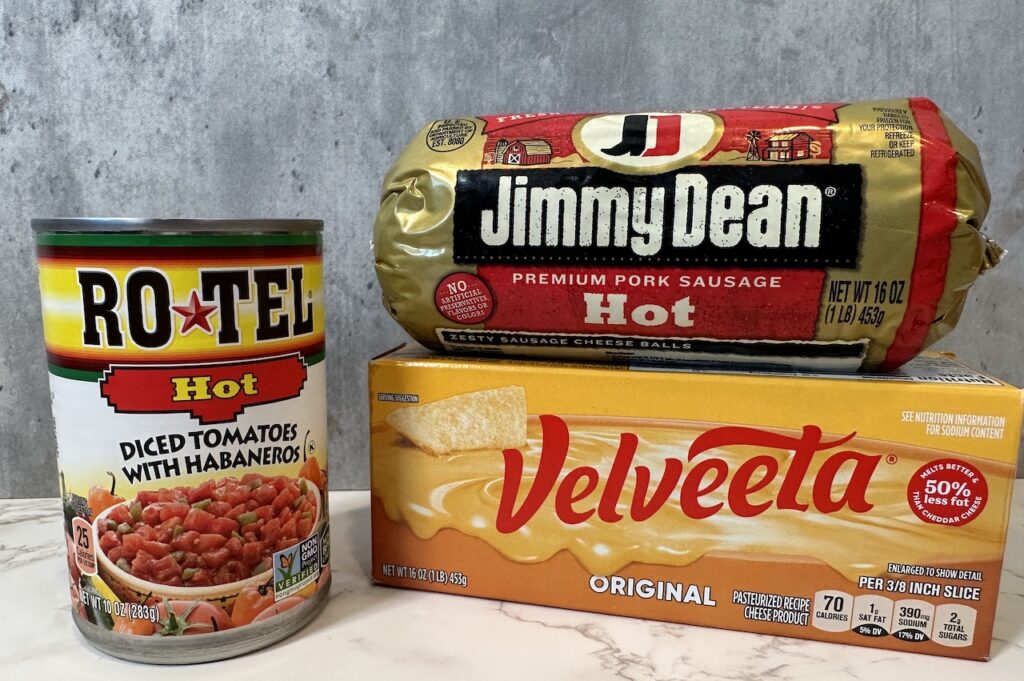 You only need 3 no prep ingredients to make this dip: sausage, Velveeta cheese, and Rotel tomatoes. As you can see I like it Hot but you can use regular breakfast sausage and regular Rotel tomatoes for a more mild flavor.
The sausage provides a spicy and savory flavor, while the Velveeta cheese creates a smooth and creamy texture. The Rotel tomatoes add a tangy and slightly spicy touch, balancing out the flavors of the sausage and cheese.
Variations for Velveeta Sausage Dip
For those looking to add a little extra flair and flavor to their dip I have you covered. This dip is easy to customize in so many ways!
Add Veggies– Some popular add-ins include jalapeno peppers, green onions, and diced bell peppers.
Make it Creamy– Add cream cheese to make this even creamier.
Try Different Rotel Tomatoes– There are so many different types of Rotel tomatoes. Original, Serrano, Mild, Hot, Fire-Roasted, No-Salt, Mexican Style, or Chipotle are all versions and each adds a different flavor to the dip.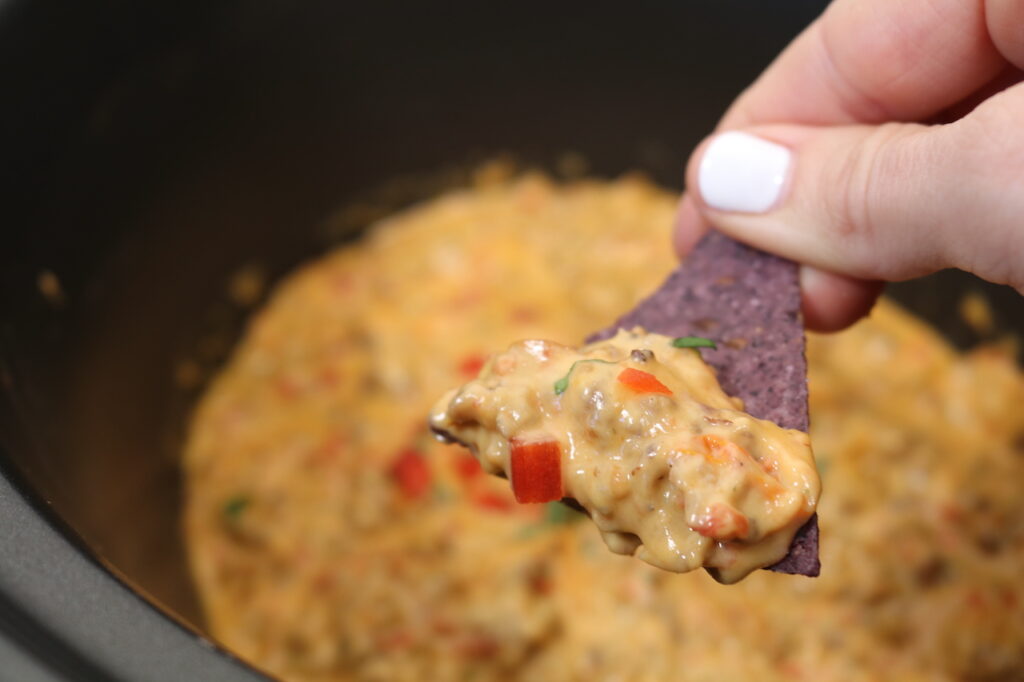 How to Make Rotel Dip Recipe
Step 1. Brown sausage in pan and drain grease.
Step 2. Add sausage, diced Velveeta cheese, and Rotel tomatoes to the slow cooker.
Step 3. Stir everything together until fully combined.
Step 4. Cook on low for 2 hours until heated through and cream. Stirring every 30 minutes if possible.
Step 5. Serve in Crockpot on warm with dippers.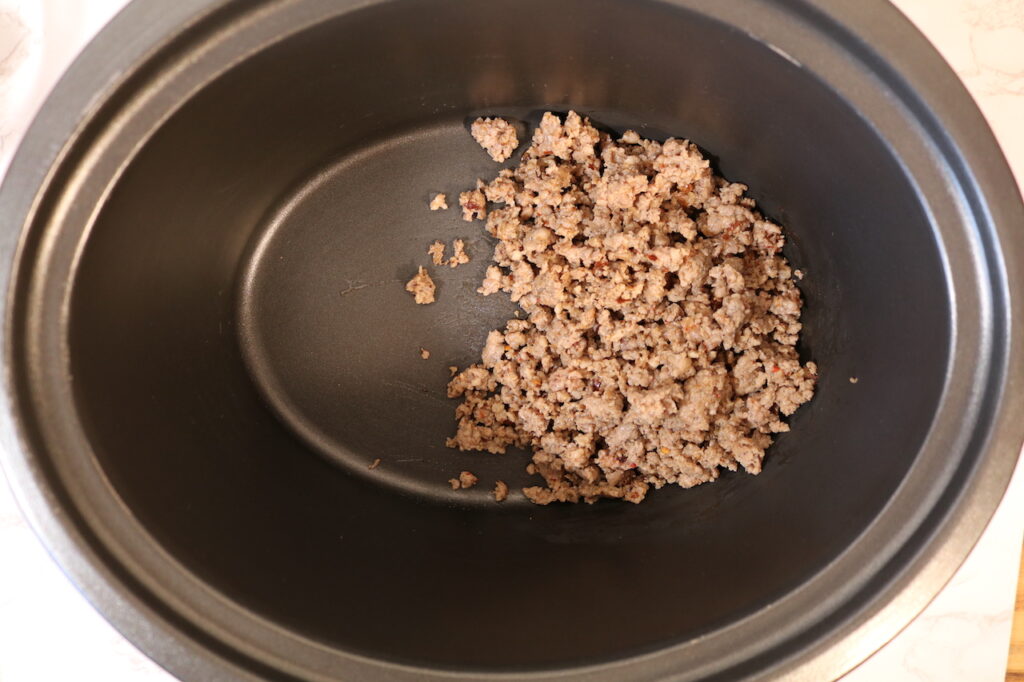 Tips for Velveeta Rotel Sausage Dip
Dice the Velveeta cheese into small cubes: This will help the cheese to melt more quickly and evenly.
Stir the dip frequently: Stirring the dip every 30 minutes or so will help ensure that the cheese is evenly melted and the ingredients are well combined.
Use a large crockpot: To prevent the dip from boiling over, make sure to use a large crockpot that gives the ingredients plenty of room to expand.
Cook on low heat: Cooking the dip on low heat will help prevent the cheese from burning and ensure that it stays creamy and smooth.
Serve warm: Keep it on the warm setting in the Crockpot. Serve the dip immediately after removing it from the heat, as it will start to thicken as it cools.
Adjust the spiciness: If the dip is too spicy or not spicy enough, adjust the level of heat by using milder or spicier varieties of sausage or adding more or less of the Rotel tomatoes.
Make sure not to drain the Rotel tomatoes because the liquid is important for the texture and flavor of the dip.
Make it Velveeta Spicy Sausage Dip
You can make this cheesy dip spicy by using Hot Breakfast Sausage, Hot Rotel Tomatoes, and Velveeta Jalapeno. Add a hot sauce or even diced jalapenos to make it extra hot!
What to Serve with Velveeta Sausage Dip?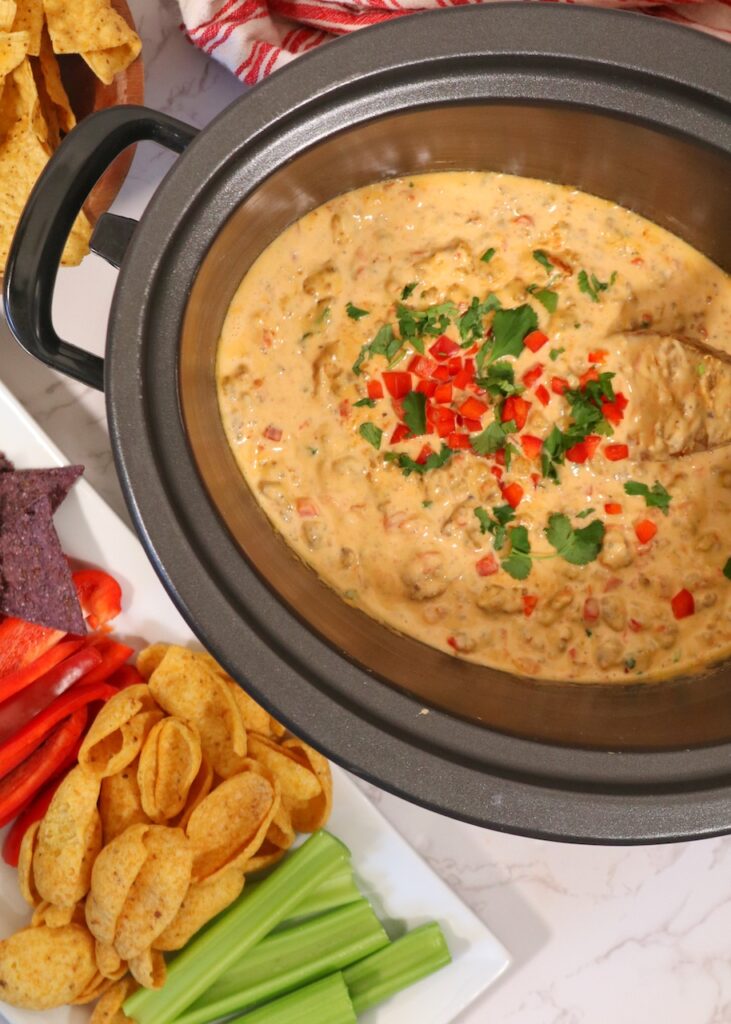 Chips: Tortilla chips, Fritos, and potato chips are a classic choice for dipping into Velveeta Sausage Dip.
Crackers: Crackers are a simple and delicious option for scooping up the dip. We love the gluten-free Mary's Gone Crackers.
Bread: Sliced baguette, french bread, or garlic bread is a fabulous way to eat this dip. We use the gluten-free Udi's baguette.
Vegetables: Fresh vegetables like carrots, celery, or bell peppers are a healthy option for dipping and add a crunchy texture.
Pretzels: Soft pretzels or pretzel bites are a tasty alternative to chips and crackers. Try these gluten-free soft pretzels.
Sausages: If you want to be extra meaty you can slice up sausages or hot dogs and dip them right into the cheesy dip.
Rice or Pasta: Make it into a hearty meal by serving this Velveeta Sausage Dip on top of rice or noodles. Use Barilla Gluten- Free Pasta.
Smoothed Hot Dogs: Add this Velveeta Sausage dip to your hot dogs.
Loaded French Fries: Pour this creamy sauce over french fries for the ultimate snack attack.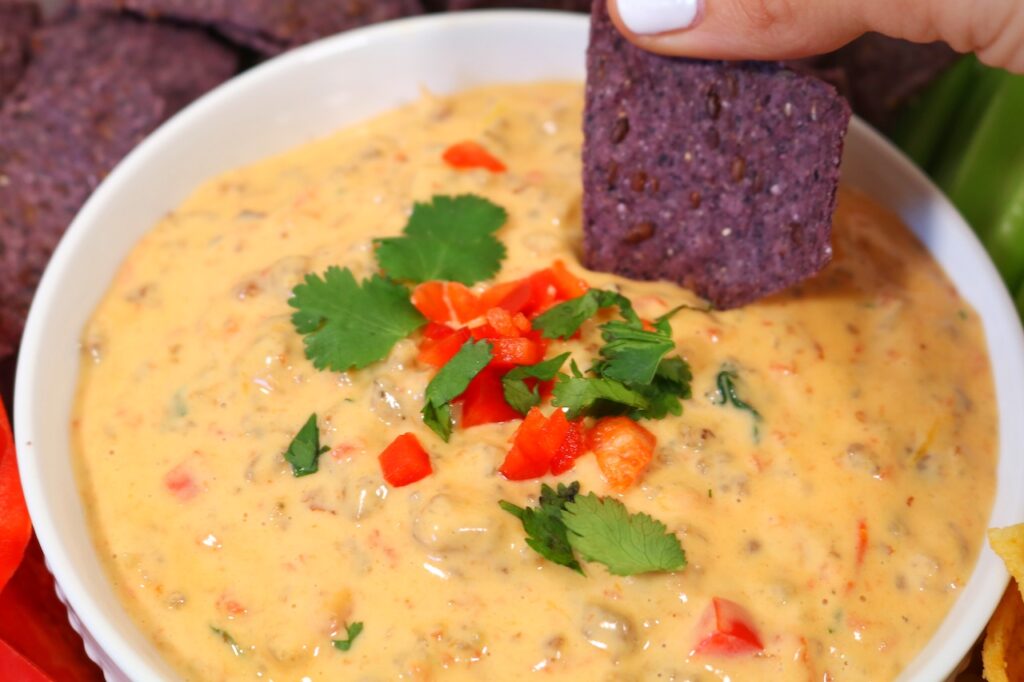 tips &
This dip is so versatile so you can make lots of different swaps to customize it to what you like.
Cheese Substitute– If Velveeta isn't your thing you can swap with other melted cheeses like cheddar, American, or Monterrey Jack. I like to add 1/4 cup of milk or cream to give the cheese a smoother consistency.
Mix Up Your Meat– Ground beef, ground turkey, or chorizo can be used instead of sausage.
Trade the Tomatoes– Rotel tomatoes can be substituted with diced tomatoes, salsa, or even canned chili.
Stove-top version– Make this on the stovetop by adding all the ingredients and stirring them together. Stir over medium heat until the cheese is melted and creamy. You can even make it in the microwave.
Spice to Your Taste– To adjust the spiciness, you can use milder or spicier varieties of sausage, or adjust the amount of Rotel tomatoes used. Additionally, you can add jalapenos, hot sauce, or red pepper flakes to taste.
Meat-Free Options– Swap the meat for beans to make this dip meat-free.
All of the ingredients I use are gluten-free. My husband has celiac disease, which means you are allergic to gluten.
The three ingredients used in the recipe are gluten-free. Make sure to use gluten-free crackers, bread, and pretzels to keep it gluten-free.
How to Store Velveeta Sausage Dip
Allow the dip to cool to room temperature before storing it in the refrigerator. This will help prevent the growth of bacteria and ensure that the dip stays fresh. Once the dip has cooled, transfer it to an airtight container or a resealable plastic bag. This will help to prevent any air or moisture from getting in and ruining the dip. Store the dip in the refrigerator for up to 3-5 days.
When you're ready to serve the dip, transfer it to a saucepan and heat over low heat. Make sure to stir it frequently, until it's heated through and smooth. This helps to restore the creaminess of the dip and ensure that the cheese is fully melted. If the dip becomes too thick, you can add a little bit of milk or cream to help thin it out.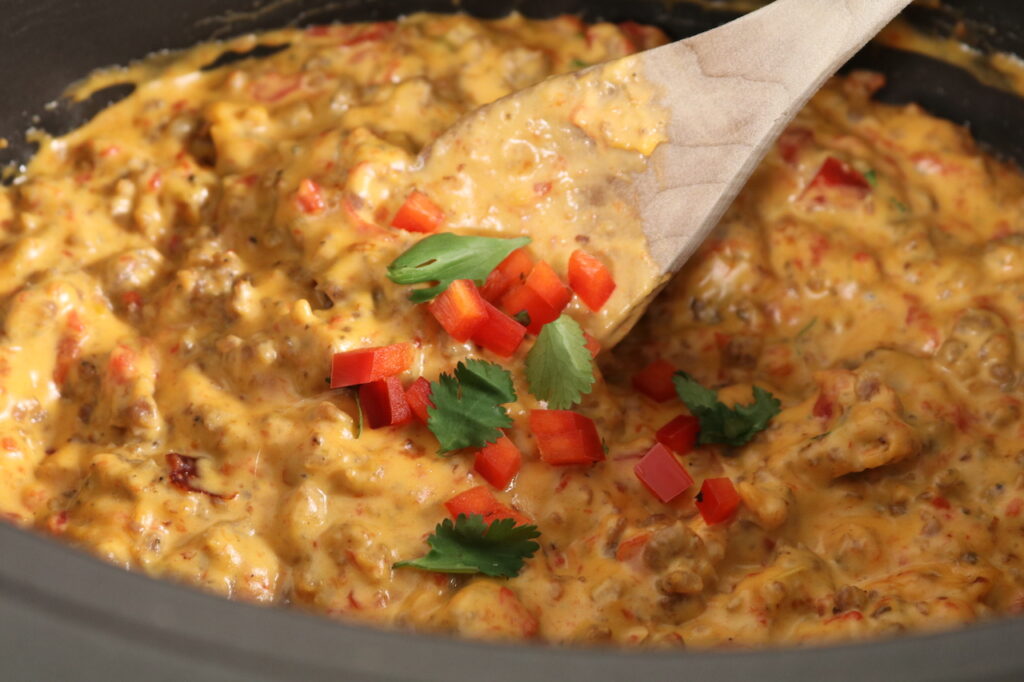 Can You Freeze Velveeta Sausage Dip?
If you have leftovers that you won't be able to eat within 3-5 days, you can freeze the dip for later. Simply transfer it to a freezer-safe container or plastic bag and label it with the date. Store the dip in the freezer for up to 2-3 months. When you're ready to eat it, defrost the dip in the refrigerator overnight. Heat it up using the directions above.
Crockpot Party Dip
Velveeta Sausage Dip is a crowd-pleaser, making it a great option for serving at events or parties. Whether it's a game day gathering or a holiday celebration, this dip is sure to be a hit with guests. Additionally, it's an easy dish to make in large quantities, making it a great option for feeding a crowd. So, next time you're planning an event or party, consider making this go-to party appetizer.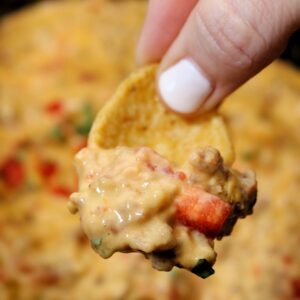 Velveeta Sausage Dip
Velveeta Sausage Dip is easy and cheesy! This creamy Rotel Dip is the perfect mix of spicy and savory for appetizer everyone will love.
Ingredients
16

oz

Velveeta Cheese

diced

16

oz

breakfast sausage

browned and drained

10

oz

Rotel tomatoes and chilies
Instructions
Brown sausage and drain grease.

Add sausage, diced Velveeta cheese, and Rotel tomatoes to the slow cooker.

Stir everything together until fully combined.

Cook on low for 2 hours until heated through and creamy. Stirring every 30 minutes if possible.

Serve in Crockpot on warm with dippers.
Video
Nutrition
Calories:
203
kcal
|
Carbohydrates:
5
g
|
Protein:
13
g
|
Fat:
14
g
|
Saturated Fat:
6
g
|
Polyunsaturated Fat:
1
g
|
Monounsaturated Fat:
4
g
|
Trans Fat:
0.1
g
|
Cholesterol:
43
mg
|
Sodium:
842
mg
|
Potassium:
269
mg
|
Fiber:
0.2
g
|
Sugar:
4
g
|
Vitamin A:
427
IU
|
Vitamin C:
3
mg
|
Calcium:
228
mg
|
Iron:
1
mg