Crock Pot 7 Can Taco Soup with ranch dressing mix is a quick and healthy dinner that will be a family favorite! This hearty crockpot dinner is loaded with all your favorite taco flavors including beef, beans, and corn. Serve with your favorite toppings like sour cream, cheese, and tortilla chips for a one-pot dinner that is perfect for Taco Tuesday.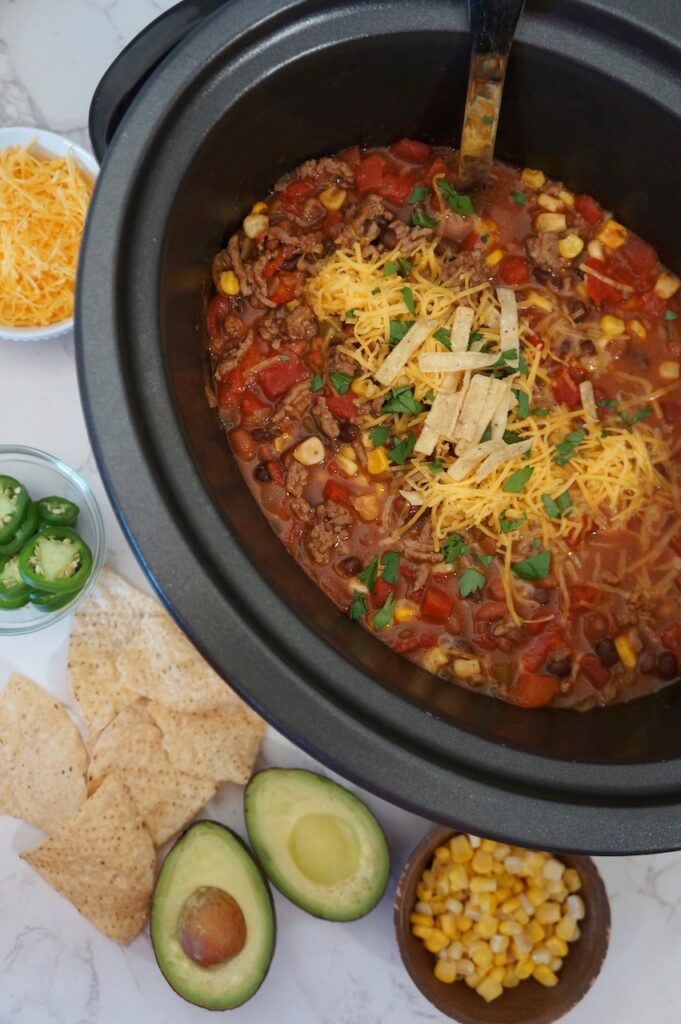 7 Can Soup
If you have ever been on Pinterest you have probably seen a version of 7 can soup because it is such a simple dinner that can be made in so many different ways! Everyone always loves a recipe that you can customize to cater to what you like best.
Since Mexican food is always my favorite cuisine, which you can see from my abundance of Mexican recipes like Beefy Potato Taco Casserole, I choose to make a 7 Can Soup recipe with a taco vibe to it.
There are so many versions of this but this turned out so great I know it will be on repeat for all those busy days when I only have time to dump everything into the Crock Pot and forget about it until dinner. Prepping this meal is so quick since you use ranch dressing mix and taco packets to make it even easier along with 7 cans of beans and veggies.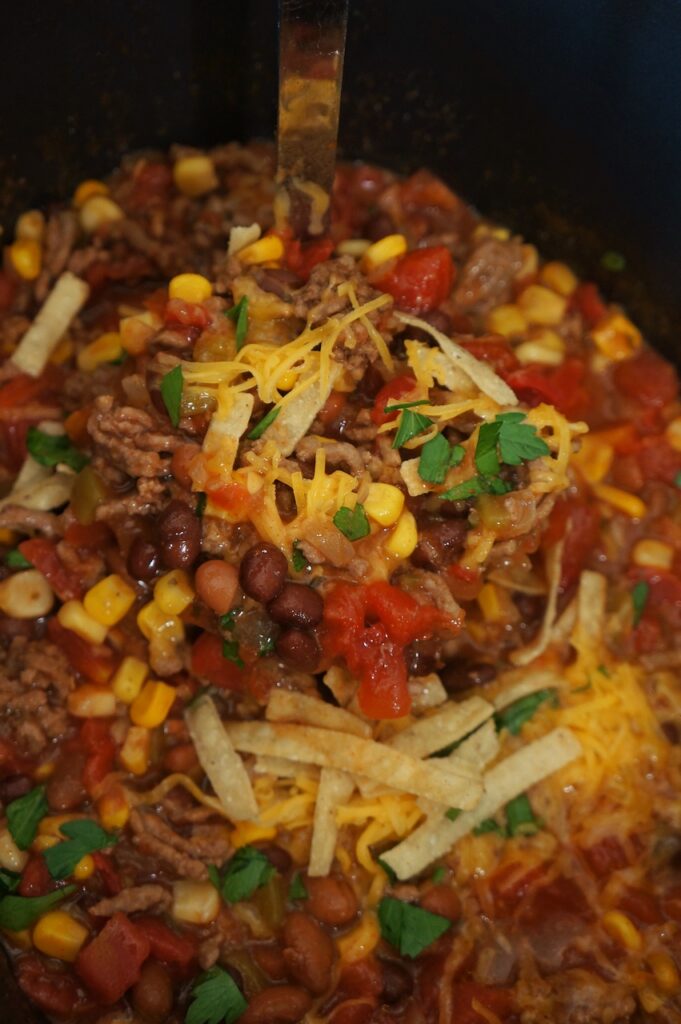 7 Can Soup with Ranch Dressing Mix
As you can guess from the name this 7 Can Taco Soup with ranch dressing mix and taco seasonings is combined with 7 cans of beans and veggies to create a warm and welcoming soup that is fast and filling.
One of the reasons this meal is so great is it uses pantry staples that you can always have on hand to throw it together on short notice. I love to stock up on all the canned food when it's on sale and keep it for recipes like this. I always have a full stock of ranch dressing mix and taco packets because they add spices and flavor to jazz up so many different meals.
If you prefer to make your own packet mixes you can buy the spices in bulk and make your own. I had to do this before there were gluten-free taco packets. This easy list of make your own spice packets are here in case you need the ingredient list.
I usually find myself making this one or twice a month since it is so easy and helps with my grocery budget. Since my family loves it too so I always use it for meal planning when I can think of anything new.
Recipe Ingredients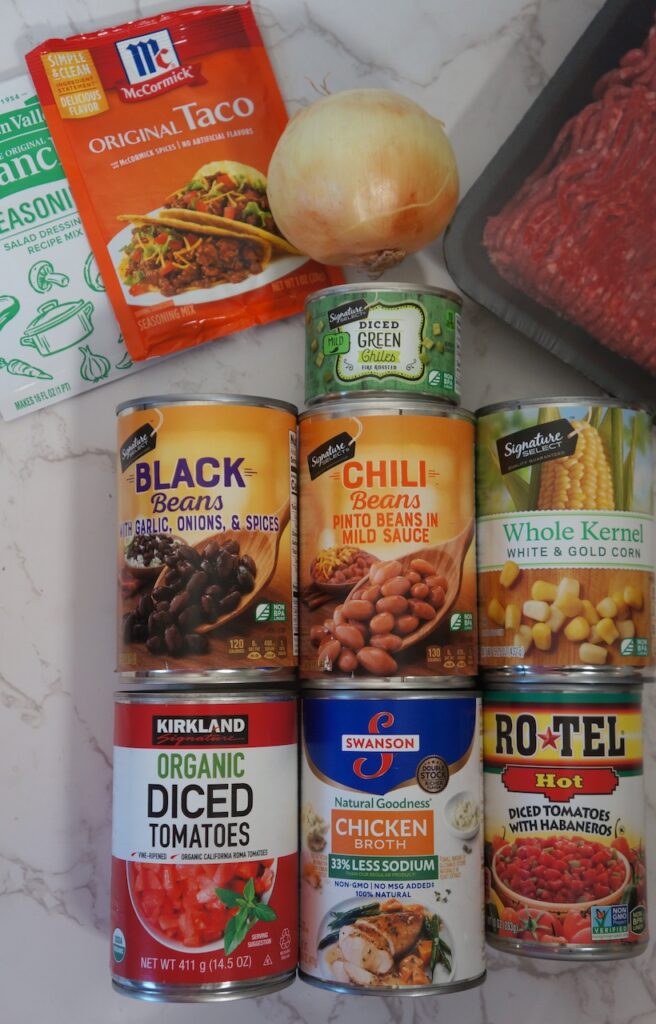 Ground Beef or No bean chili- Make your own ground beef with onions or use a can of already cooked beef chili.
Yellow Onion- A yellow onion adds depth and a slightly sweet flavor to the taco soup.
Canned Beans– Any two cans of beans will work for this recipe. I used black beans and pinto beans but swap out whatever you like best.
Canned Diced Tomatoes– This recipe calls for one can of diced tomatoes which are cut smaller. You could also use petit diced tomatoes.
Rotel Diced Tomatoes– Diced tomatoes that include diced chiles. There are different heat levels on these diced tomatoes including mild, original, and hot.
Canned Corn– I used the basic canned corn but you could also use the mexi-corn that adds bell peppers to the mix!
Diced chilies– This adds a little more flavor and heat to the dish. If you are looking for a milder flavor or want to have fewer ingredients just skip this can. I just love to add more flavor!
Chicken Broth– Low sodium chicken broth is what I used for this recipe. I always try to use low sodium chicken broth so I can adjust the salt level at the end of the meal.
Taco Seasoning Packet– All of my recipes are gluten-free so I use a Gluten Free Taco Seasoning.
Ranch Dressing Mix Packet– This is a packet of spices that is a blend of herbs and spices.
7 Can Taco Soup with Ground Beef
There are several versions of 7 can taco soup. I choose to make the 7 Can Taco Soup with beef instead of chicken. We have a lot of chicken recipes at my house like my Slow Cooker Chicken Queso Tacos and Crock Pot Sante Fe Chicken so I was trying to add a new beef recipe into the mix.
If you prefer chicken feel free to change it up and add a can of chicken to the dish to make it an 8-can taco soup! Plus if you want to make this recipe even easier and don't want to get ground beef and brown it you could just grab a can of meat-only chili and throw that in. Boom one less dish to clean!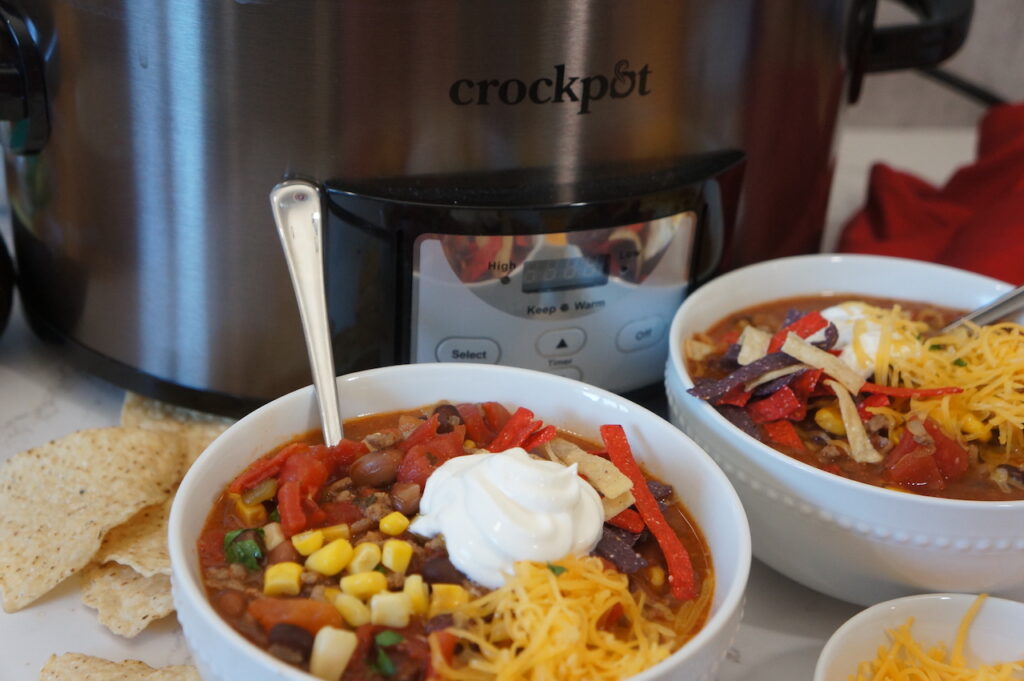 Toppings
The toppings for the 7-can taco soup are endless. Here are a few of the basics that I love to use.
Shredded cheese- I had cheddar already so that is what I used in this recipe. I think Colby-jack or cotija cheese would go great too.
Sour Cream- A dollop of sour cream gives the soup a creamy balance that I love.
Tortilla Chips- These add a perfect crunch to the meal and you can use regular corn tortilla chips or even Fritos!
Avocado- I can add avocado to almost everything. It's a powerhouse of vitamins, protein, and fiber making it the ultimate topper. Plus, it adds a creamy element to the dish.
Limes- I love to give a squeeze of lime to any Mexican dish to brighten up the flavors.
Cilantro- Add this at the end to have a burst of fresh herbs
Jalapenos- If you want to kick up the heat add fresh chopped jalapenos or pickled for a less intense heat level.
What is the difference between taco soup and chili?
The major difference between taco soup and chili is the spices used. I use a taco seasoning packet that has more Tex-Mex flavors to it. Regular chili has more chili powder and paprika for the seasonings and taco soup usually has more cumin.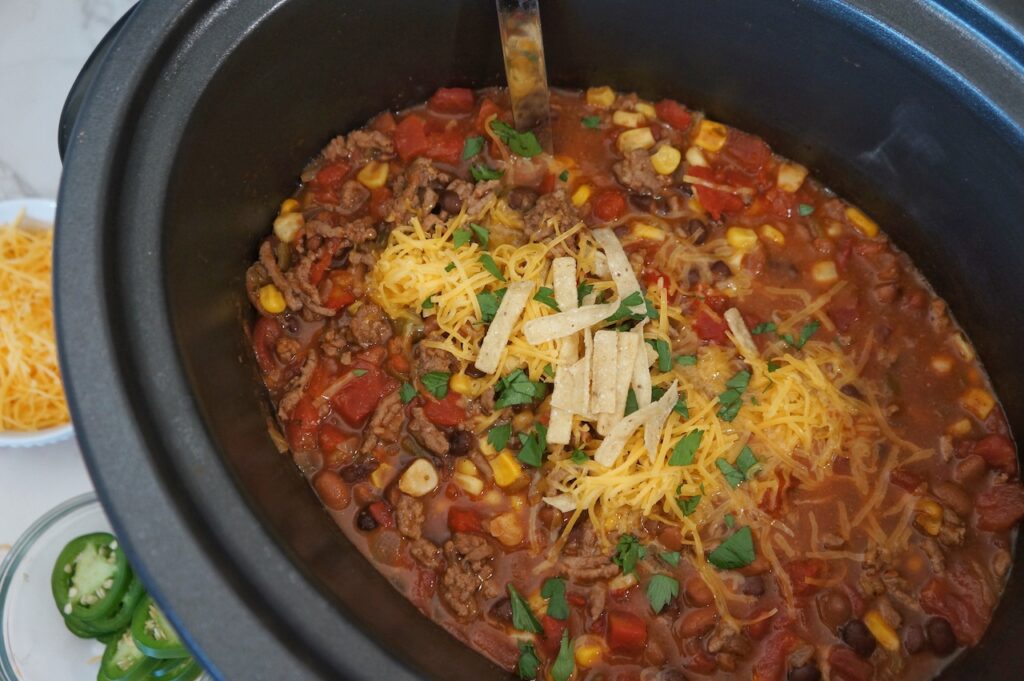 Can I Use Ground Turkey Instead of Ground Beef?
Yes, you can use ground turkey the same way you use ground beef in this recipe. You would want to brown it with the chopped onion and drain the fat. Once, browned just add it to the crock pot with the rest of the ingredients.
Storing and Reheating
I love to eat this soup all week long. I eat it for dinner and lunch! Once it has cooled you want to transfer it to an airtight container for up to 4 days. Reheat in the microwave.
tips &
Make sure to drain the fat off the ground beef so the soup doesn't get too greasy.
Feel free to make any substitutions that work best for your taste. Switch out the beans, meat, or heat level. This recipe is so versatile.
Use low sodium chicken broth and add salt to taste at the end.
Drain and rinse your beans and corn. This step rinses off the salt and starch that beans are preserved in to give them a long shelf life. It can affect the flavor of the end result if you don't rinse them off.
All of the ingredients I use are gluten-free. My husband has celiac disease, which means you are allergic to gluten so I only use gluten free products!
You will need to make sure to use gluten-free Taco Seasoning in this recipe or make your own taco seasoning. Also, make sure to only use corn tortilla chips or corn tortillas.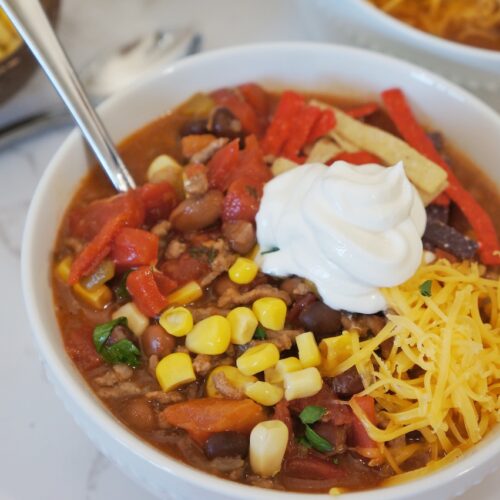 7 Can Taco Soup
This 7 can Taco Soup is an easy and delicious meal filled with spices, beef, beans, and veggies for a simple crockpot dinner. Try this one pot soup that is hearty for Taco Tuesday.
Ingredients
1

pound

ground beef or 1 can no beans chili

1/2

cup

yellow onion

diced

1

can

black beans

drained and rinsed

1

can

chili beans

drained and rinsed

1

can

corn

drained and rinsed

1

can

chicken broth (14.5 oz)

low sodium

1

can

diced tomatoes

1

can

green chiles

1

can

diced tomatoes with chiles

1

packet

taco seasoning

1

packet

ranch dressing mix

1

tbsp

garlic powder

1

tbsp

cumin (optional)
Instructions
Brown ground beef with onion. Drain fat and pour into crock pot.

Add beans, corn, chicken broth, taco packet, ranch dressing mix, cumin, diced tomatoes, green chiles and garlic powder to crock pot. Stir to combine ingredients.

Cook on low for 4-6 hours.

Serve with shredded cheese, sour cream and tortilla chips.
Video
Nutrition
Calories:
318
kcal
|
Carbohydrates:
33
g
|
Protein:
18
g
|
Fat:
13
g
|
Saturated Fat:
5
g
|
Polyunsaturated Fat:
1
g
|
Monounsaturated Fat:
5
g
|
Trans Fat:
1
g
|
Cholesterol:
40
mg
|
Sodium:
1057
mg
|
Potassium:
684
mg
|
Fiber:
7
g
|
Sugar:
6
g
|
Vitamin A:
563
IU
|
Vitamin C:
6
mg
|
Calcium:
46
mg
|
Iron:
4
mg