Give your classic corned beef a twist with Brown Sugar Corned Beef and Cabbage! Try this corned beef recipe with brown sugar, apple juice, and mustard to upgrade your crock pot corned beef. The sweet and salty match is a lucky combination that is sure to please everyone!
Disclaimer- Some links below are Amazon affiliate links, meaning at no extra cost to you, I will earn a commission if you click through and make a purchase.
Slow cooking your corned beef is the best way to make this St. Patrick's Day main dish and this recipe for brown sugar corned beef is a tasty way to celebrate. I love corned beef and cabbage! I will eat this meal just about any way you serve it to me. But when I came across a recipe for glazed corned beef and cabbage I thought I could make a version like that in the Crock Pot. It's difficult to make a glaze in the slow cooker so I just took the ingredients and made them work for the Crock Pot. The result was a flavor-infused corned beef that has just the right about of sweetness to balance the wonderful saltiness of the corned beef.
I was a little worried that my husband who doesn't usually like sweet dishes wasn't going to be happy with my switch but he ended up loving it. I didn't tell him until after he had a bite and he agreed that the sugar and apple juice wasn't overpowering but just added more depth of flavor to the classic corned beef recipe.
If you are looking for the classic recipe you can make my Corned Beef and Cabbage recipe but if you want a fun and festive new way to make yours give this a try!
WHAT TO EAT WITH BROWN SUGAR CORNED BEEF
This crockpot meal is loaded with corned beef, cabbage, carrots, onions, and potatoes so it is a one-pot dinner that doesn't need much more. But I always love serving a loaf of bread or Irish soda bread with it. I make my soda bread with gluten-free flour of course!
INGREDIENTS FOR BROWN SUGAR CORNED BEEF AND CABBAGE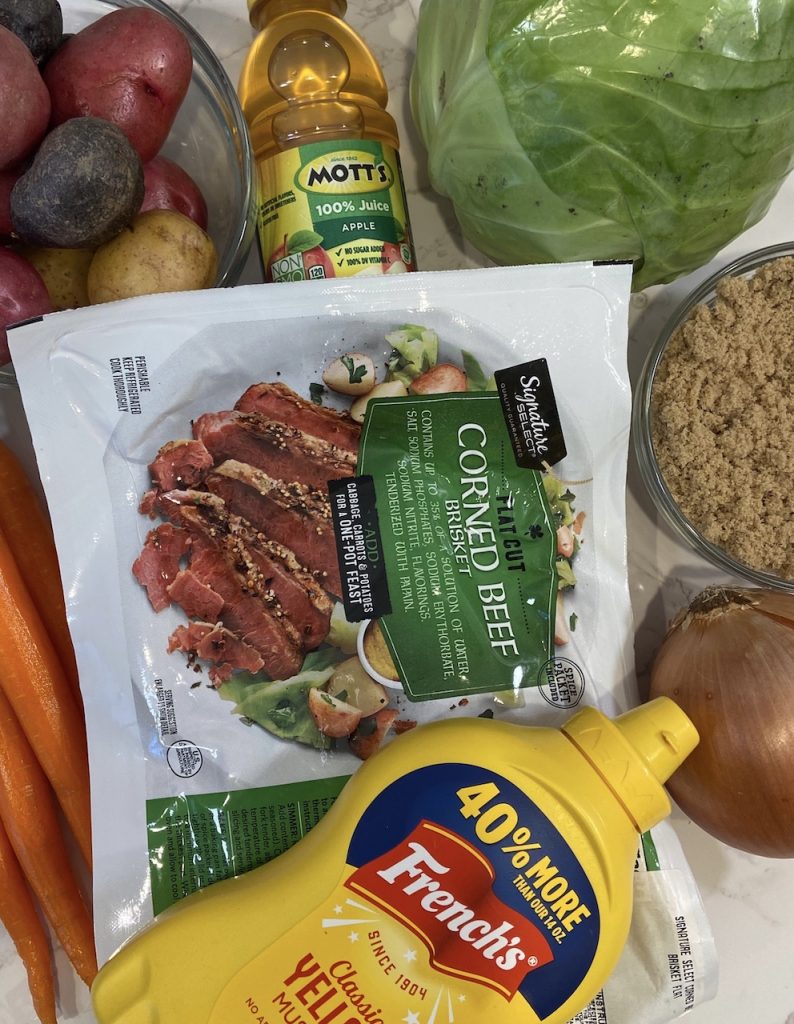 Corned Beef
Brown sugar
Apple Juice
Prepared Mustard
Carrots
Potatoes
Onion
Gluten-Free Corned Beef
All of the ingredients in this corned beef and cabbage recipe are naturally gluten free. All of my recipes are gluten-free because my husband has celiac disease, which means you are allergic to gluten. Luckily with this dish there are no substitutions needed to make it gluten free.
WHAT IS CORNED BEEF?
Corned Beef is a description of a cooking technique made by salt-curing beef. The corned beef comes from the brisket of a cow. Since brisket is usually a tough meat the salt-curing or brining makes it tender. Then once you get it at the grocery store it comes packaged with a little spice packet that is typically used to flavor the meat while cooking. I always use the spice packet included and find it a perfect mix.
WHAT IS THE DIFFERENCE BETWEEN FLAT CUT AND POINT CUT?
Just in case this is your first time making corned beef I wanted to tell you there are two cuts of corned beef! Somehow I always get confused when I go to the grocery store to buy my corned beef and can never remember which cut to buy. But lucky for you, that means I have tried both! If you buy the entire brisket you will end up with both a point cut and a flat cut. However, there really is no wrong one to buy so don't worry about which one you end up with.
Flat Cut
The flat cut or round cut has less marbling but it has a layer of fat on the top to help keep it juicy. Plus it has more meat and is easier to cut into pieces giving you the more classic St. Patrick's Day look.
Point Cut
The point cut is smaller and has more fat or marbling making it more flavorful. Just like with a steak the fat will help flavor the beef and make it more tender. This one is better if you are going to shred the meat.
HOW TO MAKE BROWN SUGAR CORNED BEEF
Step 1. Place potatoes, carrots, and onions on the bottom of the slow cooker.
Step 2. Place the corned beef on top of potatoes and onions.
Step 3. Mix together brown sugar, apple juice, and mustard. Pour over corned beef and veggies. Sprinkle spice packet over the top of corned beef.
Step 4. Cover and cook on low for 8-10 hours or on high for 4-5 hours.
Step 5. Add the cabbage on top of the corned beef and cook on low for another 2 hours or high for 1 hour.
Step 6. Remove corned beef and cut against the grain.
Step 7. Serve immediately with cabbage, potatoes, and carrots.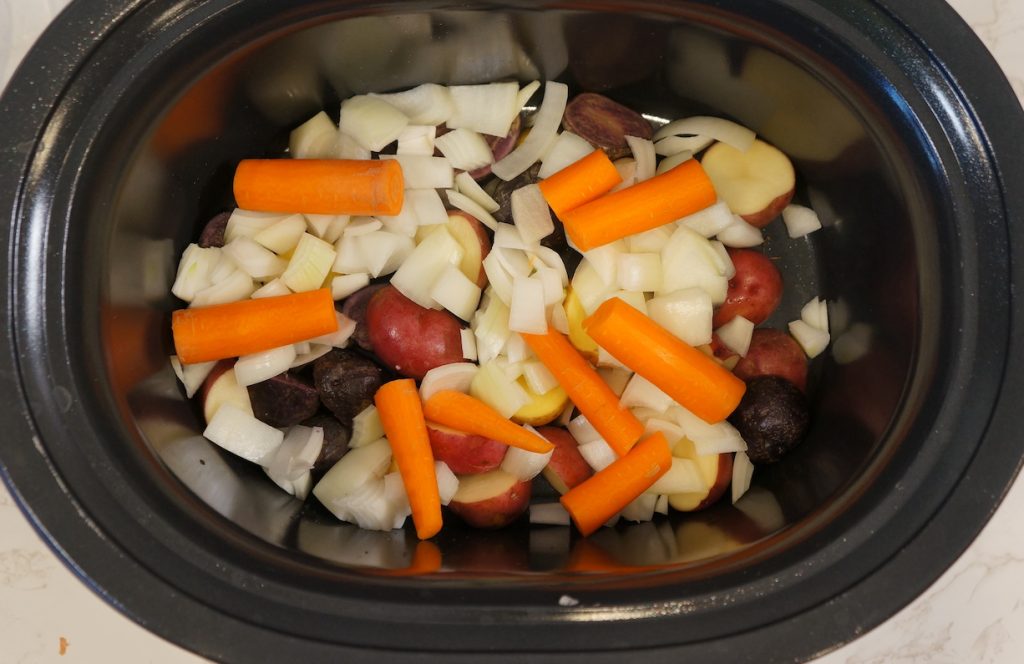 LOOKING FOR MORE IRISH RECIPES?
Need A New Crock Pot?
My favorite is this Crock Pot 7 quart Programmable Slow Cooker. First and foremost, I love being able to set the timer in case I'm not home when the food is finished cooking and it just switches to warm. Plus you can lock the lid and just carry it to a party. Not only is it easy to carry but also you will never lose another Tupperware or serving dish again at a potluck party!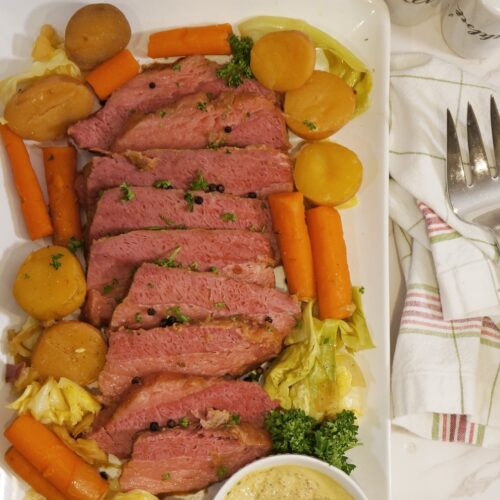 Brown Sugar Corned Beef
Give your classic corned beef a twist with Brown Sugar Corned Beef and Cabbage! Try this gluten free corned beef recipe with brown sugar, apple juice, and mustard to upgrade your crock pot corned beef.
Ingredients
6

pound

corned beef

1

pound

potatoes

cut in half

3

carrots

peeled and cut into chunks

1

white onion

chopped

1/2

head

cabbage

cut into wedges

4

cups

apple juice

1

cup

brown sugar

1

tbsp

prepared yellow mustard

1

spice packet
Instructions
Add carrots and potatoes to bottom of the slow cooker.

Place corned beef fat side up on top of the veggies.

Mix apple juice, brown sugar and mustard together and pour over corned beef. Sprinkle spice packet over top of corned beef.

Cover and cook on low for 8-10 hours or high 5-6 hours.

Add cabbage one hour prior to serving.

Remove the cabbage, corned beef, potatoes and carrots from the slow cooker. Slice the corned beef against the grain.

Place the meat, potatoes and vegetables on a platter and serve with mustard on the side if desired.
Notes
The potatoes and carrots will be very soft when cooked in the slow cooker all day. If you prefer your veggies firmer add potatoes and carrots halfway through cook time.
Nutrition
Calories:
1212
kcal
|
Carbohydrates:
78
g
|
Protein:
70
g
|
Fat:
68
g
|
Saturated Fat:
22
g
|
Polyunsaturated Fat:
3
g
|
Monounsaturated Fat:
33
g
|
Cholesterol:
245
mg
|
Sodium:
5605
mg
|
Potassium:
2138
mg
|
Fiber:
5
g
|
Sugar:
57
g
|
Vitamin A:
5175
IU
|
Vitamin C:
170
mg
|
Calcium:
130
mg
|
Iron:
9
mg