Discover the ultimate comfort food with our viral Crockpot Chicken Cobbler Casserole recipe! This easy-to-make dish features tender chicken, creamy soup, gooey cheese, and a medley of veggies, all slow-cooked to perfection.
Topped with a mouthwatering Red Lobster cheddar bay biscuit mix, it's a hearty, cheesy, and savory sensation. Get ready to impress your family with this delicious homemade meal.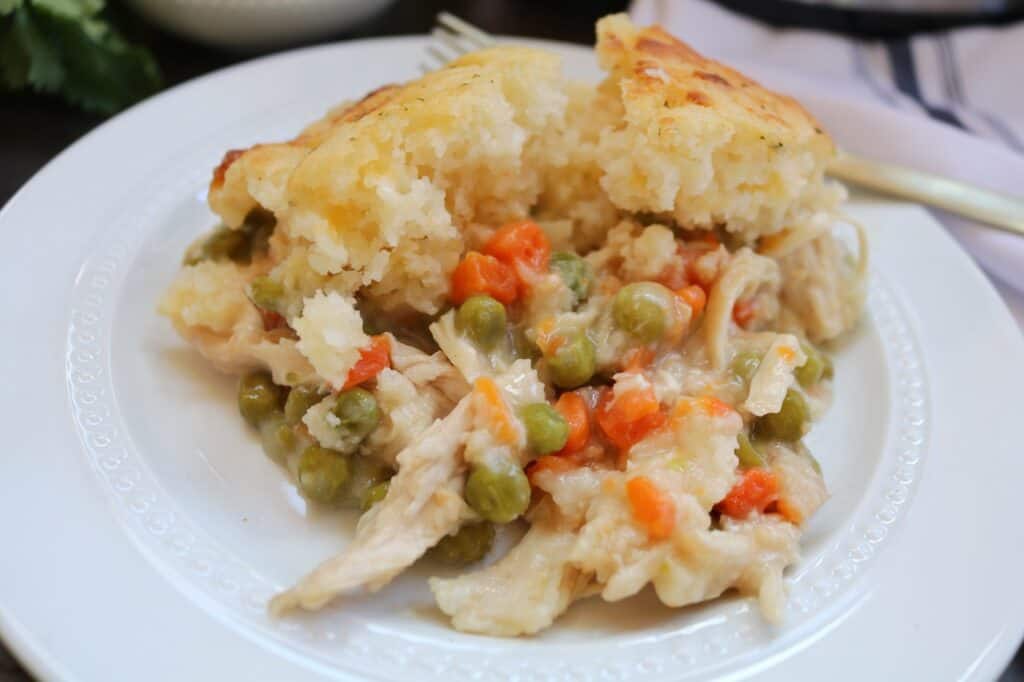 Viral Chicken Cobbler Casserole Recipe
This chicken cobbler was first made on a viral TikTok video. I always love a good viral recipe because most of the time they are tried and tested to be delicious! Of course, chicken cobblers have existed before this social media sensation but I'm happy it became popular so I could give it a try.
I did find the original recipe lacked some flavor so I added more seasoning and shredded cheese which is supposed to be included in the "cheddar bay biscuits". This really pumped up the flavor and gave it that savory taste I was going for with a chicken cobbler casserole.
Another easy viral recipe that I made into a crockpot recipe is my 3 ingredient lazy enchiladas.
I knew when I saw this recipe I was going to have to try it in the crockpot. It is a similar recipe to my Cowboy Cornbread Casserole so I knew I could convert it into a slow cooker chicken casserole recipe.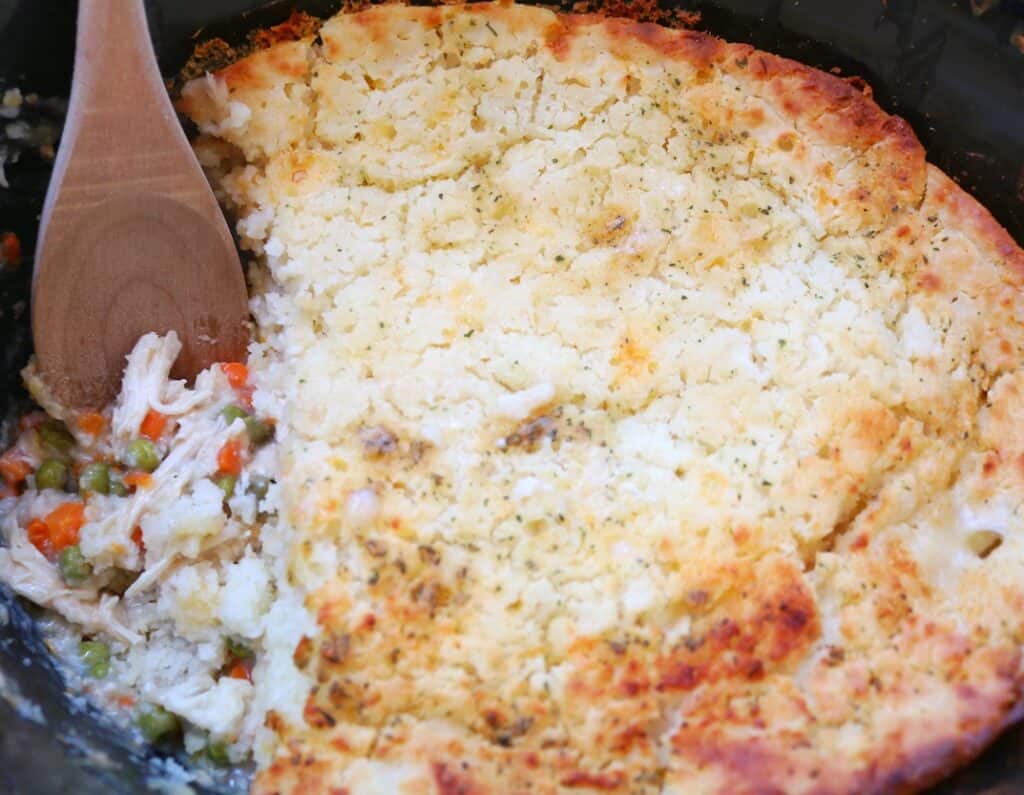 Chicken Cobbler Casserole Recipe
A chicken cobbler is a savory dish made with chicken and a biscuit-like topping. It's similar in concept to a traditional fruit cobbler but instead of sweet fruit filling, it features a savory chicken filling. The chicken filling typically consists of ingredients like cooked chicken, vegetables, and a creamy sauce, while the topping is made from a biscuit or dough-like mixture that bakes to a golden brown crust. The combination of the tender chicken and the biscuit topping creates a comforting and hearty meal.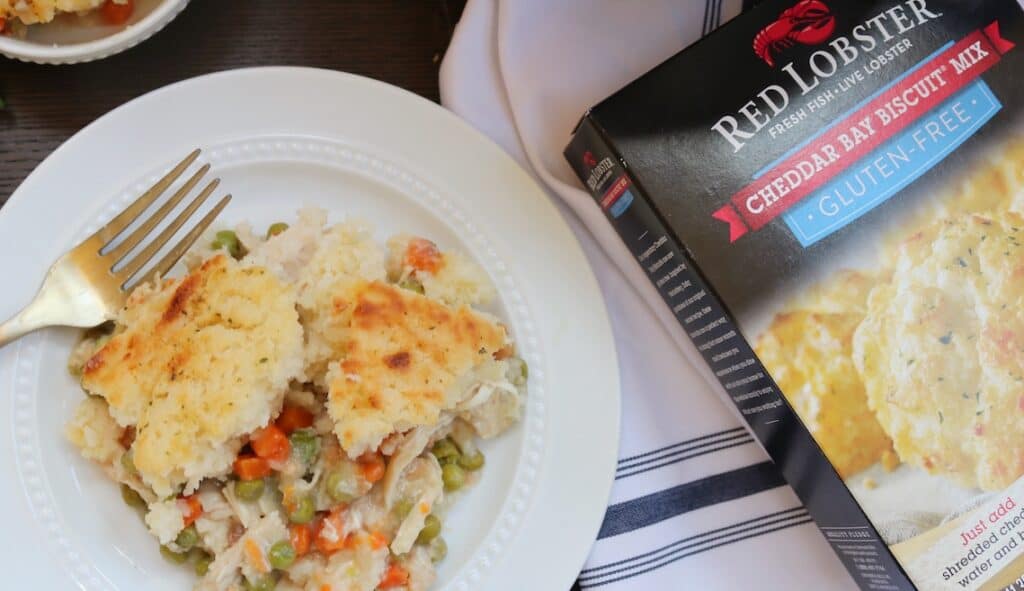 If you have ever eaten at Red Lobster then you know why this chicken cobbler recipe is going to be even more delicious than a traditional biscuit recipe. Red Lobster's Cheddar Bay Biscuits are served at the restaurant and are known for their savory, cheesy, and buttery flavor. These biscuits are served as a complimentary side dish to diners and have become a signature item associated with the restaurant.
Traditionally cobblers are desserts but this savory cobbler will become one of your new favorite recipes to enjoy! This toss-and-go dinner is the perfect comfort food that will remind you of chicken pot pie but easier.
Ingredients for Chicken Cobbler (SEE RECIPE CARD BELOW FOR THE FULL RECIPE)
Need a New Slow Cooker? Are you new to slow cooking and need a new one to make this delicious Crockpot Chicken Cobbler?
My favorite is this Crock Pot 6 quart Programmable Slow Cooker. I love being able to set the timer in case I'm not home when the food is finished cooking and it just switches to warm. Plus, you can lock the lid and just carry it to a party. You will never lose another Tupperware or serving dish again at a potluck party!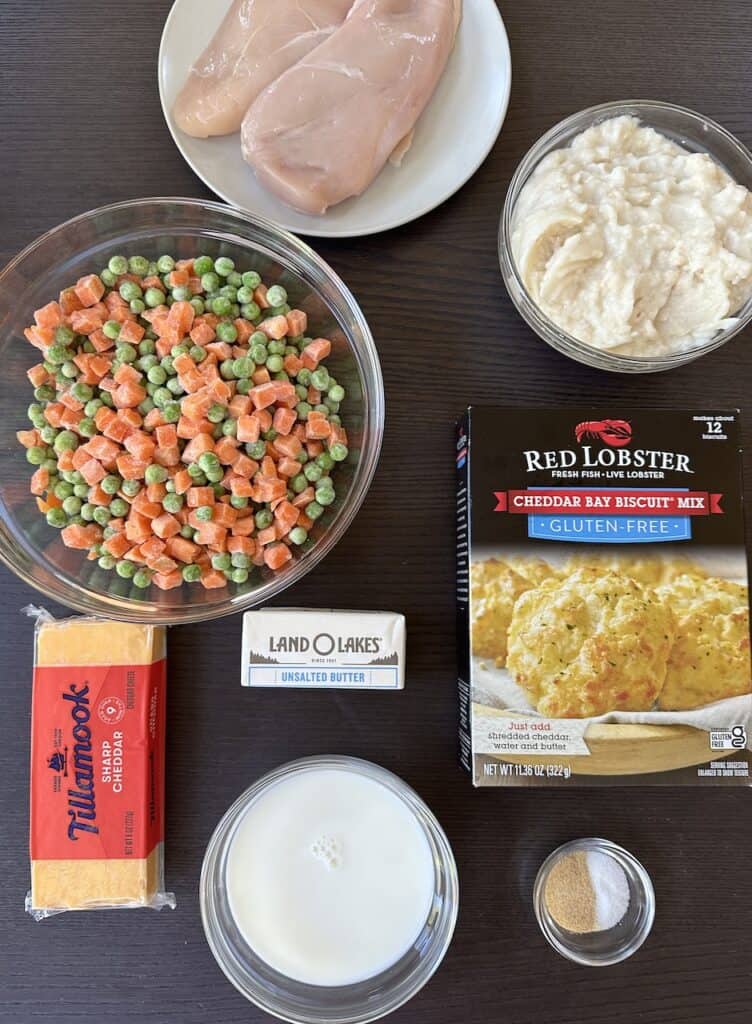 Each ingredient serves a specific purpose in creating a balanced and delicious Chicken Cobbler, resulting in a dish that's both flavorful and family-friendly.
How to Make Chicken Cobbler
Step 1. Add chicken to the slow cooker.
Step 2. Add frozen vegetables, cream of chicken soup, garlic powder, onion powder, and salt. Stir to combine ingredients.
Step 3. Cover and cook for 2-3 hours. Once finished cooking shred chicken and stir chicken back in with vegetables.
Step 4. Combine Red Lobster Cheddar Bay Biscuit Mix with milk, and cheese in a medium bowl. Stir to combine. It may be lumpy and that is fine. Pour Cheddar Bay Biscuit Mix on top of chicken.
Step 5. Add pats of butter and sprinkle with the seasoning mix that comes in the box. Cook on high for 2-3 hours.
Step 6. Once finished cooking let the chicken cobbler sit for 10 minutes to thicken up. Serve and enjoy!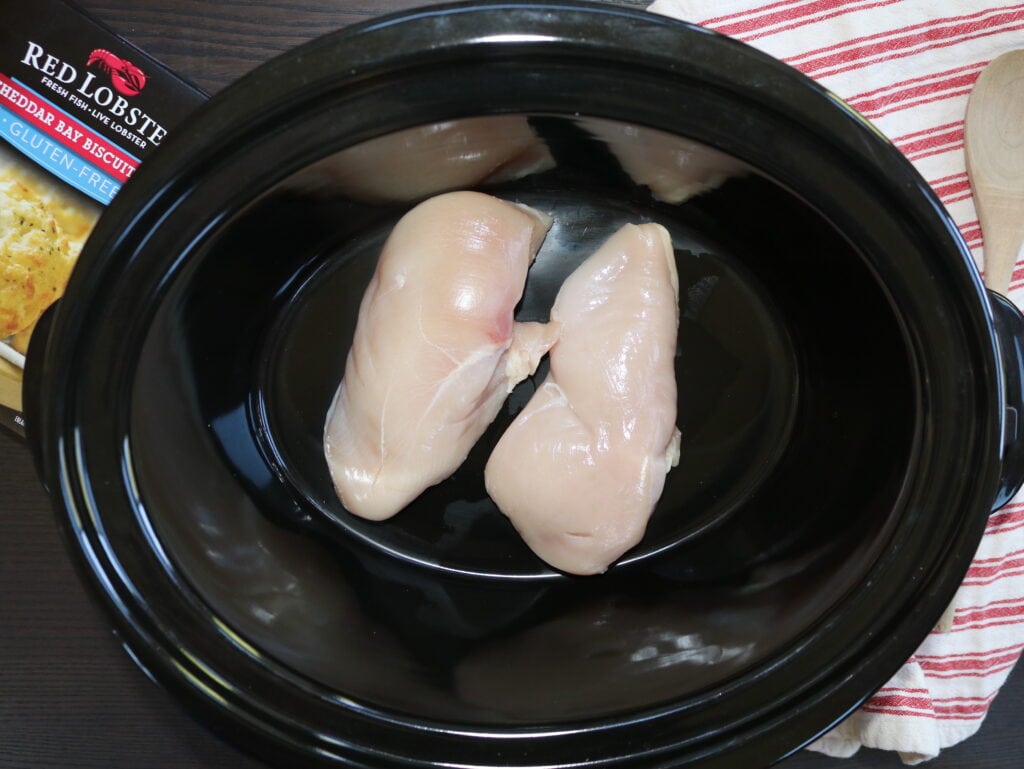 Why You Will Love Chicken Cobbler
There are so many reasons to love this chicken cobbler recipe-
Simple Ingredients: The recipe uses common ingredients like chicken, canned soup, cheese, and frozen vegetables, making it easy to find and budget-friendly.
One-Pot Wonder: It's a one-pot meal prepared in a slow cooker or crockpot, minimizing cleanup and making it hassle-free for busy families.
Minimal Prep: Shredded chicken and canned soup mean less time spent on prep work, perfect for those with a busy schedule.
Kid-Friendly Flavors: Creamy, cheesy, and with familiar ingredients, it's likely to be a hit with kids and picky eaters.
Customizable: You can adjust the vegetables, spices, or even the type of cheese to suit your family's tastes.
No-Fuss Biscuit Topping: Using a biscuit mix means you don't have to worry about making biscuit dough from scratch, saving time and effort.
Slow Cooker Convenience: The slow cooker does most of the work for you. Set it and forget it until it's time to eat.
Hearty and Comforting: It's a comforting, hearty meal that's perfect for cozy family dinners, especially during cooler months.
Generous Portions: The recipe typically yields enough to feed a family, making it ideal for gatherings or leftovers for the next day.
Versatile Leftovers: Leftovers can be refrigerated and reheated, making them a convenient option for lunch or dinner the next day.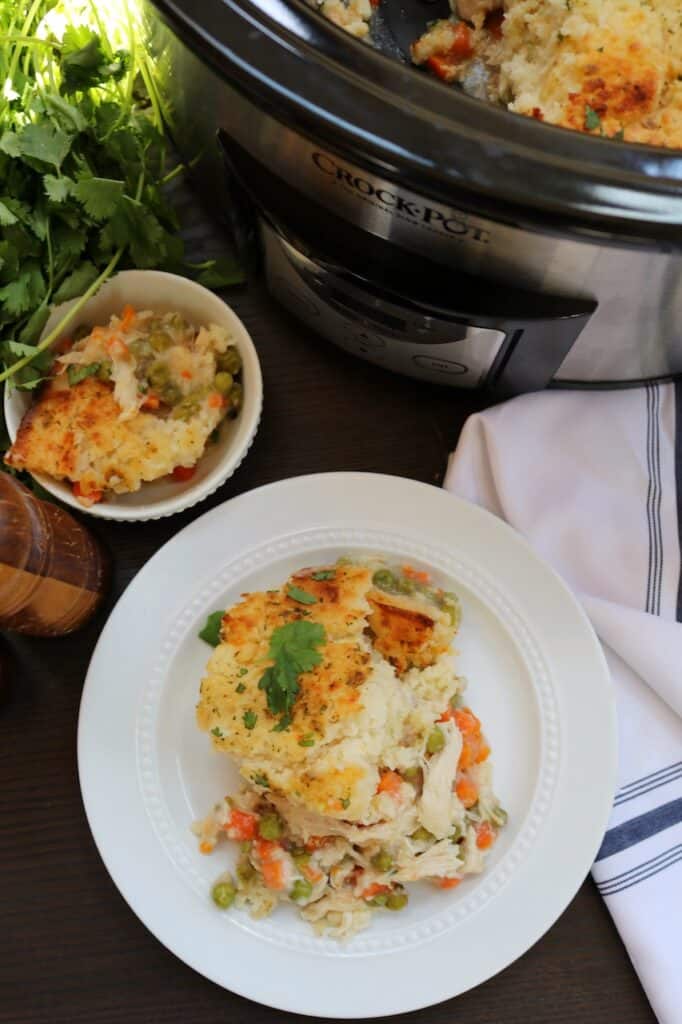 What to Serve with Chicken Cobbler
This chicken cobbler recipe is a meal on its own. I would pair it with a fresh green salad, broccoli, or mashed potatoes. With any of these side dishes, you are all set for a balanced and hearty dinner.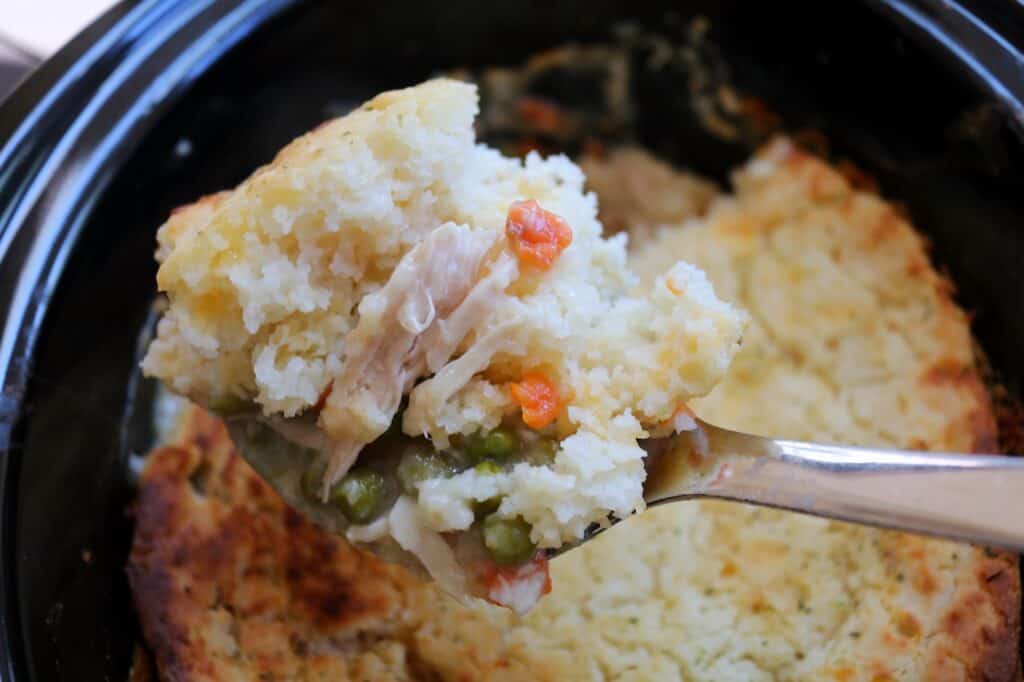 tips &
Pre-cook Chicken: To save time you can use rotisserie chicken or leftover cooked chicken and cut the baking time in half.
Towel Trick: Place a towel under the crockpot lid during the second half of the cooking time. This helps catch the condensation that can build up on the lid of the Crockpot.
Even Baking: Spread the biscuit batter evenly over the casserole to ensure consistent baking and a cohesive topping.
Monitor Cooking Time: Keep an eye on the casserole as it bakes to avoid over-browning the biscuit topping.
Rest Before Serving: Allow the casserole to rest for a few minutes after baking. This helps the flavors meld and makes it easier to cut and serve.
Garnish for Presentation: Sprinkle chopped fresh parsley, pepper, or a pinch of paprika on top just before serving for a nice finishing touch and added visual appeal.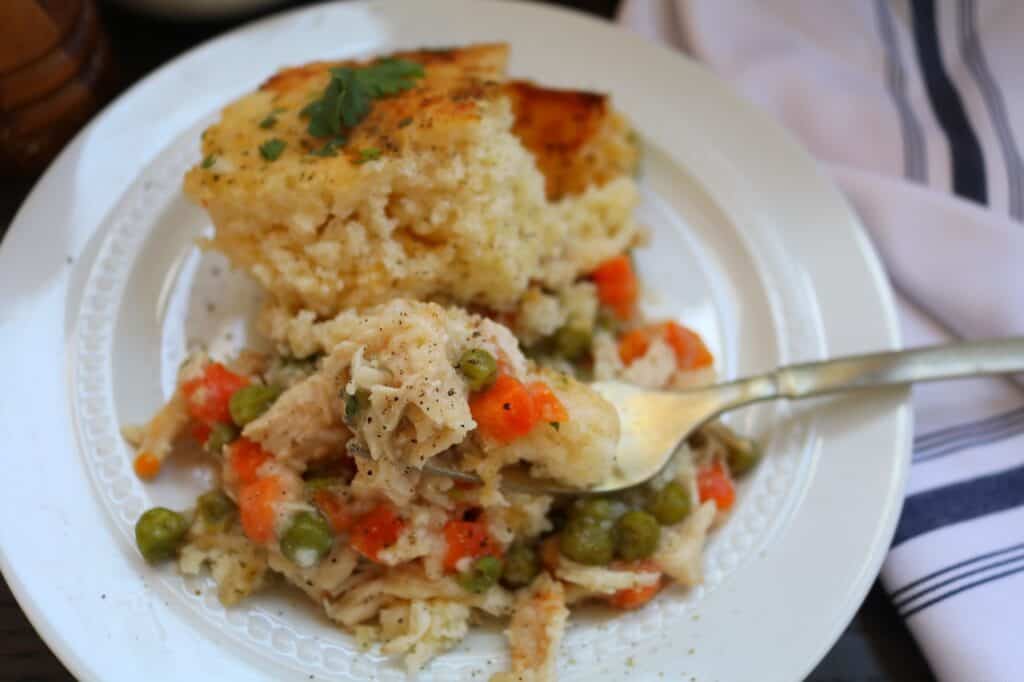 How to Store Leftover Chicken Cobbler Casserole
To store the Chicken Cobbler Casserole, follow these simple steps to maintain its freshness and taste.
First, allow any leftover casserole to cool down to room temperature. Once cooled, transfer the casserole into airtight containers, ensuring that the containers are suitable for both refrigeration and freezing. If there are larger portions, consider dividing the casserole into smaller, meal-sized portions to facilitate easier storage and reheating.
Label the containers with the date of preparation to help keep track of freshness. Store the casserole in the refrigerator for up to 3-4 days, making sure it's tightly sealed to preserve its flavors.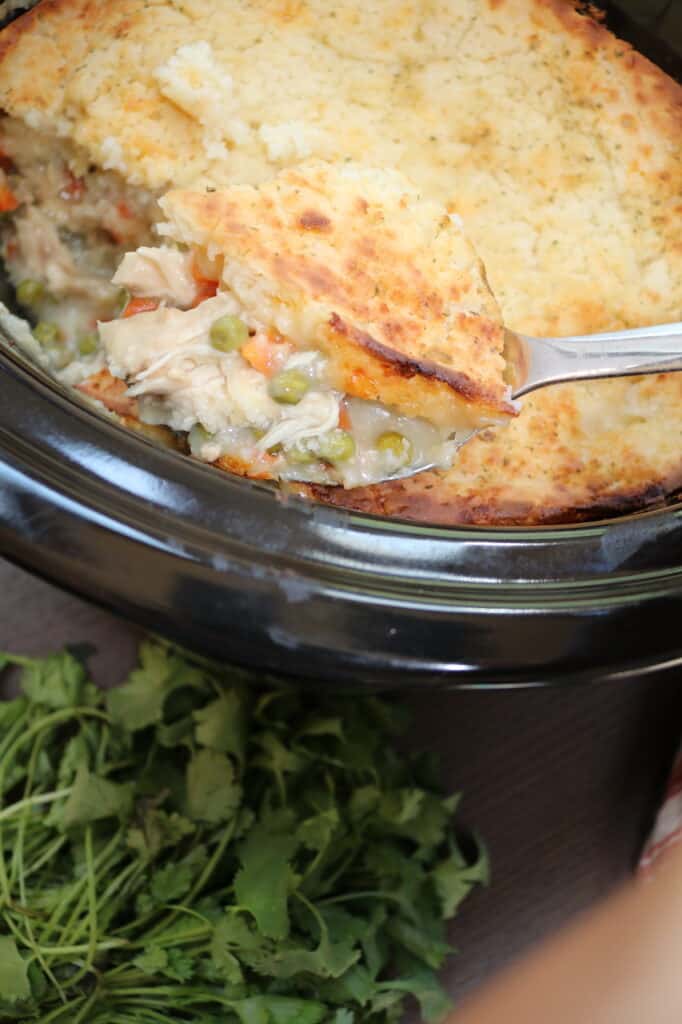 Can You Freeze Chicken Cobbler Casserole?
For longer storage, place the airtight containers in the freezer, where the casserole can stay good for up to 2-3 months.
When reheating, use the oven or microwave, and add a little extra liquid to maintain the desired consistency. The biscuit mix won't be as fluffy so it will be more of a chicken dumpling recipe. Always ensure the casserole is heated to a safe temperature before serving.
With these storage steps, you can enjoy the delightful Chicken Cobbler Casserole whenever you desire a hearty and comforting meal.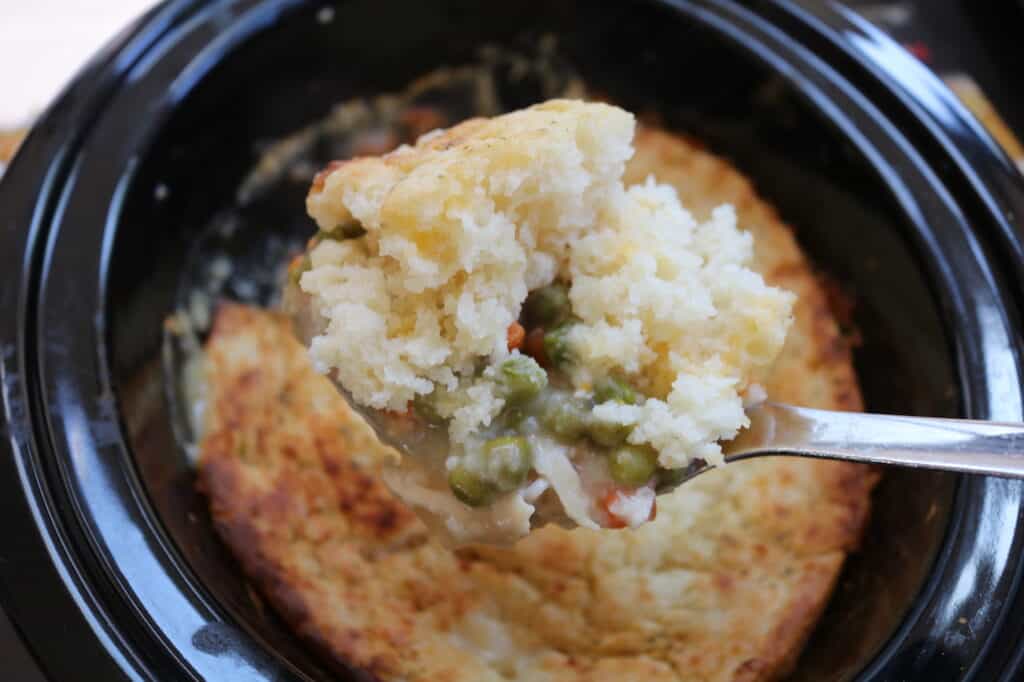 Oven Directions
Preheat the Oven: Preheat your oven to 375°F (190°C).
Prepare the Filling: In a large oven-safe skillet or baking dish, combine the cooked and shredded chicken, cream of chicken soup, shredded cheese, and frozen peas and carrots mix. Mix them well.
Prepare the Sauce: In a saucepan over medium heat, melt the butter. Stir in the whole milk, chicken broth, garlic powder, onion powder, and black pepper. Heat the mixture until it's warmed through and well combined.
Combine Sauce and Filling: Pour the milk and spice mixture over the chicken mixture in the skillet or baking dish. Stir everything together until well combined.
Prepare the Biscuit Topping: In a separate bowl, prepare the cheddar bay biscuit mix according to the package instructions.
Add the Biscuit Topping: Spread the biscuit mixture evenly over the chicken filling in the skillet or baking dish.
Bake: Place the skillet or baking dish in the preheated oven. Bake for approximately 25-30 minutes or until the biscuit topping is golden brown and cooked through. Keep an eye on it to avoid over-browning.
Serve: Once the cobbler is done, remove it from the oven and let it cool for a few minutes. Serve it hot.
Frequently Asked Questions
Can I Use A Different Biscuit Mix?
Yes, you can use another biscuit mix like Bisquick or Jiffy. Just make sure to follow the directions on the box. You could even make a biscuit mix from scratch!
Can I Use Different Frozen Vegetables?
Absolutely! Use any veggies you like. I was actually going to add corn to my mix next time.
Can I Add Potatoes?
You can add potatoes to this Chicken Cobbler recipe. If you use potatoes I would recommend using frozen hashbrowns or diced potatoes. If you do use uncooked potatoes make sure to dice them small and give them time to cook.
Substitutions for Chicken Cobbler Casserole
Here's a helpful list of easy substitutions for ingredients in the Chicken Cobbler Casserole:
Chicken: Swap cooked and shredded chicken breasts with cooked turkey, rotisserie chicken, or even cooked and shredded pork for a different protein choice.
Cream of Chicken Soup: Substitute with cream of mushroom soup, cream of celery soup, or a homemade creamy white sauce for a variation in flavor.
Shredded Cheese: Experiment with different types of cheese such as mozzarella, Colby Jack, or Monterey Jack to suit your taste preferences.
Frozen Peas and Carrots: Use a mix of your favorite vegetables like broccoli, corn, green beans, or even a medley of mixed vegetables for variety.
Butter: Substitute with margarine, ghee, or a plant-based butter alternative if desired.
Cheddar Bay Biscuit Mix: Prepare a homemade biscuit batter using flour, baking powder, salt, grated cheddar cheese, and butter if you prefer a from-scratch approach.
All of the ingredients I use are gluten-free. My husband has celiac disease, which means you are allergic to gluten.
You will need to make sure to use gluten-free products to keep this recipe gluten-free. Both the Red Lobster Cheddar Bay Biscuit Mix and Cream of Chicken Soup need to be gluten-free versions.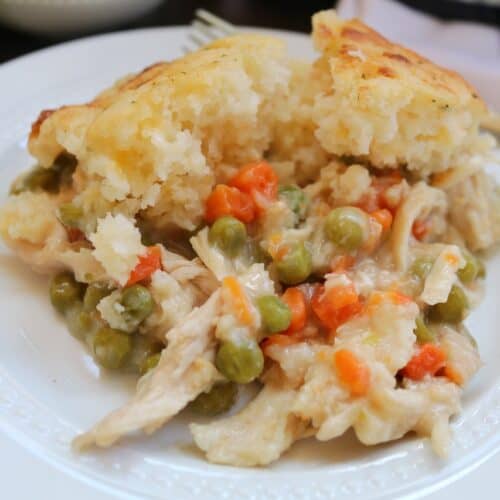 Best Chicken Cobbler Casserole with Cheddar Bay Biscuit Mix
Discover the Best Chicken Cobbler Casserole, your new go-to comfort meal! Packed with simple ingredients and requiring minimal prep, this hearty casserole is destined to earn a permanent spot in your family's dinner rotation. A delicious and easy-to-make recipe that'll have everyone asking for seconds.
Ingredients
2

pounds

chicken breast

21

oz

cream of chicken soup

2 cans

12

oz

frozen peas and carrots

or mixed vegetables

1

tsp

garlic powder

1

tsp

onion powder

1

tsp

salt

1

tsp

black pepper

11.36

ounce

Cheddar Bay Biscuit Mix

2

cups

milk

1/2

cup

cheddar cheese

shredded

2

tbsp

butter

sliced into pats

1

seasoning packet from Cheddar Bay Biscuit Mix
Instructions
Add chicken to the slow cooker.

Add frozen vegetables, cream of chicken soup, garlic powder, onion powder, and salt. Stir to combine ingredients.

Cover and cook for 2-3 hours on low heat. Once finished, cooking shred chicken and stir with vegetables.

Combine Red Lobster Cheddar Bay Biscuit Mix with milk, and cheese in a medium bowl. Stir to combine. It may be lumpy and that is fine. Pour Biscuit Mix on top of chicken.

Add pats of butter and sprinkle with the Red Lobsters seasoning mix that comes in the box. Cook on high for 2-3 hours until cornbread is cooked.

Let the casserole sit for ten minutes to thicken. Serve warm and enjoy!
Video
Notes
recipe adapted from @yourbarefootneighbor
Nutrition
Calories:
656
kcal
|
Carbohydrates:
50
g
|
Protein:
46
g
|
Fat:
30
g
|
Saturated Fat:
14
g
|
Polyunsaturated Fat:
2
g
|
Monounsaturated Fat:
5
g
|
Trans Fat:
0.2
g
|
Cholesterol:
134
mg
|
Sodium:
2187
mg
|
Potassium:
862
mg
|
Fiber:
2
g
|
Sugar:
7
g
|
Vitamin A:
5955
IU
|
Vitamin C:
8
mg
|
Calcium:
208
mg
|
Iron:
2
mg