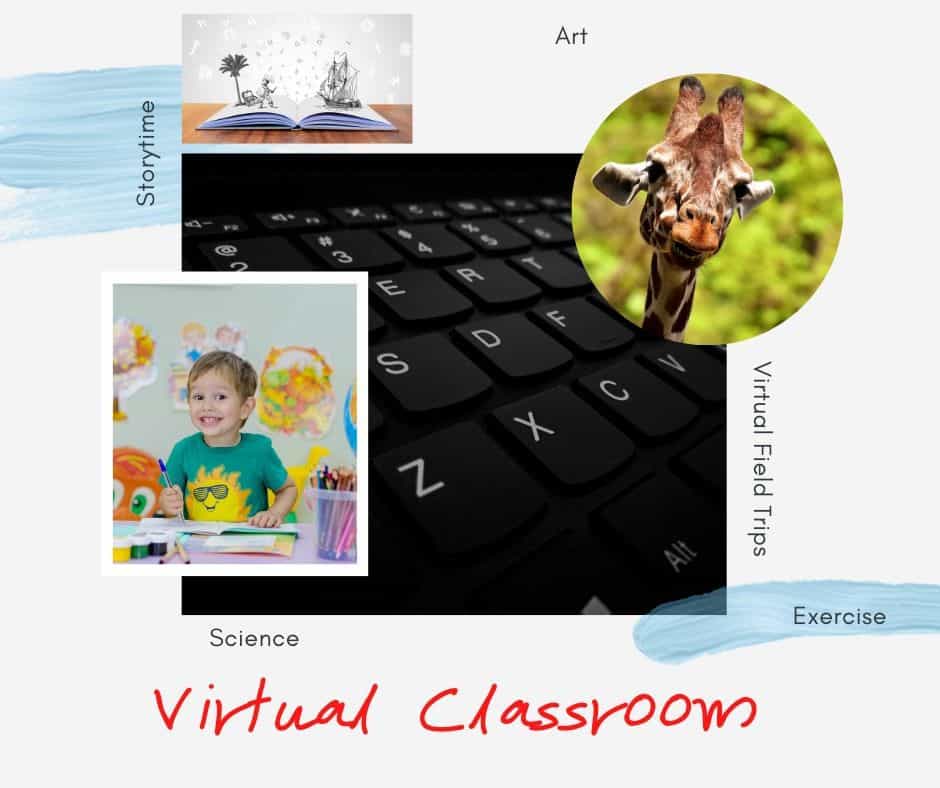 Our lives just changed (almost overnight) and our living rooms are now a classroom. Yikes, it's scary and a lot of pressure!! I know that I am not going to be able to offer the same environment or patience as a classroom but I'm trying to do my best. I created my own Virtual Classroom for kids. If you're like me you have been trying to find fun, educational and attention keeping activities. The resources we have access at our fingertips is unbelievable! But it was hard for me to keep them all straight and find the links to them when I wanted to actually do one of the activities. Sooo, I created a one stop shop I'm calling, Virtual Classroom. I think it will really help you turn your living into your very own classroom, at least for 30 minutes increments. We have art and crafts, story time, field trips, science and even workouts!
Check it out and click here for a link to a blank daily schedule and add all your favorite activities below in to get even more organized for the day. Comment below if you have any other great links we can add because we are all in this together. Just remember to take it one day at a time!
If you are looking to get your homeschooling classroom ready check out this link that has everything you need to get setup with the essentials!
Story Telling, Drawing and Printables
1- Lunch with Mo Williams- Children's book author and illustrator Mo Willems is hosting free virtual "lunch doodle" sessions for kids. Learn how to draw, doodle and just have fun! Here's the link to Episode One https://www.youtube.com/watch?v=RmzjCPQv3y8
2- Art Hub for Kids – Lots of great videos for you budding artist! https://www.youtube.com/user/ArtforKidsHub
Check out Create Art 4 Kids on Instagram- We loved making self portraits with a paper plate scrape paper. www.instagram.com/CreateArt4Kids
Printables
7- Lakeshore Learning Free Resources- More than 1,000 resources including printables, lesson plans and fun activities. I love it because it is broken out into grades so I can pick the right ones for us to do. I recommend the berry fun sorting button activity! https://www.lakeshorelearning.com/resources/free-resources
NEW- Teacher Pay Teachers- This is a great free resource for printables for any category and any age. You can search for any topic, letter, or subject and find a printable for it. They have choices you can pay for but in the search function you can select free to sort only the free options. You can sign up as a teacher or a parent! https://www.teacherspayteachers.com/
NEW – Totschooling – I have been loving this awesome printables website. We just did the solar system one and my 5 year old son actually likes doing his work! There are themes so you can pick one for the week and then base your curriculum around it. They have tons of great educational themes and they are just as good as some of the paid ones in my opinion! https://www.totschooling.net/
NEW- Planes and Balloons- This site has over 400 free printables with themes like seasons, shapes and colors. I can't believe there are so many great free ones and you don't even have to enter your email address!
Virtual Zoos and Aquariums
Virtual Visits- Take a peak at what the animals are up to and check out Cincinnati Zoo and San Diego Zoo for extra fun activities you can join in on. There are plenty of fun live cameras so kids can check out their favorite animals on the links below too!
8- Home Safari from the Cincinnati Zoo. You can watch live everyday on Facebook Live or they will have all their recorded episodes on their website. They have a fun activity to go with it so it's even better! http://cincinnatizoo.org/home-safari-resources/ https://m.facebook.com/cincinnatizoo/
9- San Diego Zoo has live cameras, activities and even games. You could spend a week just doing all the resources on the San Diego Zoo website! https://kids.sandiegozoo.org/videos
10- Dive into the Monterey Bay Aquarium with fun live cams with penguins, jellyfish and adorable sea otters. https://www.montereybayaquarium.org/animals/live-cams
11- Zoo Atlanta Panda Cam https://youtu.be/_6wbfVWVk8Q
12- Smithsonian's National Zoo https://nationalzoo.si.edu/webcams
13- Reid Park Zoo Lion Cam in Tuscon, AZ http://reidparkzoo.org/cameras/lion-cam/
14- Ouwehand Park Polar Bear Cubs Rhenen, Netherland https://explore.org/livecams/polar-bears/polar-bear-ouwehand-twin-cubs-cam-2
Science
Everyone loves a little science!
NEW- Lesson plans from Arizona Science Center! The Arizona Science Center has come up with weekly lesson plans including a daily lesson plan. They have three grade versions one for K-2, 3-5 and 5-8. We are still in preschool but my son loves science so we are just doing what he can understand. https://www.azscience.org/learn/parents/#
15- Head over to the Arizona Science Center on Facebook every day at 1pm (PST) for a Live Science Demonstration. If you can't make it at 1pm you can always check out the video if you scroll down in their feed. https://www.facebook.com/arizonasciencecenter/
16- Do your own science experiments at home! All it takes is vinegar, baking soda, and dish soap to make a volcano. You can find tons of other easy science experiments on Youtube. I usually go to Mr. Duck Science Experients because they have simple household ingredients for most of them. https://www.youtube.com/watch?v=McVpXiSttnU
Join the Space Academy with NASA Kids' Clubs. Play games and explore space at https://www.nasa.gov/kidsclub/index.html Also, tons of Stem activities to do at home on this link. https://www.nasa.gov/stem-at-home-for-students-k-4.html
Educational Free Apps
Check out these free educational apps that will help teach your kids.
17- Khan Academy Kids– This app is built with ages 2-7 in mind. There are hundreds of games, books and coloring pages to choose from! They focus on early literacy, math, emotional feelings and reading. If you have an older kid check out Khan Academy.
18- Duck Duck Moose Apps– More great apps from Khan Academy! Type Duck Duck Moose into your search in the App Store and ALL the options will pop up. They have so many different options depending on what your kids enjoys. Pick a few since they are FREE . My kids love Moose Math, Build A Truck, and Trucks! They have Princess Fairy Tale Maker and Fish School which are fun too. Actually every app they make is a hit. Here's the link but it works best if you just go to your App Store and search.
19- PBS Kids Games– Educational content from all your favorite characters at PBS. Daniel Tiger is the favorite in our house but there are plenty to choose from. Content you can count on since PBS is making it! Link- https://pbskids.org/apps/
20- Scholastic Learn at Home– Scholastic is offering a free at home school with new curriculum everyday during the shut down. Pick your grade and go! Link- https://classroommagazines.scholastic.com/support/learnathome.html
Exercise and Dance
Stay moving even if it has to be indoors. With the energy kids have they have to take lots of breaks to have fun and enjoy. These are the best to break out when it's time to get moving.
22- Cosmic Yoga- This yoga is a hit with kids because the have themes that entertain and engage the 3 and older crowd! Pick from Frozen, Troll or Pokemon themed yoga session. Get your kids body working and their minds relaxed with this kid-inspired yoga. https://www.youtube.com/user/CosmicKidsYoga
23- Freeze Dance- You Tube offers so many great songs to get your kids moving and singing. We always put on Freeze Dance to get our wiggles out. https://www.youtube.com/watch?v=2UcZWXvgMZE
24- I Am A Robot- This interactive dance gets everyone on their feet and moving. https://www.youtube.com/watch?v=qbL61Ex3avM
25- Milkshake Waffle Song- Don't ask me why but this song is a hit in our house. It makes my kids laugh and dance and really is there anything better than that!
26. Check out this daily dance class at 5pm PST. https://www.facebook.com/RisingStarsUnitedAZ/
Museums
Walk through museums while sitting down! Travel and Leisure rounded up the top 12 museums to walk through including Guggenheim Museum, Musée d'Orsay, Van Gogh Museum and more. Click here to check them out.