This Butternut Squash Soup Crockpot with coconut milk version is a creamy, velvety, and flavorful soup. This winter squash has a sweet and nutty taste that makes it the perfect base for this soup. This simple recipe is packed with flavor thanks to coconut milk and other rich ingredients. This fall favorite soup is the best homemade soup to curl up and enjoy after a long day.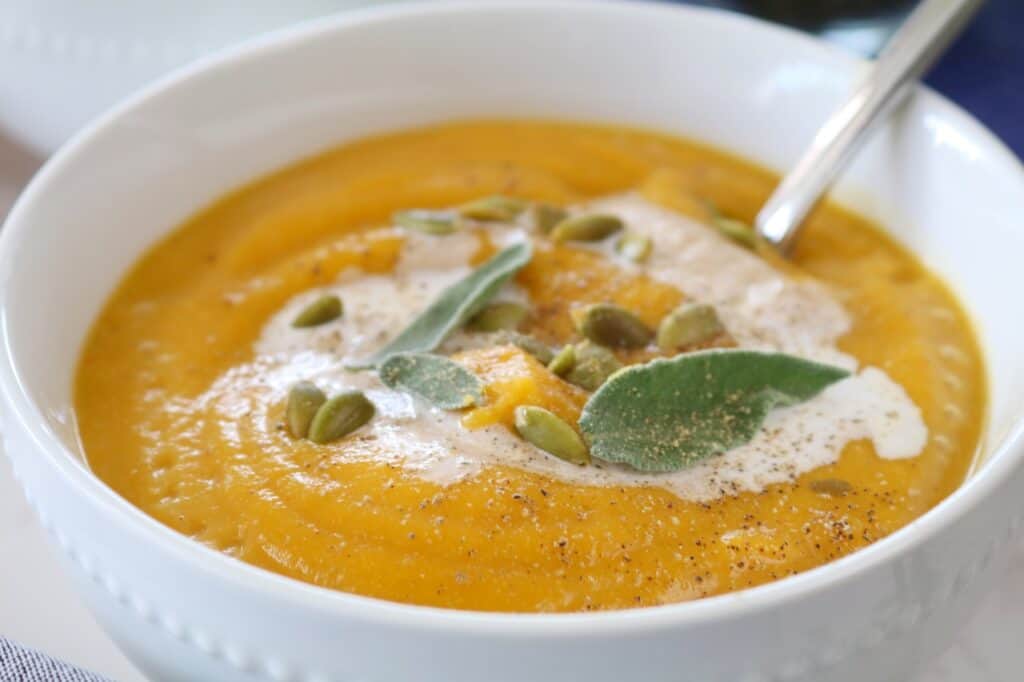 Butternut Squash Soup Crockpot Recipe
I love using my Crockpot to make a creamy and delicious butternut squash soup. Actually, I love using my crockpot to make tons of Crockpot soups like Kielbasa Soup, Potato Soup with Hashbrowns, Tomato Soup, Lasagna Soup, and 7 Can Taco Soup are just a few of the soups I make on repeat.
The Easiest Way to Make Soup
Crockpots, or slow cookers, are a convenient and easy way to make delicious soups that cook all day. That way you can come home to a hot, ready-to-eat meal, without having to spend hours in the kitchen.
As a bonus, Crockpots preserve the nutrients in the food, so you'll end up with a healthier meal than if you were to cook it with other methods. Butternut squash is a good source of fiber, vitamins, and minerals, and it's also low in calories, making it a healthy and delicious addition to any meal.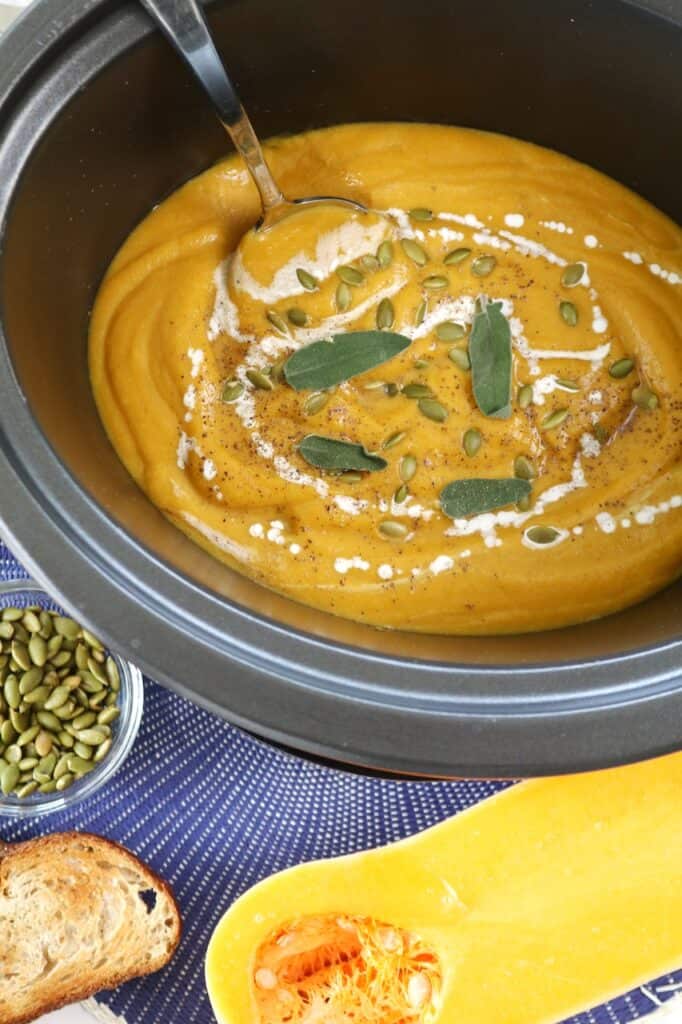 How to Make the Best Butternut Squash Soup
This butternut squash soup is perfect for a cozy night in, or as a comforting lunch on a cold day. It's easy to make and is a great way to incorporate more winter squash into your diet. Serve it with a side salad or crusty bread for a complete meal. Whether you're looking for a healthy, flavorful, and convenient meal, this butternut squash soup is sure to be a hit with the whole family.
Ingredients for Butternut Squash Soup Crockpot with Coconut Milk
When it comes to making butternut squash soup, the ingredients are simple and straightforward. In this section, we'll take a look at the main ingredients, optional ingredients for variation, and the equipment needed to make this delicious soup.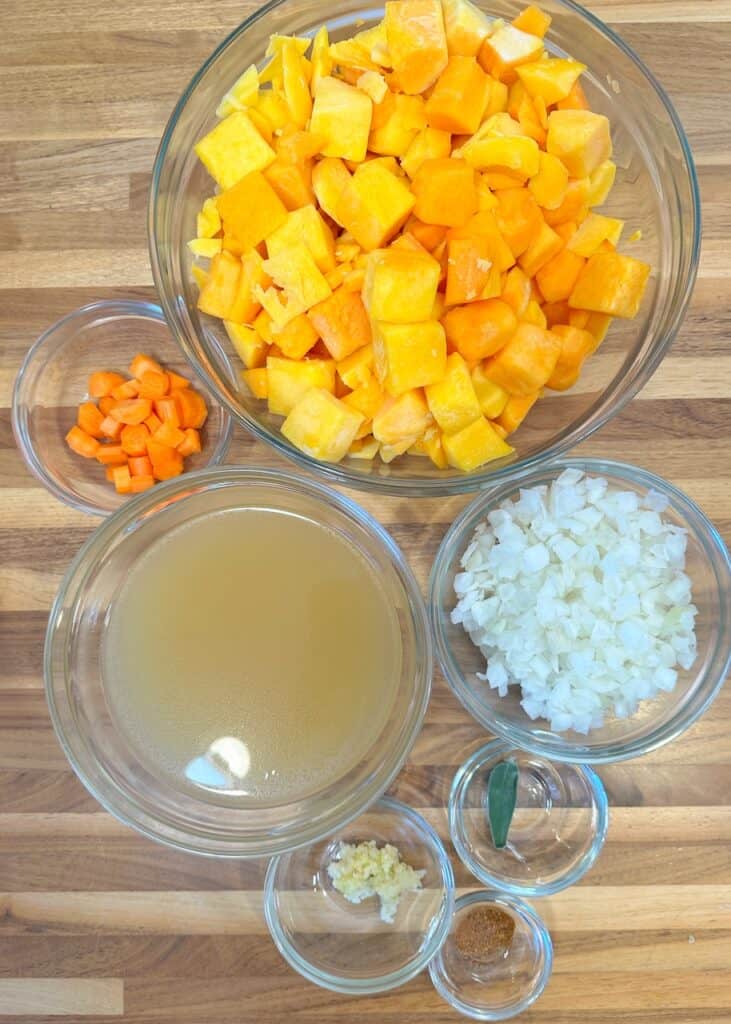 Butternut Squash: This is the main ingredient and the base for the soup. Choose a firm, ripe butternut squash that's free from bruises and soft spots.
Carrots: Carrots add a nice flavor to compliment the butternut squash.
Onion: Adds flavor and depth to the soup.
Garlic: A must-have ingredient in most soups, garlic adds a unique flavor and aroma to the soup.
Chicken Broth: Adds richness and depth of flavor to the soup. You can also use vegetable broth if you're making a vegetarian version of the soup.
Coconut Milk: Makes the soup creamy and rich.
Nutmeg: A small pinch of nutmeg can enhance the flavors of the soup.
Sage: Adds a subtle flavor to the soup.
Salt: Brings out the flavors of the ingredients.
Pepper: Adds a hint of spiciness to the soup.
Add More Flavor
Cayenne pepper: Adds a bit of heat to the soup.
Parmesan cheese: Grated Parmesan cheese can be added to the soup for a nutty, salty flavor.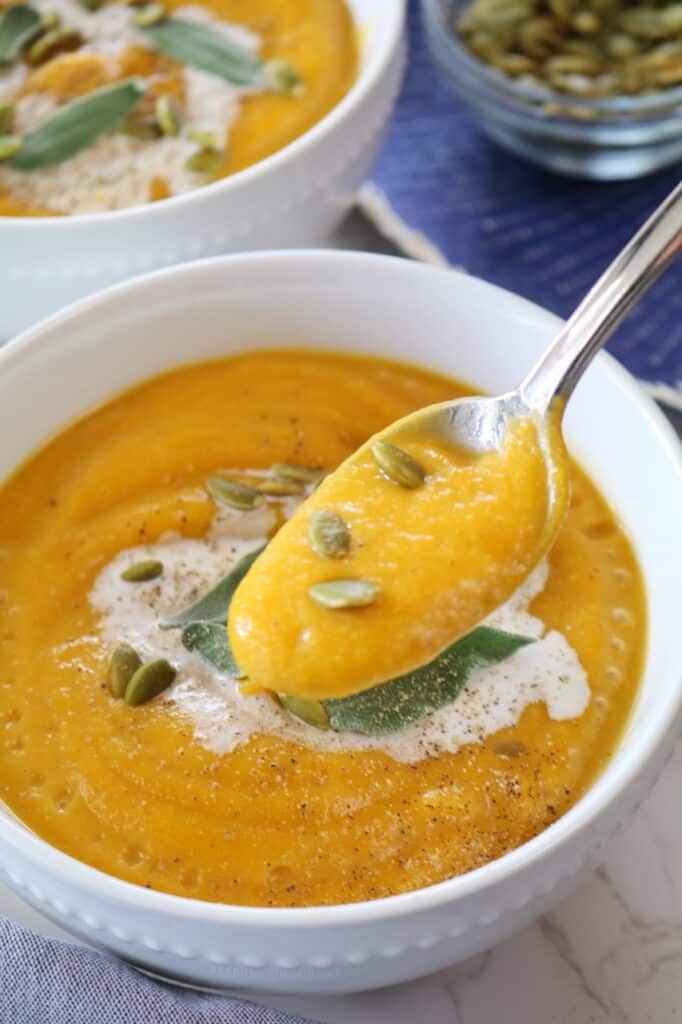 Step-by-Step Instructions
Step 1. Cut, peel, and cube butternut squash.
Step 2. Add butternut squash, onions, garlic, carrots, spices, and sage leaf to the slow cooker.
Step 3. Pour in chicken broth. Stir to combine ingredients.
Step 4. Cover and cook for 6-8 hours on low or 3-4 hours on high until the butternut squash is soft.
Step 5. Remove the bay leaf.
Step 6. Use an immersion blender to puree the soup to the desired consistency.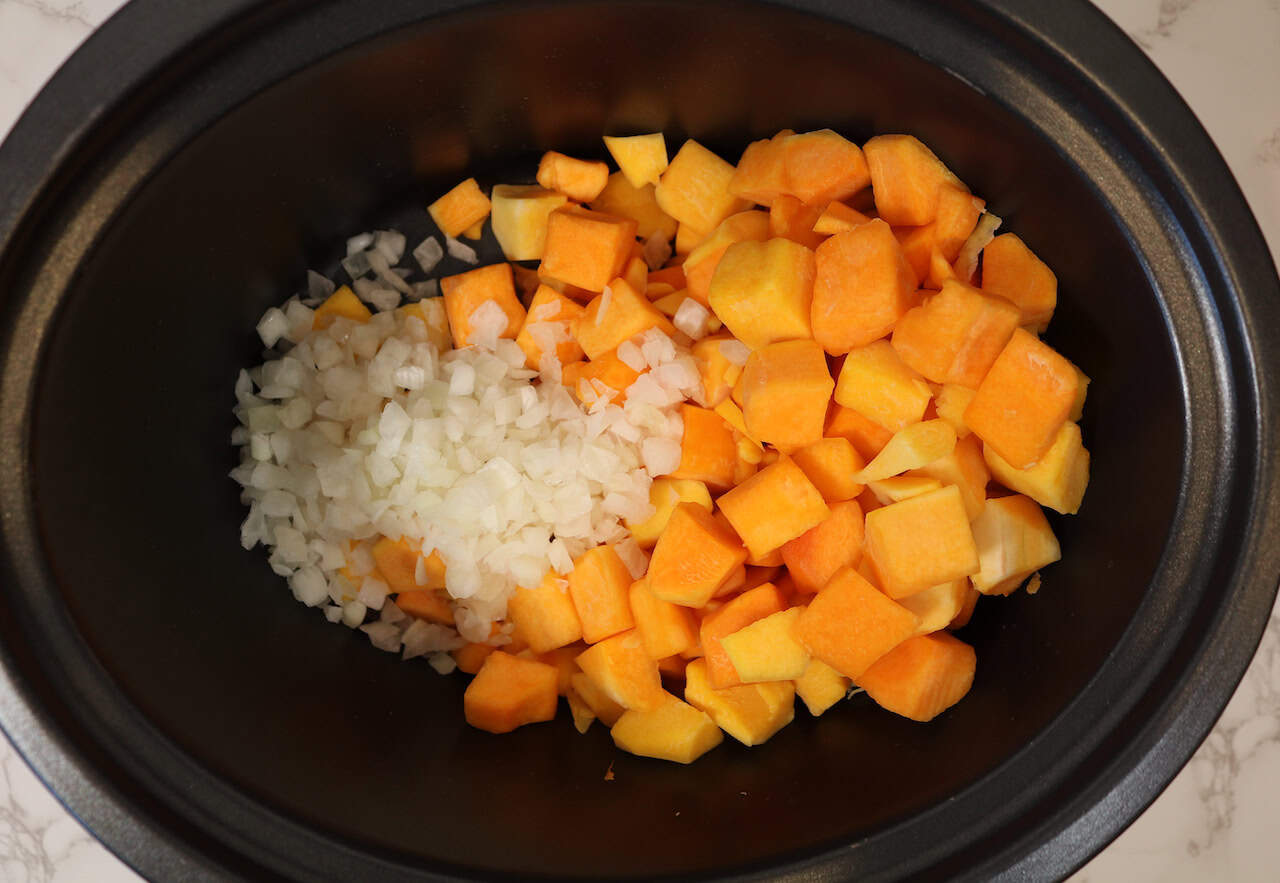 Substitutions for Butternut Squash Soup Crockpot
If you prefer to make your soup without coconut milk you can swap it for heavy cream.
Swap half the butternut squash for sweet potatoes for a sweeter taste.
Use vegetable broth to keep this recipe vegan.
Garnish for Butternut Squash Soup Crockpot with Coconut Milk
I always think the toppings steal the show for soups! You can add some fun flavor and texture to this soup with a few toppings.
Fresh Sage- Chop up fresh sage to sprinkle on top
Peppitas- Peppitas add a nutty and crunchy texture to the soup.
Croutons- Bake some croutons to top the soup. We make our own with leftover gluten-free bread. You can even just buy pre-made croutons in the produce section of the grocery store.
Coconut Milk- Since you already have an already open can, I like to add just a little splash of coconut milk on top of each bowl to swirl in.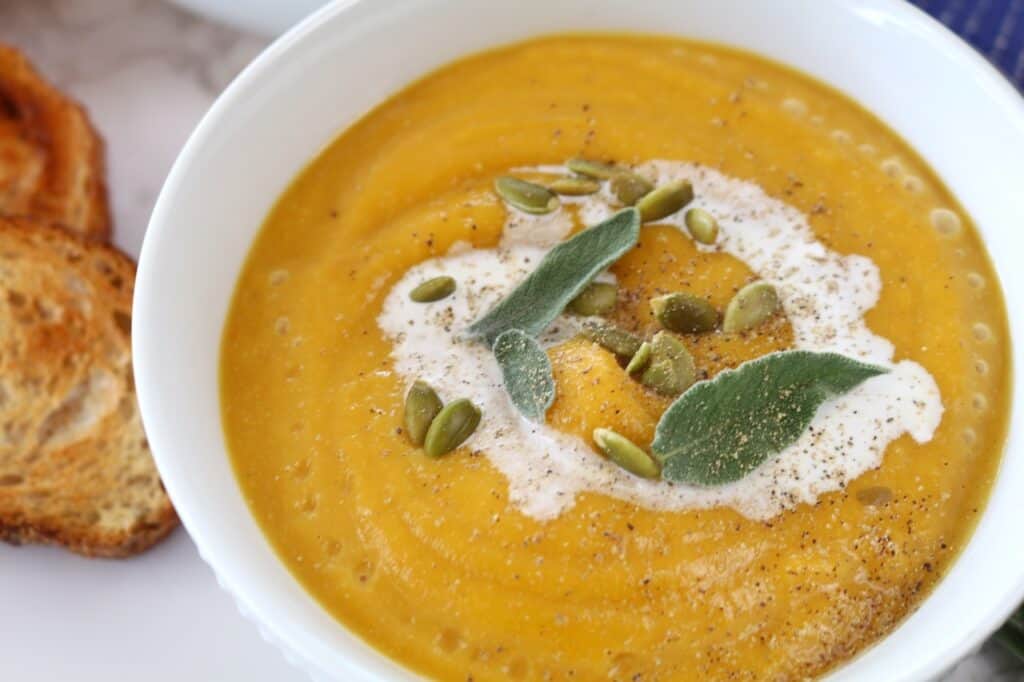 What Goes with Butternut Squash Soup?
If you are looking to make Butternut Squash Soup for dinner you might want to add more to your dinner.
Sandwich- My favorite option is always a soup and sandwich combo. Nothing beats grilled cheese with soup.
Bread- You can just grill up or bake some bread or cornbread with this hearty soup.
Salad- Try making a fresh salad with apples and a vinaigrette for a bright contrast to this rich soup.
Protein- Grilled chicken or steak is a great main course to make with this creamy soup.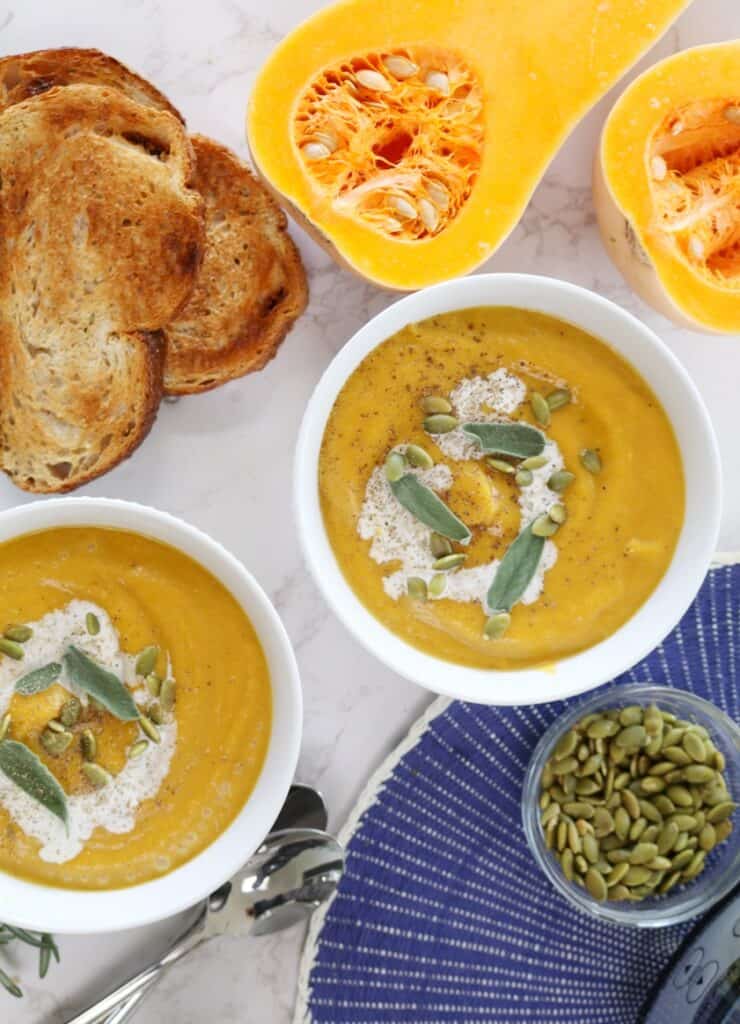 How to Store Leftovers?
Properly storing butternut squash soup is important to maintain its freshness and flavor. Here are some tips for storing this soup:
Cool the soup: Allow the soup to cool completely before storing it. You can speed up the cooling process by transferring the soup to a large, shallow container or pot, which will help it cool more quickly.
Store in an airtight container: Transfer the soup to an airtight container or a covered bowl. Make sure the container or bowl is large enough to hold the soup and has a tight-fitting lid to prevent air from entering.
Refrigerate the soup: Store the soup in the refrigerator and make sure it's consumed within 3-4 days. The soup may thicken as it cools, so you may need to add some water or broth when reheating it.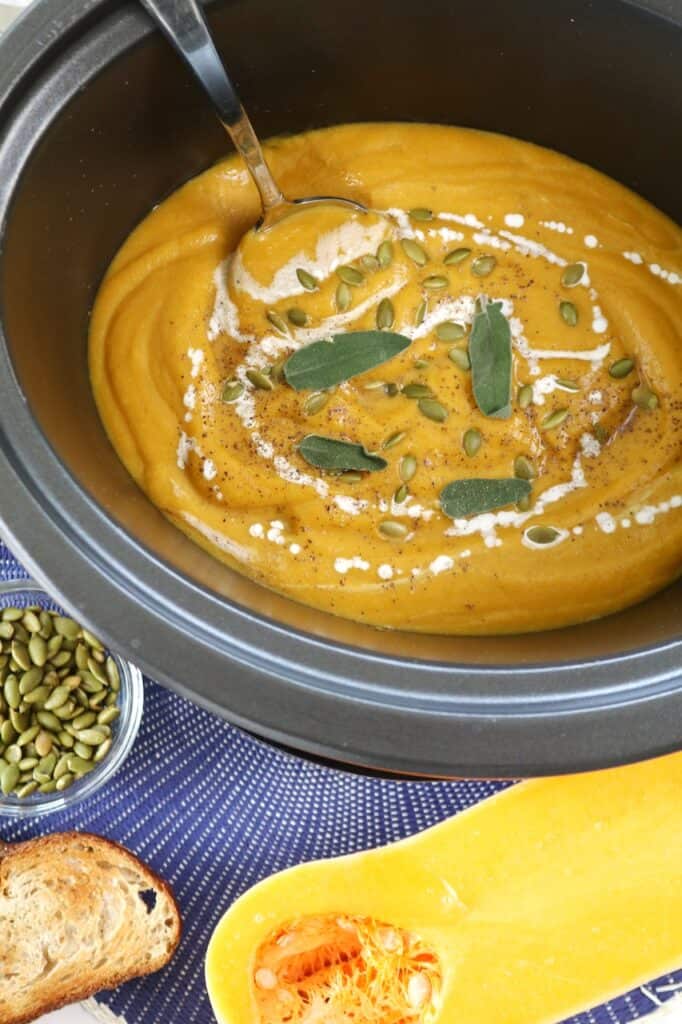 Can You Freeze This Soup?
Yes, this is one of my favorite soups to freeze since everything is already blended together. Allow the soup to cool completely before freezing it. Once cooled, transfer the soup to a freezer-safe container or a freezer bag and make sure to label it with the date. The soup can be stored in the freezer for up to 3 months. To thaw the soup, simply transfer it to the refrigerator and let it thaw overnight.
Reheat the soup: When reheating the soup, you can do so in a pot on the stove over medium heat or in the microwave. Stir the soup occasionally to prevent it from sticking to the bottom of the pot or bowl. If the soup is too thick, you can add a bit of water or broth to thin it out.
Equipment Needed to Make Butternut Squash Soup in the Crockpot
How to Cut a Butternut Squash
Cutting a butternut squash can be a daunting task, especially if you're not sure how to do it safely. But with the right technique, you can easily and safely cut a butternut squash into cubes or slices. Here's how:
Wash the butternut squash: Before cutting the squash, wash it thoroughly under running water to remove any dirt or debris.
Cut off the ends: Using a sharp knife, cut off both ends of the squash.
Cut the squash in half: Hold the squash steady on a cutting board with one hand and use a sharp chef's knife to cut it in half lengthwise, from top to bottom.
Scoop out the seeds: Using a spoon, scoop out the seeds and stringy pulp from the center of the squash.
Peel the squash: Using a vegetable peeler or a sharp knife, carefully peel the skin off the squash. If the squash is difficult to peel, you can also cut it into smaller sections and peel each section individually.
Cut the squash into cubes or slices: Once the squash is peeled, cut it into cubes or slices according to the recipe you're making.
It's important to use a sharp knife when cutting a butternut squash, as a dull knife can slip and cause injury. Always use a stable cutting board and make sure your fingers are out of the way when cutting. If you're new to cutting butternut squash, take your time and don't rush the process. With a little practice, you'll be able to cut a butternut squash safely and easily.
Easy Crockpot Soup
With these simple ingredients, you can make a delicious butternut squash soup in the comfort of your own home. Whether you prefer a classic version or a more customized version with added spices and herbs, this soup is sure to be a hit with everyone. So, grab your ingredients and equipment, and let's get crockin!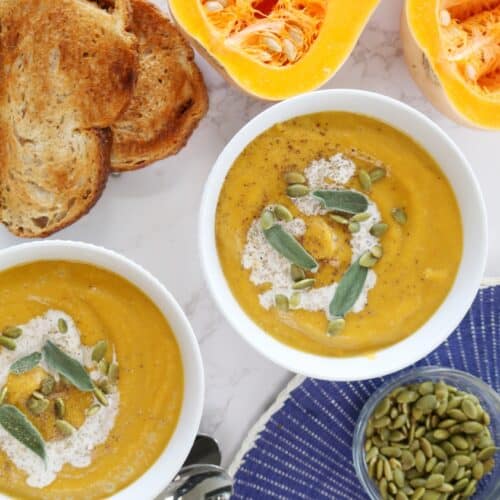 Butternut Squash Soup Crockpot with Coconut Milk
Get ready to spice up your life with this amazing Butternut Squash Soup Crockpot recipe with coconut milk! Sweet and savory this cozy soup is the best.
Ingredients
2

butternut squash

medium size, peeled, and cubed. About 4 cups after peeled.

1

sweet onion

chopped into 1/4- to 1/2-inch dice (about 1 1/2 cups total)

2

carrots

peeled and diced

2

cups

vegetable or chicken broth

1

sage leaf

fresh

1/2

tsp

ground nutmeg

1/4

tsp

ground pepper

1/2

cup

coconut milk
Instructions
Cut, peel, and cube butternut squash.

Add butternut squash, onions, garlic, carrots, spices, and sage leaf to the slow cooker.

Pour in broth. Stir to combine ingredients.

Cover and cook for 6-8 hours on low or 3-4 hours on high until butternut squash is soft.

Use an immersion blender to puree the soup to the desired consistency.

Sprinkle on desired toppings and serve warm.
Video
Nutrition
Calories:
181
kcal
|
Carbohydrates:
36
g
|
Protein:
4
g
|
Fat:
5
g
|
Saturated Fat:
4
g
|
Polyunsaturated Fat:
0.2
g
|
Monounsaturated Fat:
0.2
g
|
Cholesterol:
2
mg
|
Sodium:
322
mg
|
Potassium:
1068
mg
|
Fiber:
6
g
|
Sugar:
10
g
|
Vitamin A:
29976
IU
|
Vitamin C:
57
mg
|
Calcium:
145
mg
|
Iron:
3
mg