This Crockpot Taco Potato Casserole with ground beef is here to satisfy your taste buds for a new Mexican dish. It combines ground beef, frozen hashbrowns, bell peppers, onions, taco seasoning, Velveeta, and cheddar cheese for a comforting dinner. Let's dive into this delicious blend of Tex-Mex flavors that's both easy to make and incredibly satisfying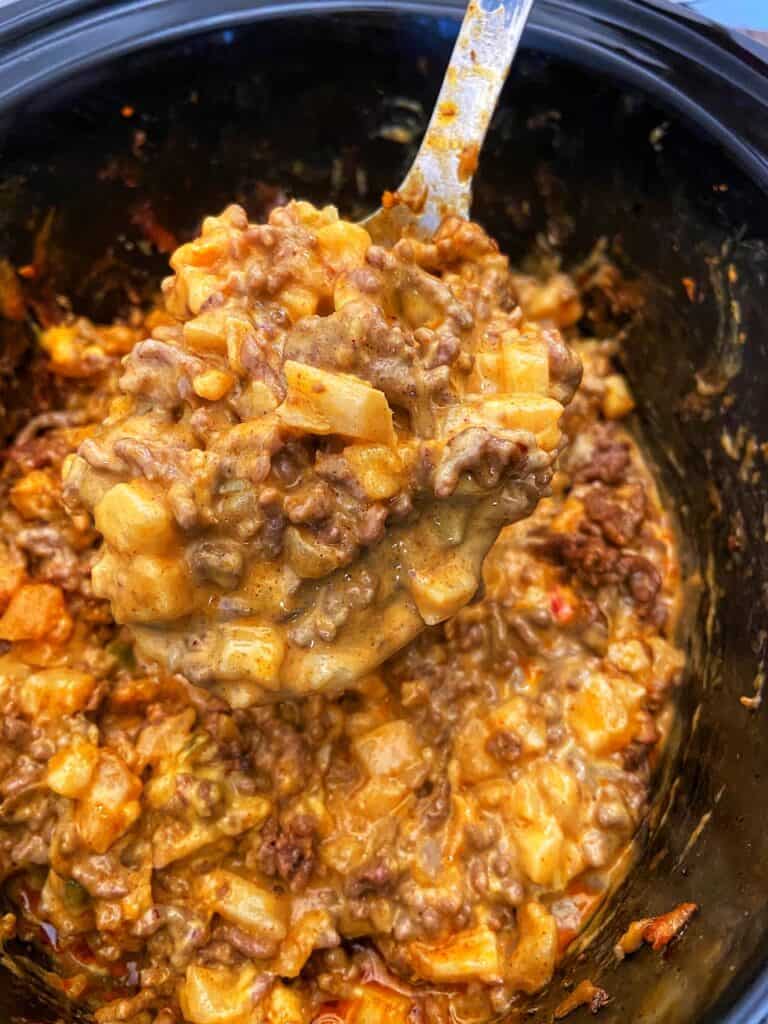 Taco Potato Casserole
Ideal for busy family nights or Mexican-themed dinners, this Taco Potato Casserole crockpot recipe is a lifesaver. The easy-to-follow steps and the convenience of a slow cooker make it a quick, family-friendly option, ensuring a delicious meal without the fuss.
Simply toss the ingredients into the crockpot, and as the flavors meld together, you'll have a delightful Mexican-inspired dinner that's ready to be enjoyed by the whole family. Your crockpot is the best to make easy recipes like 7 Can Taco Soup, Walking Taco Casserole, Mexican Tater Tot Casserole or Cowboy Cornbread for when you are craving Mexican food.
Why You Will Love Taco Potato Casserole
Effortless Preparation: This recipe is incredibly easy to prepare using a crockpot, requiring minimal hands-on time.
Toss and Go : Once the ingredients are added to the crockpot, it does the work for you, allowing you to go about your day without constant monitoring.
Easy Ingredients: You can easily find the ingredients in your local grocery store, making this an accessible and convenient dinner option.
All-in-One Cooking: The crockpot combines all the ingredients into one pot, streamlining the cooking process and minimizing cleanup.
Customizable: Tailor the ingredients to your liking or dietary preferences, giving you flexibility while maintaining the ease of crockpot cooking.
Ready to Serve: After the specified cooking time, your delicious taco hashbrown casserole will be ready to serve, making it a hassle-free dinner solution. Plus, it keeps warm for late dinners or second servings.
If you need a new crockpot I love this 6 quart Cook and Carry Crockpot. It is great since it has a timer to let you choose how long it cooks then switches to warm. Plus it can lock the lid and you can carry it to potluck, parties or any meal on the go.
Ingredients for Taco Hashbrown Casserole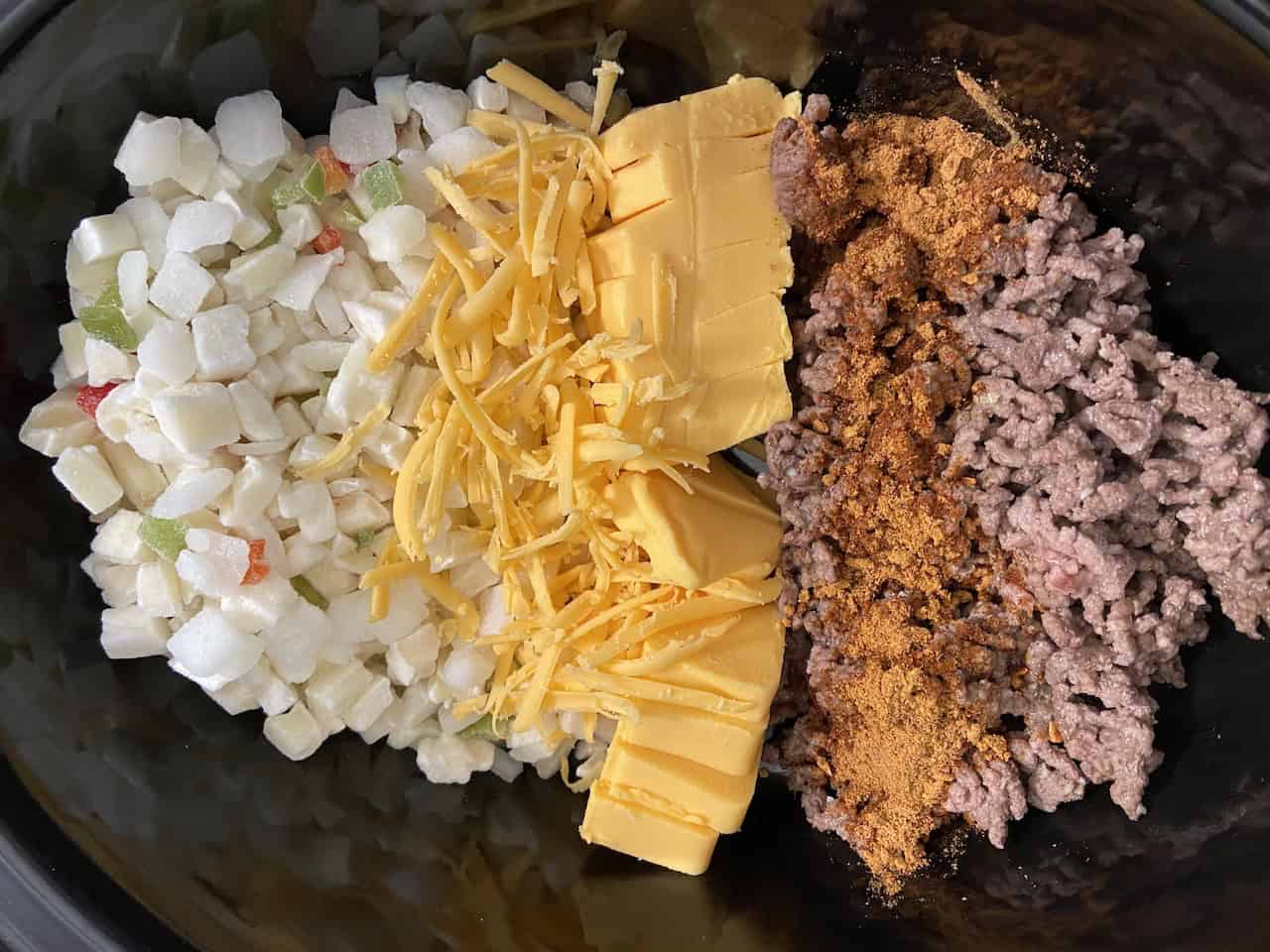 How to Make Crock Pot Beefy Potato Taco Casserole
Step 1. Brown ground beef and garlic on stove. Once cooked drain fat and add beef mixture to slow cooker.
Step 2. Add hashbrown potatoes, Velveeta, 1 cup shredded cheese, and taco seasoning to the crockpot.
Step 3. Stir all ingredients together and top with remaining shredded cheese.
Step 4. Cook on high for 2- 2 1/2 hours or low for 4 hours. (If you are able to stir one time halfway through cooking.
Step 5. Once finished cooking, stir to thoroughly incorporate cheese throughout. Serve with your favorite toppings.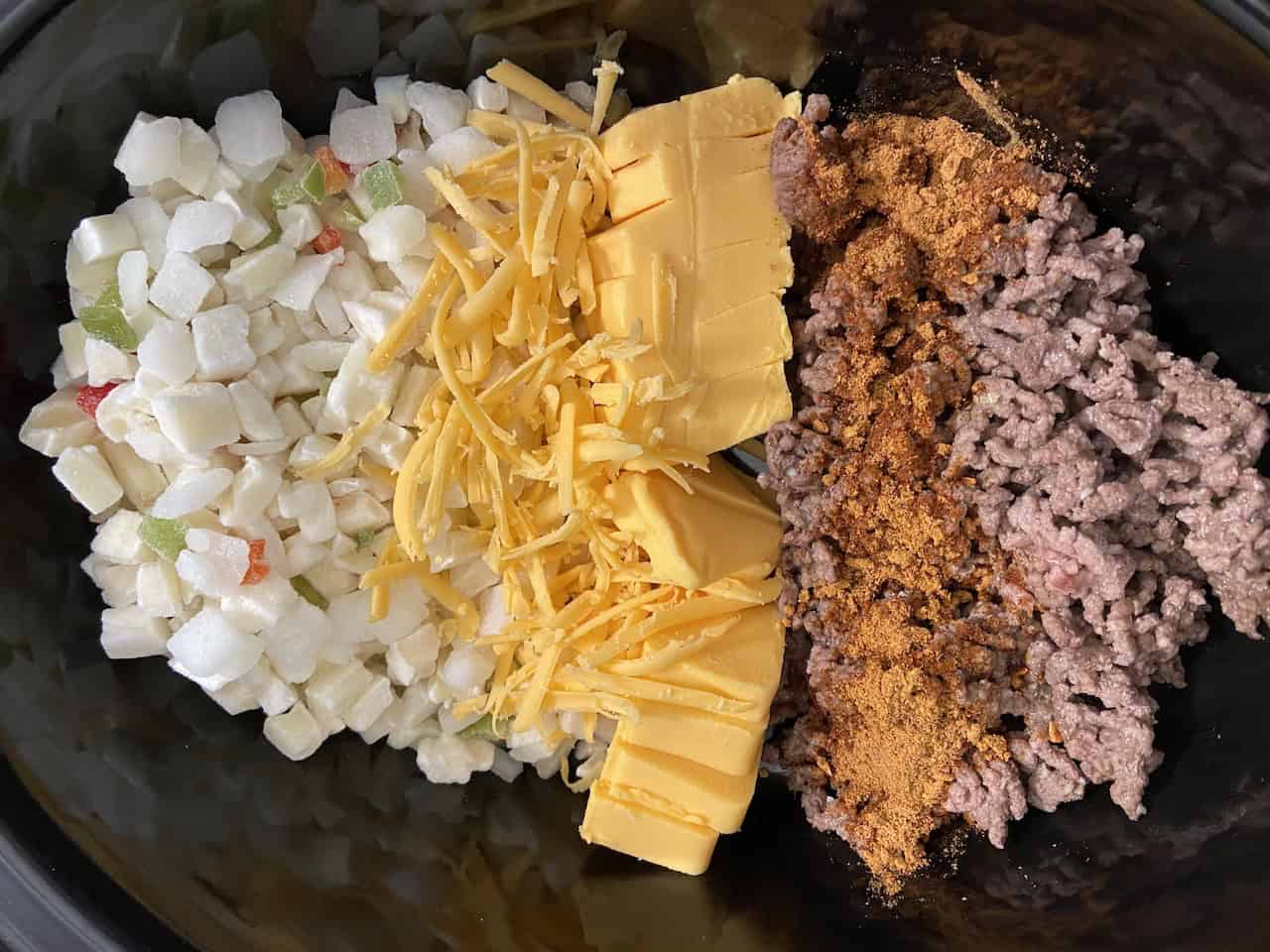 What to Serve with Taco Hashbrown Casserole?
For a hearty and authentic meal, consider serving alongside this Taco Potato Casserole easy flavorful Mexican side dishes. I like to serve Mexican rice, refried beans or black beans, tortillas, or a side of tantalizing Mexican street corn with this recipe.
Storage for Leftovers
To store this Taco Potato Casserole, first, allow any leftover casserole to cool to room temperature. Once cooled, carefully portion the casserole into airtight containers. If possible, separate individual servings for easy reheating. Place the containers in the refrigerator, ensuring they are tightly sealed. The casserole can be refrigerated for up to 3-4 days.
For longer storage, you can freeze the casserole. Place the cooled casserole in freezer-safe containers, ensuring they're airtight. Label the containers with the date and contents, then store them in the freezer for up to 2-3 months. When ready to enjoy, thaw the casserole in the refrigerator overnight and reheat it in the oven or microwave until warmed through.
tips &
Make sure to use frozen potatoes. Do not thaw them first or they will be mushy by the time they are finished cooking. If use regular potatoes cook them until they are soft which will take longer.
Shred your own cheese. If you buy pre-shredded cheese it has an anti-caking agent on it that makes it hard to melt. It's important that the cheese melts in this so shred your own.
Add traditional Mexican toppings to this dish like lettuce, chopped tomatoes, sour cream, and jalapenos.
This is a great dish for a taco bar! You can just make a big pot of it and keep it in the Crock-Pot on warm. Layer out all the toppings mentions above and everyone can serve themselves!
This dish makes a lot so be prepared for leftovers. The best part is it is just as delicious reheated.
If you don't like Velveeta cheese you can swap it out for more shredded cheese and 1/4 cup milk.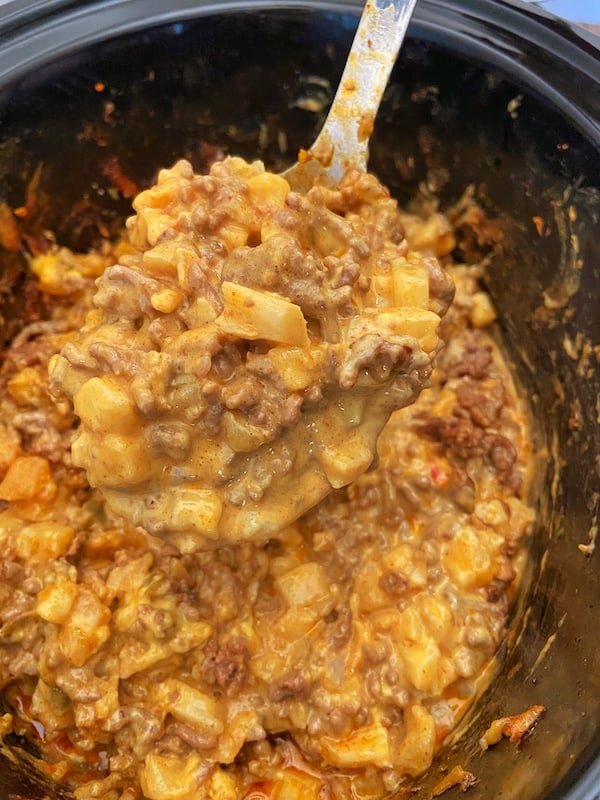 What Toppings to Use for Taco Potato Casserole?
There are endless possibilties for toppings for this hashbrown taco casserole. Here are some ideas to get you started!
Shredded Lettuce: Adds a cool and crunchy element, balancing the warmth of the casserole.
Diced Tomatoes: Provides a burst of freshness and vibrant color to the dish.
Sliced Jalapeños: Adds a spicy and zesty kick for those who enjoy heat.
Sour Cream: Offers a creamy and rich texture, providing a cooling contrast to the spices.
Sliced Black Olives: Brings a briny and slightly salty flavor to the casserole.
Avocado or Guacamole: Offers a smooth and buttery texture, adding a dose of healthy fats.
Chopped Green Onions or Scallions: Imparts a mild onion flavor and a pop of color.
Fresh Cilantro: Adds a burst of herbal, citrusy flavor that complements the dish beautifully.
Crushed Tortilla Chips: Provides a satisfying crunch, akin to the experience of eating tacos.
Grated Cheese (Cheddar or Mexican Blend): Adds an extra layer of gooey, melted goodness.
Salsa: Offers a tangy and spicy element, enhancing the flavors of the casserole.
Lime Wedges: Served for a fresh citrus squeeze, brightening the flavors of the dish.
Different Taco Potato Casserole Versions
Vegetarian Taco Potato Casserole:

Substitute the ground beef with your favorite meat substitute or a medley of sautéed mushrooms, bell peppers, and black beans for a delicious vegetarian alternative.

Spicy Chicken Taco Potato Casserole:

Swap the ground beef for cooked, shredded chicken seasoned with your preferred spicy taco seasoning, adding a kick of heat to the casserole.

Healthier Taco Sweet Potato Casserole:

Replace the traditional white potatoes with sweet potatoes for a healthier twist, offering additional fiber and nutrients. Use lean ground turkey or chicken for a lighter protein option.

Cheesy Taco Tater Tot Casserole:

Replace the hashbrowns with crispy tater tots and top the casserole with shredded cheese for a gooey, cheesy indulgence that kids and adults will love.

Breakfast Taco Potato Casserole:

Transform this dish into a breakfast delight by adding beaten eggs to the mixture before baking. Top with crispy bacon or sausage for a hearty morning meal.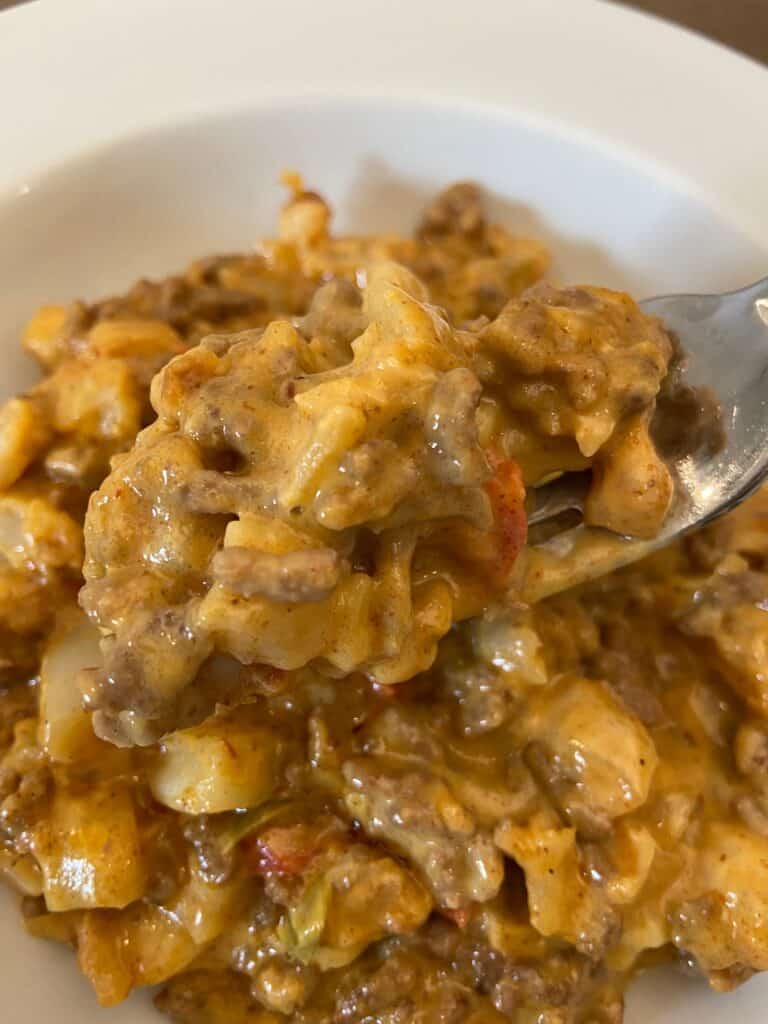 Subsitions for Taco Hashbrown Casserole
Here are some substitution ideas for the Taco Potato Casserole recipe:
Potatoes:

Opt for cauliflower to make this dish low carb.

Ground Beef:

Swap out ground beef with ground turkey, chicken, pork, or a plant-based meat alternative.

Cheese:

Experiment with different cheeses like Monterey Jack, pepper jack, or a Mexican cheese blend instead of Velveeta and cheddar.

Add black beans and corn:

Amp up the vegetable mix with with black beans and corn into the crockpot while cooking.

Taco Seasoning:

Create a homemade taco seasoning using a mix of chili powder, cumin, paprika, garlic powder, onion powder, and a pinch of cayenne pepper. Here's a link to my homemade spices.

Spice Level:

Adjust the spice level by modifying the amount of taco seasoning, jalapeños, or hot sauce to your preference.
Should I Use Frozen Diced Potatoes or Frozen Hashbrowns?
When I was shopping for hash browns I spotted diced potatoes in the freezer section that already had onions and peppers in them. Because I'm always a fan of simplifying, I grabbed a bag.
If you're not able to find diced hash browns or potatoes with onions and peppers already in the bag, you can easily add regular hash browns to this recipe. They will work the same but you'll want to add some diced onions and peppers to them to give it the extra flavor.
You can even add diced potatoes that aren't frozen. They will just need to cook longer usally about 3-4 hours. I usually layer them on the bottom so they cook faster. Just make sure to dice them into small pieces and cook beforehand just long enough that they are soft.
Oven Instructions
Many people have asked for the instruction for this recipe in the over. To make this Taco Potato Casserole in the oven, follow these steps:
Preheat the Oven: Preheat your oven to 375°F (190°C).
Prepare the Ingredients: Follow the same ingredient preparations as mentioned in the crockpot recipe.
Cook the Ground Beef: In a skillet over medium heat, cook the ground beef until browned. Drain excess fat and mix in the taco seasoning.
Combine Ingredients: In a large mixing bowl, combine the cooked ground beef, frozen hashbrowns, bell peppers, onions, and half of the grated cheese. Mix well to evenly distribute the ingredients and seasoning.
Assemble the Casserole: Transfer the mixture into a greased 9×13-inch baking dish and spread it out evenly.
Bake: Place the baking dish in the preheated oven and bake for about 25-30 minutes, or until the potatoes are cooked through and the top is starting to brown.
Add Cheese and Finish Baking: Sprinkle the remaining grated cheese on top and return the casserole to the oven. Bake for an additional 5-7 minutes or until the cheese is melted and bubbly.
Serve: Remove from the oven and let it cool slightly before serving. Slice and serve with your choice of toppings.
Enjoy your delicious Taco Potato Casserole straight from the oven!
Easy Crock Pot Camping Recipe
We're big campers in our family and this recipe is a great option to throw together for a hearty meal after a long day playing. When we go camping I always bring my Crock-Pot along.
Most of the camping we do is in KOA's so we usually have electricity to power the Crock-Pot. Of course, we always like to make some of our food over the campfire like s'mores or hot dogs.
Camping is always easier when I have a plan for meals and I like to use this free Camping Planner to put together our menu plan and its packing checklist to make sure everything is organized for our getaway.I also like bring Crock-Pot liners for easy clean-up while cooking at the campsite. No one wants to have to soak and scrub a Crock-Pot while their camping.
Crockpot Casseroles
Crock pot casseroles or one-pot dinners, like this one, are a great go-to for dinner. Casseroles are my jam because I like to have everything ready to go since I have no energy to cook at the end of the day.
You can prepare this Crockpot casserole dish in less than 10 minutes and it is so easy to make. Plus, it is made in one pot so you will be able to dig into dinner right away and will only have one dish to clean up! That is always a plus in my book.
All of the ingredients I use are gluten-free. My husband has celiac disease, which means you are allergic to gluten.
You will need to make sure to use gluten-free products to keep this recipe gluten-free. Double check your taco seasoning to make sure it is gluten free. I like to use McCormick Gluten Free Taco Seasoning since many of the taco seasoning packets have gluten added to them.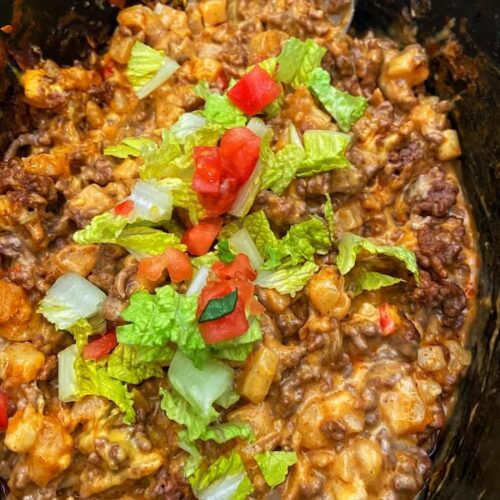 Taco Potato Casserole
Taco Potato Casserole is filled with a cheesy Mexican sauce, frozen potatoes with bell peppers, onions and ground beef! This simple, gluten free recipe will become a quick dinner the whole family can dig in and enjoy.
Equipment
Slow Cooker 4 Qt or larger
Ingredients
1

pound

ground beef

2

cloves

garlic

minced

28

oz

frozen diced potatoes with bell peppers and onions

16

oz

Velveeta

cut into small cubes

2

cups

shredded cheese

1

Taco Seasoning Mix Packet
Instructions
Brown ground beef and garlic and add to slow cooker.

Pour potatoes, Velveeta, 1 cup shredded cheese and taco seasoing.

Stir all ingredients together and top with remaining shredded cheese.

Cook on high for 2- 2 1/2 hours or low for 4 hours. (If you are able to, stir one time halfway through cooking.)

Once finished cooking, stir to thoroughly incorporate cheese throughout. Serve with your favorite toppings.
Video
Nutrition
Calories:
437
kcal
|
Carbohydrates:
25
g
|
Protein:
29
g
|
Fat:
24
g
|
Saturated Fat:
12
g
|
Trans Fat:
1
g
|
Cholesterol:
86
mg
|
Sodium:
1145
mg
|
Potassium:
656
mg
|
Fiber:
1
g
|
Sugar:
5
g
|
Vitamin A:
758
IU
|
Vitamin C:
8
mg
|
Calcium:
488
mg
|
Iron:
2
mg