Try this easy one-pot Mexican Spaghetti dinner for a new way to enjoy your pasta night! This Taco Spaghetti with ground beef is made in the Crockpot for a hearty meal the whole family will want on repeat.
Filled with delicious flavors of salsa, cream cheese, bell peppers, onions, and taco seasoning mixed with ground beef and spaghetti it's the perfect way to spice up your Taco Tuesday!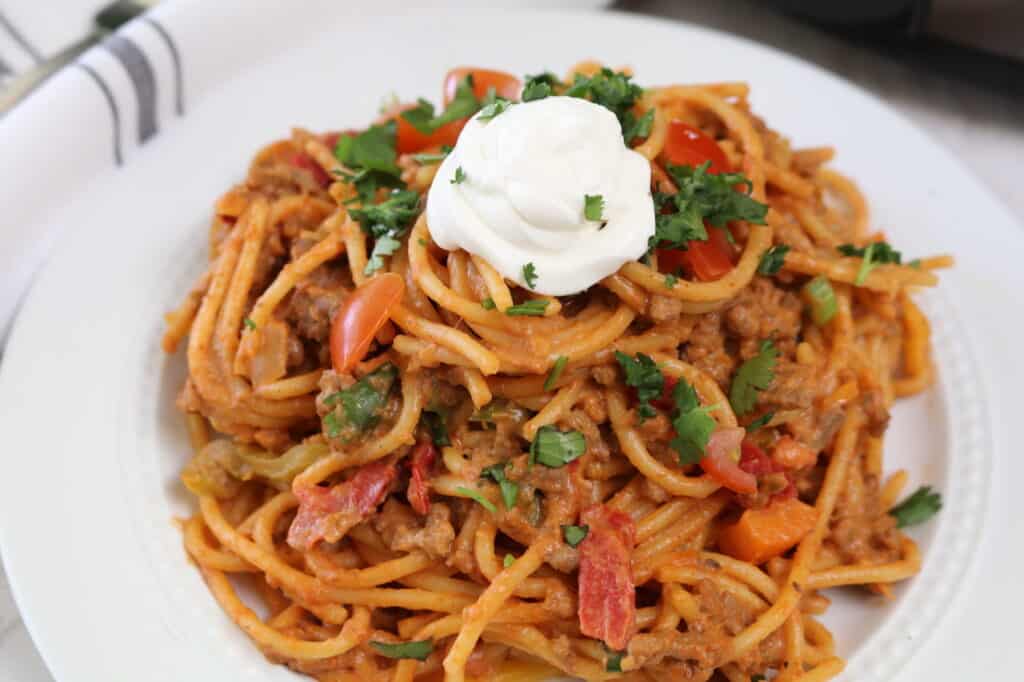 Mexican Spaghetti Recipe
Are you tired of the same old spaghetti recipe? Look no further and try this Mexican Spaghetti made in the crockpot! This recipe is the perfect combination of classic Italian pasta and spicy Mexican flavors. Plus, it's so easy to make, you'll wonder why you haven't tried it sooner.
This recipe is perfect for busy weeknights when you don't have a lot of time to spend in the kitchen. Plus, it's a crowd-pleaser that everyone will love. So the next time you're craving spaghetti, try this Mexican twist and spice things up a bit. You won't be disappointed!
Mexican Spaghetti
I shared my cheesy Chicken Spaghetti recipe on my blog and a fellow crockpot fan sent me this recipe for Mexican Spaghetti and I had to make it immediately. Anything Mexican is always a go for me. Plus everyone has heard of the famous iCarly spaghetti tacos but we didn't go so far as to put it into taco shells for my dinner. But maybe next time!!
I love all food Mexican and I can never say no to any pasta dish. So when you combine the two you get this creamy pasta with bold and spicy flavors of Mexican food. It's a fusion of two recipes and is sure to impress anyone who tries it. So if you're looking for a fun and tasty twist on spaghetti, give this Mexican Spaghetti that's made in the crockpot a try!
If you are looking for more Mexican recipes try my Beefy Taco Casserole, Crunchy Mexican Casserole, Mexican Meatball Soup, Slow Cooker Mexican Tater Tot Casserole.
Mexican Spaghetti Ingredients
How to Make Mexican Spaghetti
Step 1. Brown the ground beef in a skillet over medium heat. Once it's cooked through, drain the excess grease. Pour into the slow cooker.
Step 2. Add bell peppers, cream cheese, shredded cheese, onions, salsa or Rotel tomatoes, and taco seasoning.
Step 3. Mix well to combine all the flavors.
Step 4. Cover and cook for 2-3 hours on low.
Step 5. Once finished cooking, add cooked spaghetti to the slow cooker.
Step 6. Mix until pasta is well. combined with the sauce.
Step 7. Serve immediately with desired toppings.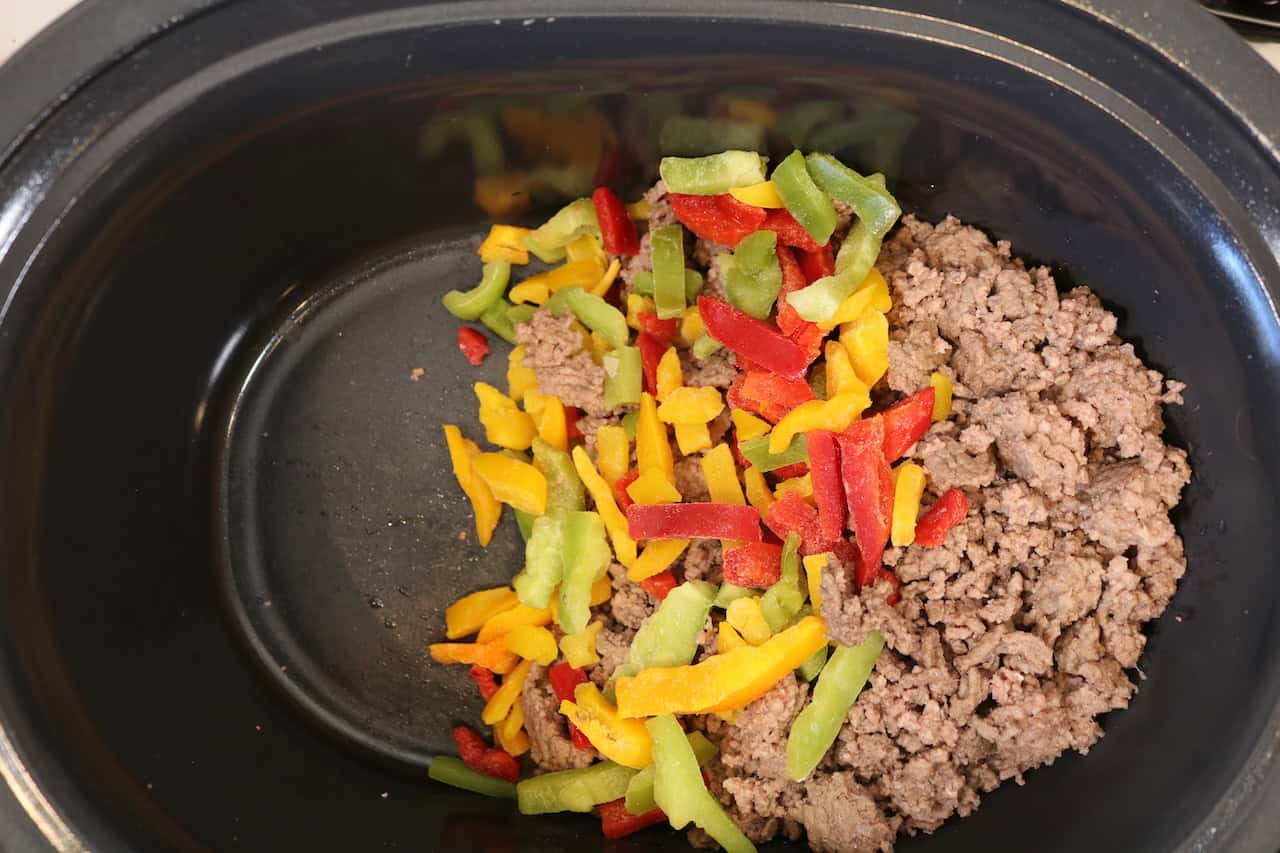 Why I Love Taco Spaghetti
This Mexican Spaghetti made in the crockpot is an excellent family meal because it's easy to make, flavorful, and filling.
One-pot meal- The recipe is designed to be which means less time spent in the kitchen.
Flavor filled- The combination of ground beef, cream cheese, cheese, salsa, veggies, and taco seasoning creates a savory sauce that everyone will love.
Kid-Approved- Spaghetti provides a comforting and familiar texture that's sure to please even picky eaters.
Easy to Customize – With easy substitutions to suit different dietary needs and taste preferences.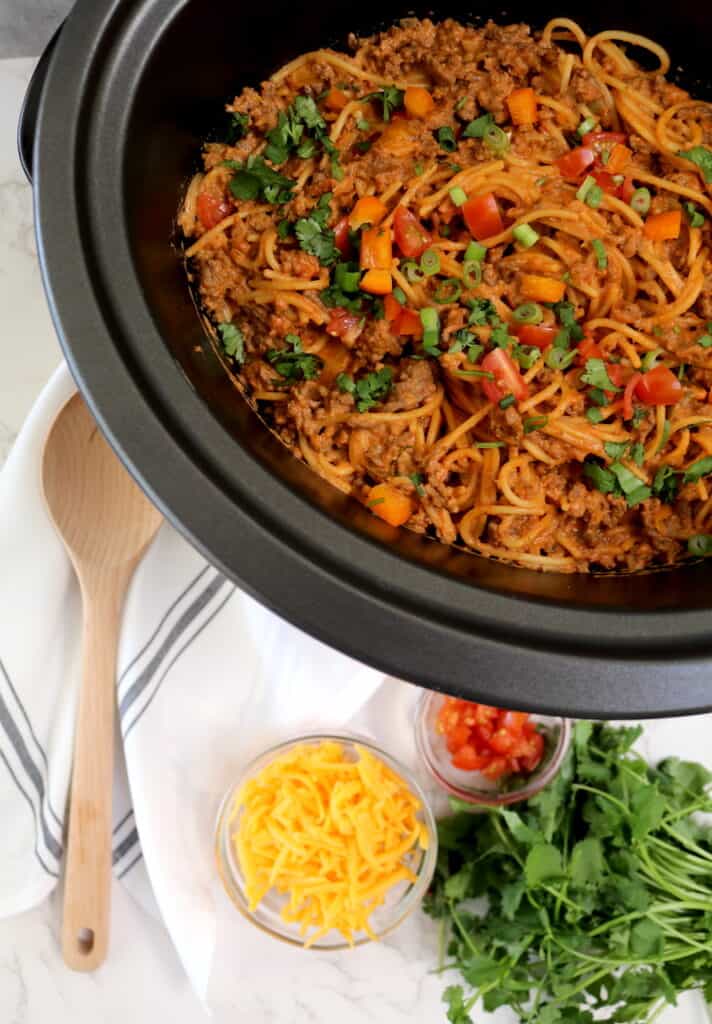 Mexican Spaghetti Toppings
When you're ready to serve, scoop the Mexican spaghetti into bowls and top it with your favorite toppings. Sour cream, diced tomatoes, avocado, and cilantro all make great additions. With all your toppings you can create a delicious and easy twist on traditional spaghetti!
Party Perfect
If you are hosting a fun dinner party, this Mexican Spaghetti made in the crockpot is sure to impress. So, grab your sombrero and get ready to celebrate with this fun and delicious recipe! You can make a simple toppings bar and people can make their Mexican Spaghetti just how they want. Perfect for Taco Tuesday or Cinco De Mayo!
This affordable meal can serve a crowd easily and is so quick to prep it's a great option if you need to throw a quick dinner together for guests!
It's like a fiesta in your mouth, with every bite bursting with savory and spicy goodness. The ground beef adds a meaty richness to the dish, while the veggies provide a fresh and crunchy texture. And the best part? It's all cooked in one pot, so you can spend less time cleaning up and more time enjoying the party!
Is this Fideo?
Fideo means noodle in Spanish so since this recipe includes noodles you might think it is the same thing as fideo.
However, this Mexican Spaghetti made in the crockpot and fideo are not the same thing, although they share some similarities. Fideo is a type of Mexican noodle that is typically thinner and shorter than spaghetti, and it is often toasted in oil or butter before being simmered in a flavorful broth or sauce.
While both dishes use pasta and incorporate Mexican flavors, they are prepared differently and have distinct textures and flavors. Mexican Spaghetti made in the crockpot is a creamy and cheesy pasta dish that is slow-cooked with ground beef and vegetables in a crockpot, resulting in a soft and tender texture. Fideo, on the other hand, is a savory and broth-based soup that typically features diced vegetables, Mexican seasoning, beans, and sometimes meat, resulting in a soupier and more broth-like texture.
So while they may share some similarities, Mexican Spaghetti made in the crockpot and Fideo is distinct dishes with their own unique flavors and cooking methods. But they have a mouth-watering taste!
Substitutions and Swaps
Here are some easy substitutions you can make to customize this Mexican Spaghetti made in the crockpot recipe:
Ground Turkey: If you don't eat beef or want a lighter version of this recipe, use ground turkey instead of ground beef.
Green Salsa: Make this Mexican Green Spaghetti by swapping the salsa or Rotel tomatoes for Green Salsa or Salsa Verde.
Vegetarian Option: If you prefer a vegetarian version of this recipe, you can omit ground beef and use plant-based meat.
Black Beans: To add more protein and fiber to the dish, substitute the ground beef with a can of drained and rinsed black beans.
Rotel Tomatoes: Instead of using salsa, you can use a can of diced tomatoes and green chilies, like Rotel, for a different flavor profile.
Jalapeños: For an extra kick of spice, add sliced jalapeños to the dish.
Different Cheese: Experiment with different types of cheese to give this dish a different flavor. Queso fresco, cotija, or pepper jack cheese would all be great options.
Bell Pepper and Onion: You can substitute bell pepper and onion for other vegetables like zucchini, mushrooms, or corn, depending on your preference.
Different Pasta: If you don't have spaghetti on hand or want to switch it up, try using a different type of pasta like penne, rotini, or bowtie pasta.
By making these substitutions, you can create a unique and personalized version of this recipe that fits your dietary needs and taste preferences. Have fun experimenting and enjoy the delicious results!
What to Serve with Mexican Spaghetti?
This is a one-pot dinner that can definitely be served on its own. But if you are looking for some side dish options Mexican Street Corn, Cornbread Casserole, black beans or even a simple salad with a lime vinegarette would pair well with this meal.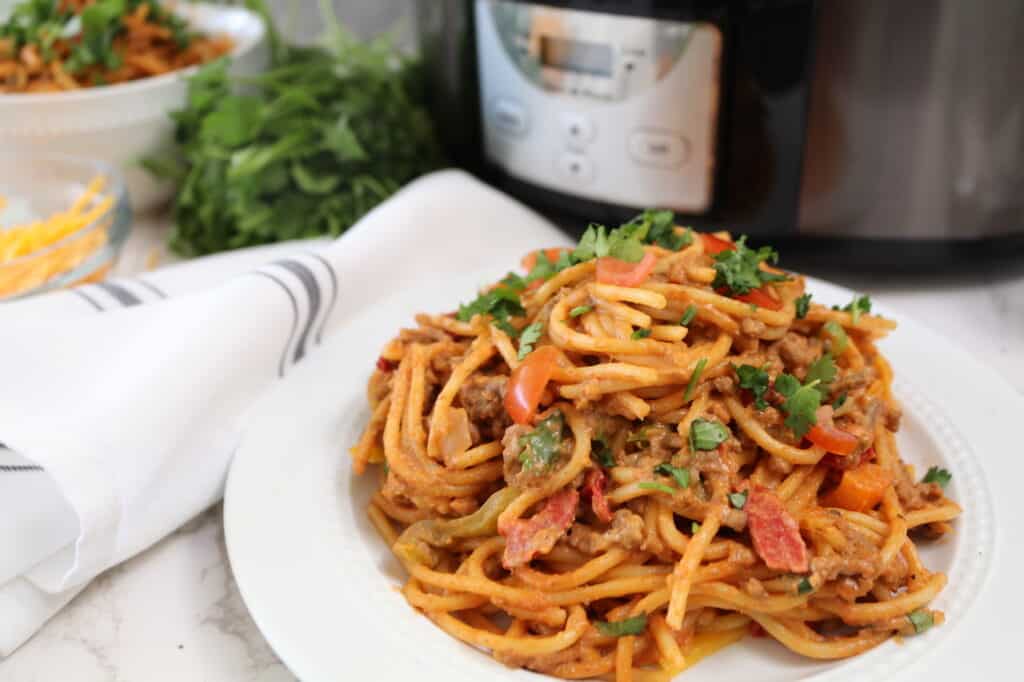 tips &

Here are some helpful tips and tricks to ensure your Mexican Spaghetti made in the crockpot turns out perfectly:
Use lean ground beef: When selecting ground beef for this recipe, choose a lean variety (90% lean or higher) to avoid excess grease in the final dish. If using fattier ground beef, be sure to drain off the excess grease after browning it.
Don't overcook the spaghetti: Cook the spaghetti just until it's al dente, or slightly firm to the bite. If it's overcooked, it will become mushy and won't hold up well in the crockpot.
Add toppings before serving – While the spaghetti is cooking in the crockpot, prepare your favorite toppings, such as sour cream, diced tomatoes, avocado, or cilantro. Add the toppings to the individual bowls before serving rather than adding them to the crockpot, as they can become soggy and lose their freshness.
Adjust the spice level: If you prefer a milder dish, use mild salsa and reduce the amount of taco seasoning used. On the other hand, if you want it spicier, use hot salsa or add additional taco seasoning to taste.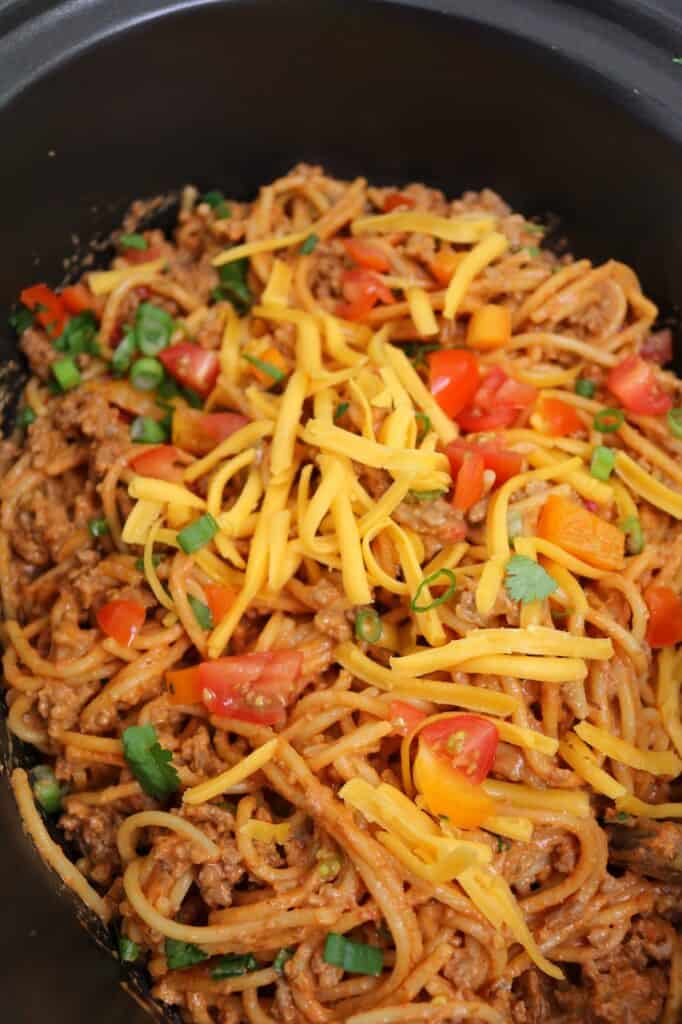 Use a crockpot liner: To make cleanup easier, use a crockpot liner before adding the ingredients. This will prevent the ingredients from sticking to the sides of the crockpot and make cleanup a breeze.
Don't stir too much: While it's important to mix the ingredients together, avoid stirring the spaghetti too much once it's been added to the crockpot. This can cause the pasta to break apart and become mushy.
By following these tips and tricks, you'll be able to create a satisfying Mexican Spaghetti just how you like it. An easy crockpot dinner that family and friends will enjoy!
How to Store Leftovers
First, allow the spaghetti to cool to room temperature before storing it. This helps prevent moisture from building up in the container. Transfer the spaghetti to an airtight container or a resealable plastic bag, making sure the container is sealed tightly to prevent air and moisture from getting in.
Refrigerate the spaghetti promptly, storing it in the refrigerator as soon as possible. It can be stored for up to four days in the refrigerator.
How to Reheat
My husband taught me the trick of always adding some water or broth when reheating pasta or rice. You can reheat it in the microwave or on the stovetop with a little bit of water or broth to prevent it from drying out.
Enjoy your leftovers within a few days or freeze for longer storage!
All of the ingredients I use are gluten-free. My husband has celiac disease, which means you are allergic to gluten.
You will need to make sure to use gluten-free products to keep this recipe gluten-free. I use gluten free pasta. Barilla pasta is my favorite and I use it for recipes that have spaghetti.
Taco Seasoning can contain gluten in the ingredients. Make sure to read the label and find one that is gluten-free. I use McCormick taco seasoning since they label it gluten-free.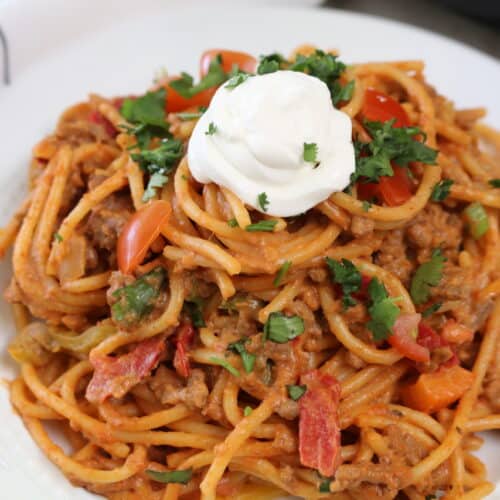 Best Mexican Spaghetti (Taco Spaghetti)
Get ready for a flavor explosion with our Mexican Spaghetti made in the crockpot! This dish is jam-packed with deliciousness, from the creamy and zesty sauce and spaghetti that soaks up all the flavor.
Ingredients
1

pound

ground beef

browned and grease drained

8

oz

cream cheese

cubed

1

cup

bell peppers

sliced and diced

1

onion

diced

15.5

oz

salsa

or 10.5 oz Rotel tomatoes

1

oz

taco seasoning packet

or homemade taco seasoning

12

oz

cooked spaghetti
Instructions
Brown the ground beef in a skillet over medium heat. Once it's cooked through, drain the excess grease. Pour into the slow cooker.

Add bell peppers, cream cheese, shredded cheese, onions, salsa or Rotel tomatoes, and taco seasoning.

Mix well to combine all the flavors.

Cover and cook for 3-4 hours on low or 2.5 hours on high.

Once finished cooking, add cooked spaghetti to the slow cooker.

Mix until pasta is well combined with the sauce. Serve immediately with desired toppings.
Video
Notes
Recipe Notes- Cook pasta before adding it to the crockpot. Any pasta will work. 
Nutrition
Calories:
343
kcal
|
Carbohydrates:
23
g
|
Protein:
15
g
|
Fat:
22
g
|
Saturated Fat:
10
g
|
Polyunsaturated Fat:
1
g
|
Monounsaturated Fat:
8
g
|
Trans Fat:
1
g
|
Cholesterol:
69
mg
|
Sodium:
775
mg
|
Potassium:
410
mg
|
Fiber:
3
g
|
Sugar:
5
g
|
Vitamin A:
1560
IU
|
Vitamin C:
27
mg
|
Calcium:
61
mg
|
Iron:
2
mg