One of the best ways to wake up on a cool fall morning is to the wonderful smell of pumpkin pie oatmeal filling the air! This easy crockpot pumpkin pie oatmeal is filled with delicious fall flavors and packed with protein from the steel cut oats. Indulge on all things pumpkin spice with this delicious breakfast recipe.
Crockpot Pumpkin Oatmeal
The best part about this pumpkin pie oatmeal is that you can put it together and set the slow cooker to do its thing the night before. In the morning, your breakfast will be hot and ready to enjoy! This recipe can also easily be doubled or tripled to accommodate a larger crowd.
All you have to do is gather all the ingredients and pour them into the crock pot and stir. That's it…Really!!
Not only can you make it the night before but pumpkin pie oatmeal is so easy to make, you will find yourself making it all the time.
Disclaimer- Some links below are Amazon affiliate links, meaning at no extra cost to you, I will earn a commission if you click through and make a purchase.
Anytime Breakfast Option
Another great perk to this oatmeal is that people can eat it at different times. If your house is like mine, everyone doesn't wake up at the same time. I often end up making 4 different breakfasts as people get up.
With pumpkin pie oatmeal I just turn it on warm when I wake up and everyone serves themselves when they're ready to eat.
I always make this crockpot oatmeal when guests stay over, since they can eat whenever they want too! And what a yummy, no stress way to greet them in the morning!
Can I Reheat Oatmeal?
If you have leftovers of this oatmeal, you can store it in an airtight container and reheat it on the stove or in the microwave. You may need to add a little milk when reheating to get the desired consistency.
Why Steel Cut Oats?
If you haven't had or heard of steel cut oats before, they are whole oats that have been chopped into two or three pieces with steel blades. Unlike rolled oats, which are chopped finer, steel cut oats are less processed and retain much more of their nutritional value. They are also high in fiber and prtein, which will help you feel full longer.
Steel cut oats don't raise your blood sugar as quickly as other oats, which is great news for diabetics or anyone wanting to maintain a healthy weight.
If you want more details about the glycemic index and how this works for your diet here's a great article!
The steel cut oats I use in the pumpkin pie oatmeal are also gluten free since we are gluten free in my house. My favorite brand is always Bob's Red Mill and I just buy them online because I use them all the time! Here's the link! If you aren't gluten free you can use any kind of steel cut oats. Ok, now you're a pro on steel cut oats..let's get cooking!
How to Make Crockpot Pumpkin Pie Oatmeal
Here are all the ingredients you need to make pumpkin pie oatmeal. Most them you probably already have in your pantry or fridge so it's a great recipe to make when you are short on time.
Plant based milk or regular milk
Steel cut oats
Unsweetened pumpkin pie puree
Maple Syrup
Cinnamon
Nutmeg
Cloves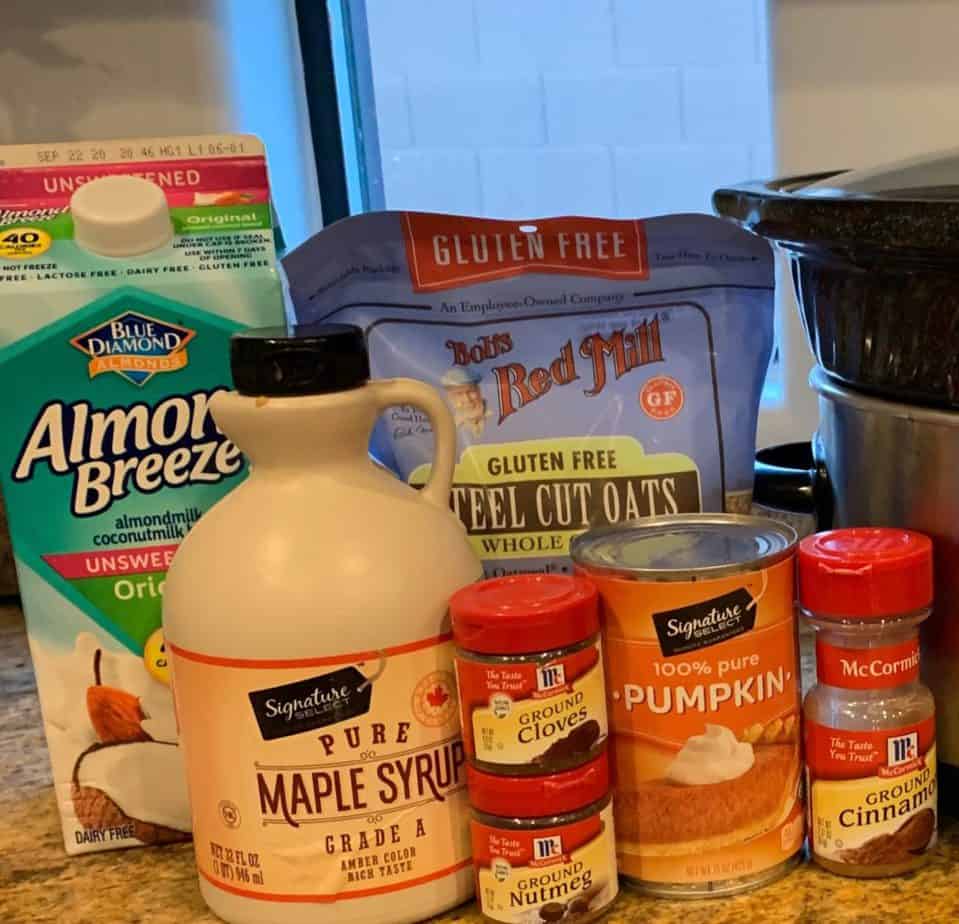 How to Make Crockpot Pumpkin Pie Oatmeal
Spray the crockpot with non-stick cooking spray and pour the oats into your crockpot.
Next, pour the milk and scoop pumpkin pie filling into crockpot.
Pour in maple syrup then add nutmeg, cloves and cinnamon.
Mix all ingredients together and cook for 6-8 hours on low.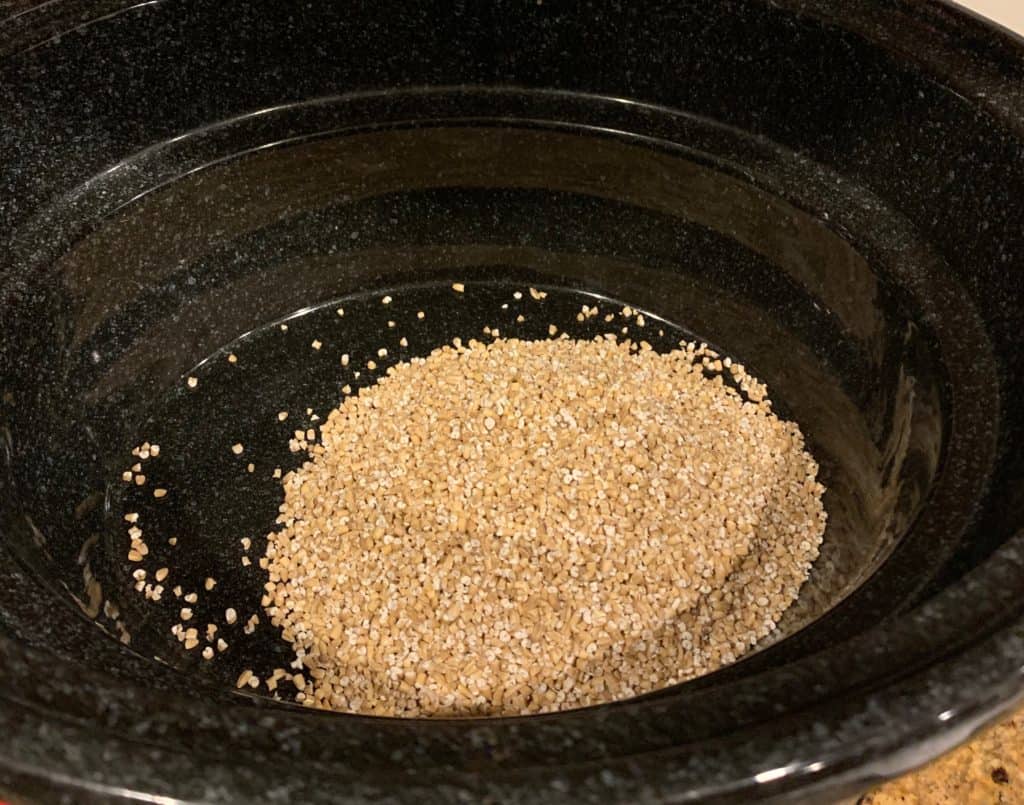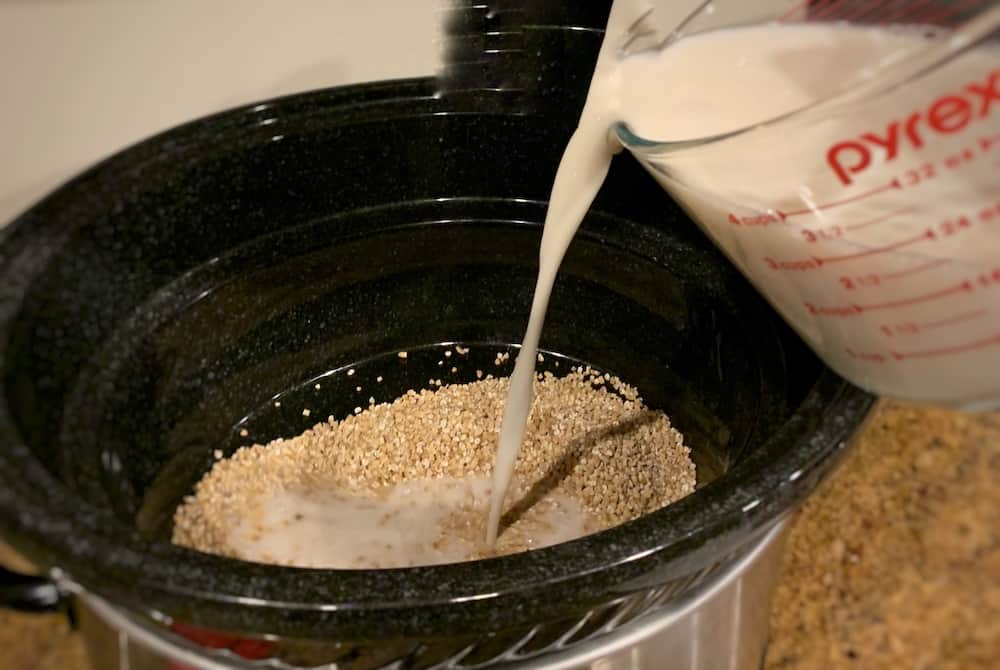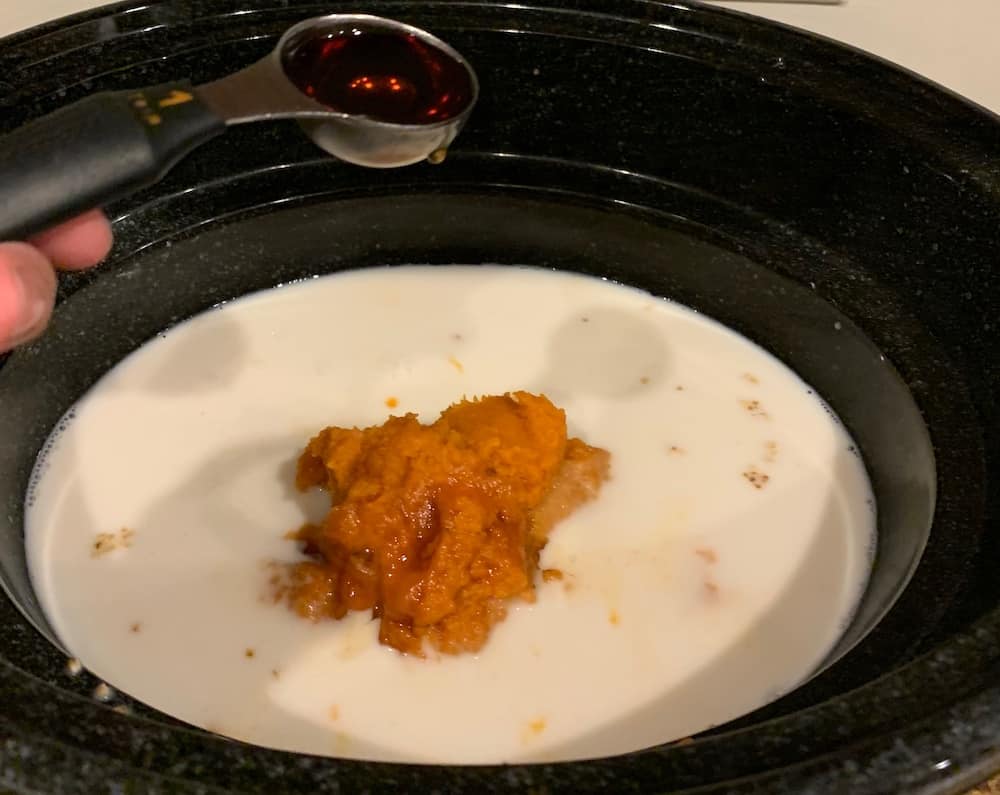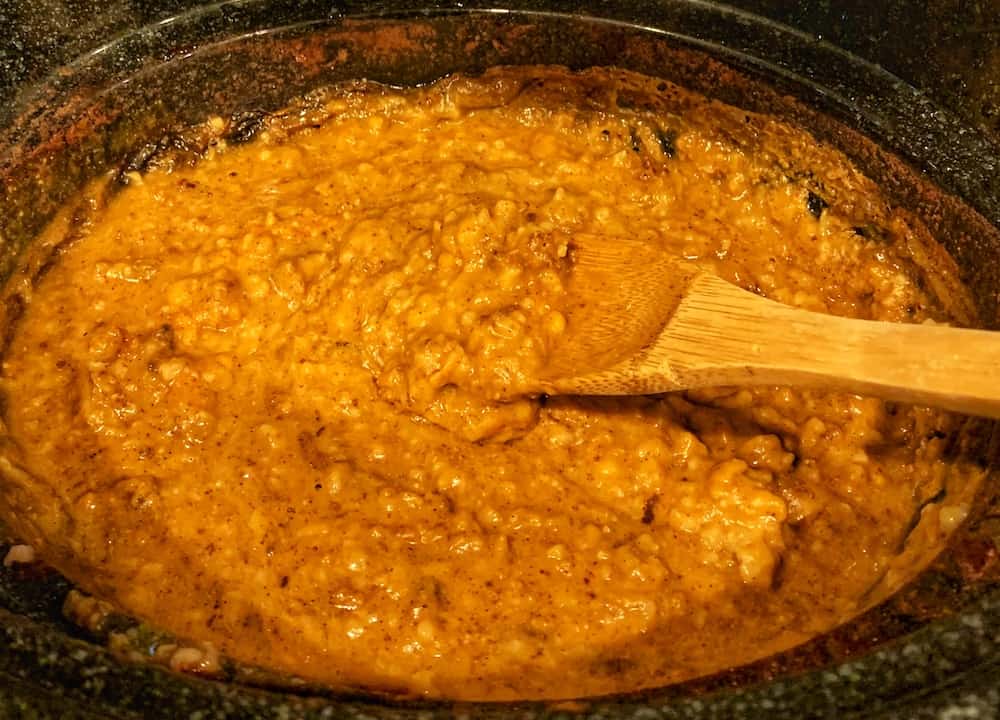 Slow Cooker Oatmeal Toppings
Once you scoop some of this delicious pumpkin pie oatmeal into your bowl, it's time to think toppings. The possibilities are endless with this fall flavor oatmeal.
Here are a few of o
Here are a few of our favorites!
Chopped nuts
Dried cranberries
Pumpkin seeds
Chocolate chips
Coconut flakes
Whipped cream or dairy free whipped cream
Serve and enjoy your delicious breakfast!
Side Options for Crockpot Pumpkin Pie Oatmeal
If you're looking for some sides to serve with this amazing oatmeal, here are some great ideas!
Fruit salad
Bacon or sausage
Scrambled eggs
Breakfast burrito
Pancakes or waffles
Yogurt
Overnight oats are a fantastic option for busy mornings or if you want to meal prep breakfasts for the week. This crockpot pumpkin oatmeal is so easy to make and can easily be doubled or tripled to accommodate a larger crowd. It's also a great option for guests since it can be served at any time!
Pumpkin pie oatmeal is delicious, nutritious and packed with fall flavors. I hope that you enjoy these delicious oats as much as we do. Give this yummy recipe a try and let us know what you think!
Looking for more Crockpot Breakfast Ideas?
Food Allergies
Gluten Free – I make everything gluten free in our house because my husband has celiac disease, which is when you are allergic to gluten. Oatmeal is actually gluten free but there can be cross contamination when it is farmed or processed in a facility with other grains that are not gluten free. That is why I always use gluten free oats like Bob's Red Mill.
If you are not gluten free swap the gluten free steel cut oats for any steel cut oats.
Need A New Crock Pot?
My favorite is this Crock Pot 7 quart Programmable Slow Cooker. First and foremost, I love being able to set the timer in case I'm not home when the food is finished cooking and it just switches to warm. Plus you can lock the lid and just carry it to a party. Not only is it easy to carry but also you will never lose another Tupperware or serving dish again at a potluck party!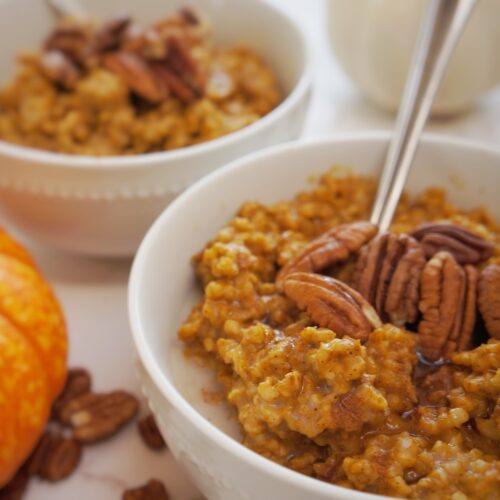 Crockpot Pumpkin Pie Oatmeal
One of the best ways to wake up in the morning on a fall day is to the wonderful smell of Pumpkin Pie! This easy pumpkin pie oatmeal is filled with delicious fall flavors and packed with protein from the steel cut oats. Start your morning right with a breakfast that is all ready when you get up!
Ingredients
3

cups

plant based milk or regular milk

1

cup

steel-cut oats

1

cup

unsweetened pumpkin puree

2

tablespoons

maple syrup

1

teaspoon

ground cinnamon

1/8

teaspoon

ground cloves

1/8

teaspoon

ground nutmeg

4

tablespoons

sugar pecans

optional
Instructions
Spray crockpot liner with non-stick spray.

Pour milk, steel cut oats, pumpkin puree, maple syrup, cinnamon, cloves, and nutmeg into crockpot.

Mix everything together until combined.

Cook on low for 6-8 hours.

Top with sugar pecans and enjoy.
Nutrition
Calories:
385
kcal
|
Carbohydrates:
49
g
|
Protein:
14
g
|
Fat:
16
g
|
Saturated Fat:
5
g
|
Cholesterol:
18
mg
|
Sodium:
83
mg
|
Potassium:
434
mg
|
Fiber:
7
g
|
Sugar:
18
g
|
Vitamin A:
9836
IU
|
Vitamin C:
3
mg
|
Calcium:
266
mg
|
Iron:
3
mg