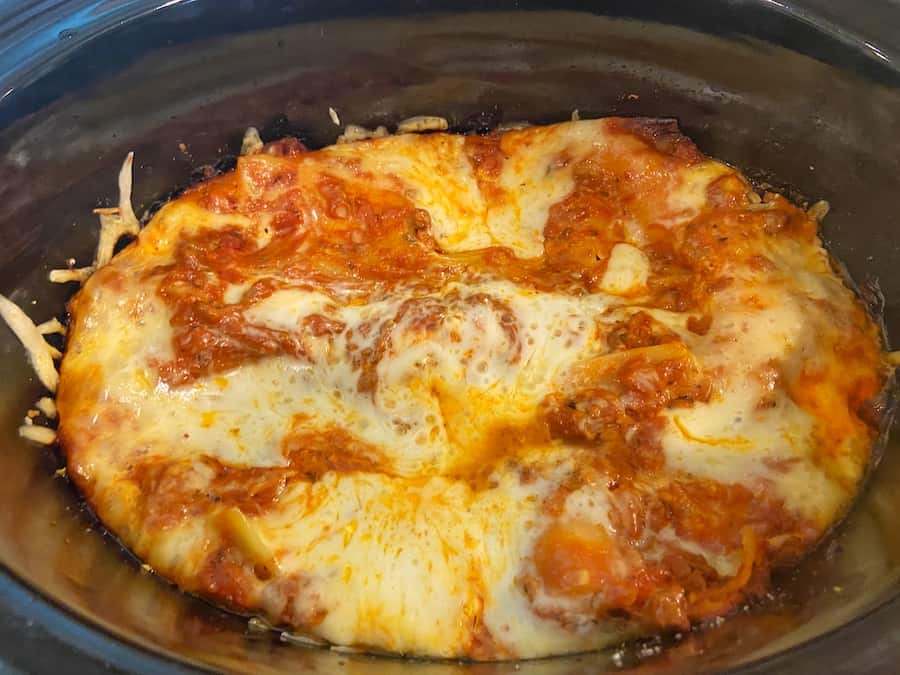 Take a bite of the best slow cooker lasagna and you won't believe how easy this classic comfort food is to make in your slow cooker. Making lasagna this way is so much easier you may never go back to the oven!
I found out you could do pasta in the Crock Pot with my Crock Pot Baked Ziti so I figured I needed to try it with lasagna next! This meaty, cheesy, gooey pasta is a must try in your slow cooker!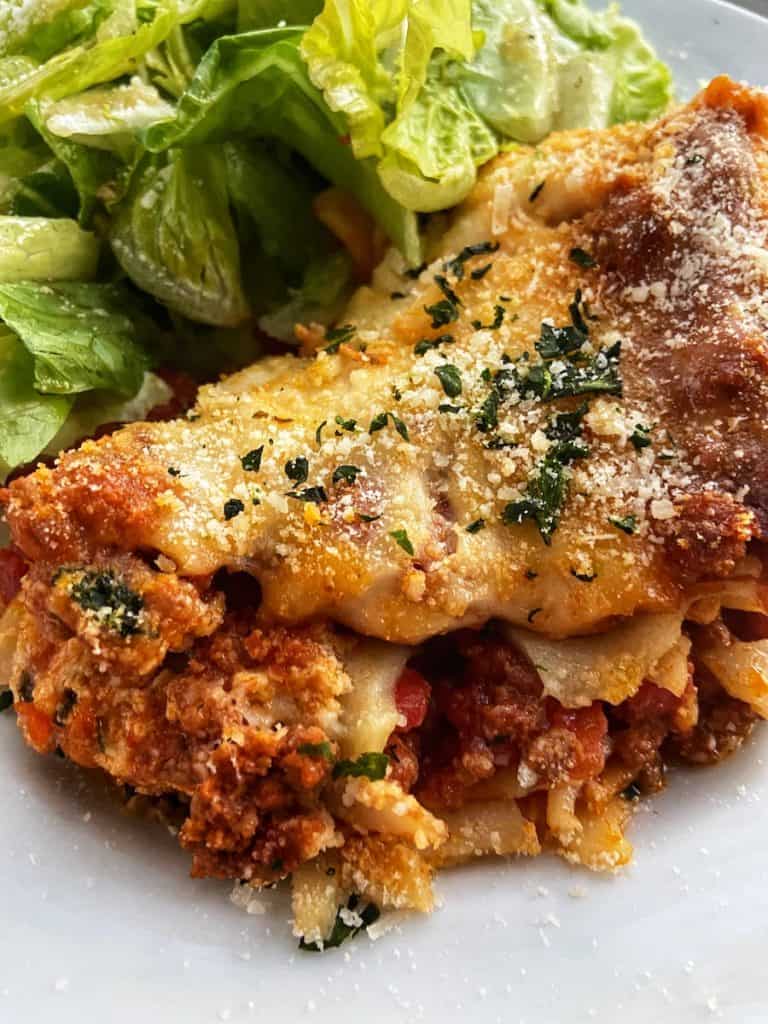 You don't even have to cook the pasta before. If you are like me and think the noodles will turn to mush you are wrong! The cook time is shorter than a typical slow cooker meal so it doesn't cook all day which would turn the noodles soft. There are actually tons of Italian recipes you can make in your slow cooker, two other easy ones are Creamy Italian Chicken and Bruschetta Chicken, if you aren't feeling pasta.
Disclaimer- Some links below are Amazon affiliate links, meaning at no extra cost to you, I will earn a commission if you click through and make a purchase.
Secret Steps for Best Slow Cooker Lasagna
The secret is that you don't add any water to the pasta and the tomato sauce slowly cooks the pasta for you. This recipe is so simple that all you have to do is mix a few ingredients together and then layer them all together and just like that you have a traditional lasagna ready for dinner.
Cheese, Cheese and More Cheese!
The triple cheese blend makes this lasagna a melty cheesy masterpiece. All of these cheeses add a unique flavor and gives you that real Italian restaurant lasagna experience.
– Ricotta
– Parmesan
– Mozzarella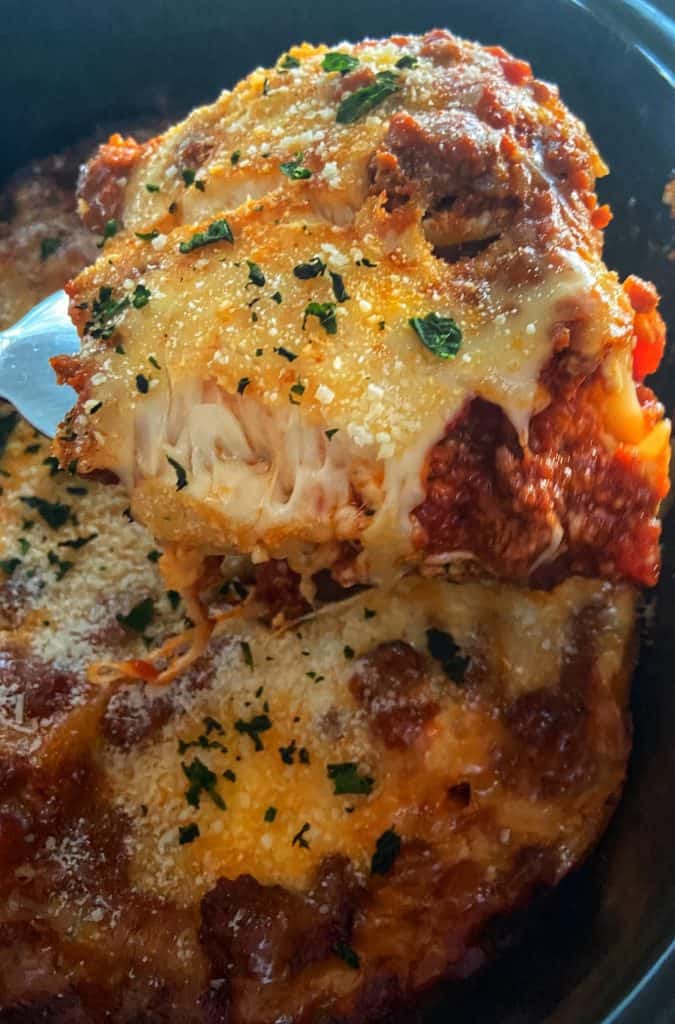 Mix it Up and Make It Your Own
One of my favorite parts of lasagna is that you can cater it to any tastes or diet. I went with my classic lasagna recipe which is ground beef, ricotta (part of my famous three cheese combo) and red sauce. But if you don't like ricotta swap it for cottage cheese. If you are looking for a vegetarian recipe leave out the meat and add more veggies like spinach. Ground beef isn't your favorite meat use Italian sausage or turkey. The sky is the limit on what you can do with this classic slow cooker lasagna.
Types of Pasta to Use
I actually used these gluten free lasagna noodles instead of traditional noodles. These are no boil noodles so they do cook faster that regular lasagna noodles. If you are using the regular ones or "boil" you will want to cook the pasta for at least 4 hours. Any type of lasagna noodle will work for this recipe.
Ingredients to Make Slow Cooker Lasagna
Ground Beef or Crumbled Italian Sausage
Jarred pasta sauce or homemade sauce
Lasagna Noodles (see note on no boil noodles)
Ricotta cheese
Egg
Freshly grated parmesan cheese
Mozzarella cheese
Basil
Salt and Pepper
Step by Step Directions for Slow Cooker Lasagna
Step 1. Spray Slow Cooker with Non Stick Spray or oil.
Step 2. Mix Ricotta Cheese with egg and spices.
Step 3. Add ground beef to a large saute pan, and cook over medium-high heat until browned and cooked through.
Step 4. Add pasta sauce and diced tomatoes and stir.
Step 5. Layer sauce on bottom of the Slow Cooker.
Step 6. Layer Noodles on top of sauce and break if necessary.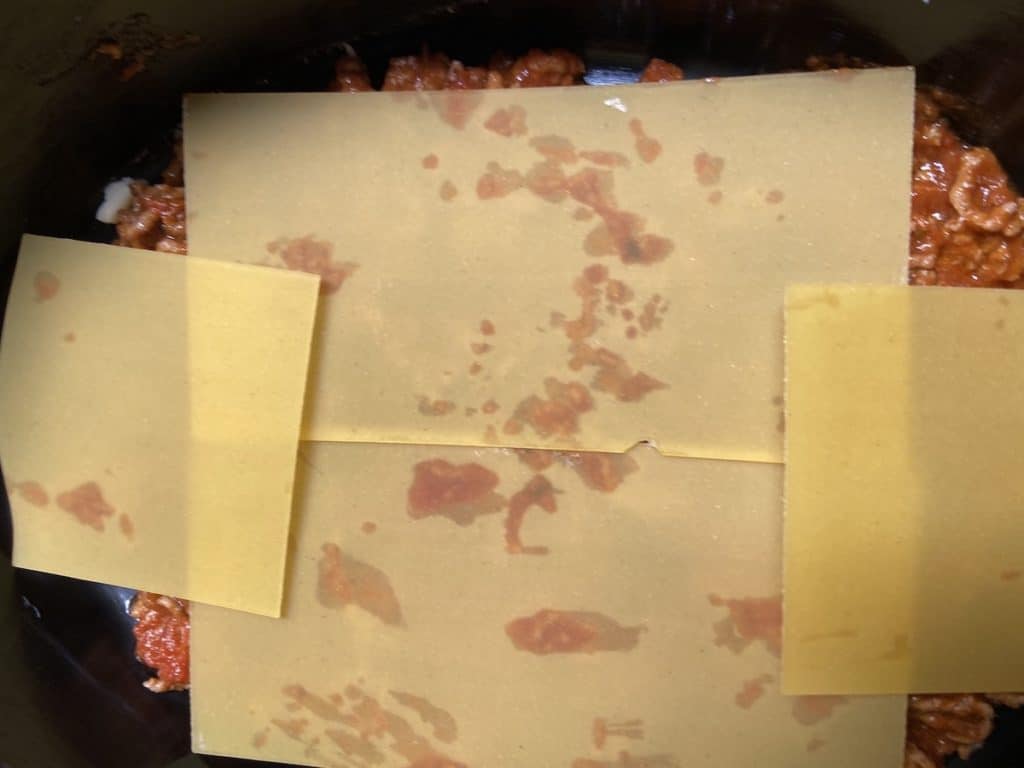 Step 7. Scoop Five Dollops of Ricotta and spread evenly over pasta.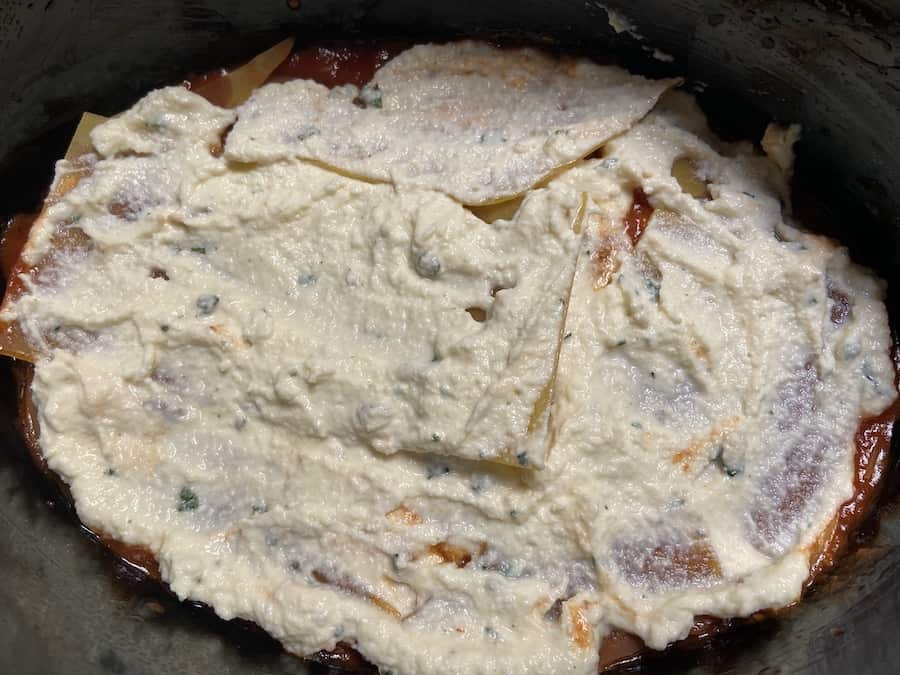 Step 8. Add Layer of Mozzarella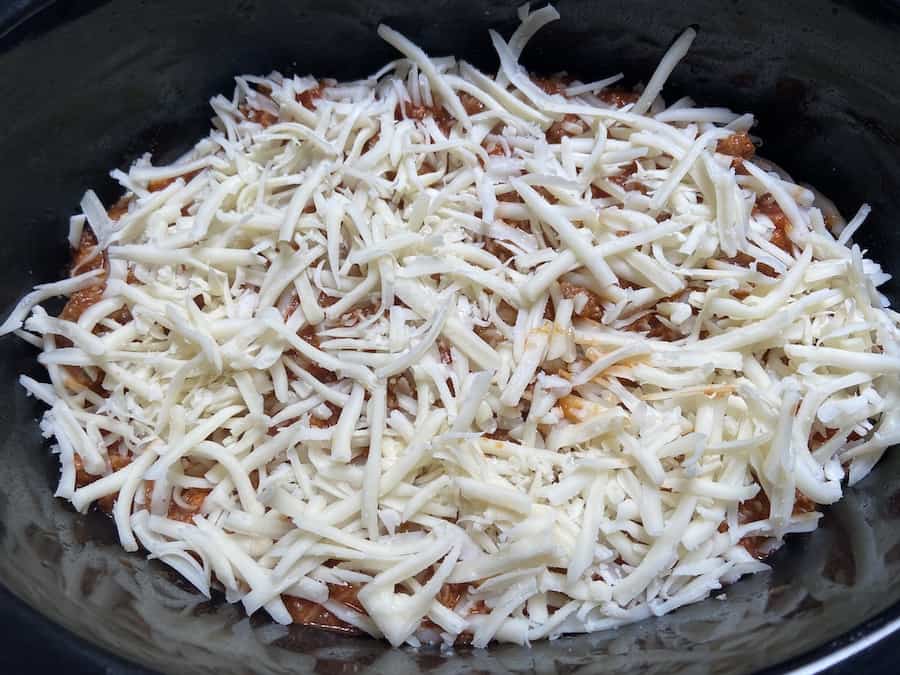 Step 9. Repeat these layers two more times – Sauce, noodles, ricotta, mozzarella.
Step 10. Cook on high for 2 1/2 hours or low for 4 hours.
Quick Tip- A little trick I like is to use a long toothpick/skewer to check the pasta through the steam hole to see if the pasta is soft.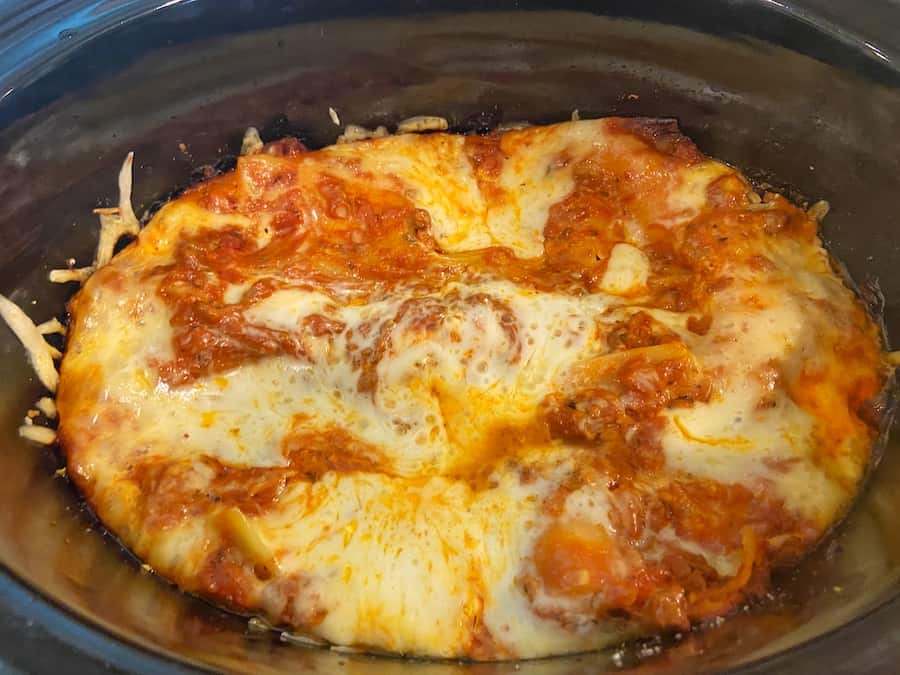 Step 11. Let lasagna sit for 30 minutes once finished. You will need to do this or you will not be able to scoop it out.
Perfect for Potluck
Crock Pot Lasagna makes A LOT of pasta! I love to make this as a main dish to bring to potlucks and everyone always raves about it. This will easily serve 6-8 people with large portions for a family dinner or you can freeze the leftovers and eat it later. We always freeze our leftovers and then eat it the following week! Need even more just double or triple the recipe.
Food Allergies
Gluten Free – I make everything gluten free in our house because my husband has celiac disease, which is when you are allergic to gluten. Our favorite pasta is the Gluten Free Barillla Pasta line. It doesn't have the after taste of some pasta's made with beans. I find that it is the best one at staying together while cooking. Some brands disintegrate especially when using in this kind of recipe where the pasta is soaking in sauce soaking.
If you are not gluten free swap the gluten free pasta for any lasagna noodles.
Need A New Crock Pot?
My favorite is this Crock Pot 7 quart Programmable Slow Cooker. First and foremost, I love being able to set the timer in case I'm not home when the food is finished cooking and it just switches to warm. Plus you can lock the lid and just carry it to a party. Not only is it easy to carry but also you will never lose another Tupperware or serving dish again at a potluck party!
Best Slow Cooker Lasagna
Make the best slow cooker lasagna ever for dinner tonight. Cheesy, gooey, and delicious lasagna in every bite.
Print
Pin
Ingredients
1

pound

ground beef or Italian sausage

15

oz

ricotta

1

egg

1

teaspoon

salt

1

teaspoon

basil

1/4

teaspoon

pepper

1/4

cup

grated parmesan

plus more for topping

24

oz

marinara sauce

10

oz

lasagna noodles

no boil

8

oz

shredded mozzarella cheese
Instructions
Spray entire slow cooker insert with non-stick spray.

Add ground beef to a large saute pan, and cook over medium-high heat until browned and cooked through. Add tomato sauce and diced tomatoes. Stir together. This will make your sauce.

In large bowl, mix Ricotta with egg, 1/4 cup parmesan cheese, basil, salt, and pepper.

Cover bottom of slow cooker with sauce.

Layer pasta on top of sauce. Layer about 4 lasagna noodles — breaking them into smaller pieces as needed to fit — evenly over the sauce to cover the bottom of the slow cooker.

Take 5 scoops of the ricotta mixture and drop onto noodles and spread evenly over noodles.

Top with a layer of mozzarella cheese.

Repeat these steps two more times. Sauce, noodles, ricotta, mozzarella.

Cook on high for 2 1/2 hours. (see note for boil or traditional noodles)

Serve with grated parmesan cheese on top.
Notes
If using traditional noodles or "boil" noodles increase cook time to 4 hours and check to see if noodles are soft using toothpick or skewer.
Nutrition
Calories:
396
kcal
|
Carbohydrates:
27
g
|
Protein:
24
g
|
Fat:
21
g
|
Saturated Fat:
11
g
|
Trans Fat:
1
g
|
Cholesterol:
90
mg
|
Sodium:
844
mg
|
Potassium:
483
mg
|
Fiber:
2
g
|
Sugar:
4
g
|
Vitamin A:
683
IU
|
Vitamin C:
5
mg
|
Calcium:
256
mg
|
Iron:
2
mg
More Casseroles
Looking for more easy casseroles? Try this easy Mexican Casserole.
Slow Cooker Enchilada Casserole
Looking for a list of Essential Kitchen Tools for Crockpot Meals?