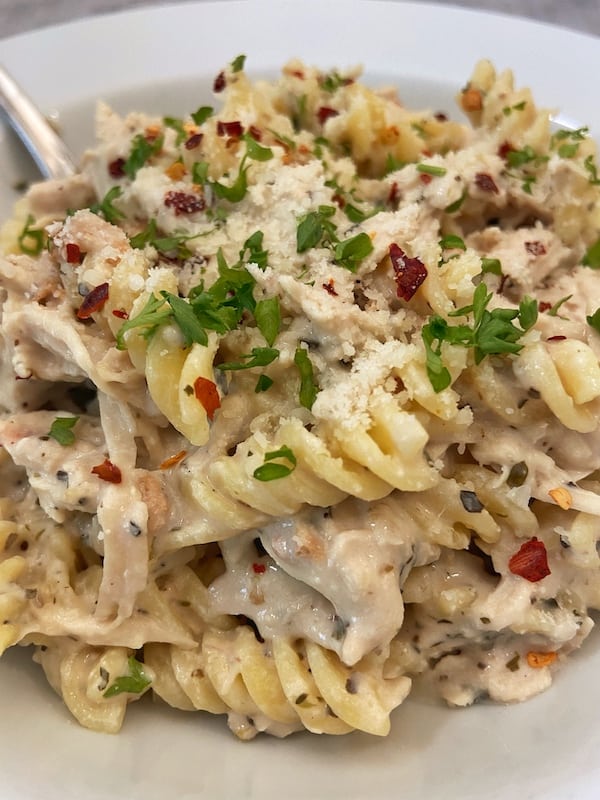 Creamy Italian Chicken is a hearty and delicious meal that the whole family will love. The secret is the Italian Seasoning that gives this yummy chicken all its flavor.
The best part of this recipe is it's an easy and quick dinner for any busy night! You only need 4 ingredients and seasoning. I usually keep a can of cream of chicken in the pantry and when I can't think of anything to make this is my go to recipe.
The chicken goes great with pasta, mashed potatoes and rice. You could even eat it on it's own! Another great 5 ingredient dinner that has no prep is my Crock Pot Garlic Butter Chicken.
Disclaimer- Some links below are Amazon affiliate links, meaning at no extra cost to you, I will earn a commission if you click through and make a purchase.
Quick (Gluten Free) Pasta Dinner
My favorite way to eat this Italian Chicken is with a big bowl of pasta! I mean it is Italian Chicken and what goes better with Italian food than pasta. The creamy sauce coats the pasta and the tender shredded chicken makes a dream dish!
All you have to do is cook the pasta right before you eat and pour the pasta in. Give everything a good stir and you just doubled your food. It's a great way to serve a big family or crowd. Add a simple salad and a loaf of bread and this meal is feast fit for a king.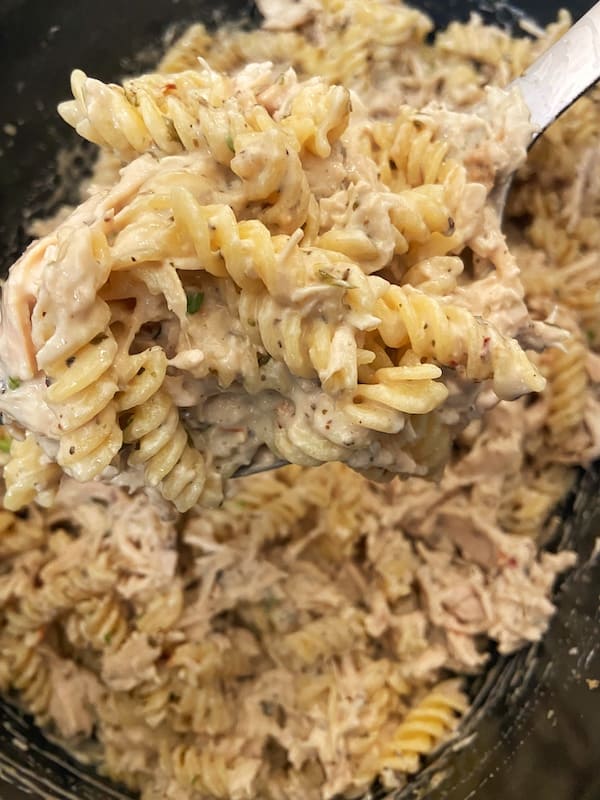 Keto Chicken Dinner
If you are looking for a delicious keto recipe just skip the pasta and serve this creamy chicken over cauliflower rice or with veggies.
Making Creamy Italian Chicken
Place chicken in slow cooker.
Mix Cream Cheese and Cream of Chicken Soup together in separate bowl. Chunks of cream cheese are fine. They will melt.
Make Seasoning Packet if gluten free. If not gluten free, use Good Seasons Italian Salad Dressing Mix.
Add Seasoning packet to cream cheese mixture. Stir to combine.
Pour cream cheese mixture over chicken.
Cover and cook on low for 4-6 hours.
Shred or cut chicken into pieces and stir back into sauce. Serve over cooked pasta or rice.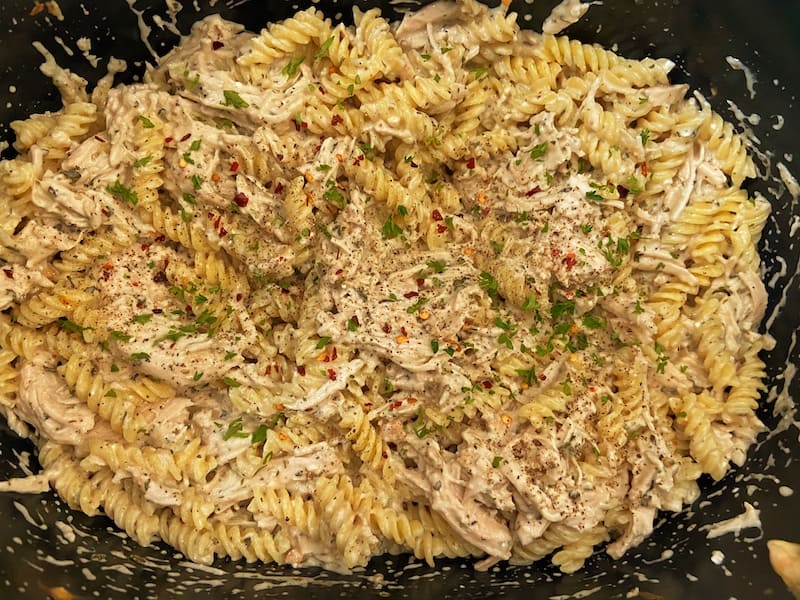 Food Allergies-
Gluten Free- Unfortunately, the pre-made sauce Italian Seasoning packets, Campbells Cream of Chicken, and pasta usually have gluten in them.
In order to stay gluten free you have to make your own spice packet. The ingredients are below in the recipe. All the spices make it look like a lot of ingredients but I swear it only takes 2 minute to put them all together.
I use Pacific Foods Cream of Chicken Soup since it is certified gluten free. You can also make your own cream of chicken as well.
I make everything gluten free in our house because my husband has celiac disease, which is when you are allergic to gluten. Our favorite pasta is the Gluten Free Barillla Pasta line. It doesn't have the after taste of some pasta's made with beans. I find that it is the best one at staying together while cooking. Some brands disintegrate especially when using in this kind of recipe where the pasta is in a sauce.
If you don't need to be gluten free you can just buy the Good Seasons Italian Seasoning pack and Campbells Cream of Chicken soup.
Want More Crockpot Chicken Recipes?
Mexican Crunchy Chicken Casserole
Need A New Crock Pot?
My favorite is this Crock Pot 7 quart Programmable Slow Cooker. First and foremost, I love being able to set the timer in case I'm not home when the food is finished cooking and it just switches to warm. Plus you can lock the lid and just carry it to a party. Not only is it easy to carry but also you will never lose another Tupperware or serving dish again at a potluck party!
Creamy Italian Chicken
Make this 5 ingredients creamy Italian chicken for quick and delicious dinner!
Print
Pin
Rate
Ingredients
2

pounds

boneless skinless chicken breasts

8

ounces

cream cheese

soft or melted

10.5

oz

cream of chicken soup

Pacific Foods is the only one I have found gluten free

12

ounces

rotini pasta

cooked
Italian Seasoning Packet Ingredients
1 1/2

teaspoons

garlic powder

1

tablespoon

onion powder

2

tablespoons

ground dried oregano

1

tablespoon

dried parsley

1

teaspoon

ground basil

1/4

teaspoon

ground thyme

1/2

teaspoon

dried celery flakes

1

teaspoon

salt

1

teaspoon

black pepper
Instructions
Place chicken in slow cooker.

Mix all seasoning together if making seasoning packet.

In mixing bowl add chicken soup, cream cheese and seasoning packet/mixture. (Cream cheese chunks are fine, they will melt while cooking)

Pour sauce over chicken and mix well.

Cover and cook on low for 4 hours or 2 1/2 on high.

Mix halfway through to get cream cheese fully mixed in.

Cook pasta and pour into slow cooker. Stir to combine.
Nutrition
Calories:
571
kcal
|
Carbohydrates:
51
g
|
Protein:
44
g
|
Fat:
21
g
|
Saturated Fat:
9
g
|
Trans Fat:
1
g
|
Cholesterol:
142
mg
|
Sodium:
1048
mg
|
Potassium:
825
mg
|
Fiber:
3
g
|
Sugar:
3
g
|
Vitamin A:
688
IU
|
Vitamin C:
3
mg
|
Calcium:
108
mg
|
Iron:
3
mg