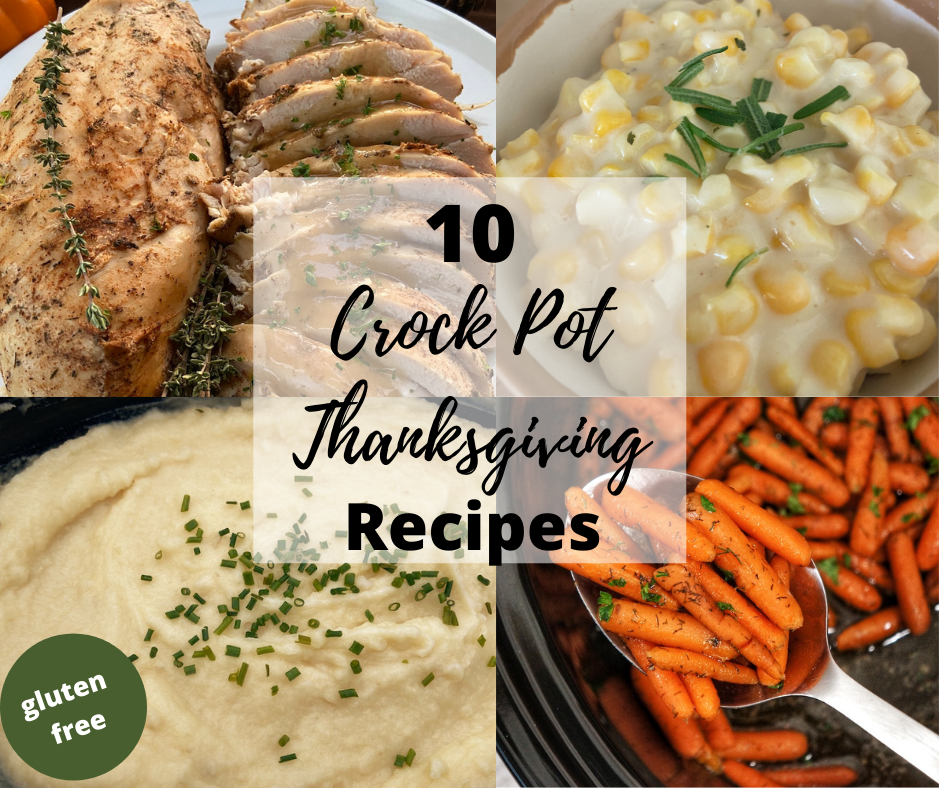 You can make your entire Thanksgiving Dinner in your Crock Pot! Make this Turkey Day easier by making a Crock Pot Thanksgiving Dinner! Here are 10 gluten-free Thanksgiving recipes for main dishes, side dishes, appetizers, and even desserts that everyone will love to gobble up.
I started using my Crock Pot for for mashed potatoes one year and couldn't believe how much it helped getting one thing off my list ahead of time. Slowly, I kept making more and more recipes in my Crock Pot every year and now I usually have 3 or 4 on the counter helping me out.
When you start making your Thanksgiving plans come up with one recipe you think you could make in the Crock-Pot. I highly recommend the mashed potatoes to start! You can make almost everything in your Crock-Pot. If you are anything like me there is limited room in the oven and stove so this is a real help in the kitchen.
Looking for a Crock-Pot to use for all these delicious and easy recipes to make your Thanksgiving Dinner a breeze? I love both the Crock Pot Cook and Carry and the All-Clad Slow Cooker. You can even use these Crock Pot Liners for a quick clean-up.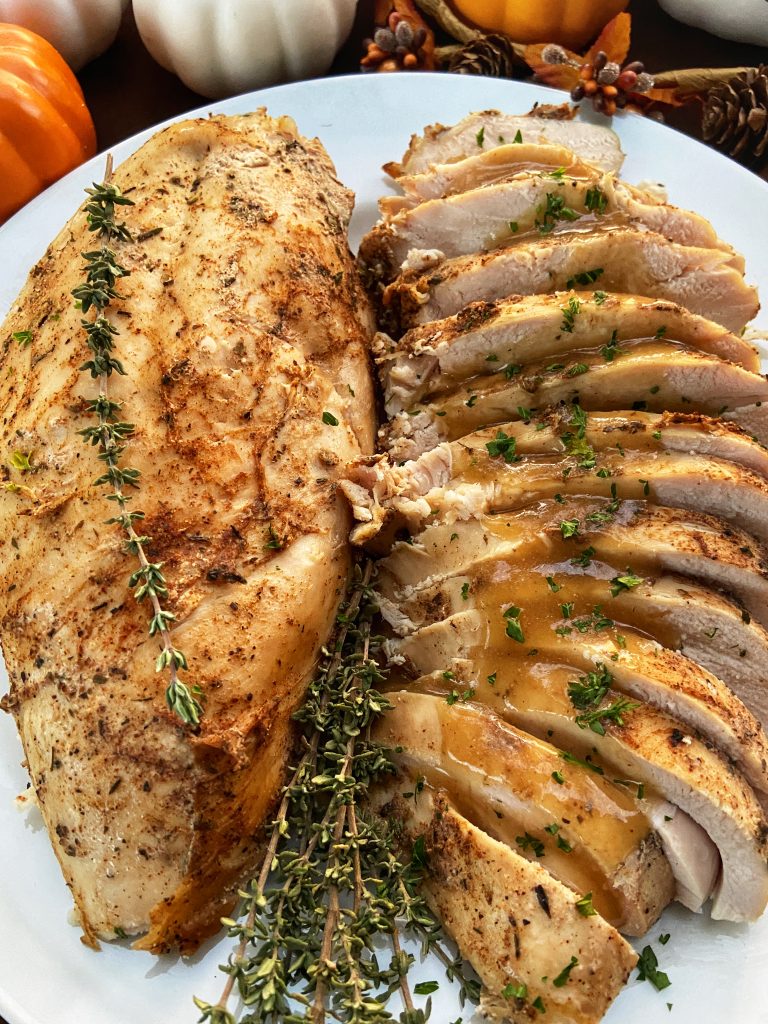 Make the Best Slow Cooker Turkey Breast ever! No oven is needed. This recipe is perfect for a small holiday table or if you're like me and have a ham and turkey for Thanksgiving. For a tender, juicy turkey breast cook it in the Crock-Pot! No chance of drying out the turkey with this method because it keeps all the moisture in. You won't miss the oven with all the flavor that this turkey breast has.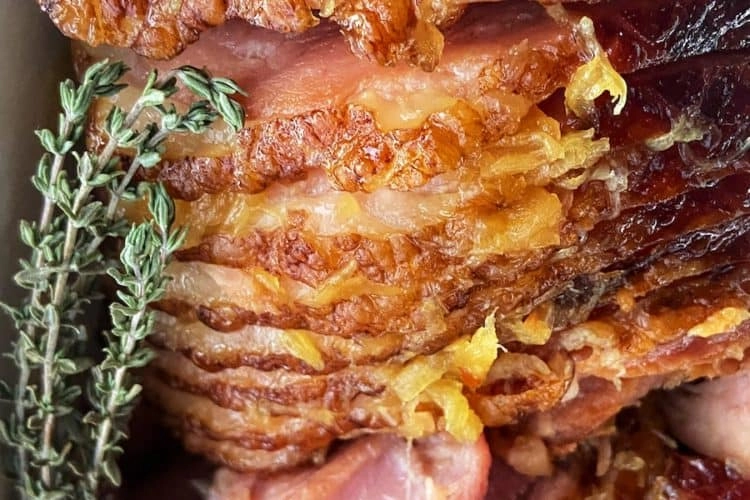 This easy 5 ingredient ham might steal the show from the turkey. Brown Sugar and Pineapple Ham has the perfect balance of sweet and savory. The delicious brown sugar crust paired with the tangy pineapple makes a melt-in-your-mouth ham.
Crock Pot Thanksgiving Dinner Side Dishes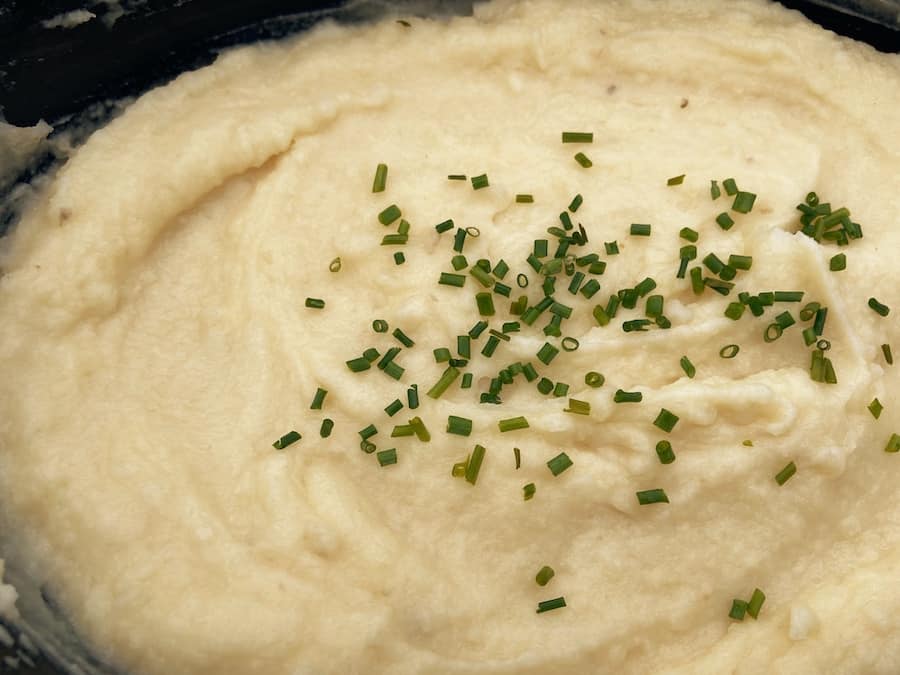 Slow Cooker Garlic Mashed Potatoes are creamy and delicious! You can't have Crock Pot Thanksgiving Dinner without mashed potatoes. These easy no-boil mashed potatoes are fuss-free and make the best side dish ever. You will be amazed at how smooth and flavorful these mashed potatoes are!
Get everyone to eat their veggies with these brown sugar and dill carrots! These sweet carrots are the perfect side dish to go with all the savory options in the Crock Pot Thanksgiving Dinner buffet!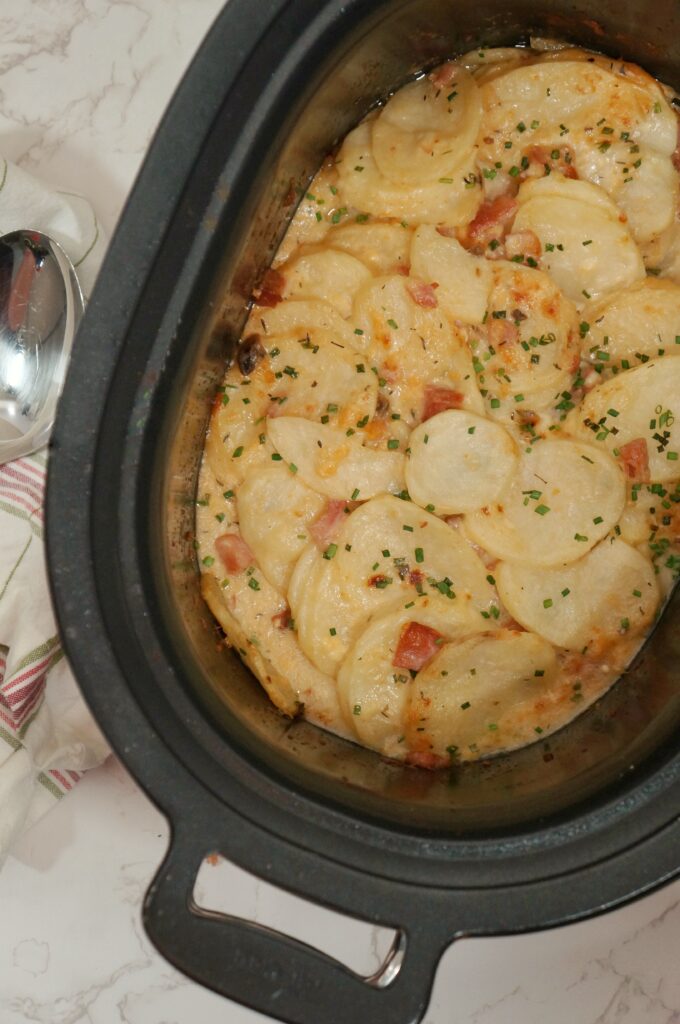 Scalloped Potatoes are a great option to wow everyone with these irresistible and indulgent potatoes! Since calories don't count on Thanksgiving you have to have these cheesy, creamy scalloped potatoes and ham on your menu.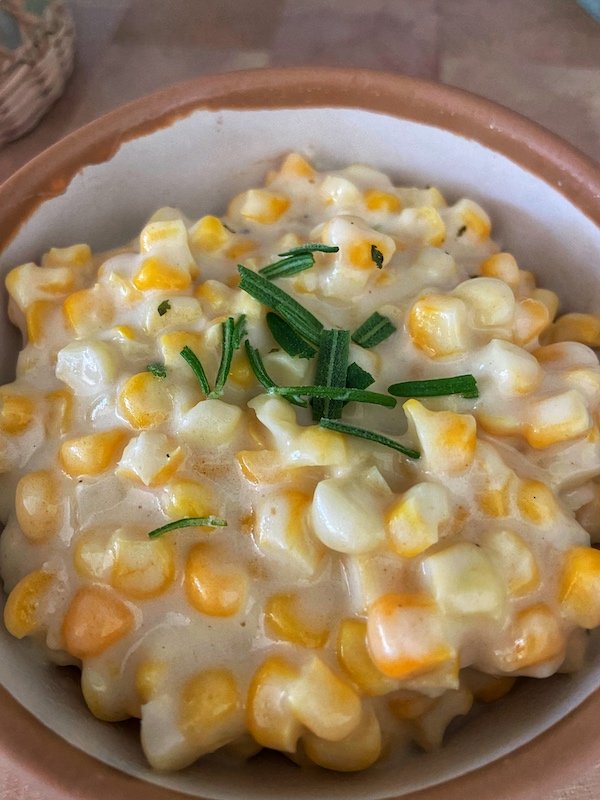 Corn is always a favorite side dish and this crock pot creamed corn doesn't disappoint. This slow cooker creamed corn is easy to make with only 5 ingredients that you pour into the slow cooker and it makes itself. This addictive thanksgiving side dish will become a family favorite.
Slow Cooker Baked Mac and Cheese is the ultimate cheesy creamy comfort food to add to your Crock-Pot Thanksgiving Dinner! This macaroni and cheese is perfect as a side dish and goes great with Turkey.
Crock Pot Thanksgiving Dinner Appetizers and Desserts
I love to put out a little appetizer for guests to snack on while I finish all the dishes for Thanksgiving. This Cranberry and Jalapeno Dip features a Thanksgiving favorite, cranberry sauce! It's paired with jalapenos, cream cheese, and lime juice for a unique and delicious dip.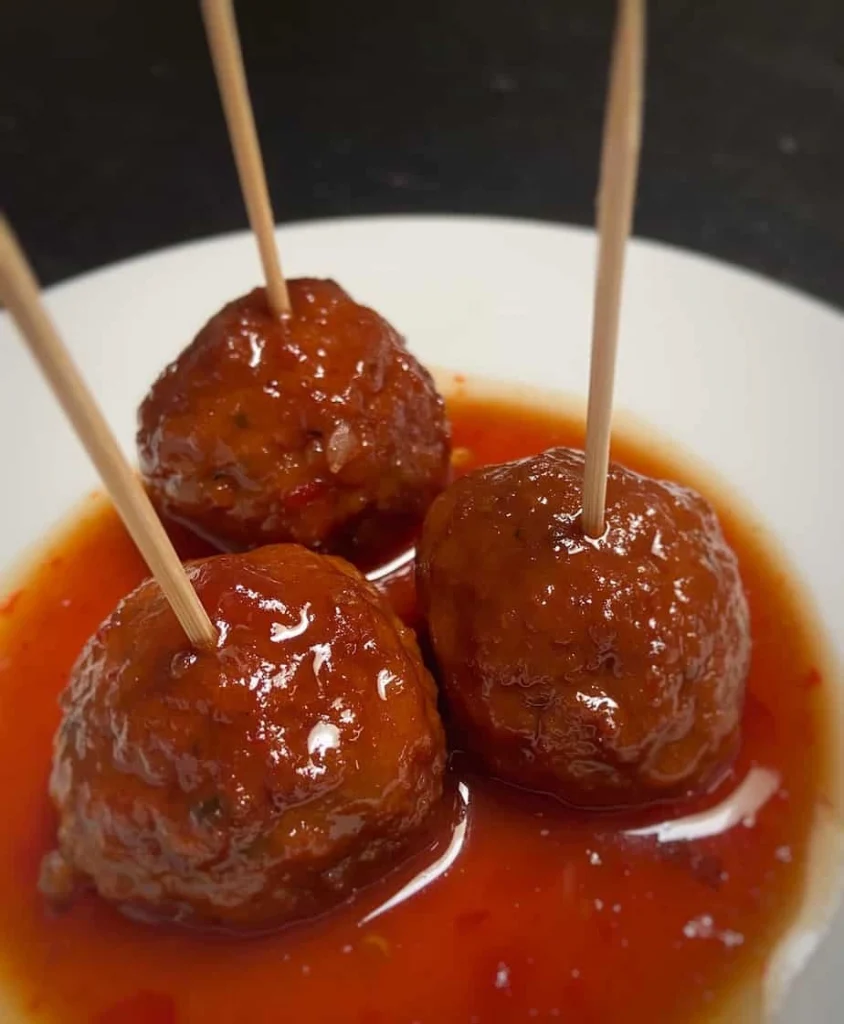 These bite-sized Cranberry Meatballs are a classic appetizer because they are easy to make and easy to eat.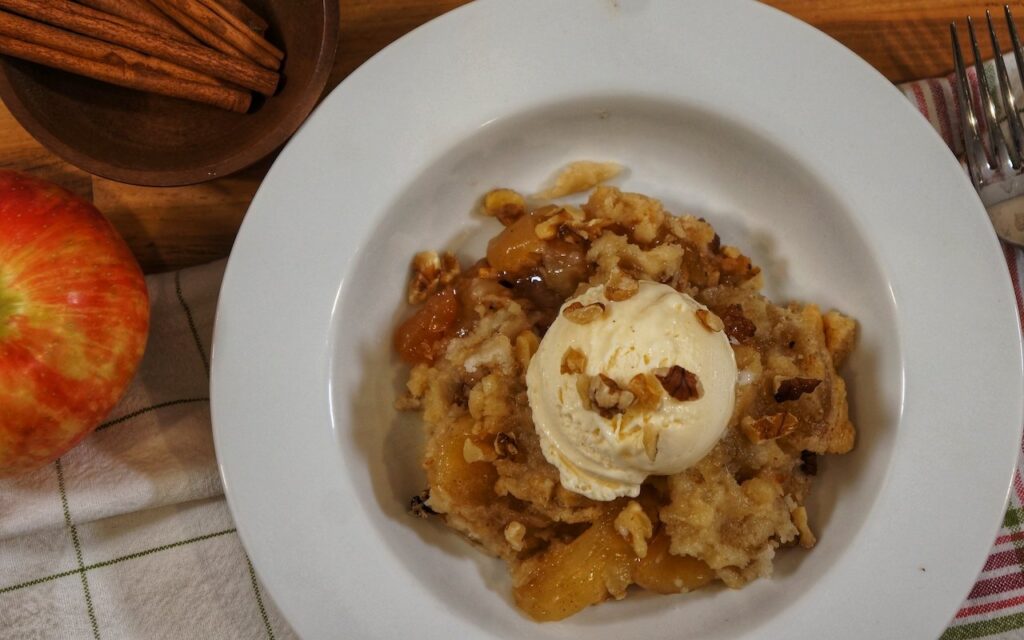 Don't forget the dessert!! You can even make dessert in the Crock-Pot. This simple recipe is the best even the kids can help make it. Top with ice cream for a sweet treat!