Slow Cooker Meatball Stroganoff is an easy comfort food made in your slow cooker! Try this hearty and gluten-free dinner for a simple and satisfying meal. Mushrooms and meatballs are paired with a creamy and rich sour cream sauce that the whole family will enjoy!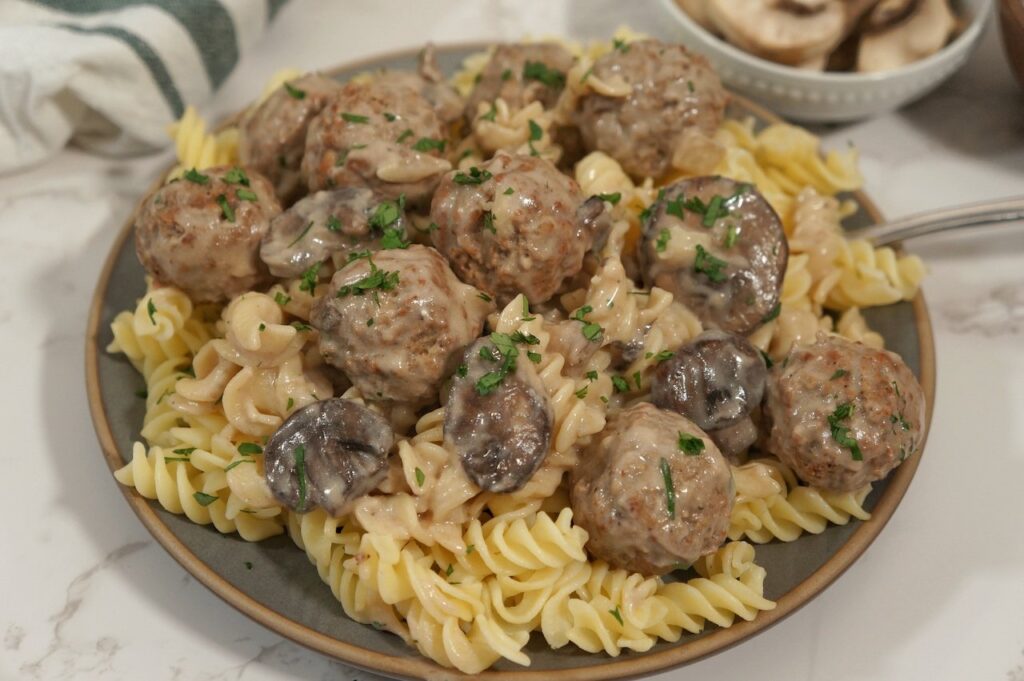 SLOW COOKER MEATBALL STROGANOFF
This Slow Cooker meatball stroganoff is a delicious and easy twist on the classic Beef Stroganoff. Plus it is a toss-and-go recipe that you can have prepped and cooking in less than 5 minutes. Instead of using beef in this recipe, you swap it for frozen meatballs or homemade ones. I opted for frozen ones to make this a true toss-and-go recipe that doesn't require any steps in the prep. Another quick dinner I love to make is this creamy Garlic Parmesan Chicken Pasta.
Disclaimer- Some links below are Amazon affiliate links, meaning at no extra cost to you, I will earn a commission if you click through and make a purchase.
Some days I need a recipe that is easy from start to finish! Meatballs are loved by everyone in our family so they are usually on our weekly menu in one way or another. This comforting dinner is perfect for any night and tastes like you spent hours cooking a homemade dinner. I love to make these Cranberry Meatballs for another family-friendly dinner.
That's one of my favorite parts of dinners like this because it is still homemade but I can just come home after school, sports, or whatever the day has in store and not worry about what's for dinner. It brings everyone to the dinner table to enjoy a meal together and talk about our day.
WHAT IS STROGANOFF?
In case you have never heard of stroganoff it is a classic dish that has its roots in 19th century Russia. The dish is named after the well-known Stroganov family. Legend has it that it was created by a chef for the family using a classic gravy then he added sour cream Viola, Stroganoff was made! Now there are tons of different variations but the main ingredient, sour cream, is always the essential ingredient! Other than the sour cream it can be served with any meat (or even without meat) and usually served over noodles. The most well-known version is the Beef Stroganoff that is made with cuts of beef and served over egg noodles with the sour cream gravy!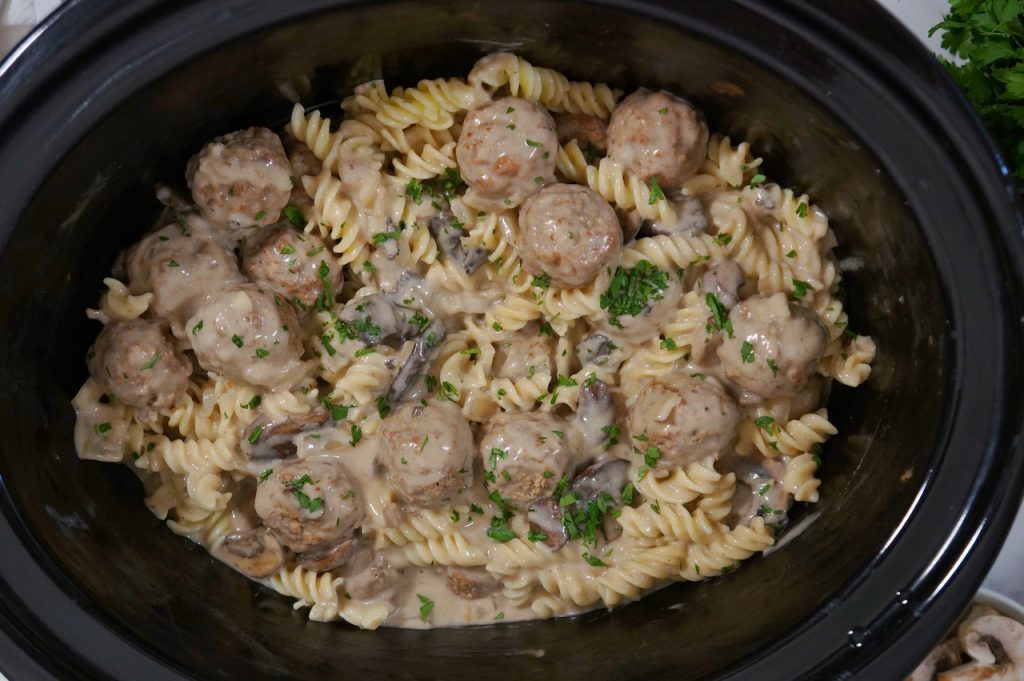 Make the Gluten-Free Version
I had been wanting to make this dish forever but I couldn't seem to find all the pieces I needed to make it gluten-free and easy. Finally, I went to Whole Foods and came across the Gluten-Free Homestyle Meatballs. They have a version at Target as well but I was never able to find them at my local target. I added my favorite gluten-free gravy, gluten-free french onion packet, and gluten-free cream of mushroom soup. I swapped rotini for the classic egg noodles which are not gluten-free.
INGREDIENTS FOR SLOW COOKER MEATBALL STROGANOFF
HOW TO MAKESLOW COOKER MEATBALL STROGANOFF
Step 1. Add all ingredients to Crock Pot except the sour cream and noodles. Mix together.
Step 2. Cook on low for 6 hours or high for 4 hours.
Step 3. Once finished cooking add 1 cup sour cream. Mix together and cook for an additional 15 minutes.
Step 4. Add cooked pasta and serve!
WHAT TO SERVE WITHSLOW COOKER MEATBALL STROGANOFF
A few of my favorite things to serve with slow cooker meatball stroganoff!
Brown Sugar Carrots– These carrots add a nice sweet balance to the savory flavors.
Salad- Keep it fresh with a nice green salad with veggies and Italian dressing.
Gluten-Free French Bread– I love this frozen gluten-free french bread because you can keep it in the freezer until you need it. I like to slice it and add butter and garlic powder while it's cooking to make a loaf of tasty and easy garlic bread!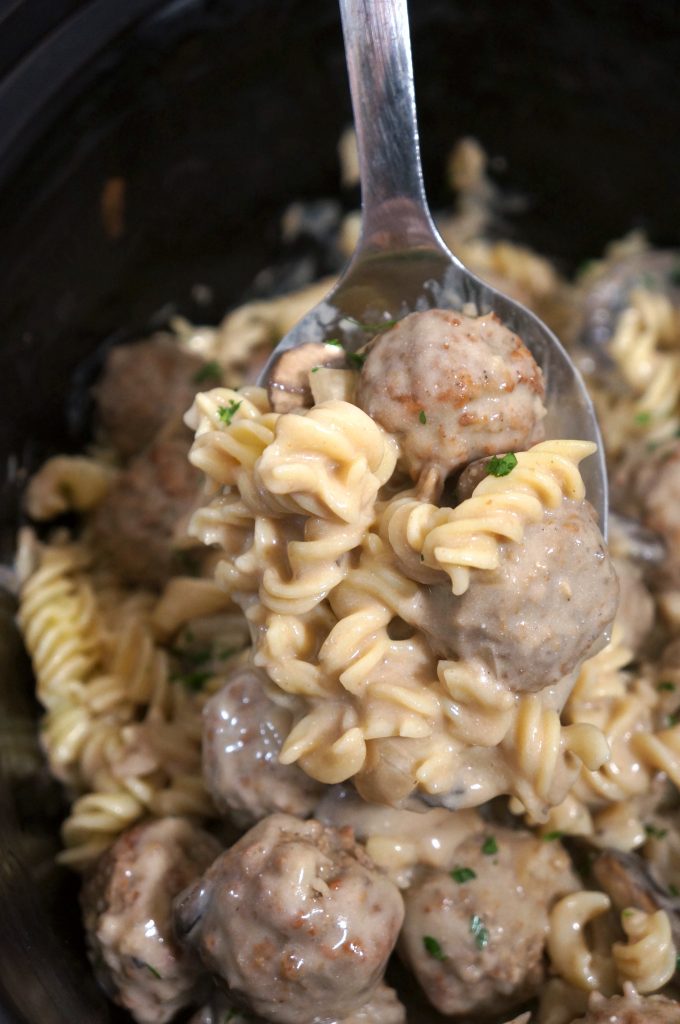 TIPS FOR MAKINGSLOW COOKER MEATBALL STROGANOFF
You can customize slow cooker meatball stroganoff to make it fit your family! Here are just a few ways to customize it.
Swap the frozen meatballs for homemade ones.
Make it healthier by using turkey meatballs and 1/3 less fat sour cream.
Skip the mushrooms if you have people who don't enjoy them.
Swap rotini noodles for egg noodles if you are not gluten-free.
Can't find the french onion packet? Use fresh chopped onions, just make sure to sautee them prior to cooking them in the slow cooker.
Need a new Crock-Pot? My favorite is the Crock-Pot Cook and Carry. First and foremost, I love being able to set the timer in case I'm not home. When the food is finished cooking it just switches to warm until you are ready to eat. Plus you can lock the lid and just carry it to a party. Not only is it easy to carry but also you will never lose another Tupperware or serving dish again at a potluck party!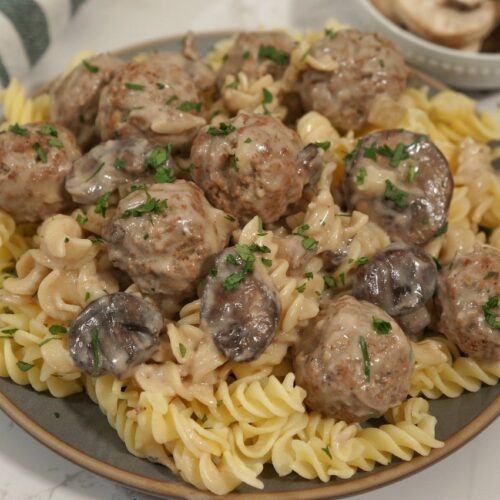 Ingredients
32

oz

meatballs

frozen, gluten-free

1

packet

brown gravy

gluten-free

1

packet

french onion dip or small sweet onion

gluten-free

10.5

oz

can of cream of mushroom soup

gluten-free

8

oz

mushrooms

sliced

1

tbsp

worcestershire sauce

1

tbsp

minced garlic

1

cup

beef broth

1

cup

sour cream

12

oz

rotini pasta

gluten-free
Instructions
Add all ingredients to the slow cooker except sour cream and noodles. Mix together and cover meatballs.

Cook on low for 4-6 hours or high for 2-3 hours.

Once finished cooking add 1 cup sour cream. Mix together and cook for an additional 15 minutes.

Add cooked pasta and serve!
Video
Nutrition
Calories:
714
kcal
|
Carbohydrates:
48
g
|
Protein:
35
g
|
Fat:
41
g
|
Saturated Fat:
17
g
|
Polyunsaturated Fat:
4
g
|
Monounsaturated Fat:
16
g
|
Cholesterol:
129
mg
|
Sodium:
518
mg
|
Potassium:
784
mg
|
Fiber:
2
g
|
Sugar:
5
g
|
Vitamin A:
252
IU
|
Vitamin C:
3
mg
|
Calcium:
84
mg
|
Iron:
3
mg