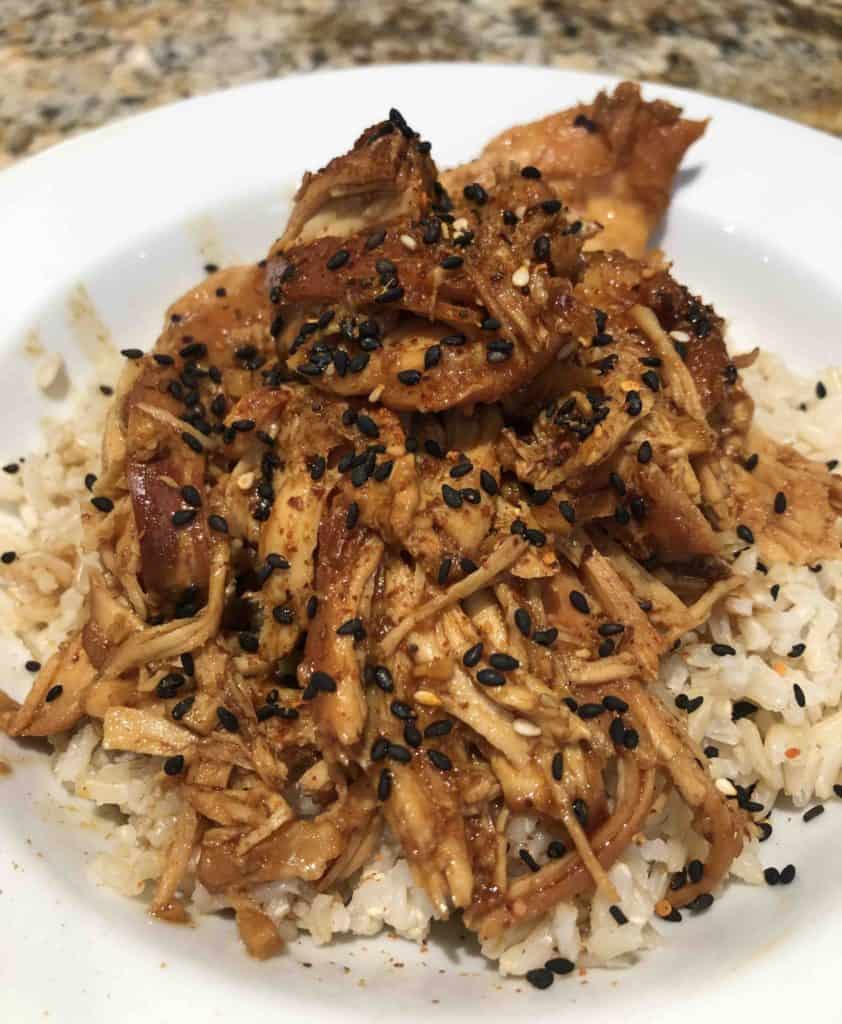 Sweet and salty hoisin sauce makes a perfect pair in this fast and easy dinner! Crockpot Hoisin Chicken is a quick dinner because all you need is few ingredients to make this classic Asian meal that is sure to satisfy.
Start with a store bought Hoisin Sauce and mix a few fresh ingredients to get an irresistible chicken dinner that everyone will love! This recipe is on rotation every week in our house. So delicious and my 5 year old even eats it.
Disclaimer- Some links below are Amazon affiliate links, meaning at no extra cost to you, I will earn a commission if you click through and make a purchase.
What is Hoisin Sauce?
If you haven't had hoisin, my favorite way to describe it is if teriyaki and BBQ sauce came together and made a sauce. It is a thicker sauce that is sweet with a little tang, similar to American BBQ sauce. But since it has different spices than traditional BBQ sauce its flavor is unique and delicious!
Where do you get Hoisin Sauce?
You can get the Hoisin Sauce in most groceries stores in the Asian aisle. Since all my recipes are gluten free I use Kikkoman Gluten Free Hoisin Sauce but if you don't have an allergy you can use any sauce you find. Also, since you only need half a bottle you can use the second half for another dinner.
Crockpot Hoisin Chicken
This recipe is so quick to whip together we usually have it every other week! (The other week I make this teriyaki chicken). You can make this homemade Hoisin sauce in the crockpot insert. I like to add a few extra ingredients to the store bought Hoisin sauce to give it a richer flavor.
I just pour everything into my insert and then mix it up and toss the chicken in at the end. You can make the sauce in 5 minutes and delectable dinner will be ready a few hours later.
Quick Tip– If you are home while the chicken is cooking I usually like to flip it once to get the both sides covered in sauce.
Ingredients to make Hoisin Sauce-
Hoisin Sauce (Gluten-Free)
Tamari (Gluten-Free Soy Sauce) or regular Soy Sauce
Honey
Ginger
Garlic
Salt/Pepper
How to Serve Crockpot Hoisin Chicken
Once your hoisin chicken is finished cooking you can either cut the chicken up into cubes or just shred it with two forks. I usually shred it because I like to get all the sauce soaked into the meat.
If you prefer a thicker sauce just remove the chicken and cover until serving.
Take the sauce from the crockpot and pour it into a saucepan and bring to a simmer. While the sauce is heating, mix cornstarch and water together to make a cornstarch slurry. Once the sauce is simmering, pour the cornstarch slurry to the saucepan and mix. Cook for 1-2 minutes to thicken the sauce.
My go-to combination for hoisin chicken is rice and broccoli topped with sesame seeds and red pepper flakes. But there are a few other ideas that make with this chicken.
Low Carb– Make this low carb by serving in lettuce cups. Just like at the restaurant!
Asian Tacos– Use corn tortillas and shred chicken and serve with cabbage or kimchi.
Asian Sliders– Shred the hoisin chicken on dinner rolls (or gluten free Udis hamburger rolls) and serve with cabbage.
What to Serve with Crockpot Hoisin Chicken
I usually steam some broccoli about 5 minutes before we sit down to eat. You could easily throw the broccoli or any veggies in about an hour before the chicken is ready and have them cook with the chicken if you don't feel like steaming.
Other veggie options that would be good are carrots and snap peas!
Food Allergies
Gluten-Free- I make all my recipes gluten-free since my husband has celiac disease, which means he is allergic to gluten. Make sure and use gluten-free hoisin sauce and gluten free soy sauce when making this to ensure that it is gluten free. If you are not gluten-free feel free to use regular soy sauce and hoisin sauce!
Need A New Crock Pot?
My favorite is this Crock Pot 7 quart Programmable Slow Cooker. First and foremost, I love being able to set the timer in case I'm not home when the food is finished cooking and it just switches to warm. Plus you can lock the lid and just carry it to a party. Not only is it easy to carry but also you will never lose another Tupperware or serving dish again at a potluck party!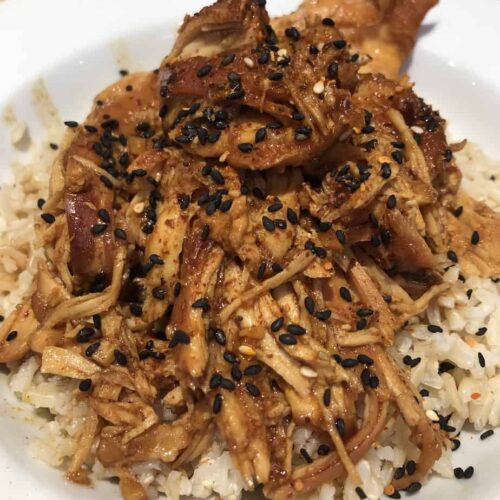 Hoisin Chicken
Sweet and salty hoisin sauce makes a perfect pair in this fast and easy dinner! Crockpot Hoisin Chicken is a quick dinner because all you need is few ingredients to make this classic Asian meal that is sure to satisfy.
Ingredients
2

pounds

boneless-skinless chicken

breast or thighs

1/2

cup

gluten free hoisin sauce

2

tablespoons

Tamari or gluten free soy sauce

2

tablespoons

Honey

1

tablespoon

minced peeled fresh ginger

2

cloves

garlic

minced

1/4

teaspoon

ground black pepper

2

tablespoons

water

1

tablespoon

cornstarch

Steamed rice or lettuce

for serving
Instructions
Place hoisin sauce, soy sauce, honey, garlic, ginger and pepper in slow cooker and stir to combine.

Add chicken and stir to combine.

Cover and cook chicken. 3-4 hours on low or 1-1 1/2 hours on high. Always check to make sure your chicken is cooked using a meat thermometer.

Transfer chicken to serving bowl with a slotted spoon.

If you prefer a thicker sauce pour sauce into sauce pan and bring to a simmer. Mix cornstarch and water together. Add the cornstarch slurry into sauce and cook until thickened, about 1 minute. Remove from heat.

Cover chicken with sauce and serve with rice or lettuce.
Nutrition
Calories:
394
kcal
|
Carbohydrates:
27
g
|
Protein:
46
g
|
Fat:
11
g
|
Saturated Fat:
3
g
|
Trans Fat:
1
g
|
Cholesterol:
216
mg
|
Sodium:
1261
mg
|
Potassium:
636
mg
|
Fiber:
1
g
|
Sugar:
18
g
|
Vitamin A:
57
IU
|
Vitamin C:
1
mg
|
Calcium:
38
mg
|
Iron:
2
mg