Bursting with flavor from the ginger, honey and soy sauce this honey teriyaki chicken is sure to satisfy everyone! I had to add a little extra honey to the original teriyaki chicken recipe. Honey Teriyaki Chicken is beyond easy and so tasty. You don't even have to get a bowl dirty. Throw everything into the slow cooker and you are done!
Teriyaki chicken is one of the universally delicious meals! I actually have never met anyone who doesn't like teriyaki chicken(I'm sure there is someone out there). We make this or our hoisin chicken every week.
Disclaimer- Some links below are Amazon affiliate links, meaning at no extra cost to you, I will earn a commission if you click through and make a purchase.
Easy Weeknight Meal- Honey Teriyaki Chicken
This recipe is so simple to make and is a crowd pleaser when it comes to the whole family. Adults and kids both love this savory chicken. Whenever I have afternoon plans I just throw everything into the slow cooker earlier in the day and then dinner is all ready when 5pm rolls around.
Serve this with rice and you have an entire meal ready to go in minutes. Whenever I make meals that include rice I always use my rice maker. This really makes dinner a breeze because I don't have to make it when I get home. We literally walk in the door and make our plates. I use the Zojirushi Rice Maker which is amazing. It has a timer and setting for brown or white rice which is helpful.
Make Your Own Honey Teriyaki Sauce
You can whip up your own teriyaki sauce in a few minutes! All you need is a few ingredients that you might already have in your pantry. The best part is you can pour them right into your crockpot insert and stir then in there. No need to dirty a bowl!
Honey
Rice Vinegar
Soy Sauce
Ginger
Garlic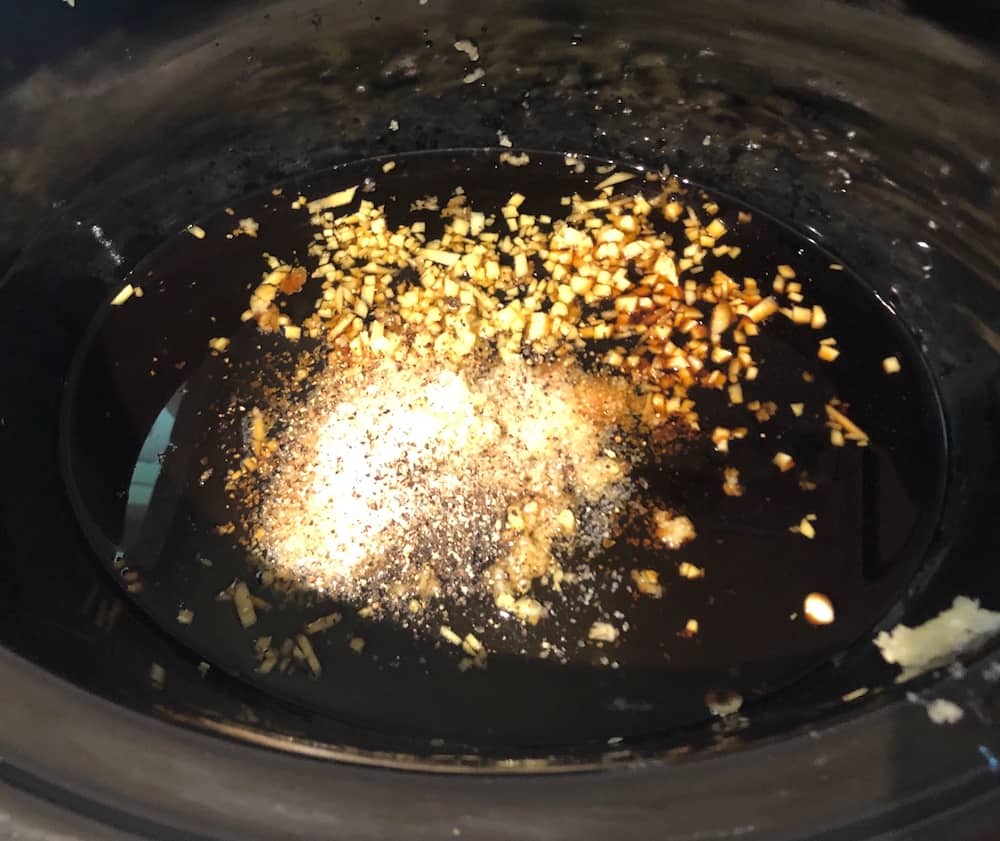 I usually steam some broccoli to go with it to add some veggies to the mix and of course they go perfect with teriyaki chicken. If you don't feel like going through that extra step of steaming you can always throw the broccoli in the slow cooker during the last hour and have it cook in the crock!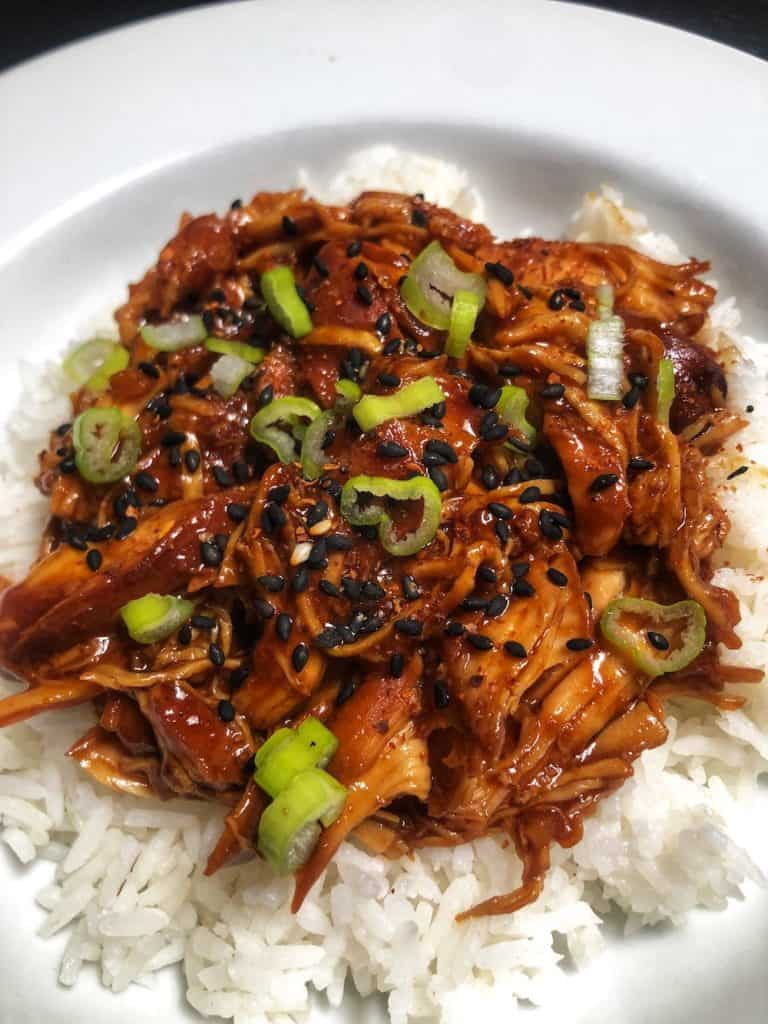 Chicken Breasts or Thighs?
We usually make this meal with chicken breasts but you have to be very careful that you don't over cook the chicken breasts. Chicken breasts have less fat that chicken thighs so they dry out faster. If you are going to leave this cooking for longer that 3 hours I would use chicken thighs just to be safe.
Tips for Making Honey Teriyaki Chicken
Flip it over once while it cooking. If I am at home I always like to turn the chicken once so that the sauce gets to really soak in on both sides.
Check the chicken put using two forks to see if the chicken shreds easily apart. This usually means the chicken is all done.
Always check you chicken temperature and make sure it reaches the safe internal temperature for cooked chicken at 165° Fahrenheit (75° Celsius).
A meat or instant-read thermometer is your best bet for determining the temperature of your chicken. I use this one if I'm not sure.
Need A New Crock Pot?
My favorite is this Crock Pot 7 quart Programmable Slow Cooker. First and foremost, I love being able to set the timer in case I'm not home when the food is finished cooking and it just switches to warm. Plus you can lock the lid and just carry it to a party. Not only is it easy to carry but also you will never lose another Tupperware or serving dish again at a potluck party!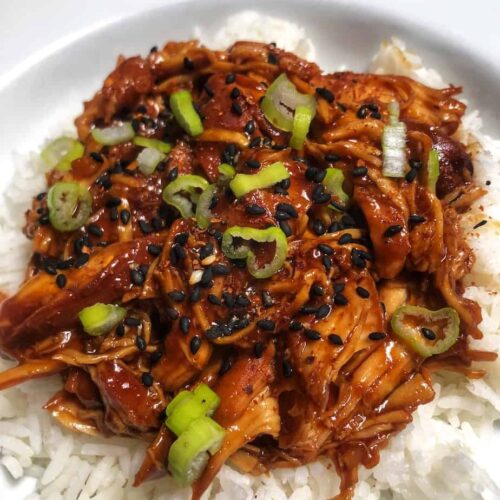 Honey Teriyaki Chicken
Bursting with flavor from the ginger, honey and soy sauce this honey teriyaki chicken is sure to satisfy everyone!
Ingredients
2

pounds

boneless skinless chicken breasts

or thighs

1/2

cup

honey

2

tablespoons

rice vinegar

2

tablespoons

gluten free soy sauce or tamari

4

garlic cloves

minced

2

tablespoons

ginger

finely chopped

Coarse salt and ground pepper

Cornstarch

for thicker sauce

Water

for thicker sauce

Sesame Seeds

optional
Instructions
In slow cooker insert, mix honey, vinegar, soy sauce, garlic, ginger, 1 tablespoon salt, and 1/2 teaspoon pepper.

Add chicken to slow cooker and toss to coat.

Cook on low for 3-4 hours or high for 2- 2 1/2 hours.

If you prefer a thicker sauce pour sauce into sauce pan and bring to a simmer. Mix cornstarch and water together. Add the cornstarch slurry into sauce and cook until thickened, about 1 minute. Remove from heat.

Serve over rice and garnish with sesame seeds.
Nutrition
Calories:
401
kcal
|
Carbohydrates:
37
g
|
Protein:
49
g
|
Fat:
6
g
|
Saturated Fat:
1
g
|
Trans Fat:
1
g
|
Cholesterol:
145
mg
|
Sodium:
769
mg
|
Potassium:
907
mg
|
Fiber:
1
g
|
Sugar:
35
g
|
Vitamin A:
68
IU
|
Vitamin C:
4
mg
|
Calcium:
22
mg
|
Iron:
1
mg
Looking for more Asian Dinner Ideas?