The famous Chick-fil-A Sauce is the star of the easy Chick-fil-A Sauce Casserole! Try this gluten-free recipe for a family favorite that everyone will crave. Simply layer potatoes, chicken, bacon, Chick-fil-A Sauce, cream cheese, onions, and bell peppers for one phenomenal dinner. The Chick-fil-A Sauce flavor bakes into the dish and infuses its unique flavor in every bite.
UPDATED RECIPE!
I love hearing from all my fellow Crock Potters and I heard some feedback that this dish needed a little more pizazz to it! So I went ahead and tried 5 more versions until I created this new version. It has some savory bacon to balance the sweet Chick-fil-A sauce and bell peppers to add some crunch. I did swap out the frozen potatoes for real diced potatoes so they are more firm at the end of cooking.
I'm beyond excited about this recipe because I love sauces and this might be my favorite yet! When I go to restaurants if there is sauce available I will try every one of the sauces (And yes I have tried every sauce at Chick-fil-A). So when I found Chick-fil-A Sauce at the store I did a little happy dance. If you haven't tried my Garlic Parmesan Chicken Pasta it is another easy dinner made with Buffalo Wild Wings Garlic Parmesan Sauce.
Disclaimer- Some links below are Amazon affiliate links, meaning at no extra cost to you, I will earn a commission if you click through and make a purchase.
What is Chick-fil-A Sauce?
Chick-fil-A sauce is the perfect blend between a smokey BBQ sauce and honey mustard. Chick-fil-A tweeted out in 2012 that the Chick-fil-A sauce is just a mixture of honey mustard, barbecue sauce, and ranch dressing. Yes, that's it… but good luck trying to get those amounts just right to make your own at home. This sauce is so good you will want to eat it with a spoon. I think I actually go to Chick-fil-A more for this sauce than for the nuggets themselves. I could easily use an entire dipping container on a single nugget!
Where to get Chick-fil-A Sauce?
Until now the only place you could get your hands on this sauce was at your local fast food chain Chick-fil-A in tiny little cups. However, I was walking through Walmart the other day minding my own business in the condiment aisle and saw the Chick-fil-A logo from the corner of my eye. As I got closer I saw my eyes weren't tricking me Chick-fil-A Sauce was sitting on the shelf along with their Polynesian Sauce (that recipe coming soon).
Chick-fil-A sauce is now available in stores. I do worry a little bit because it says limited edition so I'm hoping that doesn't mean they are going to stop selling them at stores anytime soon. So if you want to try this you may want to pick it up sooner rather than later.
You can get it at Walmart, Target, Amazon and lots of grocery stores. It is located in the BBQ and condiment aisle. The best part about the Chick-fil-A sauce that is available at store is that 100% of the proceeds go to scholarships for Chick-fil-A employees. I can't imagine a better reason to give this sauce a try!
Easy Casseroles for the Win
I love a sauce that I can take and make it into a new dish! I started with an idea to make shredded chicken sandwiches with it but decided it could probably be made into something even better. I've always loved a good casserole so I thought that this sauce would be a great base for a fun new casserole. Of course, I want it to be fast to make so it has simple ingredients that only take a few minutes to prep!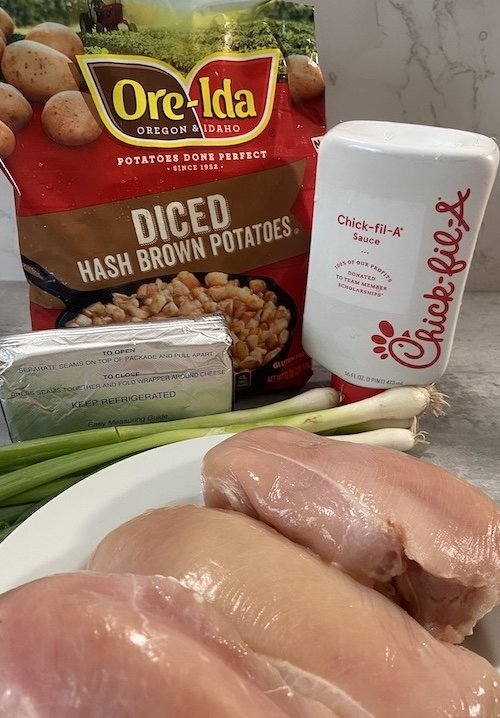 Since I love to dip my fries and nuggets in Chick-fil-A sauce I figured I would need some potatoes in the casserole. The first time I made this I used frozen diced potatoes. However, a few people have said the potatoes turn too mushy when it is finished cooking so I recommend using fresh diced potatoes so they hole their texture longer.
This one-pot dinner has everything you need for a full dinner. I did add a green salad to have a few more veggies but it is filling and you could easily serve it alone.
How to Make Chick-fil-A Sauce Casserole
Step 1. Add 2 pounds of cubed chicken and diced potatoes into the slow cooker bowl.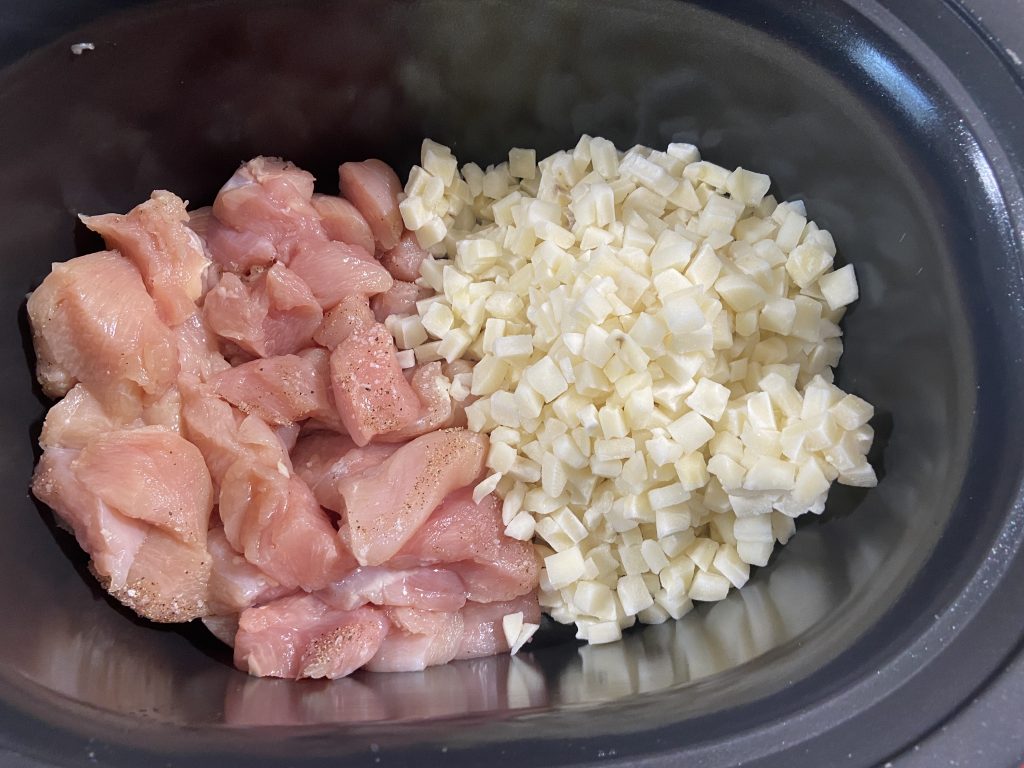 Step 2. Pour 8 oz Chick-fil-A Sauce, 8 oz cream cheese, bell peppers, bacon, rosemary and chopped onions on top of chicken. Mix everything until it is combined.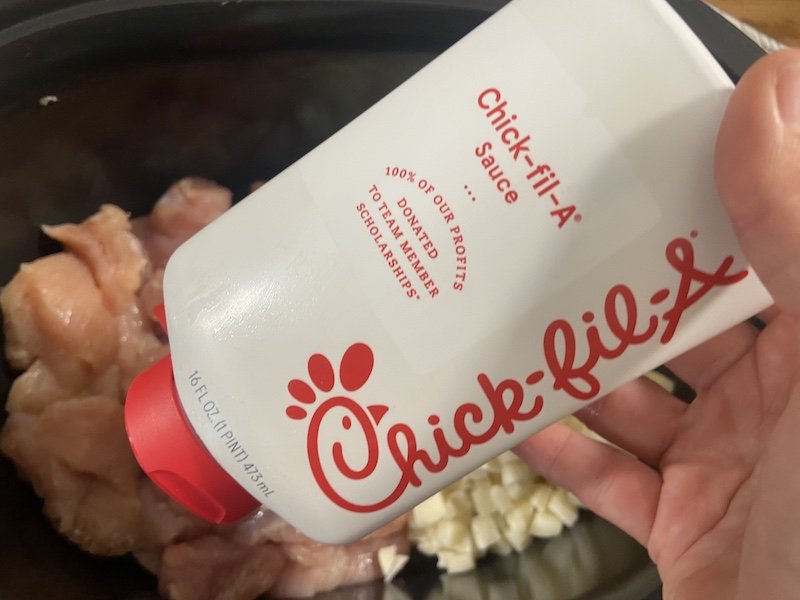 Step 3. Cook on low for 4-5 hours or high for 2-3 hours until potatoes are tender.
Step 4. Serve with shredded cheese, more bacon, and green onions.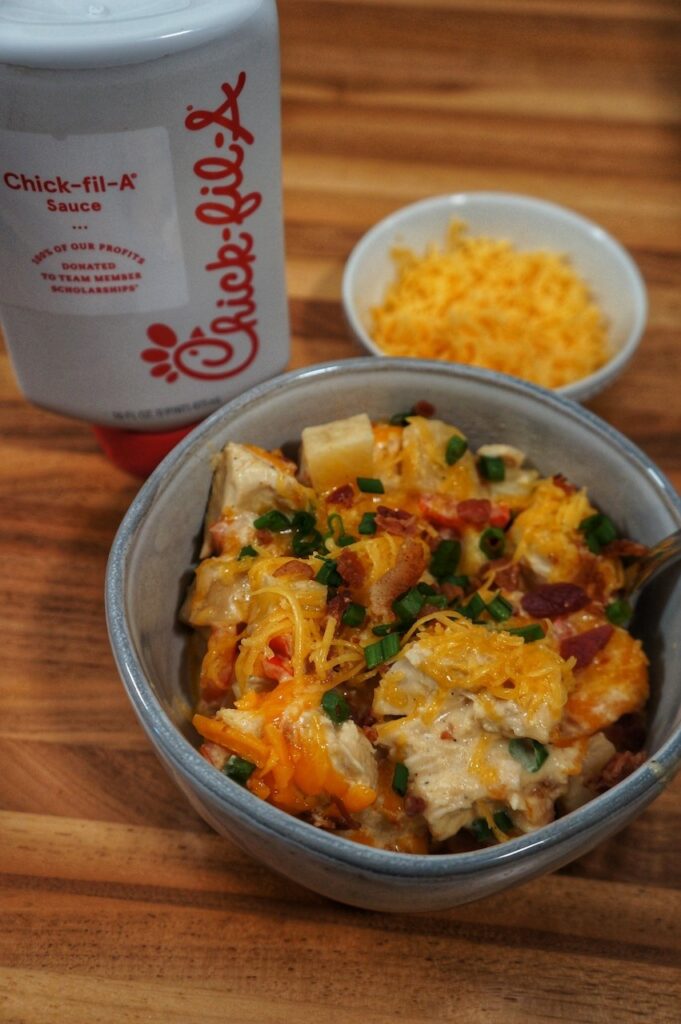 Tips
Make sure to salt to taste once it has finished cooking! This is one of my biggest tips on every meal you make. Everyone has a different preference for salt so it's always better to salt at the end so you can get it to your liking.
Add a little more sauce at the end for a bolder flavor. Again, I love sauce so I like to add a little more.
Top with crumbled bacon or fritos chips for a little crunch.
Making casseroles is one of my favorite things to make in the Crock Pot! I always love having dinner all ready for me when I come home from a long day. If you want some more casserole ideas check out these recipes!
Chicken, Sausage and Rice Casserole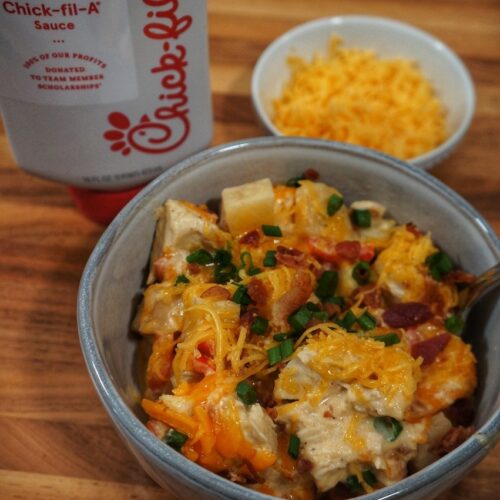 Chick-fil-A Sauce Casserole
The famous Chick-fil-A Sauce is the star of the easy Chick-fil-A Sauce Chicken Casserole! Try this gluten free recipe for a family favorite that everyone will crave.
Ingredients
Toppings
green onion

shredded cheddar cheese

bacon

fritos
Instructions
Place cubed chicken and potatoes in slow cooker bowl.

Pour 8 oz of Chick-fil-A Sauce on top of chicken and potatoes.

Add cream cheese, bell pepper, onion, and bacon.

Stir everything together until combined.

Cook on low for 4-5 hours or high for 2-3 hours or until potatoes are tender.

Garnish with shredded cheese, bacon, and green onions if desired.
Nutrition
Calories:
948
kcal
|
Carbohydrates:
89
g
|
Protein:
39
g
|
Fat:
48
g
|
Saturated Fat:
15
g
|
Polyunsaturated Fat:
2
g
|
Monounsaturated Fat:
9
g
|
Trans Fat:
1
g
|
Cholesterol:
148
mg
|
Sodium:
1047
mg
|
Potassium:
1624
mg
|
Fiber:
6
g
|
Sugar:
47
g
|
Vitamin A:
1179
IU
|
Vitamin C:
72
mg
|
Calcium:
76
mg
|
Iron:
3
mg