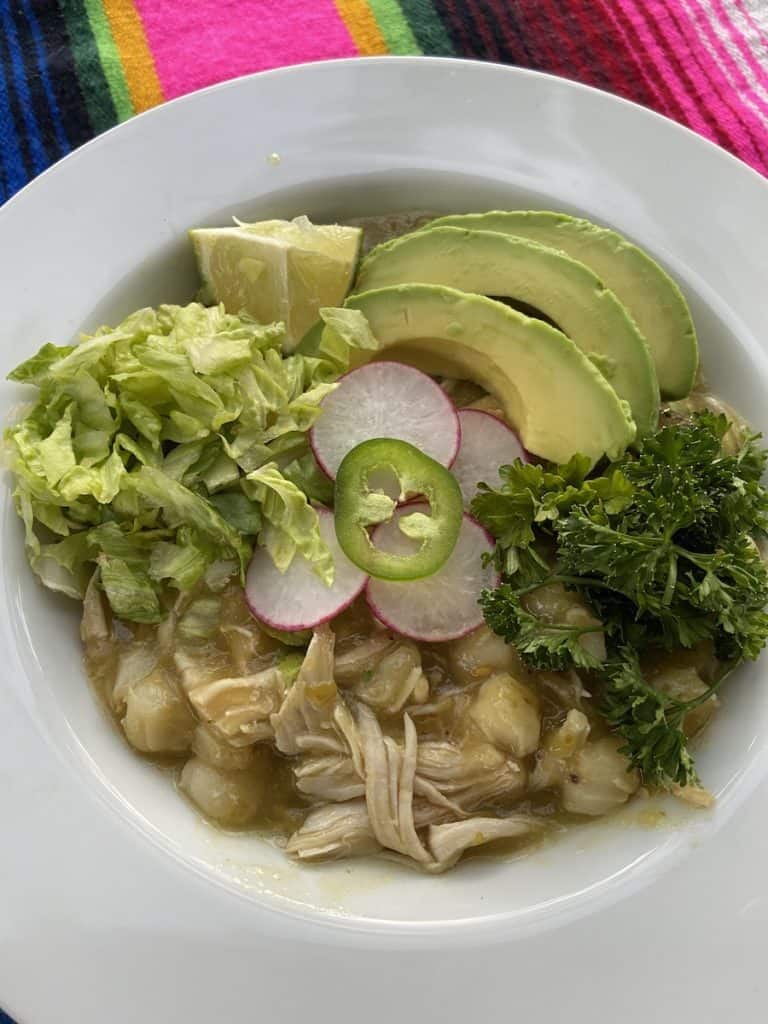 Quick chicken pozole soup is a flavorful and fresh soup that you can make in a few hours! Either use leftover chicken or grab rotisserie chicken from the store.
This classic Mexican comfort food is perfect for a rainy day, if you are under the weather or if you just want a delicious soup. It is hearty and healthy and so easy to make you will find yourself making it over and over again. Another favorite soup I love to make is my Creamy Tomato Basil Soup!
Disclaimer- Some links below are Amazon affiliate links, meaning at no extra cost to you, I will earn a commission if you click through and make a purchase.
What is Chicken Pozole?
Chicken Pozole (or Posole) Soup is a traditional Mexican Stew made with either chicken or pork and hominy.
Whenever I give this recipe to people the first question I get is "What is Hominy?" Hominy is made from whole corn kernels that have been soaked in a lye or lime solution (not the fruit, the mineral) to soften the tough outer hulls. This soaking causes the corn to puff up and make it more of a bean texture than the traditional soft corn texture. The kernels are then washed to remove the solution, the hull, and often the germ. Voila! Hominy.
Where can you find Hominy?
Hominy is in a can and you can find it at your local grocery store in the canned food section. I have found it both in the vegetable and bean section. This is what it looks like.
4 Ingredient Dinner- Quick Chicken Pozole Soup
Do you ever realize at 2 pm that you forgot to make dinner? I wish I could say this never happened to me but it does. This is my go to recipe when this happens.
I always try to keep a few cans of enchilada sauce, chilis and hominy in my pantry just for this recipe! I usually run to the grocery store and grab the delicious rotisserie chicken they have in the deli and I'm all set. If you happen to have some leftover chicken you can use that too!
How to Make Quick Chicken Pozole Soup
This is the easiest recipe for dinner ever! If you find an easier one please send it to me ASAP.
1. Put chicken, hominy, enchilada sauce, and chilis into the slow cooker and mix it together.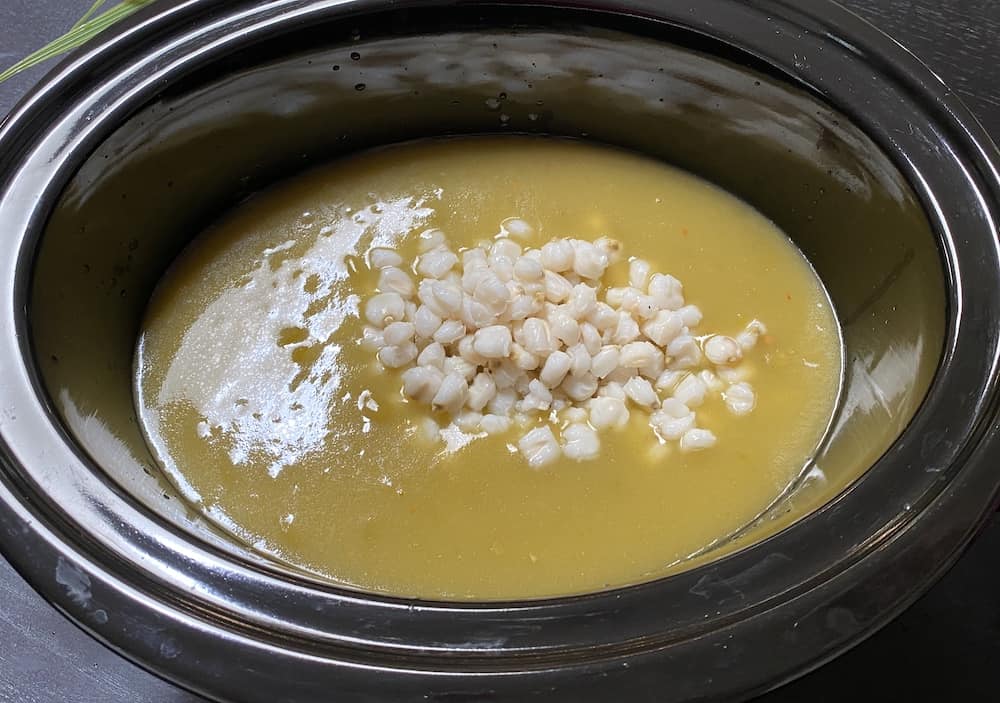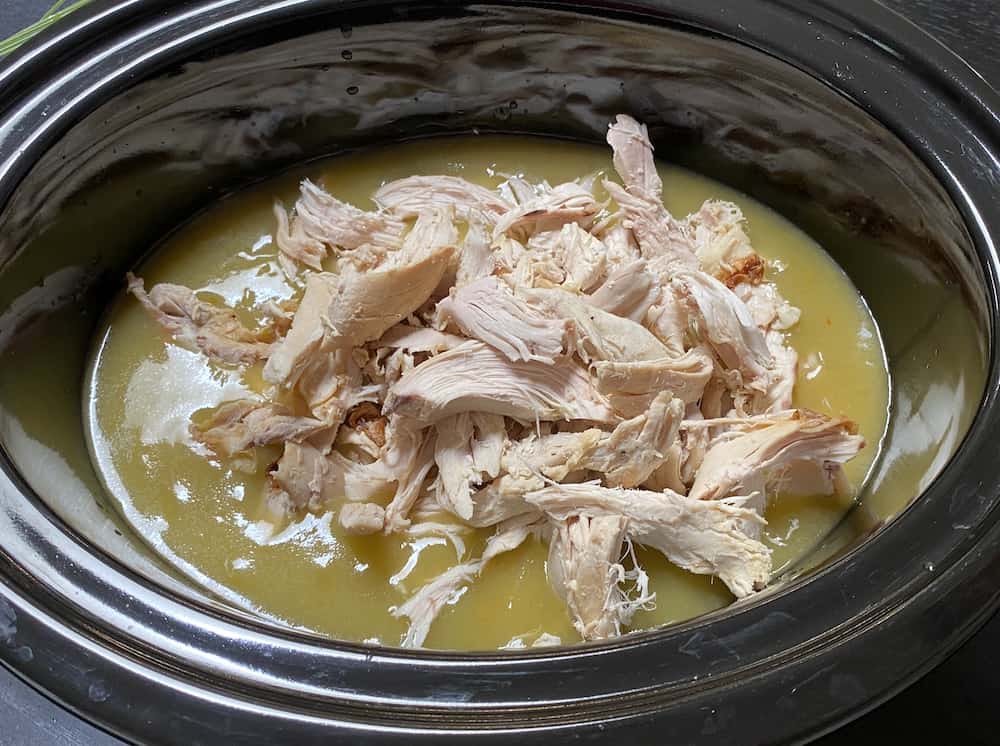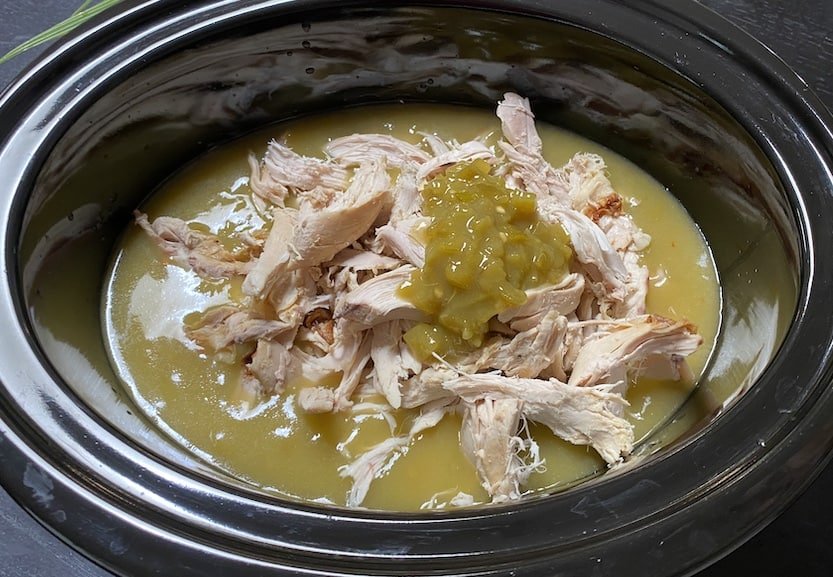 2. Cook for 6 hours on low or 4 hours on high.
3. Garnish with avocado and cilantro.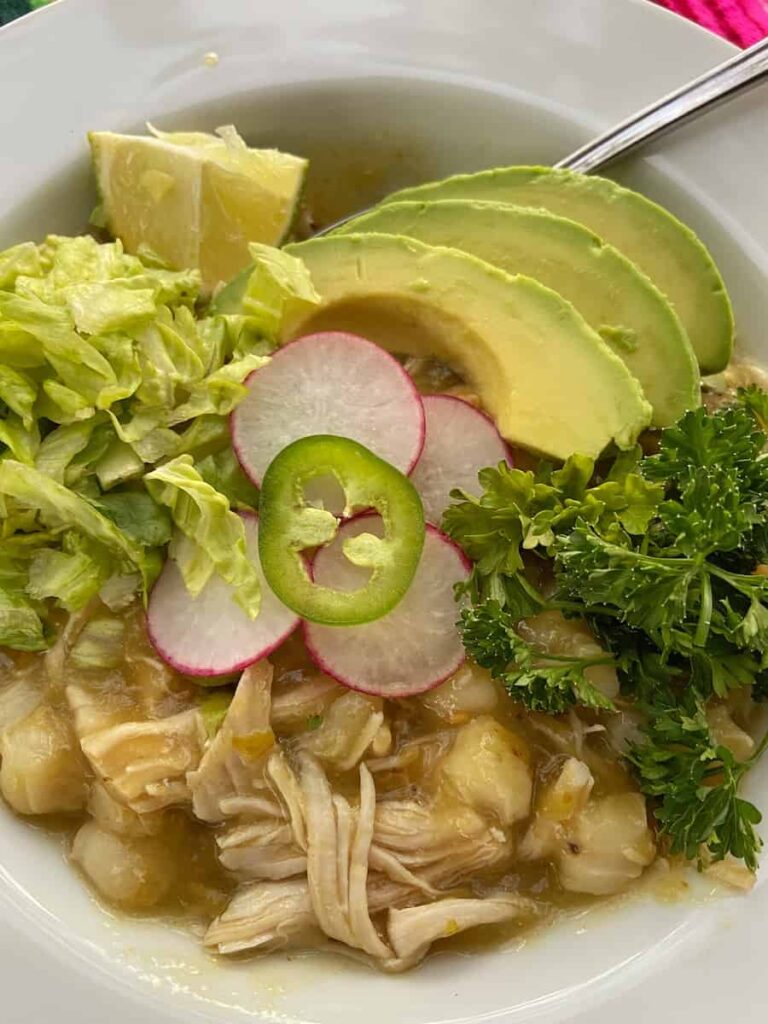 Food Allergies
Gluten Free- All my recipes are gluten free because my husband has Celiac Disease, which means he is allergic to gluten. Now if your wondering what has gluten in it in this recipe, it's the enchilada sauce.
Make sure you get a gluten free enchilada sauce. There are a lot of brands out there that add flour to their enchilada sauce so make sure and read the labels. I always use Hatch since I know they certify that their sauce is gluten free.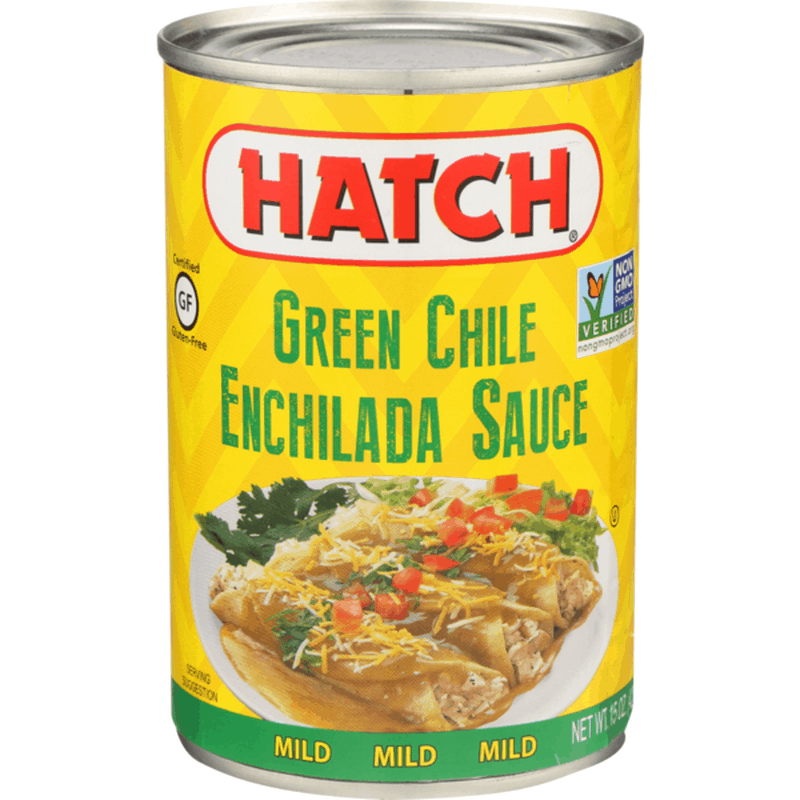 If you don't have a gluten allergy feel free to use any green enchilada sauce!
Need A New Crock Pot?
My favorite is this Crock Pot 7 quart Programmable Slow Cooker. First and foremost, I love being able to set the timer in case I'm not home when the food is finished cooking and it just switches to warm. Plus you can lock the lid and just carry it to a party. Not only is it easy to carry but also you will never lose another Tupperware or serving dish again at a potluck party!
More Mexican Recipes
Crunchy Mexican Chicken Casserole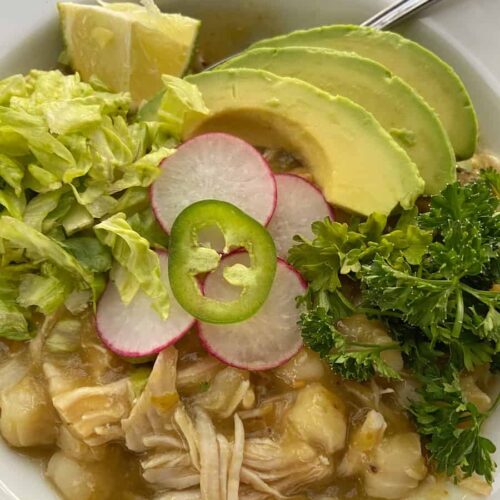 Chicken Pozole
Make this quick and tasty 4 ingredient soup for a warm and cozy dinner!
Ingredients
3

chicken breasts

shredded

56

ounces

green enchilada sauce

make sure it's gluten free, I use Hatch

8

ounces

canned green chilies

15.5

ounces

white hominy
Optional for garnish:
Avocado

Radish

Shredded cheese

Sour cream

Cilantro

Tortilla chips
Instructions
Add chicken, enchilada sauce, green chiles and hominy to slow cooker. Mix to combine.

Cook on high for 4-5 hours.

Garnish with all the toppings!
Nutrition
Calories:
446
kcal
|
Carbohydrates:
53
g
|
Protein:
44
g
|
Fat:
5
g
|
Saturated Fat:
1
g
|
Trans Fat:
1
g
|
Cholesterol:
108
mg
|
Sodium:
4205
mg
|
Potassium:
637
mg
|
Fiber:
11
g
|
Sugar:
30
g
|
Vitamin A:
2699
IU
|
Vitamin C:
17
mg
|
Calcium:
19
mg
|
Iron:
4
mg