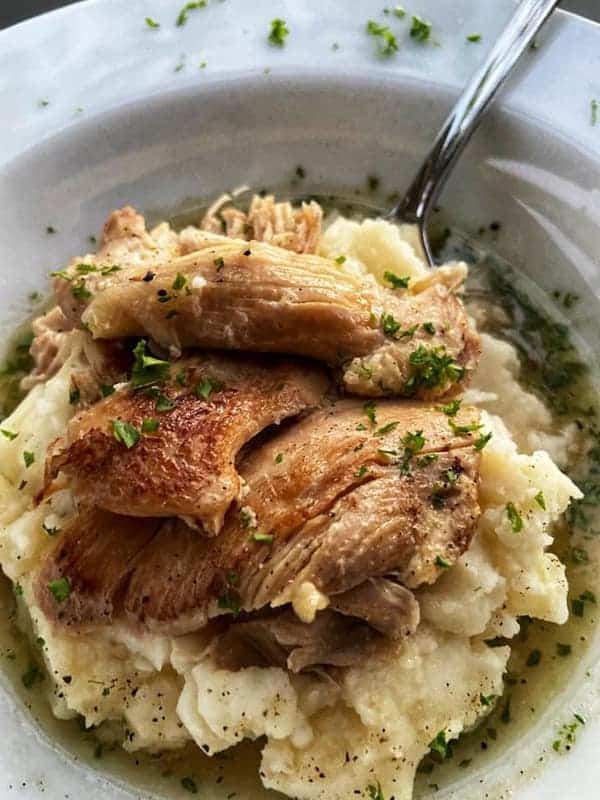 Calling all garlic lovers! 20 Clove Garlic Chicken is slow cooked ending with tender chicken and flavorful broth infused with garlic and wine.
The garlic flavor mellows out as it cooks leaving you with a perfect chicken that pairs perfect with noodles to make a homemade ramen or over mashed potatoes.
There is a little prep work in this meal but the end result of incredible flavor is worth the 10 minutes of cooking on the stove.
Disclaimer- Some links below are Amazon affiliate links, meaning at no extra cost to you, I will earn a commission if you click through and make a purchase.
How to Make 20 Clove Garlic Chicken
Step 1. Chop onions and unpeel garlic, (if needed).
Quick tip– Most grocery stores sell peeled garlic in the fresh vegetable section. They come in a bag. You can freeze whatever you don't use for future recipes.
Step 2. Add Olive Oil to pan and heat. Add onions and garlic until onions are translucent.
Step 3. Move onions and garlic to one side and add chicken thighs to pan.
Step 4. Place chicken thighs around pan distribute onions and garlic around thighs while cooking. Cook until thighs are lightly browned.
Step 5. Pour bottle of white wine into pan and heat until wine is simmering.
Step 6. Add bouillon and bay leaf to simmering pan. Stir bouillon in liquid until it fulls melts.
Step 7. Transfer chicken and all liquid into slow cooker.
Step 8. Cook on high for 3-4 hours.
Step 9. Serve over noodles or mashed potatoes.
Food Allergies-
Gluten Free– All of my recipes are gluten free. My husband has celiac disease, which means he is allergic to gluten.
Bouillon is commonly not gluten free. You need to make sure to get a bouillon that is certified gluten free. Herbox granulated bouillon is the one I use.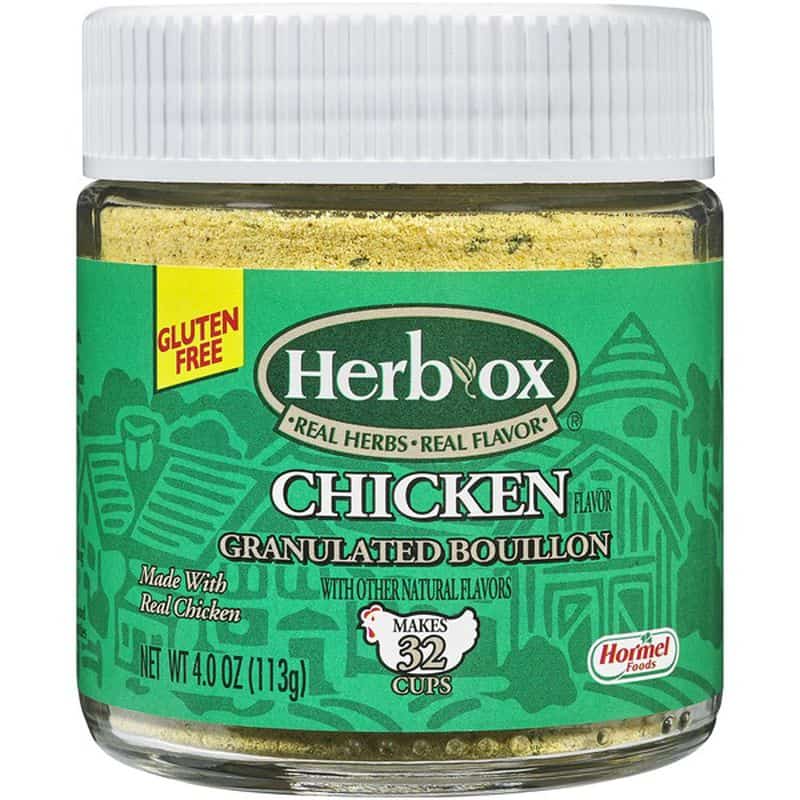 Want More Crockpot Chicken Recipes?
Mexican Crunchy Chicken Casserole
Need A New Crock Pot?
My favorite is this Crock Pot 7 quart Programmable Slow Cooker. First and foremost, I love being able to set the timer in case I'm not home when the food is finished cooking and it just switches to warm. Plus you can lock the lid and just carry it to a party. Not only is it easy to carry but also you will never lose another Tupperware or serving dish again at a potluck party!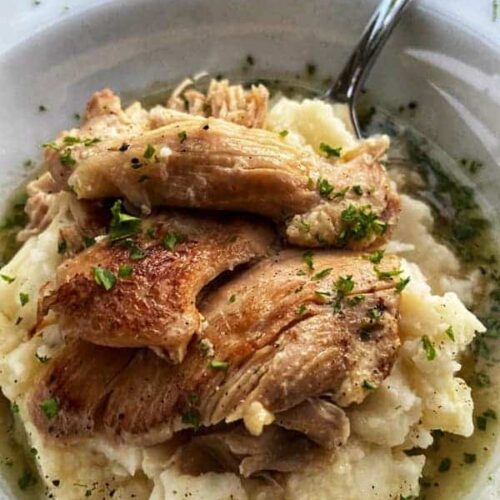 Sandi's Garlic Chicken
This is my husband's favorite recipe! This slow cooker asian recipe is perfect for a weeknight meal. Tender pieces of flavorful chicken with delicious mashed potatoes or noodles will become a favorite in your house too.
Ingredients
3

pounds

skinned and boneless chicken thighs

20

cloves

garlic

peeled

1

yellow onion

1

tablespoon

olive oil

1

bay leaf

4

teaspoons

Herb Ox Chicken Granulated Bouillon

this brand is gluten free

750

ml

white wine

Sauvignon Blanc or Pinot Gris
Instructions
Chop onions.

Put oil in pan and heat to medium high heat,

Add garlic and onion to pan and cook until soft.

Push onion and garlic to one side. Add chicken thighs and brown.

Distribute onion and garlic around chicken thighs.

Pour wine in pan until thighs are covered. Heat the wine until simmering.

Add bouillon and bay leaf. Mix bouillon into liquid.

Place insert into slow cooker base or pour all ingredients into slow cooker insert.

Cook on high for 4 hours. Stirring occasionally.

Cook noodles according to package.

Serve chicken and broth with Pad Thai Rice Noodles. (I use gluten free Annie Chun's Pad Thai Rice Noodles)
Nutrition
Calories:
310
kcal
|
Carbohydrates:
8
g
|
Protein:
27
g
|
Fat:
8
g
|
Saturated Fat:
2
g
|
Trans Fat:
1
g
|
Cholesterol:
129
mg
|
Sodium:
450
mg
|
Potassium:
494
mg
|
Fiber:
1
g
|
Sugar:
2
g
|
Vitamin A:
35
IU
|
Vitamin C:
4
mg
|
Calcium:
47
mg
|
Iron:
2
mg