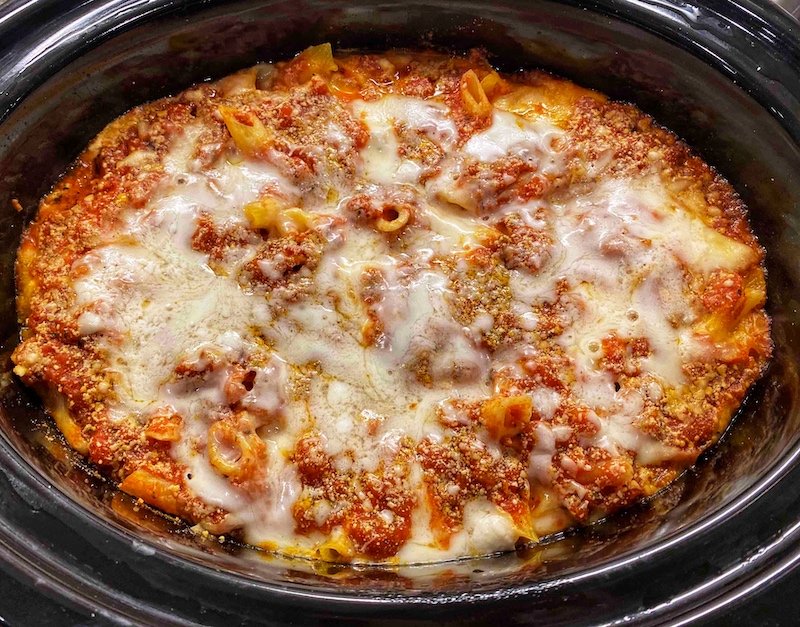 Breaking News! You can make pasta in your slow cooker. This Crock Pot Baked Ziti was made completely in the slow cooker. Cheesy, gooey pasta is a must try in your slow cooker! I know, I know. It's hard to believe!
You don't even have to cook the pasta before. I thought that the pasta would turn to mush but they ended up just like regular baked ziti. The best part is that I didn't have to heat up my kitchen since it was 102 degrees the day I made it! There are actually tons of Italian recipes you can make in your slow cooker, two other easy ones are Creamy Italian Chicken and Bruschetta Chicken, if you aren't feeling pasta.
Disclaimer- Some links below are Amazon affiliate links, meaning at no extra cost to you, I will earn a commission if you click through and make a purchase.
Secret Step for Crock Pot Baked Ziti
The secret is that you don't add any water to the pasta and the tomato sauce slowly cooks the pasta for you. This recipe is so simple that all you have to do is mix a few ingredients together and then layer them all just like the traditional baked ziti.
Cheese, Cheese, and more Cheese!
The triple cheese blend makes this baked ziti a melty cheesy masterpiece. All of these cheeses add a unique flavor and gives you that real Italian restaurant Baked Ziti experience.
– Ricotta
– Parmesan
– Mozzarella
Types of Pasta
I actually used this gluten free penne pasta instead of ziti! I couldn't find gluten free ziti at the grocery store. As you can see it doesn't make a difference at all. You can use any tube pasta you should be good to go.
Ingredients to Make Crock Pot Baked Ziti
Jarred pasta sauce or homemade pasta sauce
Uncooked ziti/penne pasta
Ricotta cheese
Eggs
Freshly grated parmesan cheese
Mozzarella cheese
Basil
Salt and Pepper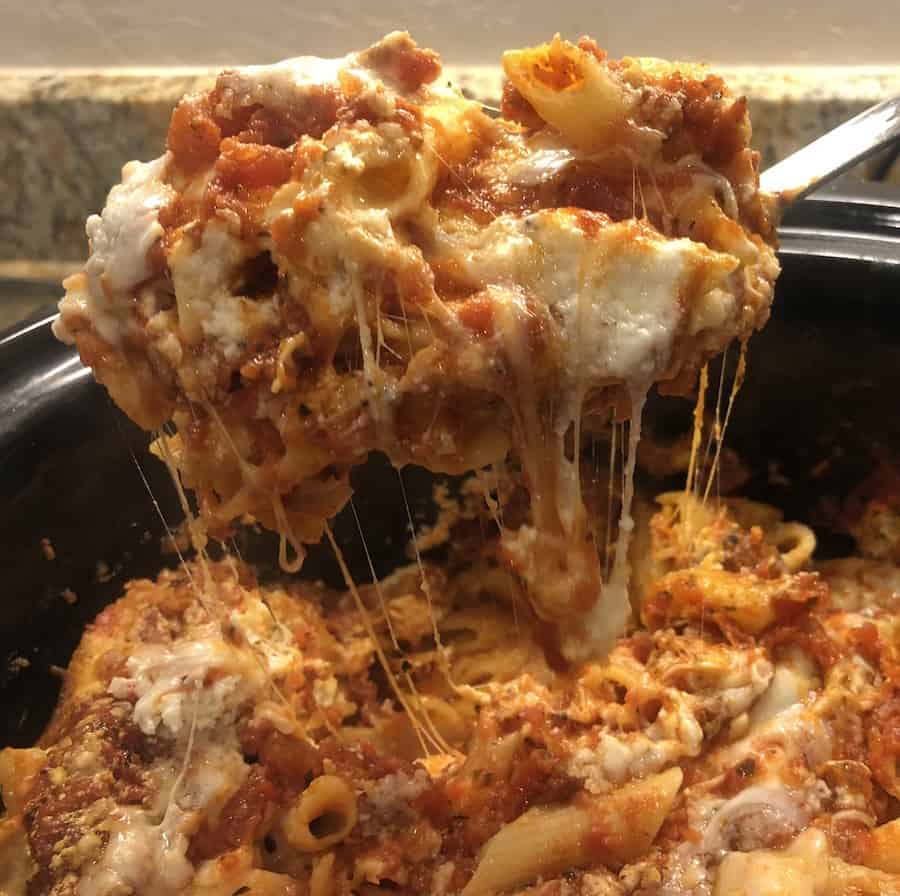 Step by Step Directions for Crock Pot Baked Ziti
STEP 1. Spray Slow Cooker with Non Stick Spray
STEP 2. Mix Ricotta Cheese with egg and spices.
STEP 3. Layer sauce on bottom of the Slow Cooker
STEP 4. Layer Noodles
STEP 5. Scoop Five Dollops of Ricotta
STEP 6. Add Layer of Mozzarella
STEP 7. Repeat these layers two times times.
STEP 8. Add one more layer of pasta, sauce, mozzarella and sprinkle with Parmesan cheese. (No Noodles on this layer)
STEP 9. Cook on high for 2 1/2 hours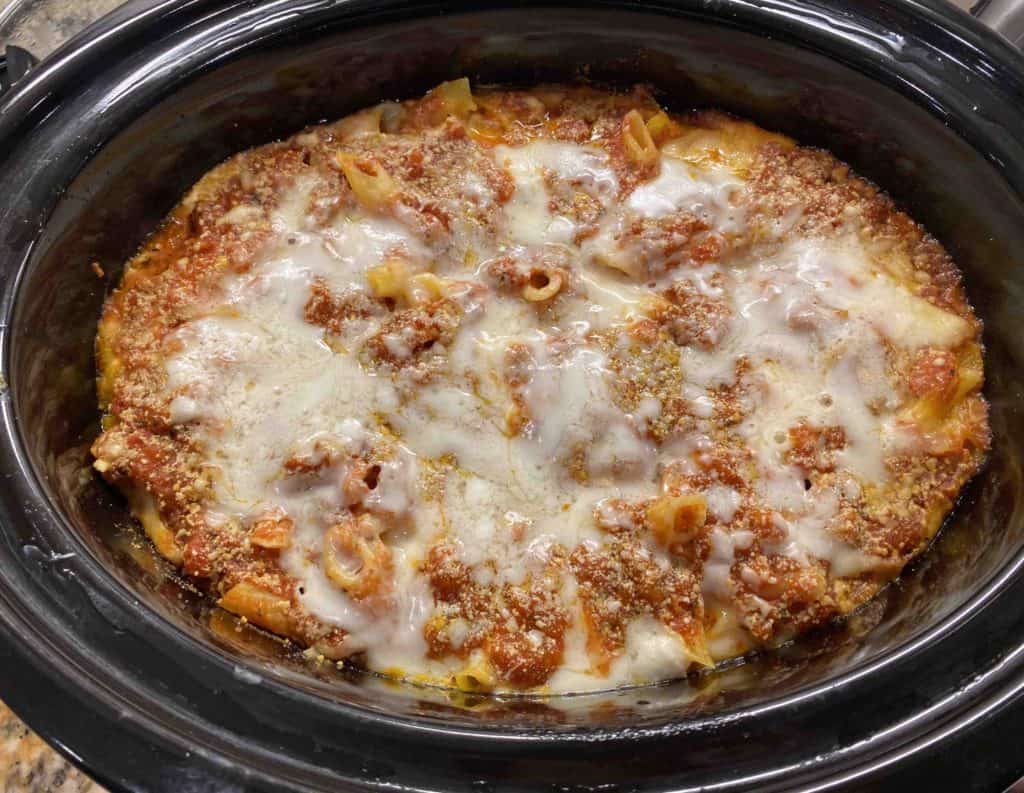 Perfect for Potluck
Crock Pot Baked Ziti makes A LOT of pasta! I love to make this as a main dish to bring to potlucks and everyone always raves about it. This will easily serve 6-8 people with large portions for a family dinner or you can freeze the leftovers and eat it later. We always freeze our leftovers and then eat it the following week!
Food Allergies
Gluten Free – I make everything gluten free in our house because my husband has celiac disease, which is when you are allergic to gluten. Our favorite pasta is the Gluten Free Barillla Pasta line. It doesn't have the after taste of some pasta's made with beans. I find that it is the best one at staying together while cooking. Some brands disintegrate especially when using in this kind of recipe where the pasta is soaking in sauce soaking.
If you are not gluten free swap the gluten free pasta for any ziti or penne.
Need A New Crock Pot?
My favorite is this Crock Pot 7 quart Programmable Slow Cooker. First and foremost, I love being able to set the timer in case I'm not home when the food is finished cooking and it just switches to warm. Plus you can lock the lid and just carry it to a party. Not only is it easy to carry but also you will never lose another Tupperware or serving dish again at a potluck party!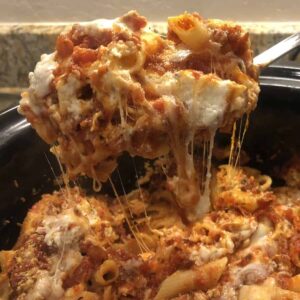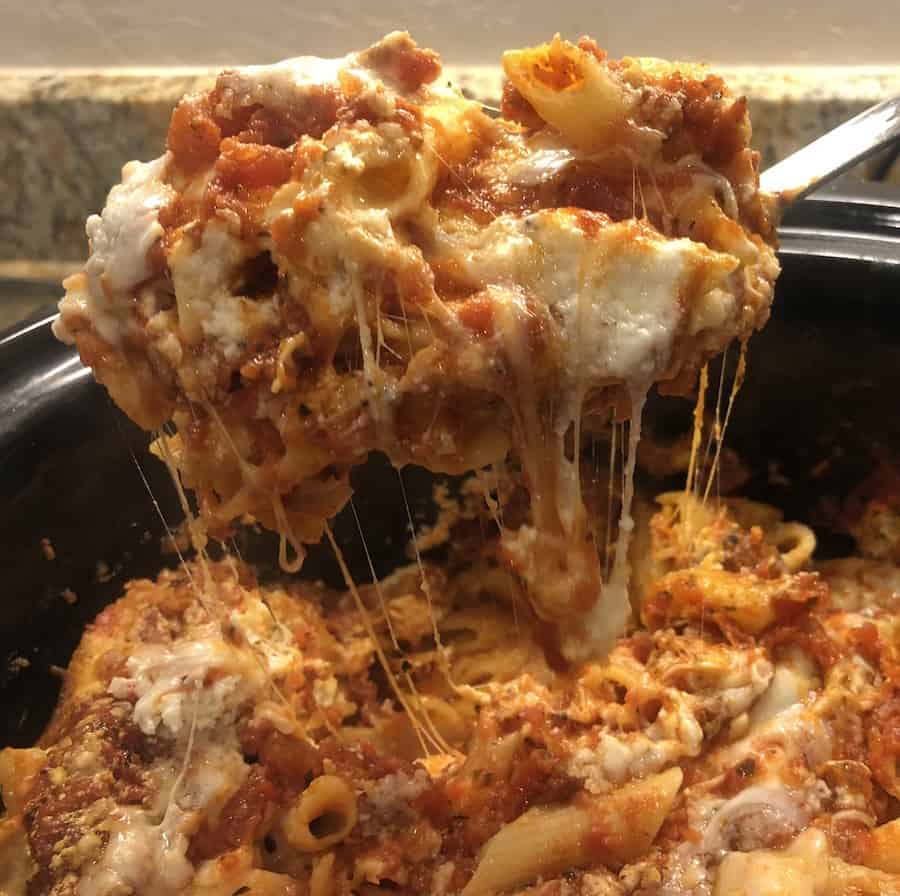 Crock Pot Baked Ziti
Make this easy classic comfort food in your Crock Pot! Cheesy, Gooey and Delicious in every bite.
Ingredients
32

oz

ricotta

2

large

eggs

1

teaspoon

salt

1

teaspoon

basil

1/4

teaspoon

pepper

1/4

cup

grated parmesan

plus more for topping

48

oz

marina sauce

2 jars (24 oz jars)

12

oz

gluten free penne

16

oz

shredded mozzarella cheese
Instructions
Spray entire slow cooker insert with non-stick spray.

In large bowl, mix ricotta with two eggs, 1/4 cup parmesan cheese, basil, salt and pepper.

Cover bottom of slow cooker with sauce.

Layer pasta on top of sauce.

Take 5 scoops of the ricotta mixture drop onto sauce.

Top with a layer of mozzarella cheese.

Repeat steps 3-5 two more times.

End with layer of sauce, mozzarella and parmesan.

Cook on high for 2 1/2 hours.

Serve with grated parmesan cheese on top.
Nutrition
Calories:
586
kcal
|
Carbohydrates:
45
g
|
Protein:
34
g
|
Fat:
31
g
|
Saturated Fat:
18
g
|
Trans Fat:
1
g
|
Cholesterol:
152
mg
|
Sodium:
1722
mg
|
Potassium:
747
mg
|
Fiber:
3
g
|
Sugar:
8
g
|
Vitamin A:
1720
IU
|
Vitamin C:
12
mg
|
Calcium:
585
mg
|
Iron:
3
mg
More Casseroles
Looking for more easy casseroles? Try this easy Mexican Casserole.
Slow Cooker Enchilada Casserole
Looking for a list of Essential Kitchen Tools for Crockpot Meals?